#GoingGlobal: QS awards VSU with 3-Star rating
Details

Written by Jed Asaph Cortes

Published: 13 May 2020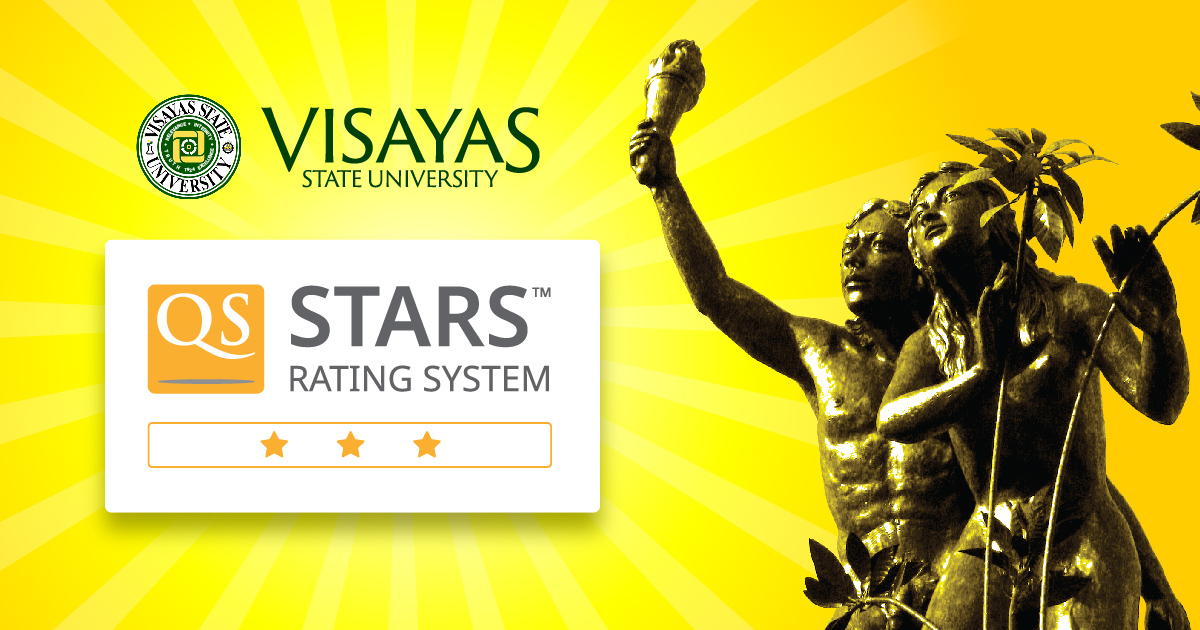 Visayas State University earned an institutional rating of 3 Stars from Quacquarelli Symonds (QS), a British company specializing in analyzing higher education institutions worldwide. VSU received the QS certificate on Friday, May 8, 2020.
A 3-Star rating meant that VSU is "nationally well recognized, and may have also begun to attract international recognition. This institution maintains a reputable level of research and its graduates are attractive to employers."
"QS Stars awards universities with a rating of between One and Five Stars, depending on their performance in eight criteria," their website reads.
"This is actually good already," VSU President Edgardo E. Tulin said in a radio interview at DYDC. "This is a very significant initiative because that will put us...in the world ranking, which is very important for the university."
"We could have qualified already for the 4 Stars, but unfortunately it's the number of foreign students that we lack, which is a minimum requirement... That's what we are striving for now."
VSU garnered 584/1000 points, more than the QS 4-Star minimum points of 550, but did not meet the requirement of 1% international students (or about 70 foreign students based on the university's current student population). Universities awarded with 4-stars are "highly international, demonstrating excellence in both research and teaching. The institution provides an excellent environment for students and faculty."
Dr. Tulin said the university will work to attract more foreign students through partnerships and scholarships. He also encouraged the faculty to make courses online-ready, in light of limited travel because of the threat of COVID-19.
"As long as we have online instructional materials, the strategy to recruit students is facilitated," he said.
In the QS Star rating system, universities are evaluated according to Core Criteria (Teaching, Employability, Internationalization, and Research/Academic Development), Learning Environment (Facilities/Online), Specialist Criteria (Subject Ranking/Program Strength), and Advanced Criteria (choosing two from Arts & Culture, Innovation, Social Responsibility, and Inclusiveness.)
Among the eight criteria, VSU scored highest in Teaching and Social Responsibility with 5 Stars.
VSU got 4 Stars for Employability, Facilities, and Inclusiveness. For Program Strength, QS awarded VSU's flagship program Bachelor of Science in Agriculture with 3 Stars.
"We will strive harder to improve these ratings, especially in Internationalization," President Tulin said. "We will revise and strengthen our Internationalization Plan and Strategic Plan so that by the next assessment three years from now, our rating will have significantly increased."
The university submitted itself to the QS Star Rating assessment starting 2019 under the Commission on Higher Education's "Fostering World-Class Universities" project, which covered the fees for 15 state universities.
Dr. Tulin put Vice President for Instruction Beatriz S. Belonias in charge of the QS Assessment Task Force, composed of faculty and staff from the International Affairs Office, the College of Agriculture and Food Science, and other key offices.
CHED is planning to sponsor VSU and other SUCs' evaluation under the Times Higher Education (THE) rankings later this year.