Undergraduate Degree Programs
BSMet• Bachelor of Science in Meteorology
---
At a glance
| | |
| --- | --- |
| Program | Bachelor of Science in Meteorology |
| Duration | 4 Years |
| College | College of Engineering and Technology |
| Department | Department of Meteorology |
| Campus | VSU Main Campus, Baybay City, Leyte |
| Majors | |
| Compliance | |
---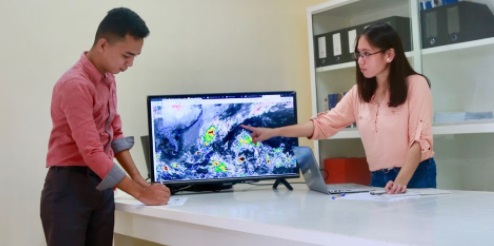 About the Program
The Bachelor of Science in Meteorology (BSMet), a degree program offered by the Department of Meteorology, is designed to develop highly competent and world-class professionals in atmospheric science. The BS Met curriculum is a balance between a holistic general education program and extensive professional meteorology courses. The program shall provide the students with a comprehensive and rigorous training in math and physics as a foundation for careers in meteorology and atmospheric science and the full understanding of the importance of meteorological study to the society.
Since the beginning of the program in 2019, the BS Meteorology program has attracted senior high school graduates hailing from the different parts of the country with VSU being the only higher education institute offering the degree program in Visayas and Mindanao. The Department of Meteorology with its competent faculty and staff aims to produce, sustain, and nurture specialized personnel in the field of meteorology and atmospheric science in the Philippines.
The graduates of the BSMet Program are expected to contribute to national development by addressing the need of the country on human resources in response to the emerging concern on weather and climate effects and solves the threat of losing experts to foreign countries.
Program highlights
VSU is one of the only four (4) universities in the Philippines that offer a BS Meteorology program. The others are Mariano Marcos State University (MMSU) in Batac, Ilocos Norte; Central Luzon State University (CLSU) in Muñoz, Nueva Ecija; and Bicol University (BU) in Legaspi, Albay.
VSU is the only university offering BS Meteorology in the Visayas and Mindanao areas.
Specializations include Numerical Weather Forecasting; Climatology and Climate Change; Radar Meteorology; and Environmental Meteorology
Faculty Members
Name: Charlie S. Andan
Designation/Position: Head/Faculty Member
Specialization: Operational Meteorology, Operational Weather Forecasting
Highest Educational Attainment:

Master in Management major in Business Management, Visayas State University (on-going)
Master of Science in Meteorology, University of the Philippines-Diliman (2021)

Research Interest(s):

Numerical Weather Prediction; Atmospheric Instability; Lightning and Thunderstorm Studies; Statistical Weather Forecasting; Meteorological Applications of Satellite Products

Email:

This email address is being protected from spambots. You need JavaScript enabled to view it.
---
Name: Charlindo S. Torrion
Designation/Position: Faculty Member
Specialization: Weather Radar Application
Highest Educational Attainment:

Master of Science in Meteorology, University of the Philippines-Diliman (candidate)

Research Interest(s):

Atmospheric Radiation; Convective Precipitation; Cloud Microphysics

Email:

This email address is being protected from spambots. You need JavaScript enabled to view it.
---
Name: Daniel C. Lor
Designation/Position: Faculty Member
Specialization: Environmental Meteorology
Highest Educational Attainment:

Master of Science in Meteorology, University of the Philippines-Diliman (candidate)

Research Interest(s):

Urban Heat Island; Water Quality for Climate Change Mitigation; Air Quality and Air Pollution

Email:

This email address is being protected from spambots. You need JavaScript enabled to view it.
---
Name: Engr. Rotsen B. Labisores
Designation/Position: Faculty Member
Specialization: Climatology and Climate Change
Highest Educational Attainment:

Master of Science in Meteorology, University of the Philippines-Diliman (candidate)

Research Interest(s):

Flood and Drought Studies; Climate Change Impact on Crop Production; Statistical and Dynamical Climate Modeling; Soil Moisture Balance; Renewable Energy for Smart Agriculture

Email:

This email address is being protected from spambots. You need JavaScript enabled to view it.
---
Name: Engr. Rud Luis G. Gonzaga
Designation/Position: Faculty Member
Specialization: Climatology and Meteorological Instruments
Highest Educational Attainment:

Meteorological Technician Training Course, DOST-PAGASA (2022)
Bachelor of Science in Agricultural Engineering, Visayas State University (2019)

Research Interest(s):

Land Cover/Land Use Change, Satellite Remote Sensing, Carbon Sequestration Estimation

Email:

This email address is being protected from spambots. You need JavaScript enabled to view it.
---
Administrative Staff
Name: Lorna B. Abamo
Designation/Position: Administrative Aide VI
Highest Educational Attainment:

MA in Education, (2014) FCIC

Email:

This email address is being protected from spambots. You need JavaScript enabled to view it.

Functions:

Performs routine administrative services for DMet
Acts as document and records controller of the department
---
Name: Felix C. Abanera
Designation/Position: Administrative Aide III
Highest Educational Attainment:

Diploma in Junior Secretariat (2-year) 1983-84, FCIC

Functions:

Serves as custodian for the assigned classrooms, offices and lawns within the CET complex
Does messenger duties for DMet
Name: Emmanuel P. Lesidan
Designation/Position: Administrative Aide I
Highest Educational Attainment:

BS in Agribusiness, Visayas State University (on-going)

Email:

This email address is being protected from spambots. You need JavaScript enabled to view it.

Functions:

Acts as document and records controller of the department
Acts as Laboratory Technician
---
Career Opportunities
Graduates of the this program can be employed as a:
Meteorologist
Operational Meteorologist
Broadcast Meteorologist
Radar Meteorologist
Satellite Meteorologist
Synoptic Meteorologist
Atmospheric Meteorologist
Physical Meteorologist
Environmental Scientist
Climatologist
Climate Change Scientist
Storm Chasers
Hurricane Scientist
Lightning Scientist
Air Quality Scientist
GIS Technician
Meteorological Technician
Professor
Hydrologist
Geophysicist
Research Scientist
Data Scientist
Military Forecaster
Airline Forecaster
Agro-Meteorologist
Notable Alumni
The following Viscans who graduated in this program have made a name in their field:
Contact
Department of Meteorology
College of Engineering and Technology
Visayas State University
Visca, Baybay City, Leyte
Philippines 6521
Phone: +63 53 565 0600 local 1106;
Email:
This email address is being protected from spambots. You need JavaScript enabled to view it.
Facebook:
fb.com/DMetVSU
Download Course Checklist PDF Browse Other Programs
TESTIMONIAL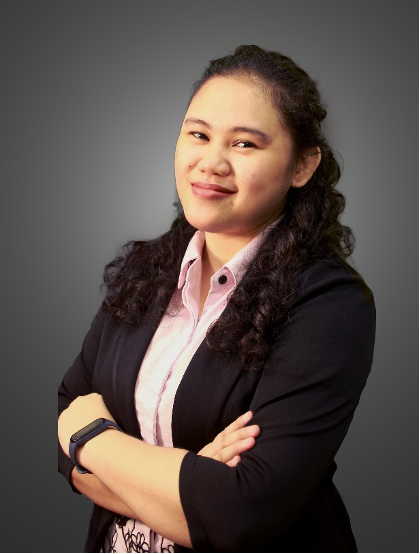 Ger Anne Marie Duran
Climatologist
Climatology and Agrometeorology Division
DOST-PAGASA
"Growing up in the outskirts of Southern Leyte, I never imagined myself working in DOST-PAGASA. Thanks to Project CoMET and VSU's extensive training and network, I'm able to collaborate with some of the country's best climatologists. My journey has taught me that no matter where you are, you can have big dreams".