The Eagles is the champ in the recent faculty and staff sportsfest
Details

Written by MLTan

Published: 22 March 2012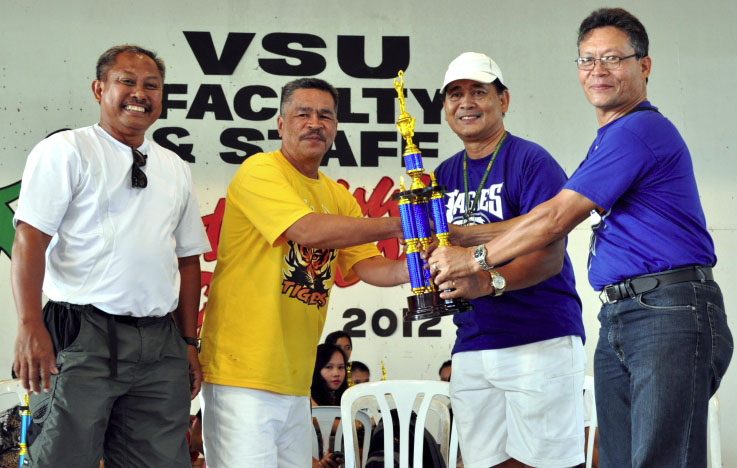 The University grounds shook with excitement and exhilaration on the annual faculty and staff sportsfest held on February 29-March 2, 2012 at the VSU Main Campus.
The Eagles eagerly snatched this year's championship from the defending Leopards with a whopping 231 points. The team mightily spread its prowess in the women's category on kickball, badminton and table tennis, while soaring high on walkathon, table tennis and tennis for men. It also triumphed on the table tennis mix category. The thrill lingers on as the roaring Tigers came close in the second spot with 229 points. The fast and furious team dominated the basketball for men, volleyball women, badminton mix, billiard women and dama men.Slithering slowly but surely for the third place is the Mighty Pythons earning 208 points. The Pythons nudged to victory in three events; tennis women, chess men and dama women. Interestingly, the team got to showcase its knacks in the literary musical contest and gained the championship in this category.
The defending champion, the fierce yet friendly Leopards amiably acquiesced like a true sport as it gaily lagged in the last spot with only 197 points.
Meanwhile, this years' literary contest was filled with amusement and cheers as the four teams competed each other featuring their local rendition of classic Visayan love songs and poetry in the Vocal Solo and Balak Category.
Each team's couples charmingly chase the tune while strutting their hearts out in cha-cha, tango, boogie and pop dances.
This annual activity is a privilege that all university employees get to enjoy to take some time off from the daily pressure of work and to frolic and relax to be reenergized again when they go back to their respective duties.
Dr. Oscar B. Posas, VP for Instruction and the University's Caretaker of the moment, stressed that "Health is Wealth". He encouraged everyone to practice and participate in physical activities regularly to maintain a pink health, he quipped.