OVPAF reveals administrative plans for 2012
Details

Written by MMCano

Published: 15 March 2012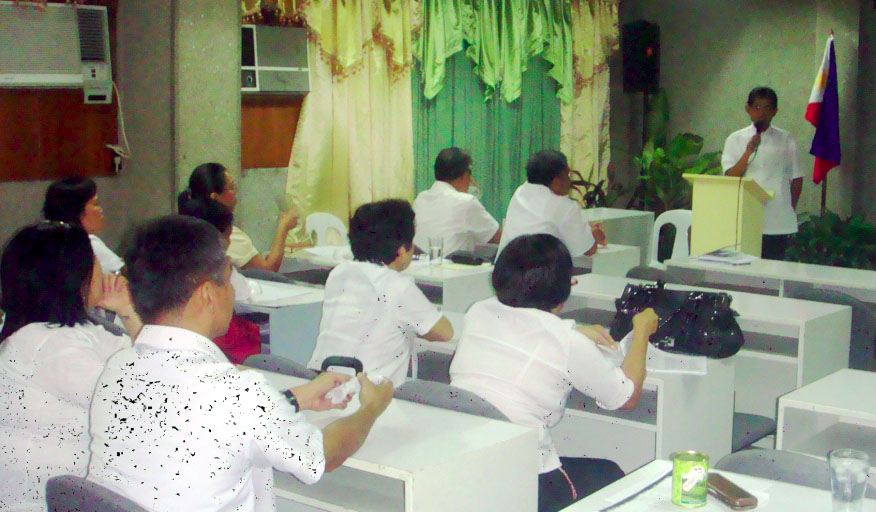 There is a need to conduct a financial audit of all the research conducted with finances or budget coming from the General Appropriations Act (GAA), after the review, because based on the records of the Budget Office, the Office of the Vice President for Research and Extension OVPRE) is one of the sources of savings when the year ends.
"This is because there are studies that are funded by the GAA but are not utilized properly," revealed Dr. Roberto C. Guarte, VSU's VP for Administration and Finance (OVPAF). He said this during the presentation of 2011 RDE Accomplishments and 2012 Plan of Activities held on January 25, 2012 at the OVPRE AV Room.
Dr. Guarte added that "This year, the allocation for research is reduced by more than P200,000 thus instead of P7.3M, your budget now is only P7.099M and P4.2M of this is given to the PhilRootcrops because they have a lot of responsibilities. The rest is shared by the different research centers and also by the other departments that also have research activities."
According to him, there is also a need to conduct personnel mapping before replacing the around 30 retirees this year. "We have to look at the personnel requirement now of the different units and research centers because we might be able to convert some of the plantilla positions to full-time positions," Dr. Guarte added.
He also revealed that VSU is now being evaluated in terms of its financial program with respect to the five key result areas of the President's social commitment to the people of the Philippines, which includes: 1) Anti-corruption/Transparent, Accountable and Participatory Governance; 2) Poverty Reduction and Empowerment of the Poor and the Vulnerable; 3) Rapid, Inclusive and Sustainable Economic Growth; 4) Just and Lasting Peace and the Rule of Law; and 5) Integrity of the Environment and Climate Change Mitigation and Adaptation. "There are different factors that are listed under each responsibility of the university and we have to indicate, in each of these five key indicators, how much money we should provide for each," added Dr. Guarte.
Finally, he said that the VPs, directors and deans should help the administration finalize the physical plan of the University for 2013, in terms of the five key result areas of the agreement of the President of the Philippines with the Filipino people. He said that they can do this through a workshop so that all the persons concerned will be familiar with the format and will find it easy to prepare and submit the necessary documents on time.