#VSUGrad: VSU science society honors outstanding student theses
Details

Written by ELTBestil

Published: 13 June 2017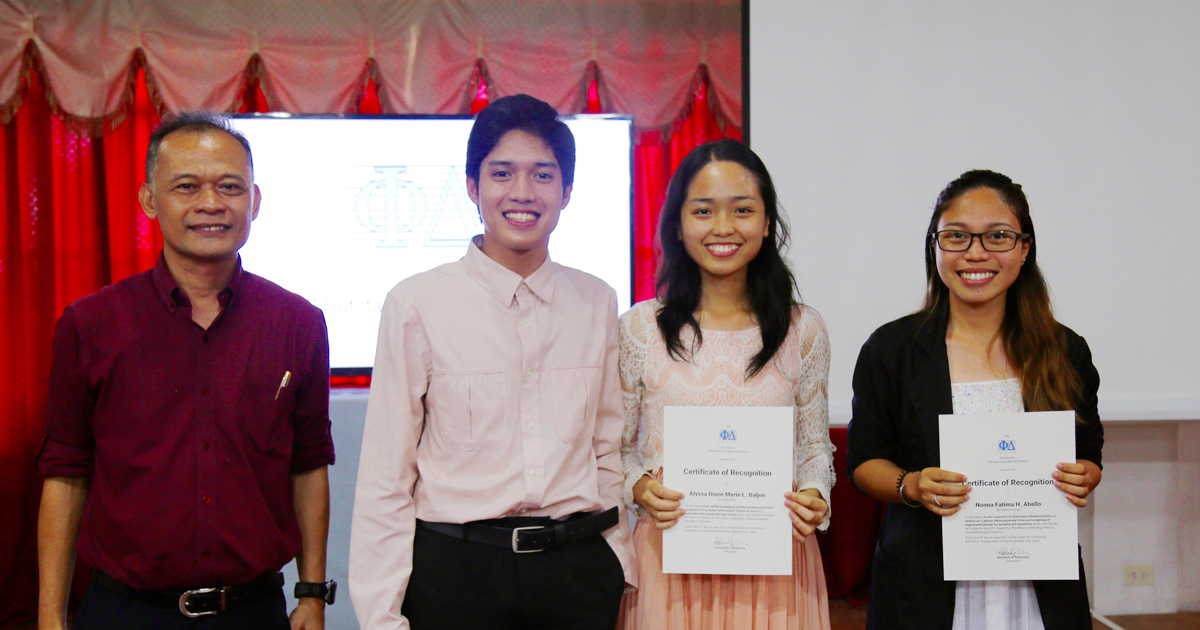 Every year, VSU's Phi Delta Honor Society of Science (PDHSS) recognizes outstanding undergraduate and graduate theses days before the graduation.
This year, six student researches were lauded for their originality or creativity, innovative methodology, significance in terms of their ability to contribute to existing body of knowledge and stimulate scientific research and growth in a specific area of study.
The following are the winners of the 2017 Phi Delta Outstanding Theses Awards, June 9, at the VSU Center for Continuing Education:
Economics and Business Category
Therese C. Ratilla, BS in Economics - Investment appraisal and risk assessment of protected vegetable cultivation under Leyte conditions
Social Sciences
Ria A. Micate, BS in Development Communication - Communication and adoption of drip irrigation among vegetables in Cabintan, Ormoc City
Basic Natural Sciences
Jenefa L. Canoy, BS in Biology - Cytotoxicity an Antiangiogenic activity Turbinaria ornate Agarch and Padina australis Hauck ethanolic extracts
Applied Physical and Environmental Sciences
Christian Carven C. Morales, BS in Computer Science - Development of an android-based least cost chicken feed formulator
Applied Biological Sciences
Johannes Reiner Asio, BS in Environmental Management - Nutrient addition as a forest restoration management strategy for Yakal Yamban (Shoua falciferoides Foxw.) seeding establishment in ophiolitic soils
Graduate Theses
Miguel Francisco B. Abulencia, MS in Soil Science - Carbon and Nitrogen stocks and soil dynamics of degraded land one year after restoration using Acacia mangium Wilid. and Pterocarpus indicus Wilid.
The PDHSS received 59 papers this year which is by far the largest number of submissions since the inception of the Phi Delta Outstanding Theses Awards in 2004.
Among 59 submissions, three papers were chosen as finalists for each category.
Phi Delta is a professional, non-profit organization dedicated to encouraging the conduct of original and creative research among students. Winners will receive cash prize and certificates on the 2017 President's Tribute on June 14.
(with reports from AGSarmiento)