VSU physics prof lauded for inventing low-cost security cam
Details

Written by Novie Krystin Jabian

Published: 28 October 2019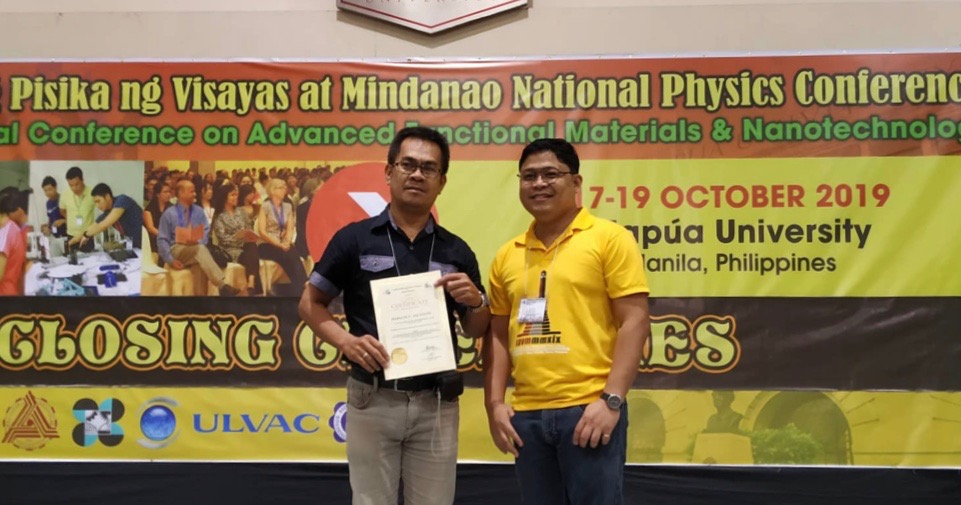 Marlon F. Sacedon, assistant professor at Visayas State University's Department of Mathematics and Physics (DMP), was recognized in an international physics conference for inventing a low-cost security camera made of readily available electronic parts.
He received the Surya Raghu Entrepreneurial Award, the highest recognition given by the Samahang Pisika ng Visayas at Mindanao to recognize Filipino physics researchers.
The award is named after Dr. Surya Raghu, a sought-after mechanical engineer, scientist, and entrepreneur who also serves as an international advisory board member of SVMP for years. Raghu is the founding president of Advanced Fluidics and founding-partner of ET Cuber International, Incorporated.
Prof. Sacedon's scientific paper entitled, "Simplified low-cost multi-function motion detector device (no Arduino)", puts focus on the importance of simplified home security for low-income households.
He explained how his newly created camera device can only capture and detect human motions, saving memory and power. The user can customize its settings, like the distance from 3 meters up to 7 meters, the time delay from 5 seconds up to 5 minutes, with a detection range of 140o.
Building the device can cost 200-300 pesos, using cheap components that are available in most electronic stores.
"Some common and effective solutions to [home security] problems are to install home security alarm, and video cameras in strategic places. But issues arise: low-income families can hardly acquire these units; and the memory capacity storage of video cameras—which can capture video clips 24 hours a day—needs to be bigger for longer use; and these require high power consumption. These issues pushed me to create a single device with multiple functions but can be created at an affordable cost," Sacedon said.
He presented his paper during the back-to-back 2019 International Conference on Advanced Functional Materials and Nanotechnology and 21st Samahang Pisika ng Visayas at Mindanao (SPVM) National Physics Conference from October 17 to 19, 2019 at Mapua University, Intramuros, Manila.
The SPVM aims to "encourage Filipino physics researchers to engage in research projects with high potential for commercialization."
Three internationally-based Filipino scientists—Dr. Elizier Estrecho of Australian National University, Dr. Rene Filchito Bagsican of Osaka University, and Dr. Jhunie Jhon M. Vequizo of Shinzu University—served as judges during the conference.