Faculty and Student Onboarding Plan for the New Normal
Details

Written by Visayas State University

Published: 05 August 2020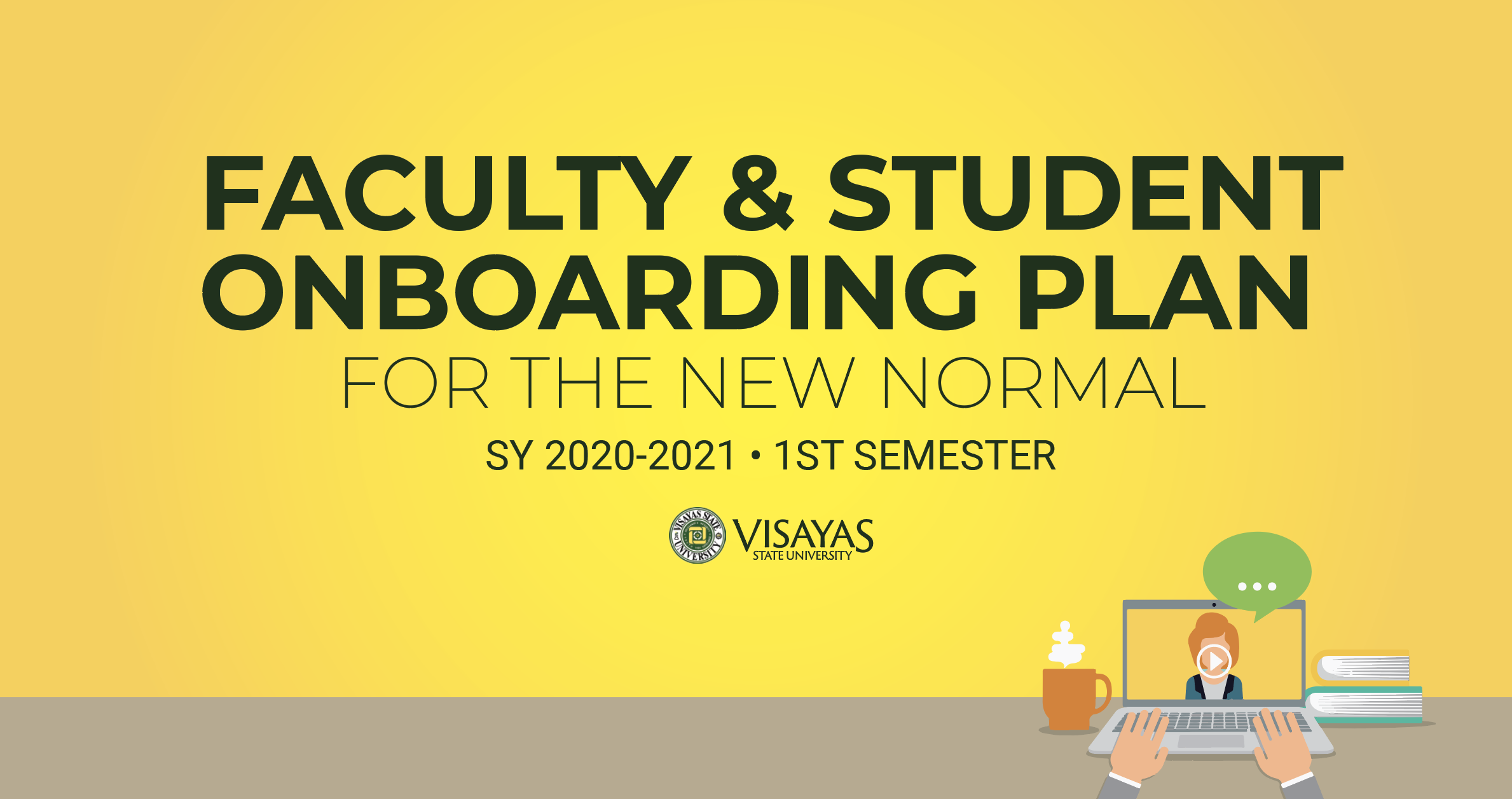 For education in the midst of a pandemic, we believe nobody should be left behind.
We have worked for months to prepare to make "flexible learning" happen for the new school year. As we open a new semester, we would like everyone to be oriented with everything we are doing in the new normal.
Because of this, we invite the faculty and staff of the Visayas State University system to participate in this series of onboarding activities.
Most of these events will be live-streamed on our major platforms, and we will inform you ahead of time.
We are also building a centralized web page where you can find this information. For our students who chose the offline mode, the same materials will be available in print in the form of flyers and brochures.
Viscans, please block your schedule for these days in August. We look forward to seeing you in the Faculty and Student Onboarding events.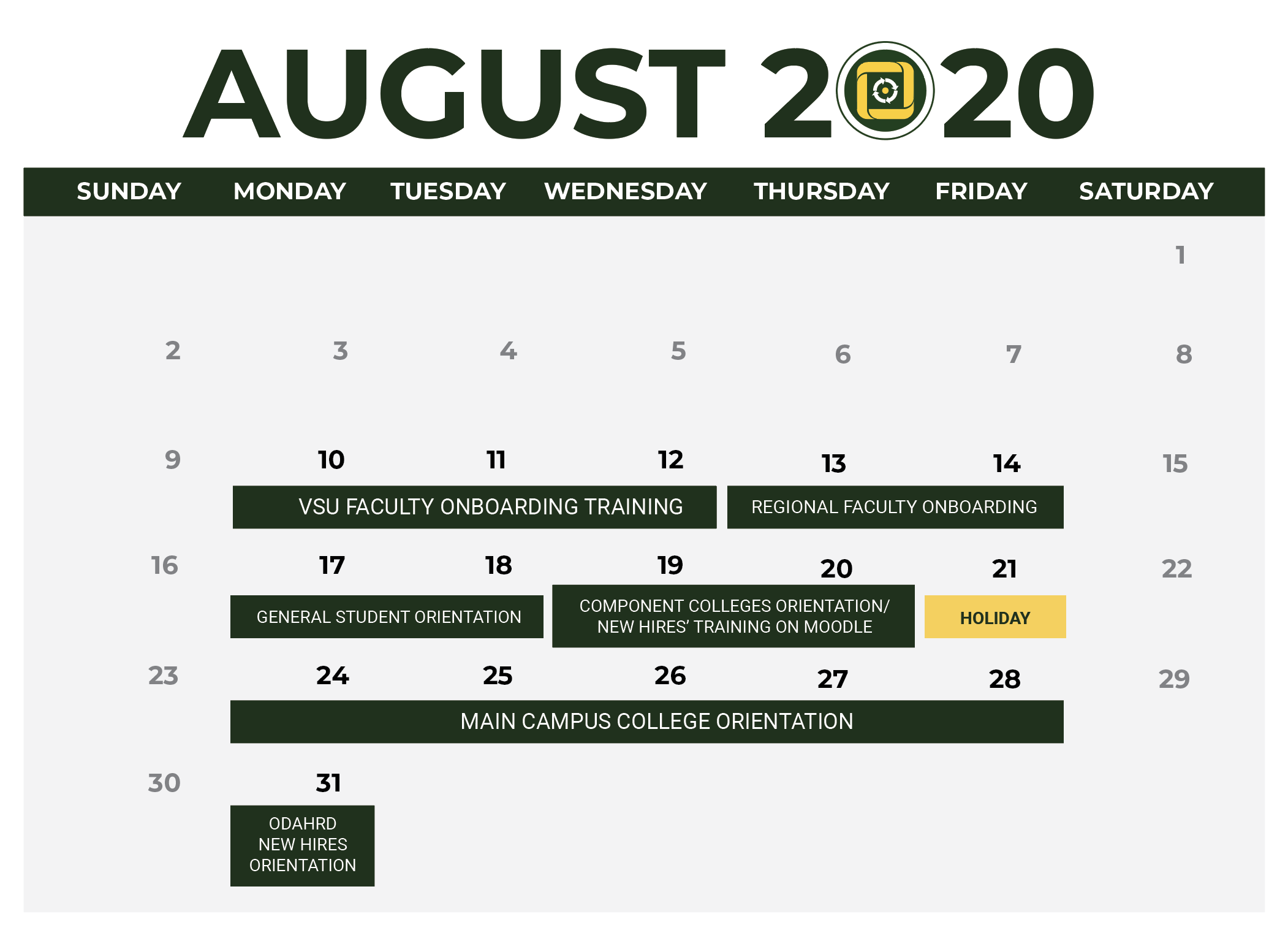 PROGRAM OF ACTIVITIES
A. VSU FACULTY ONBOARDING (August 10-13)
Part 1: VSU Learning Continuity Plan in the New Normal (August 10)


Time

Activity / Presentation Title

Speaker/In-Charge

10:00 AM

Training House Rules and Other Introductory Videos

c/o UIMC

10:10 AM

Welcome Message

Dr. EDGARDO E. TULIN
VSU President

10:30 AM

Talk 1 - The VSU Approach to Flexible Leaning (Online and Module-Based Remote Learning)

Dr. MA. RACHEL KIM L. AURE
IMD Head

11:30 AM

Talk 2 - A Profile of VSU Students in the New Normal

Mr. JED ASAPH D. CORTES
Web Team Head

12:00 NN

LUNCH BREAK

01:30 PM

Talk 3 - The VSU Academic Curriculum

Dr. GUIRALDO C. FERNANDEZ
Director for Instruction

02:30 PM

Talk 4 - Academic Advising in the Time of New Normal

Dr. BEATRIZ S. BELONIAS
VP for Academic Affairs

03:30 PM

Open Forum

Ms. MAE CLAUDINE M. GICA
DDC Instructor/Moderator

04:00 PM

Synthesis and Closing Remarks

Dr. VICTOR C. ASIO
CAFS Dean
Part 2: Class Management Tools and Resources in the New Normal (August 11)


Time

Activity / Presentation Title

Speaker/In-Charge

10:00 AM

Training House Rules and Other Introductory Videos

c/o UIMC

10:10 AM

Welcome Message

Dr. ALELI A. VILLOCINO
VP for Student Affairs and Services

10:30 AM

Talk 5 - The VSU Portal Version 2.0 and CumulusOne Updates

Mr. NORMAN O. VILLAS
ICTC Staff

11:30 AM

Talk 6 - Basic Office Application Hacks

Mr. JED ASAPH D. CORTES
Web Team Head

12:00 NN

LUNCH BREAK

01:30 PM

Talk 7 - Video Conferencing Tools for Synchronous Learning (Zoom, Google Meet and MS Teams)

Mr. NORMAN O. VILLAS
ICTMC Staff

02:00 PM

Talk 8 - Recording and Uploading Class Lecture Video

Dr. SANTIAGO T. PEÑA, JR.
CVM Dean

03:00 PM

Talk 9: Managing VSU's Digital Resources (Google Suite for Education)

Mr. JED ASAPH D. CORTES
Web Team Head

04:00 PM

Open Forum

Ms. MAE CLAUDINE M. GICA
DDC Instructor/Moderator

04:30 PM

Synthesis and Closing Remarks

Dr. MOISES NEIL V. SERIÑO
CME Dean

Part 3: Classroom Activities, Assessment, and Evaluation (August 12)


Time

Activity / Presentation Title

Speaker / In-Charge

10:00 AM

Training House Rules and Other Introductory Videos

c/o UIMC

10:10 AM

Welcome Message

Dr. BEATRIZ S. BELONIAS
VP for Academic Affairs

10:30 AM

Talk 10 - Managing Students in Online Learning and Navigating the Virtual Classroom

Mr. ULDERICO B. ALVIOLA
UIMC Head

12:00 NN

LUNCH BREAK

01:00 PM

Talk 11: Learning Assessment Techniques in the New Normal

Dr. MA. RACHEL KIM L. AURE
IMD Head

Dr. ANA MARQUIZA M. QUILICOT
International Affairs Head

02:30 PM

Talk 15 - Detecting Plagiarism in Student Work

Dr. MARIA VANESSA E. GABUNADA
DLABS Language Section Head

03:30 PM

Open Forum

Ms. MAE CLAUDINE M. GICA
DDC Instructor / Moderator

04:00 PM

Synthesis and Closing Remarks

Dr. BAYRON S. BARREDO
CoEd Dean

04:15 PM

Final Words

Dr. EDGARDO E. TULIN
VSU President
B. VSU STUDENT ONBOARDING (August 17-28)
Part 1: General Student Orientation for the New Normal (August 17)


Time

Activity / Presentation Title

Speaker / In-Charge

09:00 AM

Orientation House Rules and Other Introductory Videos

c/o UIMC

09:10 AM

Welcome Message

Dr. EDGARDO E. TULIN
VSU President

09:30 AM

Introduction of VSU Officials

Prof. FRANCISCO G. GABUNADA, JR.
University Secretary

10:15 AM

Academic Standards and Policies

Dr. BEATRIZ S. BELONIAS
VP for Academic Affairs

10:45 AM

University Student Services

PROF. MANOLO B. LORETO, JR.
Dean of Students

11:30 AM

Library Services and Open Educational Resources

Mr. VICENTE A. GILOS
OIC-Chief Librarian

12:00 NN

LUNCH BREAK

01:00 PM

Services for Health and Emergency Rescue

Dr. ELWIN JAY V. YU
VSU Chief Medical Officer

01:30 PM

Student Rights and Responsibilities

Atty. RYSAN C. GUINOCOR
VSU Legal Officer

02:00 PM

An Introduction to UniFAST (Republic Act 10931)

PROF. MANOLO B. LORETO, JR.
Dean of Students

02:30 PM

VSU Gender and Development Program

Dr. MA. AURORA TERESITA W. TABADA
Gender and Development Head

03:00 PM

Cash Division Services

Ms. QUEEN-EVER Y. ATUPAN
Cash Division Head

03:15 PM

Campus Safety and Security Services

Dr. DARIO P. LINA
Chief of Safety and Security Services

03:30 PM

Student Portal Services

Mr. NORMAN O. VILLAS
ICTMC Staff

04:00 PM

Social Media Services and Online Etiquette

Mr. ULDERICO B. ALVIOLA
UIMC Head

04:30 PM

Open Forum

Ms. MAE CLAUDINE M. GICA
DDC Instructor / Moderator

04:55 PM

Closing Remarks

Dr. ALELI A. VILLOCINO
VP for Student Affairs and Services
Part 2: The VSU Online Learning Management Systems (August 18)


Time

Activity / Presentation Title

Speaker / In-Charge

09:00 AM

Orientation House Rules and Other Introductory Videos

c/o UIMC

09:10 AM

Introducing Google Classroom as an Online Learning Management System

Mr. JED ASAPH D. CORTES
Web Team Head

12:00 NN

LUNCH BREAK

01:00 PM

Introducing Moodle as an Online Learning Management System

Dr. WINSTON M. TABADA
DCST Head

04:00 PM

Navigating the Instructional Materials for Remote Learning

Dr. MA. RACHEL KIM L. AURE
IMD Head

04:30 PM
Open Forum

Ms. MAE CLAUDINE M. GICA
DDC Instructor / Moderator



04:50 PM

Closing Remarks

Dr. DILBERTO O. FERRAREN
VP President for Planning, Resource Generation and Auxiliary Services
Part 3: Component College Orientations (August 19-20)


August 19

09:00 AM

VSU Tolosa Orientation

To be identified by VSU Tolosa Chancellor

12:00 NN

LUNCH BREAK

01:00 PM

VSU Villaba Orientation

To be identified by VSU Villaba Chancellor

August 20

09:00 AM

VSU Isabel Orientation

To be identified by VSU Isabel Chancellor

12:00 NN

LUNCH BREAK

01:00 PM

VSU Alangalang Orientation

To be identified by VSU Alangalang Chancellor
Part 4: Main Campus College Orientations (August 24-28)


Date

Time

Activity

Speaker / In-Charge

August 24

09:00 AM

College of Agriculture and Food Science (CAFS) Orientation

To be identified by CAFS Dean

12:00 NN

LUNCH BREAK

01:00 PM

College of Nursing (CoN) Orientation

To be identified by CoN Dean

August 25

09:00 AM

College of Engineering and Technology (CET) Orientation

To be identified by CET Dean

12:00 NN

LUNCH BREAK

01:00 PM

College of Veterinary Medicine (CVM) Orientation

To be identified by CVM Dean

August 26

09:00 AM

College of Education (CoEd) Orientation

To be identified by CoEd Dean

12:00 NN

LUNCH BREAK

01:00 PM

VSU Integrated High School (IHS) Orientation

To be identified by IHS Principal

August 27

09:00 AM

College of Forestry and Environmental Science (CFES) Orientation

To be identified by CFES Dean

12:00 NN

LUNCH BREAK

01:00 PM

College of Arts and Sciences (CAS) Orientation

To be identified by CAS Dean

August 28

09:00 AM

College of Management and Economics (CME) Orientation

To be identified by CME Dean

12:00 NN

LUNCH BREAK

01:00 PM

Graduate School Orientation

To be identified by GS Dean