VSU prexy welcomes 13K students in new normal, offers free modules to offline learners
Details

Written by Derek Alviola

Published: 19 August 2020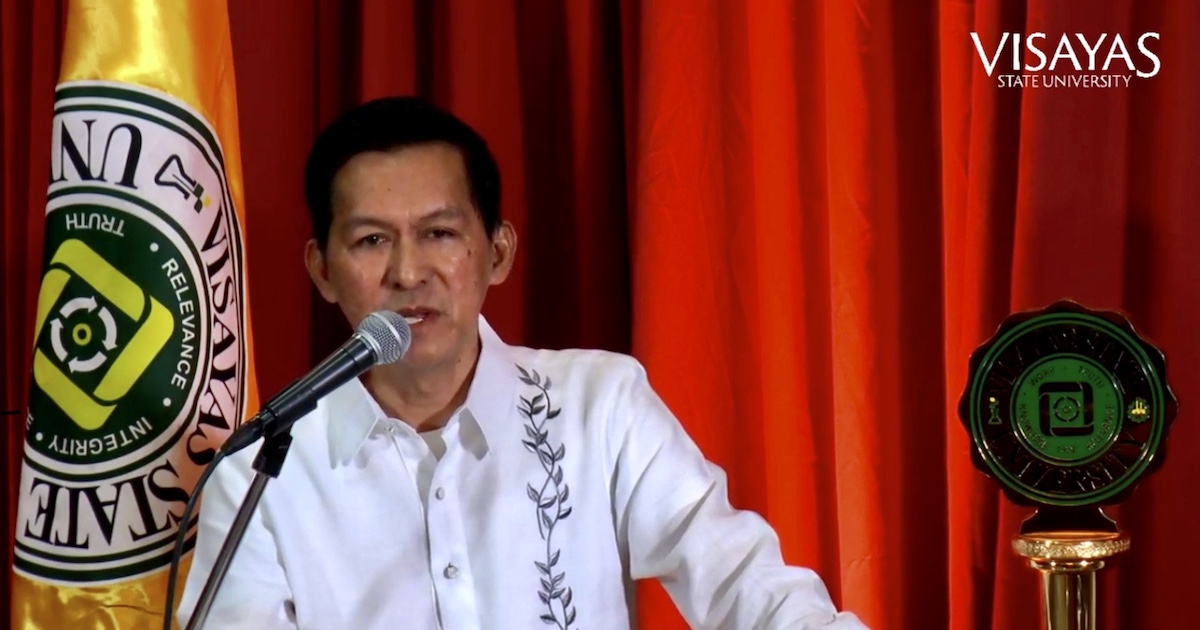 Through a live virtual student onboarding broadcast, VSU President Edgardo E. Tulin welcomed a total of 13,344 students of the Visayas State University system for the First Semester of SY 2020-2021.
The total student population of the VSU system grew by about 1,500 students or 13% despite the threat of COVID-19. The university's extensive online and offline enrollment systems across its campuses ensured that students will be enlisted and officially registered for this semester.
President Tulin also attributed the enrollment increase to other factors such as the early conduct of the VSU College Admission Test (CAT).
"We held our CAT sometime in January to March this year which was weeks before the declaration of the community quarantine. We also released our CAT results in the first week of May 2020 so that our students will be able to prepare their enrollment documents ahead of time. So I think these things are also important factors why our enrollment increased even if there's a global pandemic," Dr. Tulin said.
National enrollment was projected to drop by a significant percentage because of COVID-19. The Department of Education (DepEd) even reported more than 25% decrease in enrollment from kindergarten to senior high school based on July 2020 data with private schools experiencing the biggest decline because of the economic impact of the pandemic.
The Commission on Higher Education (CHED) also expects the same pattern and even projects a 70% plunge in enrollment in both private and state universities and colleges (SUCs).
A few more enrollment figures:
More than 3,600 or 27% of Viscans this semester are incoming first-year students.
The VSU Main Campus registered 469 graduate students who enrolled for the First Semester of S.Y. 2020 to 2021.
The Main Campus still enjoys the biggest chunk of students in the whole VSU system with 7,884 enrollees
VSU Tolosa follows with 2,114 students
Tulin: We will leave no Viscan behind
In his opening message during the first-ever student onboarding training held by a tertiary educational institution in the Philippines, President Tulin emphasized that VSU will always be there for its students as they make radical adjustments in the new normal.
"My dear students, I know and I feel that you have doubts in this new educational setup. My assurance is that my administration will be there for you to give assistance for all your needs so that you can still pursue your education. This is what it means to leave no Viscan left behind," he said.
The VSU's chief steward also assured the more than 3,300 live online viewers who tuned in to the university's Facebook broadcast of the university's flexibility and compassion in the learning modalities adopted this semester.
"Our flexible learning that we are adopting in VSU is inclusive by not only relying solely on available technologies and available internet infrastructure. We have partnered with a lot of local government units including some commercial courier service to ensure that the printed instructional materials are accessible to you."
True to VSU's commitment for inclusive and equitable education, President Tulin announced that printed instructional materials will be free of charge for the students who opted for remote offline learning.
This announcement gathered positive feedback in both Facebook and Twitter with the hashtag #iloveVSU landing in the top spot of Twitter topics in the morning of August 17.
---