For new VSU culture and arts head, the arts is for the masses
Details

Written by Aura Shaznay P. Tumulak

Published: 31 May 2021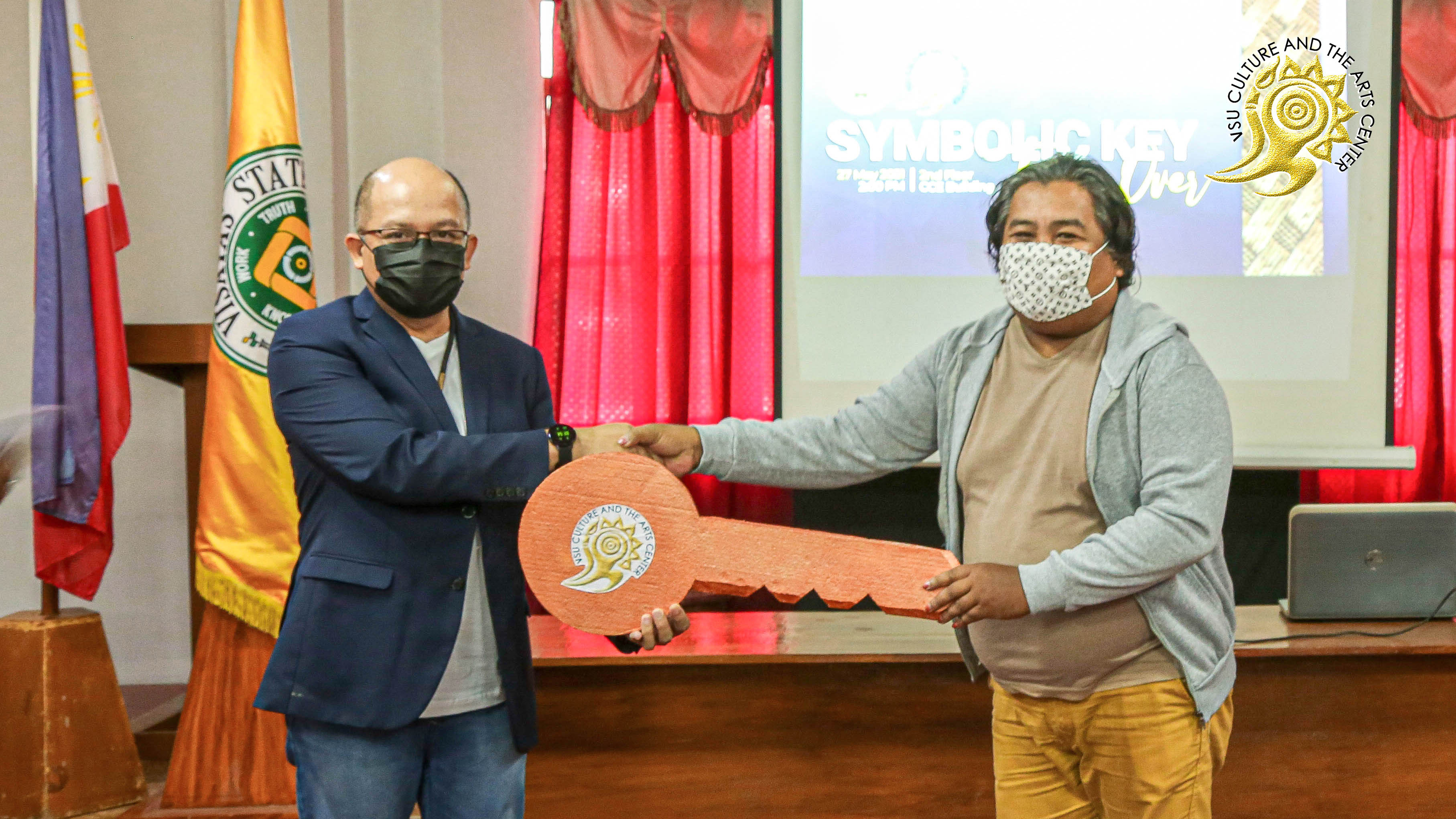 Former Culture and the Arts Head Prof. Allan Ramal (right) passes on the leadership to newly appointed head Prof. Jude Nonie Sales (left).
Endings are bittersweet—we close a chapter of our endeavors to make way for new ones.
Last week was the same for the Culture and the Arts Center (CAC) of Visayas State University that held their symbolic turnover from Prof. Allan Ramal's headship to Prof. Jude Nonie A. Sales, a faculty at the Department of Development Communication.
Members of CAC gathered for the humble event as a way to give a proper farewell to Prof. Ramal and warmly welcome Prof. Sales.
Prof. Ramal, who teaches chemistry by profession, expressed his gratitude to the CAC for allowing him to take part in promoting culture and arts in the university.
Prof. Sales, a visual artist and multi-talented events and theater director, was thankful to be entrusted with the responsibility to steer the direction of the CAC for the years ahead.
Last April, Sales led the opening of the virtual arts exhibit with his co-painters at the Visual Artists Association of Baybay City (VAAB). He also directed the production of intermission numbers for the anniversary events.
"It's very challenging to come up with programs in this time of the pandemic and our capabilities were first tested during the VSU anniversary where we had to make our projects available online, but we were able to make it possible because of everyone's cooperation," he shared with his team.
With confidence, he accepted the challenge that his leadership would soon face.
CAC is envisioned to grow in the next five to ten years and Prof. Sales said he is committed to introducing innovations that would help foster the unit's growth. He shared that his mantra would be their guiding principle for their work.
"We have to innovate, we have to communicate, and we have to engage," the newly appointed CAC head asserted.
Prof. Sales believed that arts and culture should not only be enjoyed by collectors but also by the masses as well. He said that all projects of the team would be leaning towards the realization of that goal.
"Before, Arts was only enjoyed by the rich and the learned, but now we have the responsibility and credibility to share arts and culture not just to them but to the masses and even to the grassroots communities," he said.
Some of the other projects he shared were the development of more visual art projects like unique literary pieces, theater productions, and photography exhibits. There will also be projects coming from the VSU chorale and VSU dance troupe that he hopes to showcase to the audience in the future.
The newly appointed CAC head believed that culture and arts would be here to stay, no matter what challenges the world would face and he is very much willing and excited for him and his team to continuously be part of spreading its value to everyone.