President's Notes: Welcoming 13,744 Viscans all over the VSU system
Details

Written by Edgardo E. Tulin

Published: 19 August 2021
This speech was delivered on August 19, 2021 during the Systemwide Student Onboarding Program of the Visayas State University.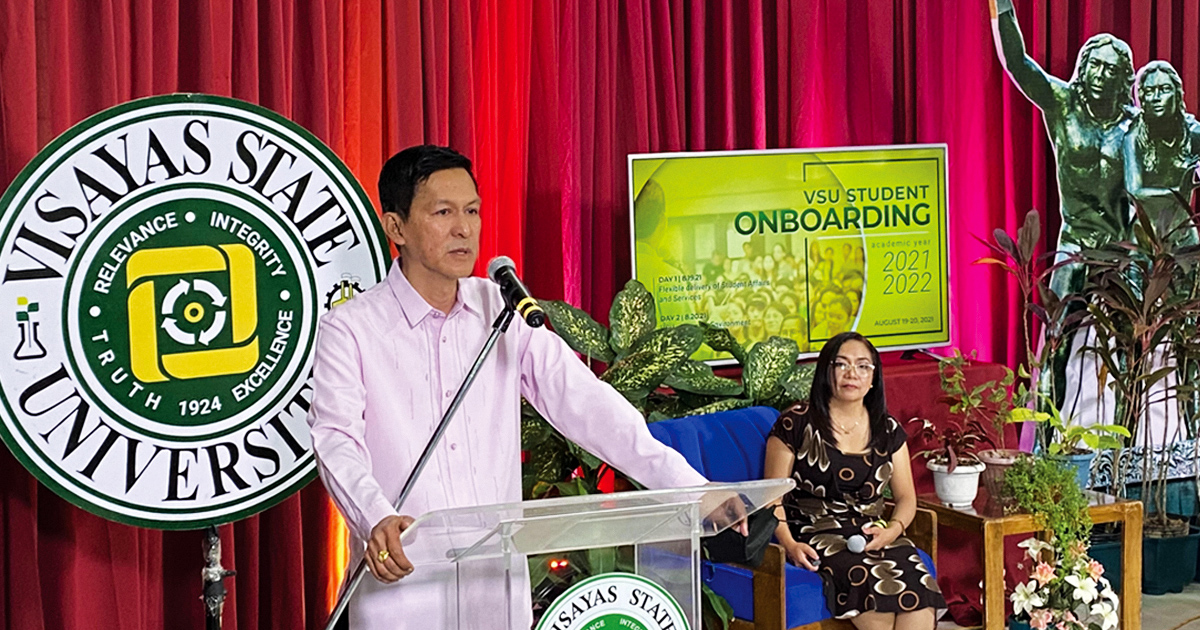 I welcome you all to the second Systemwide Student Onboarding Program of the Visayas State University. This is one of the learning innovations that we pioneered here in VSU for the new normal education setup that has been replicated by other colleges and universities all over the Philippines.
Right after this two-day systemwide student onboarding program, we will turn you over to your respective colleges next week so that they too can also orient you about things that you need to know about your respective degree programs including some of the adjusted academic policies that we have implemented in time for the new normal.
But before I give my message of welcome to all of you, please allow me to give a big shoutout to all of you by calling your respective campuses. Let's start with VSU Alangalang, hello to all of you watching our livestream this morning. Our initial enrollment in VSU Alangalang is at 1,319 students. Next stop, we have VSU Isabel who already registered 1,270 students for this semester. Hello to all of you. I hope that you are watching this program safely at the comforts of your own homes.
How about VSU Tolosa, kamusta naman mo diha? Your campus has an initial enrollment of 2,377 students which is the biggest population among all our component colleges. Wow! That's quite a big number so far. Then we go to VSU Villaba, a big shoutout to all of you. According to our initial records, you now have 749 strong students from your campus. Welcome to VSU.
And of course, last but not the least, is the VSU Main Campus with 8,029 registered students for the first semester of Academic Year 2021 to 2022. Overall, our total number of registered students as of now is 13,744.
I'm happy that our enrollment figures are still growing despite the COVID-19 pandemic. But I hope that we can increase this number further while we are completing the registration of our late enrollees.
Okay, now back to my welcome message and I hope that you will pay close attention to what I'm going to say.
My fellow Viscans, as you already know, this will now be our second official year to open our classes without you being able to enter the hallowed portals of our dear VSU. We miss having all of you around. We honestly do.
In fact, we miss the sight of students strolling around our campus. We miss your noise especially when you're walking through our corridors while having fun with your classmates and friends.
We miss the fun events that we used to hold with you to showcase your amazing talents and skills. We miss seeing our classrooms being occupied by you, our dedicated students who are eager to learn so that you can fulfill your dreams and aspirations in life.
But unfortunately, we are far from being safe nowadays. And therefore, the best thing to do is to continue your education at your own homes because learning must go on and should never be hindered by COVID-19.
My dear students, I share your frustrations that things are not going the way we want it to be. Inasmuch as we want to welcome you back here in our beloved campus, you know that we need to prioritize first the safety and security of everyone. We cannot compromise their health by opening our gates to all of you.
We need to continue to trust our local authorities so that we can contain the spread of the virus especially that we now have a Delta variant that has wreaked havoc to many countries around the world.
The best way to fight this is to stay at home and minimize our mobility while we are still waiting for vaccines to be readily available to everyone. I hope that if you get the chance to get the vaccine, you will never hesitate to do so because it is only through vaccination that we can have confidence that will allow us to get back to our life before the pandemic.
As students of the premier university of science and technology in the Visayas, you have the responsibility to advocate for scientific advancement. I hope that by now, you already understood that it is only through science that we can defeat COVID-19. That's why we also need your help in convincing many people, especially those around you, to trust and rely on science.
Vaccines are by-products of science and they do work, no matter what the brand, especially in protecting you and your loved ones from contracting severe cases of the corona virus disease.
Now, let's talk about your learning needs. I know that one year into your online classes, we realized so many things along the way. We were challenged in so many aspects including having no access to a stable internet, the financial requirement needed to buy gadgets like cellphones and laptops, lack of concentration brought about by your daily chores at home, a lot of mental health issues as a result of your personal fear and anxiety, and the lack of motivation because we are overwhelmed by so many things.
To our continuing students, I say congratulations to all of you because you survived one full academic year that started with a great amount of uncertainties and ambiguities. That alone is already an achievement that's why you need to pat yourself at the back because you did something productive last year even if you were just at home. To our new students, welcome to the family of Proud Viscans!
Honestly, there are too many students out there who had to drop out of school because of the challenging circumstances that they had to go through. Let's continue to pray for them that one day they can return back to school to finish what they started. But I want you to reflect on this reality and be thankful that you can still pursue your college education right now even if times are so tough.
You have been blessed to enjoy free tuition for the past years, a thing that most people before you did not experience. That's why I'm encouraging you to pay back the Filipino taxpayers who are subsidizing your school fees by working extra hard in your academic even if times are tough.
My administration is committed to help you navigate through the many challenges brought by this pandemic. We adjusted our academic policies to make it fit for your needs. Time and time again, we have reminded your professors and instructors to always show compassion without compromising our long-held academic standards. We even modified our existing systems while also providing student support mechanisms that will make things bearable for all of you.
But please also know that we can only do so much for you. The reason why the Lord gave us two hands is because our one hand is intended for helping others while the other hand is meant for helping your own self.
Diana Ross put it beautifully when she said and I quote, "You can't just sit there and wait for people to give you that golden dream. You've got to get out there and make it happen for yourself".
Have you tried watching DIY videos in Youtube, Facebook or even in Tiktok? Do you know what DIY stands for? Hopefully by now, you already know that DIY means 'do it yourself'. DIY is a pretty straightforward-sounding concept that instead of you buying something from the store, you will have to come up with something that will make things easier for you.
One best selling author named Napoleon Hill said that "It takes half of your life before you discover that life is a do-it-yourself project".
I hope that by pursuing your education here in VSU, you will be able to come up with a do-it-yourself project that we can soon call 'success'. I cannot promise you that things will be easy for you from today until your finish your college graduation. But all I can assure you is that taking and completing this path is going to be worth it, not just for you but also for the people who genuinely care for you.
My dear Viscans, I'm wishing all of you a productive and fruitful academic year ahead. Let's continue to pray for one another and hope that one day, we will see an end to this pandemic so that we can reclaim some of the things we lost for the past years.
God bless you and your family. Daghan kaayong salamat!