VSU is Philippines' top 8 university according to Webometrics
Details

Written by Marianne C. Bayron

Published: 31 August 2022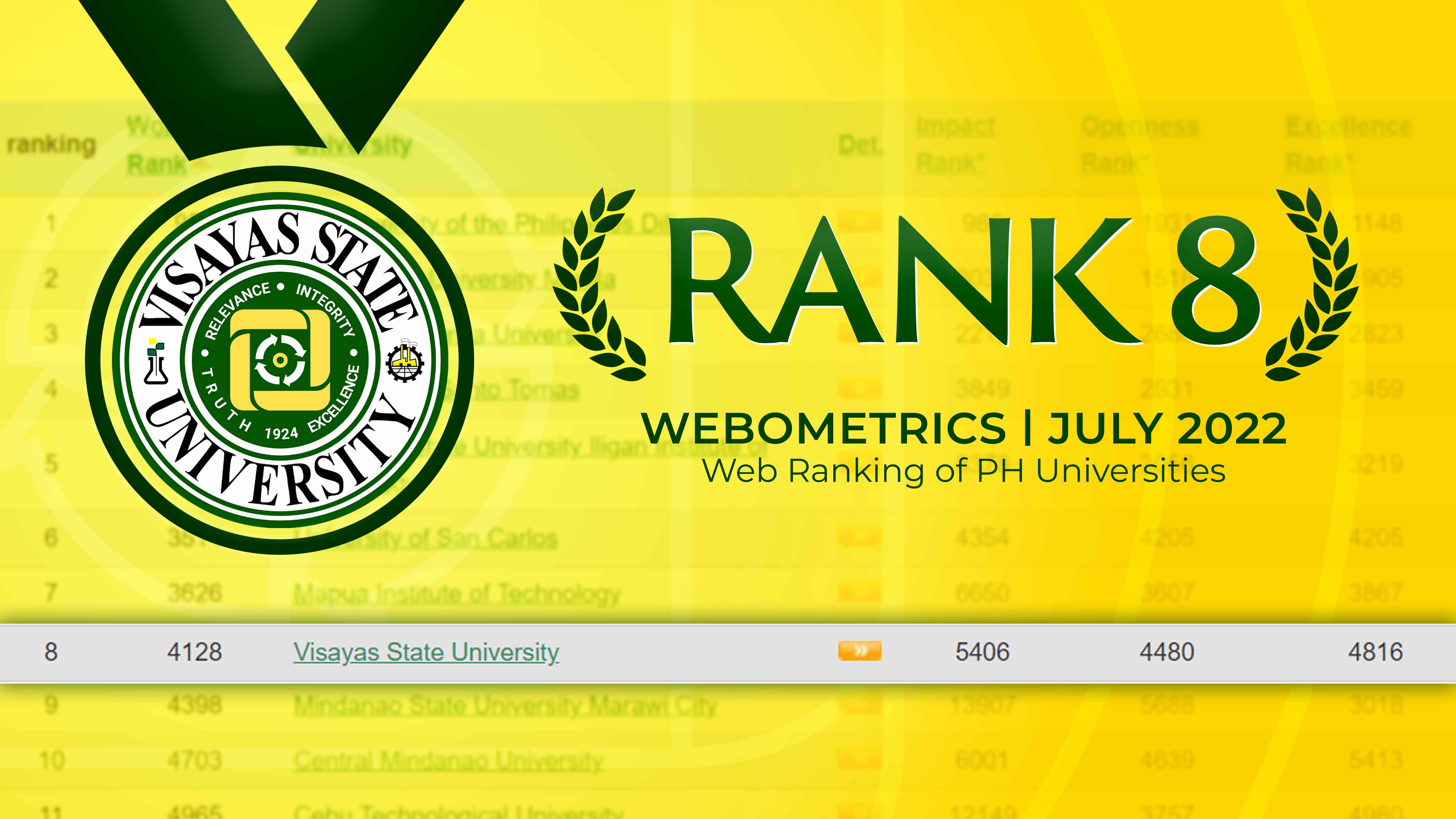 For the first time, VSU breaks into the magic 10 circle of the Webometrics Ranking of World Universities placing 8th among the 366 public and private institutions in the country that were rated in the July 2022 edition of this international ranking system. judi daring online
The university broke its previous performance by climbing 9 steps higher from its most recent ranking of 17th place released 6 months ago.
This monumental leap is attributed to the increased online visibility of VSU via the impact of web contents it generated from January to July this year.
Called the impact rank, this measure constitutes a whopping 50% of the overall criteria that were analyzed using the database of two of the largest independent search engine optimization (SEO) analyzers, namely Ahrefs and Majestic.
The other indicators include openness rank and the excellence rank which constitutes 10% and 40% respectively. slot anti rungkad
Openness rank is measured according to the number of citations from the world's top 210 authors according to Google Scholar while the excellence rank is based on top cited papers across 27 disciplines from 2017 to 2021 as rated by Scimago.
With these three indicators in place, this ranking system is therefore not a mere ranking of university websites alone as it uses both webometric and bibliometric indicators in rating all the 11,994 institutions that were evaluated in its July 2022 edition. slot deposit 5rb
VSU and the University of San Carlos (6th) are the only two universities from the Visayas region to make it to the top 10.
Aside from VSU, only 4 other universities in Eastern Visayas made it to the top 100 cut including Samar State University (56th), Leyte Normal University (68th), Eastern Visayas State University (78th), and University of Eastern Philippines (100th).
The country's big 4 universities dominated this ranking system with University of the Philippines Diliman placing 1st followed by De La Salle University, then Ateneo de Manila University, and finally University of Santo Tomas.
Meanwhile, Harvard University was rated first in the world by consistently obtaining the highest score in all the three indicators of this ranking system followed by Stanford University and the Massachusetts Institute of Technology.
Dr. Ulderico B. Alviola, the Head of the University Integrated Media Center (UIMC), explained how VSU improved its position in the Webometrics Ranking of World Universities for the past five years. slot hoki
"The marching order from President Tulin back when we were still starting the University Integrated Media Center (UIMC) was to make it to the top 10 circle. That was quite a tough call back then considering that when we began monitoring Webometrics, VSU was way far behind at 127th place. We studied their methodology and aligned our targets according to their metrics so from then on, we saw significant increases in VSU's performance," Dr. Alviola shared.
The UIMC Head continued that maintaining this status will be one of their main priorities in the next few years.
"Our target is to always outmatch our current performance. We understand how important it is to produce quality stories that will be read by our community and our other stakeholders. That's why we promise to write and feature more human-centered stories to present the very best of VSU to the world. This is on top of our upcoming target to revamp the look of our website to make it more suitable to the changing needs of our audience," Dr. Alviola revealed.
In response, VSU President Edgardo E. Tulin expressed his delight because of the improving rank of VSU in many independent ranking systems.
"I congratulate the UIMC for this very impressive performance in Webometrics. This is a clear indication of our growing reputation here and abroad. We will continue to pursue programs that will improve our international status as a world class university of science, technology and environmental conservation. My administration is fully committed to provide all the necessary support needed for the continued growth and development of our beloved VSU," President Tulin said.
The Webometrics Ranking of World Universities is a brainchild of the Cybermetrics Lab and is considered to be the largest academic ranking of universities and colleges all over the world.

The Cybermetrics Lab is an independent research group belonging to the Consejo Superior de Investigaciones Científicas (CSIC), which is the largest public research body in Spain.