PhilRootcrops' machine earns 2nd top prize in DOST national invention tilt
Details

Written by Clent C. Yanola

Published: 02 September 2022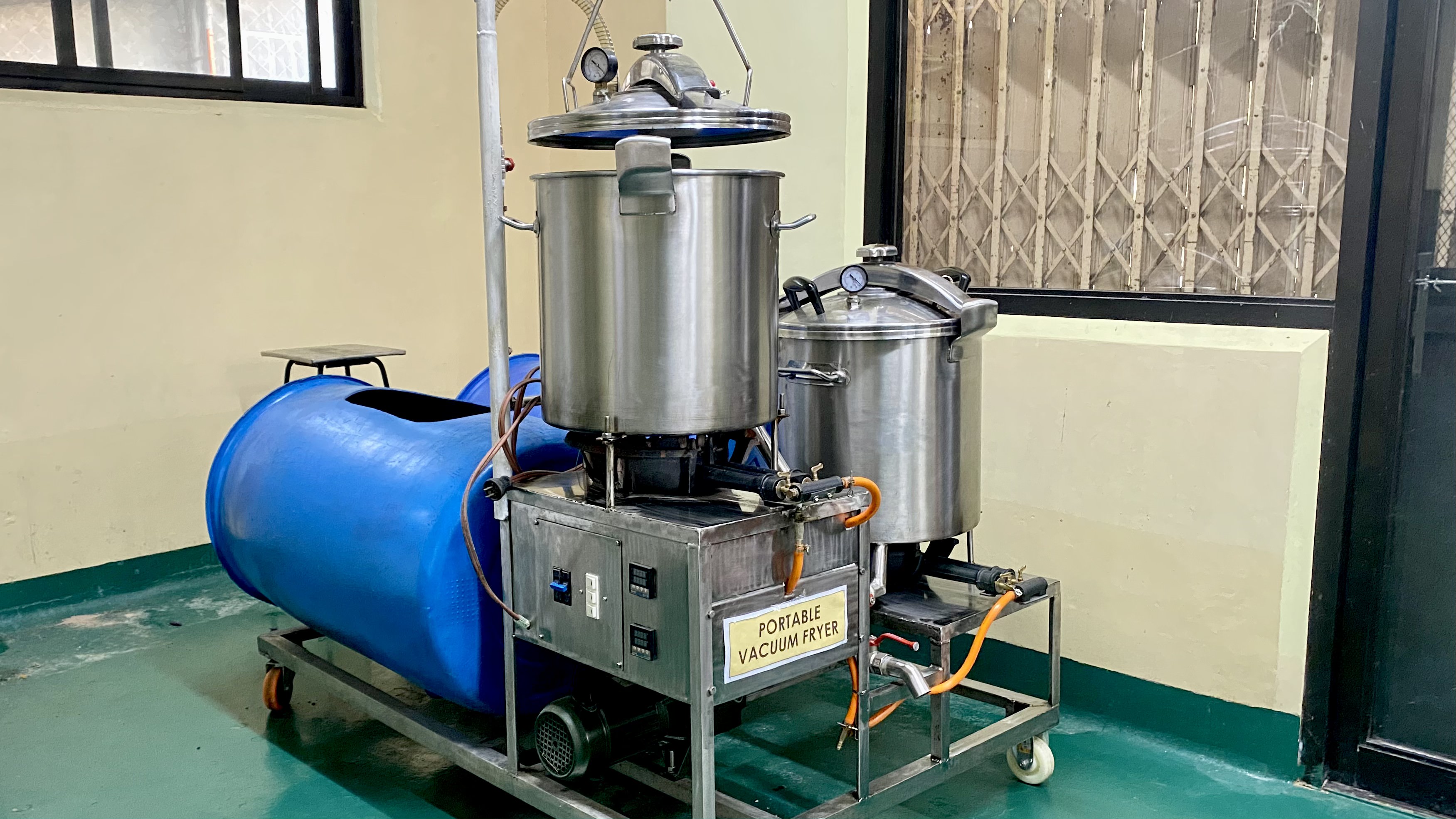 For the development of a working prototype of the Portable Vacuum Fryer, VSU Vice President for Administration and Finance Dr. Daniel Leslie S. Tan together with two other researchers from the Philippine Rootcrops Research and Training Center (PhilRootcrops) bagged the 2nd highest award for the nationwide Search of the Most Outstanding Utility Model.
More popularly known as the National Unlad Award, this recognition is part of a biennial event called the National Invention Contest and Exhibits (NICE) which is mainly spearheaded by the Department of Science and Technology (DOST) through its technology commercialization arm called the Technology Application and Promotion Institute (TAPI).
This prestigious competition recognizes local inventions, innovations, and research outputs in the Philippines that can potentially contribute to pushing national development initiatives through creative use of science and technology.
The competition involved a public expo that ran from June 22 to 24, this year with both physical and virtual exhibitions.
Included in VP Tan's team are Engr. Mark Anthony R. Atanacio and Mr. Benjamin L. Cinto, Jr. who are both working as Science Research Assistants at PhilRootcrops. They received a cash prize worth Php 100,000.00 from the DOST-TAPI.
Just last year, this same invention also won the Regional Invention Contests and Exhibits, which paved the way for the Portable Vacuum Dryer to be Eastern Visayas region's official entry to the national competition.
This technology is one of the outputs of the project called Enhancing the Development of Sweetpotato Food Value Chains in Central Luzon, Albay, Leyte, and Samar under the Sweetpotato Industry Strategic Program (SP-ISP) funded by ​​the Philippine Council for Agriculture, Aquatic and Natural Resources Research and Development (PCAARRD).
The winning national entry of the PhilRootcrops is an innovative and cost-efficient alternative over the conventional vacuum fryers widely used in the food industry today.
Dr. Tan revealed that they are currently promoting their invention for commercialization by reaching out to local fabricators who can help them in mass producing the technology.
"We are trying to promote this one. In fact, we are promoting this one for full commercialization. So we have contacted fabricators to mass produce this equipment. And we have an agreement with them to make it available to more interested individuals. One is in Iloilo, then we have another one here in Baybay. We're also contacting another fabricator in Ormoc City to produce this equipment," the main inventor of the machine said.
Dr. Tan also revealed that the Portable Vacuum Dryer is way cheaper to produce than the existing bulky vacuum dryers that are available in the market today. With the price of their machine costing just half of what a regular vacuum fryer has, he is hopeful that this will make way for more innovative food products that can be developed using their award-winning machine.
This year, 63 finalists coming from the different regions across the country competed under five NICE categories namely, Tuklas Award for Outstanding Invention with two finalists, Unlad Award for Outstanding Utility Model with ten finalists, and Banghay Award for Outstanding Industrial Design with six finalists.
Dr. Tan expressed his gratitude to DOST-TAPI for recognizing their collective accomplishment.
"The NICE was a good way of encouraging researchers to showcase their inventions and for this to be promoted to potential investors and even to the general public. I think what DOST-TAPI did was a good way of encouraging local innovations that would spur development through the effective use of available tools in science and technology," the lead researcher concluded.