#ProudViscans: Get to know some of our home-grown Internet celebrities
Details

Written by Ulderico B. Alviola and Clent C. Yanola

Published: 04 September 2022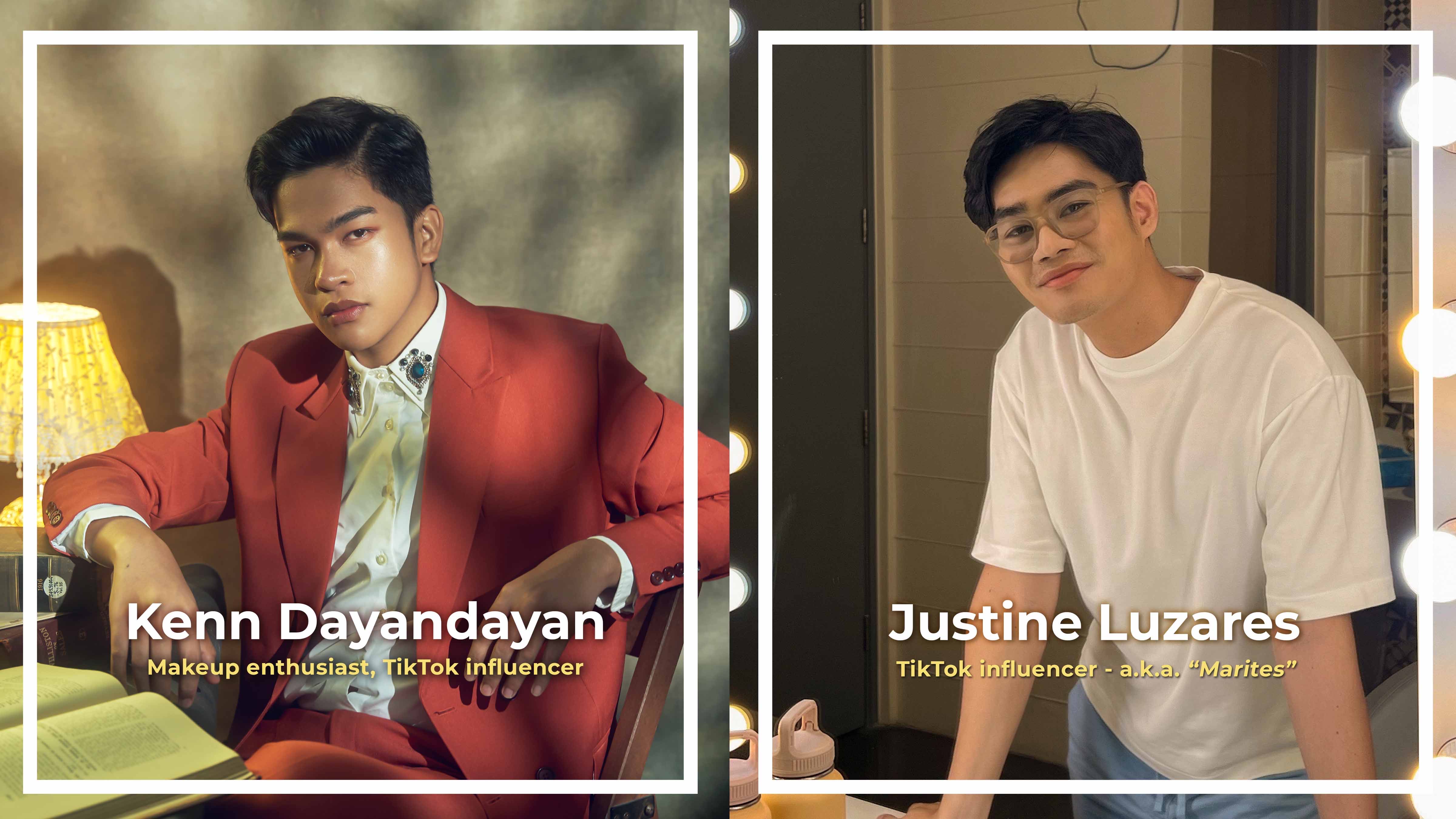 In a time when we were asked to lock ourselves in our respective homes, we relied so much on social media to seek information about the pandemic, including for entertainment mainly to reduce our stress and anxiety brought by COVID-19.
TikTok, a video-sharing app, has become one of our most popular platforms during these trying times especially for the Gen Z—a generation of young and vibrant teenagers who were practically raised on the internet and social media.
As of 2022, TikTok has become one of the most subscribed social media platforms with more than a billion monthly active users and a growing number of subscribers from older generations.
TikTok's democratizing power has allowed many Filipinos of all ages to showcase their talents, jump on the bandwagon, and build a platform out of it.
Meet the two #ProudViscans who are now rising internet celebrities carving their own name out of a unique content they provide to everyone.
One of them is entertaining us with his relatable comedy skits, while the other one is paving the way to break a common gender stigma among men.
The sosyalerang Marites
First meet Justine Luzares, the guy behind the famous TikTok character of a "Chismosang Marites"—your savage gossip girl neighbor with a Bridgerton-like accent.
Justine is a comedy skit creator who gained traction for portraying a typical Chismosa neighbor wearing a robe and a towel on her head while delivering jokes with a distinct style. Thanks to his outstanding ability to impersonate different accents.
He is known for his British adaptation of "Marites", referring to a gossiping person whose habit is to spread rumors and tittle-tattles.
Way back in 2020, Justine revealed that he did not like TikTok at first because he found the content from the app cringy. However, after months of being stuck in quarantine, an overwhelming sense of boredom set in, driving him to finally explore the array of what the app can offer and begin producing content.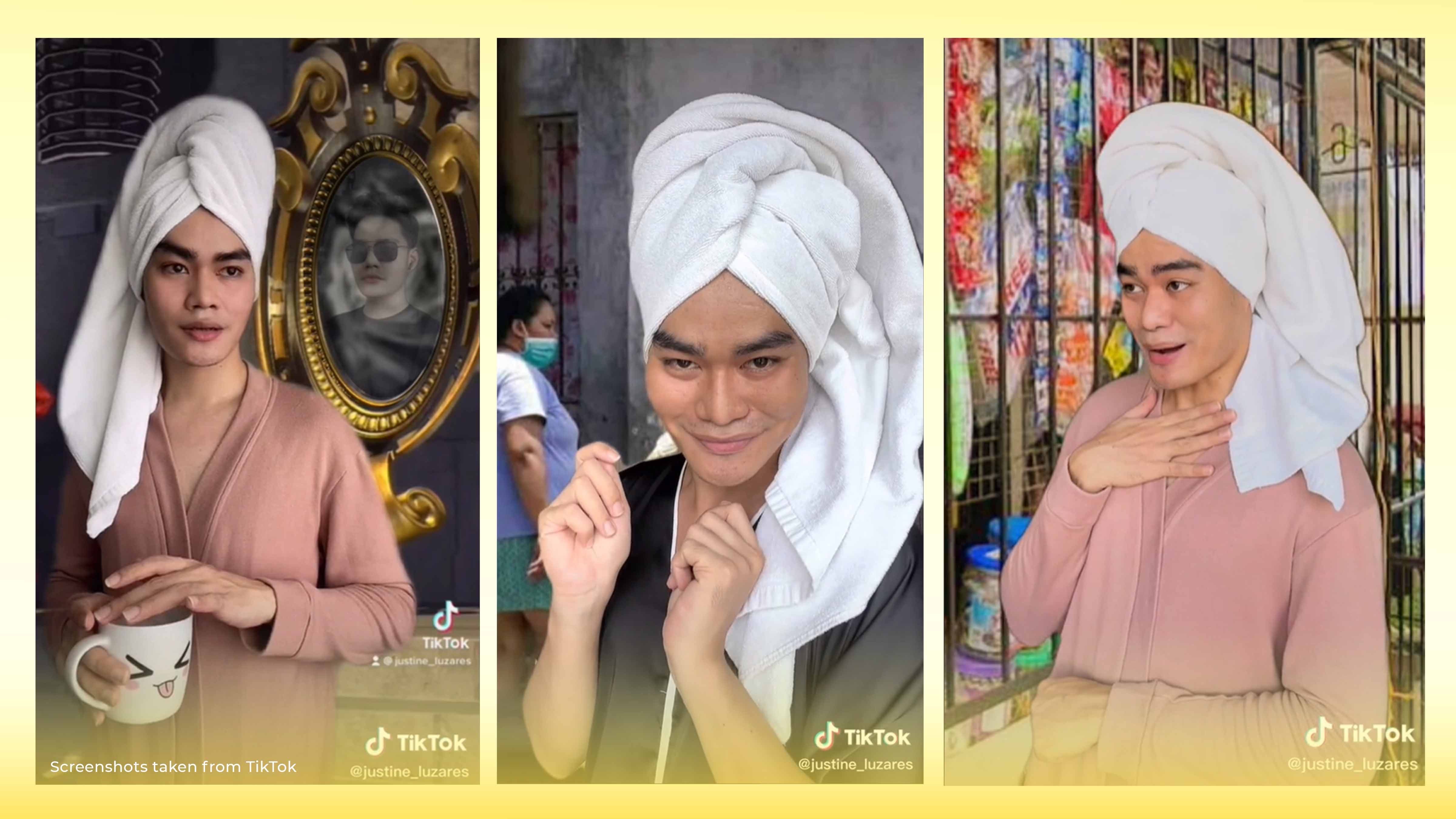 Justin believes that many Filipinos related to his videos of having a "Marites" neighbor. But he confessed that in reality, he was the complete opposite as he is socially awkward around people who recognize him in public spaces.
Growing up, he has always been passionate about watching Hollywood films like Troy (2004), and Harry Potter, where he would mimic the speech patterns or accents of the characters. He could still recall that he even memorized lines from the scenes of these movies. He said that mastering the accents took him a while, and it wasn't something that happened overnight.
Currently, he has already earned almost a million followers on TikTok and 300,000 followers on Facebook.
This 27-year-old rising internet star, is a native of Albuera, Leyte. He earned his Bachelor of Science in Agribusiness (BSAB) degree at VSU in 2017, where he graduated as Cum Laude.
Justine shared that at this point, he is looking forward to more mainstream media projects, one of which is where he appears in episodes of the TV show, Bubble Gang and the longest noontime show Eat Bulaga.
In just a span of two years, he already worked for 17 popular brands including Netflix, HBO, AXN, SM, and Puregold. Justine also appeared for a TV commercial for Smart Communications.
Justine hopes to raise the flag of #ProudViscans in the entertainment and creative industries by providing wholesome but relatable content for everyone.
During #VSUGrad2022, Justine surprised the whole VSU community by gracing the short after party celebration right after the 69th Commencement Exercises of the university.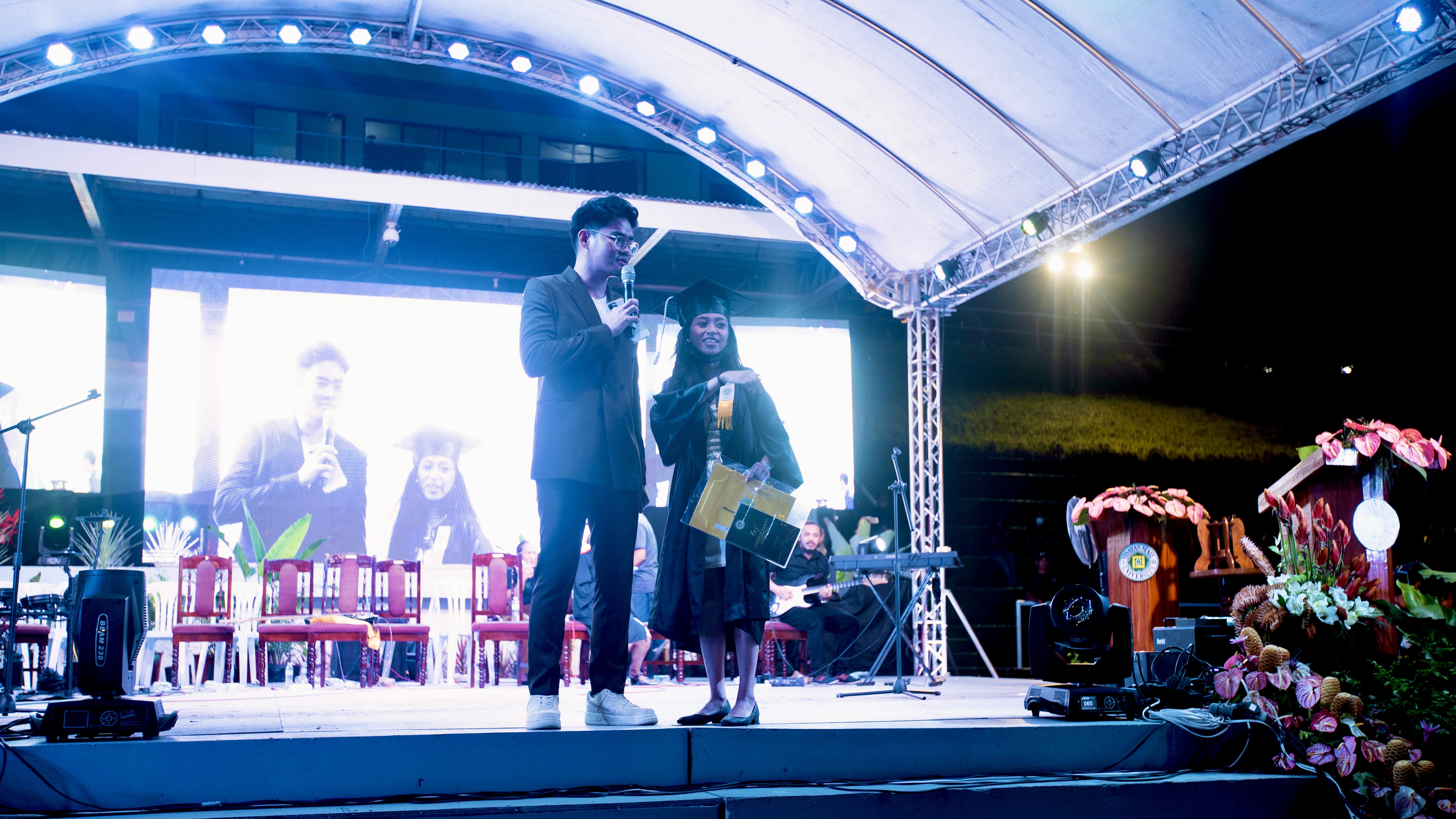 On stage, he presented his iconic british accent while also interviewing some graduates who stayed for the after party show.
Justine's visit brought extra color to the graduation ceremony that included almost 1,500 graduates, which is the biggest number of graduates ever produced by the university.
Breaking men stereotypes through make-ups
Kenn Dayandayan, known by his social media handle Kennnnito, started making TikTok out of frustration in the midst of the pandemic. He expressed that during that time, he wanted to create unique content that will also carry his development communication advocacy on gender empowerment.
From applying foundation to dusting on a blush, Kenn shares the day's look with his 280,000 TikTok followers, breaking gender preconceptions surrounding cosmetics and skin care that have discouraged guys from taking care of themselves.
Kenn disclosed that he was initially scared to post his videos because of society's stereotypes. However, after receiving positive feedback from the viewers, many of whom were very grateful for his content, he decided to continue posting makeup and grooming video tutorials.
Regardless of how superficial makeup, skincare, and even hair care are for some people especially among men, Kenn believes that looking good improves one's confidence and self-esteem that also radiates positivity to other people.
This 22-year-old TikTok celebrity's love for makeup started when he was in high school, particularly when he used to be active in performing on stage whether for talent presentations or for male pageant competitions. Since then, he familiarized himself with basic cosmetics and routine skincare eventually becoming invested and passionate about these things.
Despite receiving negative comments like gender stereotypes and assumptions about his identity, Kenn shares that he doesn't really mind them since he's already learned how to deal with them beforehand.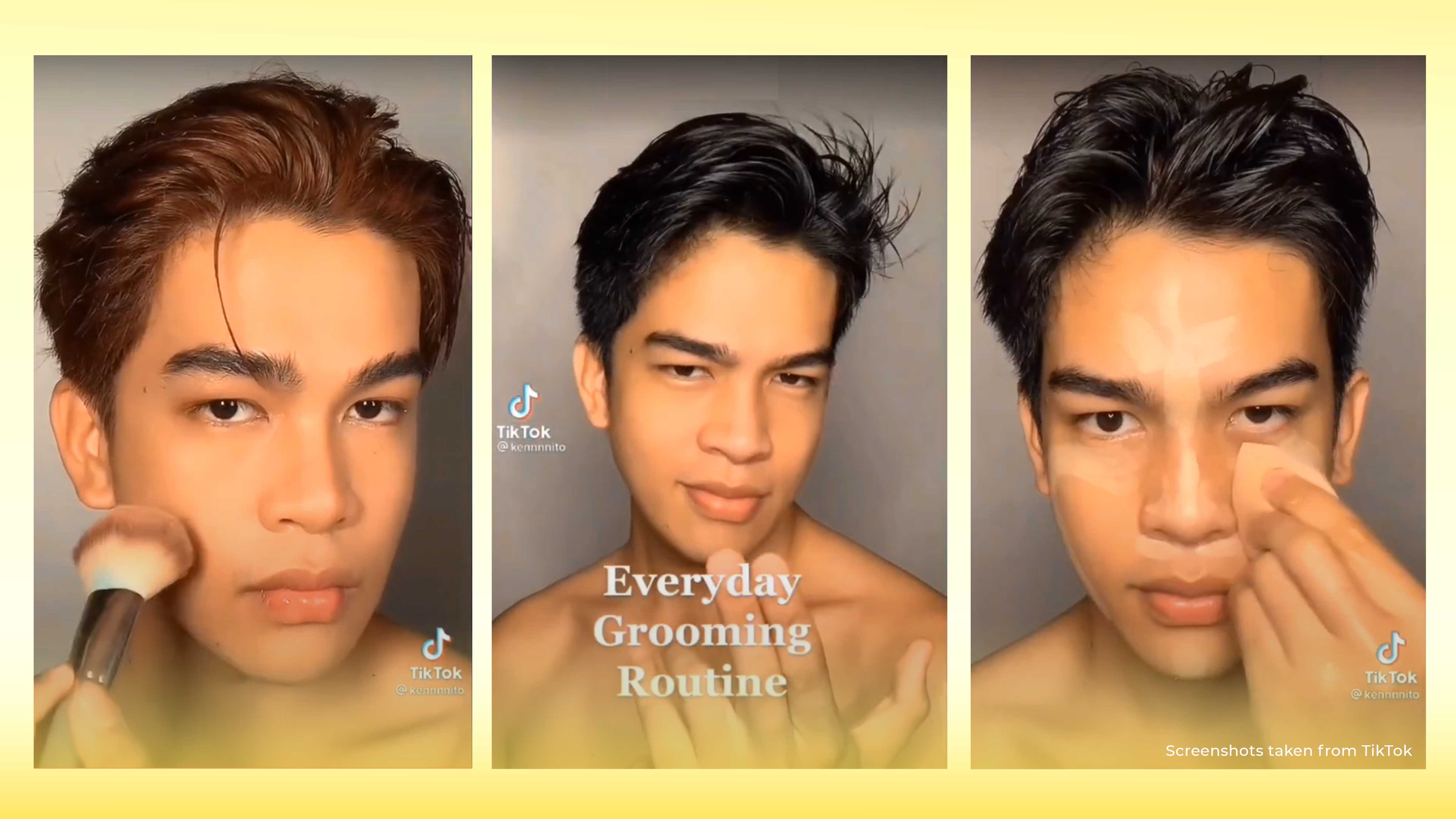 While many of you may believe that Kenn's life is perfect because of the way he presents himself, you may be surprised to learn that Kenn had to overcome struggles before reaching his current position.
He disclosed that he had to compromise his education and put it on hold for three years because of financial difficulties and personal problems.
Kenn was only 17 years old when he became independent from his parents and moved to Manila to pursue his dreams. He had to juggle his academics while working as a Starbucks barista. He was also once a call center agent for a business process outsourcing company.
Despite being active in many extracurricular activities, he graduated as Valedictorian both in elementary and junior high. Currently, Kenn is an upcoming sophomore Bachelor of Science in Development Communication (BSDC) student who will try to balance his academics while also being active in freelance modeling and content creation in social media.
While he revealed that his career seems to be growing nowadays, he cannot put his education on hold because graduating with Latin Honor is one of his major goals in life.
Kenn understood that staying in Leyte for the in-person classes will make him miles away from getting future projects in Manila, he is ready to balance the two so that he can still pursue his passion without entirely sacrificing his academics.
He recently represented VSU as student reactor in a webinar spearheaded by the International Public Relations Association (IPRA) Philippines where he presented his keytakeways on the relationship between traditional and new media.
Kenn also announced this week that he will have a chance of doing a runway project with Bench this coming October. He is also excited to experience VSU's unique school vibes as we open our full face-to-face classes this coming September 12.
The challenge of keeping their audience
Both Justine and Kenn have recognized that aside from jumping into trends and challenges, they need to make content that will set them aside from other content creators.
Kenn acknowledged that he has to continuously invent himself. To create something that sets him aside from other content creators, he has to provide a different taste to the viewers.
Justine, on the other hand, revealed how crucial it is to make his own brand while staying true to what he is doing, as this will ultimately make his distinction stand out from the rest. To be favored by the algorithm, he has to consistently post at least once a week. Furthermore, he also makes sure that his comedy skits are relatable to the Pinoy humor.
When asked what important lessons VSU had imparted, Justine said that humility was the most important lesson he had learned. He hung out with laid-back and easygoing people during his time in college. He was shown by the people and the school that he didn't need to be extravagant or stressed out; that it is okay to lead a simple and calm life.
Kenn, on the other hand, emphasized that the most important lesson he acquired while pursuing his studies at VSU was to always value excellence. Most of his teachers would tell him that even if no one is monitoring him or even if he has an option to cheat, he should always choose to value excellence and integrity because this is one of the most important values one must possess in the professional world.
You can follow Justine on Tiktok with his handle @justine_luzares, and on Instagram @justineluzares. Meanwhile, subscribe to Kenn's content on Facebook, Instagram and Tiktok with his handle @kennnnito.
[Kenn's thumbnail photo is courtesy of Raymond Cauilan.]