VSU President suspends weekend classes due to Super Typhoon Mawar
Details

Written by Ulderico B. Alviola

Published: 26 May 2023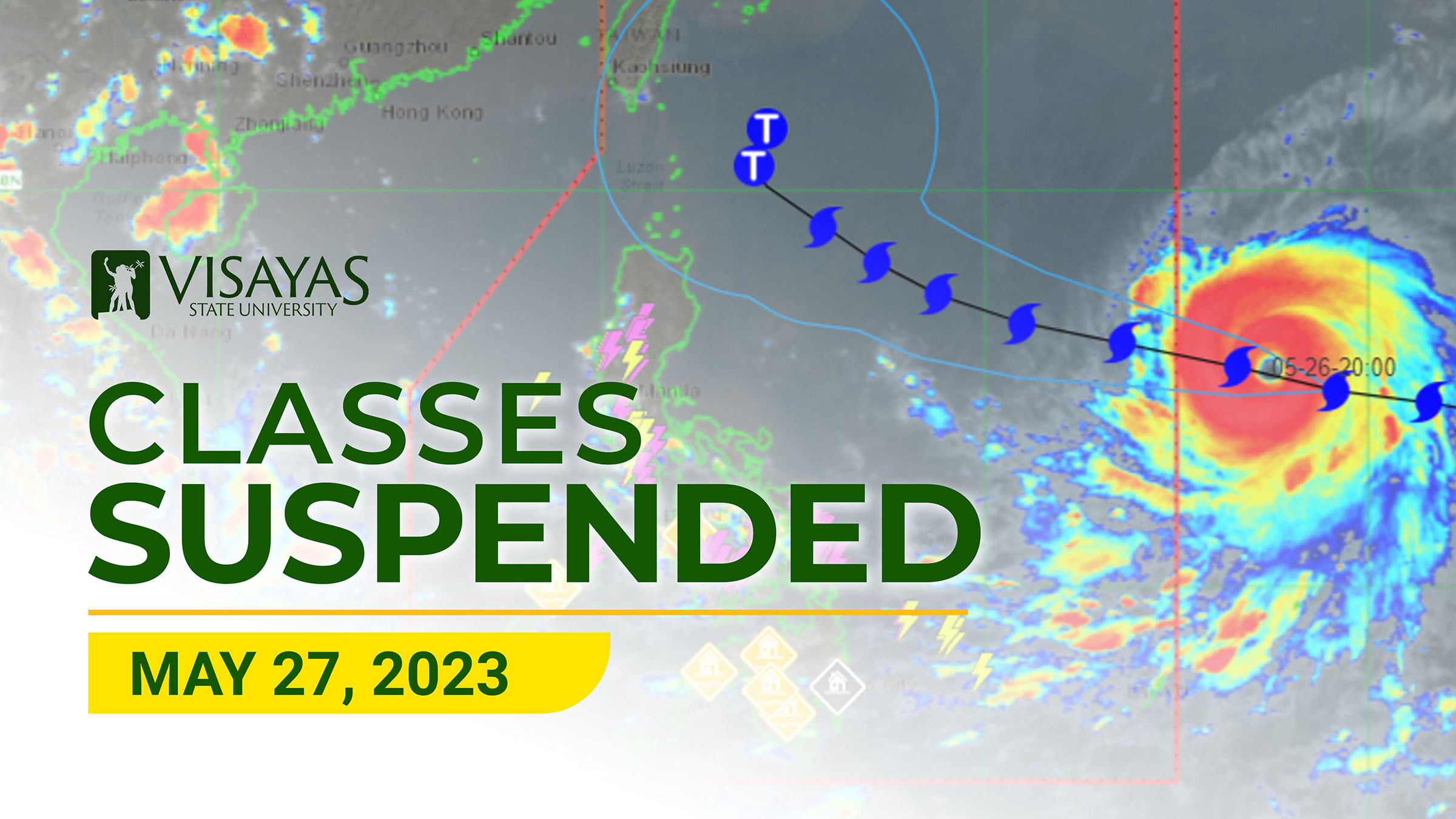 As Super Typhoon Mawar intensifies over the Pacific Ocean as it nears the Philippine Area of Responsibility (PAR), VSU President Edgardo E. Tulin suspended the conduct of weekend classes in the entire VSU system on May 27, 2023 (Saturday) to make way for essential preparations for this upcoming weather disturbance.
The specific classes that will be covered by this suspension include the conduct of the Reserved Officer Training Corps (ROTC) and the Civic Welfare Training Service (CWTS) including weekend classes of the VSU Graduate School and other scheduled makeup classes and campus-based activities.
Super Typhoon Mawar is a Category 5 hurricane with a current wind speed of 285 kilometers per hour and was located today by the US weather bureau at 622 kilometers west-northwest of Andersen Air Force Base, Guam, and has moved westward at 22 kilometers per hour over the past 6 hours.
The Associated Press reported that this powerful typhoon smashed the US territory of Guam and continued lashing the Pacific island with high winds and heavy rain on Thursday, knocking down trees, walls, and power lines and creating a powerful storm surge that threatened to wash out low-lying areas.
The Philippine Atmospheric, Geophysical and Astronomical Services Administration (PAGASA) said on Friday, May 26, in their noontime weather bulletin that Mawar has intensified slightly while moving towards the Philippine Area of Responsibility (PAR).
PAGASA also reported that the center of the eye of the storm was last seen 1,705 kilometers (km) east of southeastern Luzon, packing maximum winds of 215 kilometers per hour (kph) and gustiness of up to 260 kph. It is still moving west-northwestward at 20 kph.
At this rate, Mawar may enter PAR tonight, May 26, or Saturday morning, May 27. Despite its slight intensification, PAGASA warned that it could still hit its peak intensity with maximum winds of 220 kph.
While this is the case, the weather disturbance remained less likely to directly hit the Philippine landmass, but its outer rainbands may affect parts of the country, especially Batanes, Babuyan Islands, and mainland Cagayan.
It is for this important reason that the VSU administration decided to cancel all weekend classes including the conduct of campus-based activities to ensure the safety of VSU students, faculty, and staff.
"We can't be complacent about Super Typhoon Mawar because it is indeed a strong weather disturbance that will directly affect our weather inside our five campuses here in Baybay, Alangalang, Isabel, Tolosa, and Villaba. It's best that we keep everyone safe knowing that this may bring torrential rains and strong winds in the next few hours," Dr. Tulin said.
The VSU President also reminded all Viscans to be safe and prepared for any eventuality that may occur because of this weather disturbance. The University Disaster Risk Reduction Management Office (UDRRMO) has been alerted by the VSU administration to be on standby in case of an emergency.