UIMC Head is PH rep to Asia's research hub for media and communication
Details

Written by Marianne C. Bayron

Published: 28 May 2023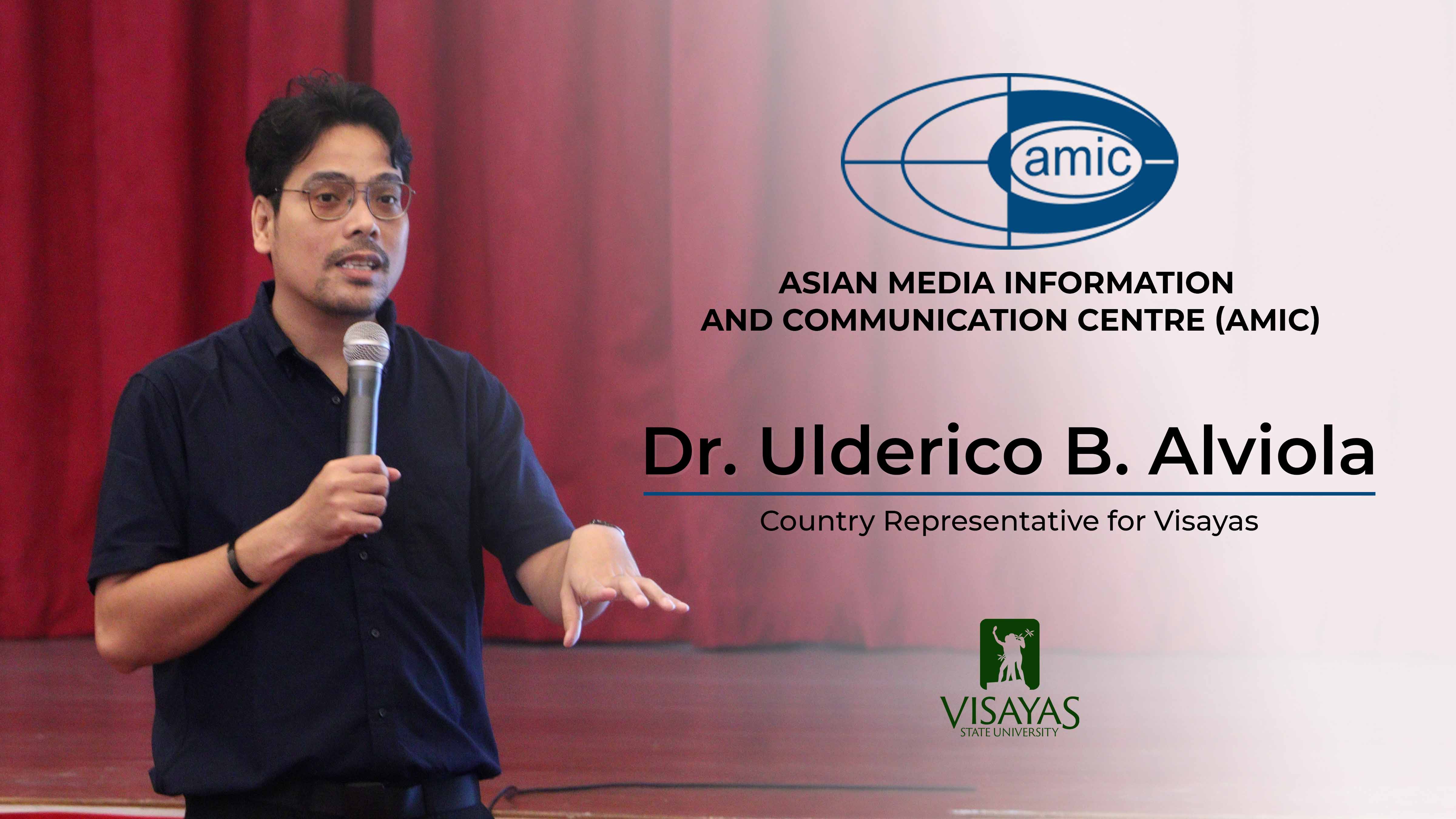 Dr. Ulderico B. Alviola, the Founding Head of the University Integrated Media Centre (UIMC), is the newly designated Country Representative for the Visayas of the Asian Media Information and Communication Centre (AMIC). This is an international, non-profit, non-government organization that serves as a regional research hub for media and communication issues.
Established in 1971, AMIC was formed to encourage the ethical and social responsibility of the media to support democratic access and participation in media development and production.
As a research centre, this organization examines critical issues in the media and communication sector and their implications for development, as reflected through its publications. As a resource centre, AMIC gathers and disseminates knowledge through its various capacity-building training programs, workshops, and conferences.
As the designated Philippine Representative for the Visayas Cluster, Dr. Alviola is joining two other Country Representatives which include Dr. Rowena Capulong Reyes for Luzon and Dr. Christine Faith M. Avila for Mindanao.
Dr. Reyes is the Dean of the Institute of Arts and Sciences (IAS) of the Far Eastern University (FEU) while Dr. Avila is an Associate Professor of the communication program of Ateneo de Davao University (ADDU).
Currently, there are 18 Country Representatives of AMIC in different parts of the Asia Pacific region that includes professors, research directors, senior lecturers, and media practitioners from Australia, Bangladesh, Bhutan, China, India, Indonesia, Japan, Malaysia, Myanmar, Nepal, New Zealand, Pakistan, Thailand, United Arab Emirates, Vietnam. and the Philippines.
In an official letter of invitation sent to Dr. Alviola on May 17, it states that the role of Country Representatives is critical to the success of AMIC's mission as they serve as the principal local contacts between the AMIC Headquarters and the AMIC members being the "face" of AMIC in a particular country.
While this is the first international organization that Dr. Alviola has been assigned to, he has been very active in national professional organizations for media and communication for many years now.
He is the President of the Association of Development Communication Educators and Practitioners (ADCEP) Philippines—a group organized to expound on the praxis of development communication specifically to share and discuss the narratives, trends, and challenges about this unique field of social science.
Dr. Alviola is also the longest-serving Vice President for the Visayas of the Philippine Association of Communication Educators (PACE), which is the largest and oldest organization of communication professionals in the Philippines.
Aside from his exposure to the academe being an affiliate faculty of the VSU Department of Development Communication (DDC), he also worked in various capacities as: Main Curriculum Developer on Communicating Labor Migration together with the Asian Institute of Journalism and Communication (AIJC) and the United Nations International Labour Organization (UN-ILO); Consultant for the Development of a Learning Research Paper on Disaster Management with the Islamic Relief Worldwide (IRW); Contributing Researcher and Writer for ChildFund Philippines, the Land Administration and Management Project (LAMP), the Biodiversity Management Bureau (BMB), and the Philippine Council for Agriculture, Aquatic and Natural Resources Research and Development (PCAARRD); and as Lecturer, Multimedia Consultant and Video Documentary Producer for the National Council for Children's Television (NCCT), the Yolanda Rehabilitation and Recovery Program (YRRP) of the Department of Agriculture (DA), and the Australian Centre for International Agricultural Research (ACIAR).
Dr. Alviola was also a former Rappler Ambassador, a Community Journalist, and a Regional Correspondent in Eastern Visayas for MovePH who covered 2013 and 2016 local elections in Laguna and Samar, the historic Papal Visit of Pope Francis in Tacloban City in 2015, and other community and development-oriented stories in Visayas and Mindanao.
Dr. Alviola is grateful to AMIC for his new assignment and has committed to helping this international organization in increasing its membership base in the Visayas region.
"I'm personally grateful to Prof. Ramon R. Tuazon for this designation as the new Country Representative of the Philippines to AMIC. I hope that this assignment will lead me to expand further my network and help me connect our colleagues from the Visayas region to this prestigious international organization so that they too can actively engage with other members of the premier research hub for media and communication in the Asia Pacific," the UIMC Head expressed.
Dr. Alviola is a #ProudViscan who completed his undergraduate degree in Development Communication at the former Leyte State University (now VSU), Cum Laude, and his Straight Doctor of Philosophy (PhDS) in Development Communication at the University of the Philippines Los Baños (UPLB) under a joint scholarship grant from the German Academic Exchange Service (DAAD), and the Southeast Asian Regional Center for Graduate Study and Research in Agriculture (SEARCA).
He is the first and only graduate of such a hybrid graduate degree program in development communication in history.