VSU's extension project BIDANI is awarded for its 3 decades of service
Details

Written by Marianne C. Bayron

Published: 20 July 2023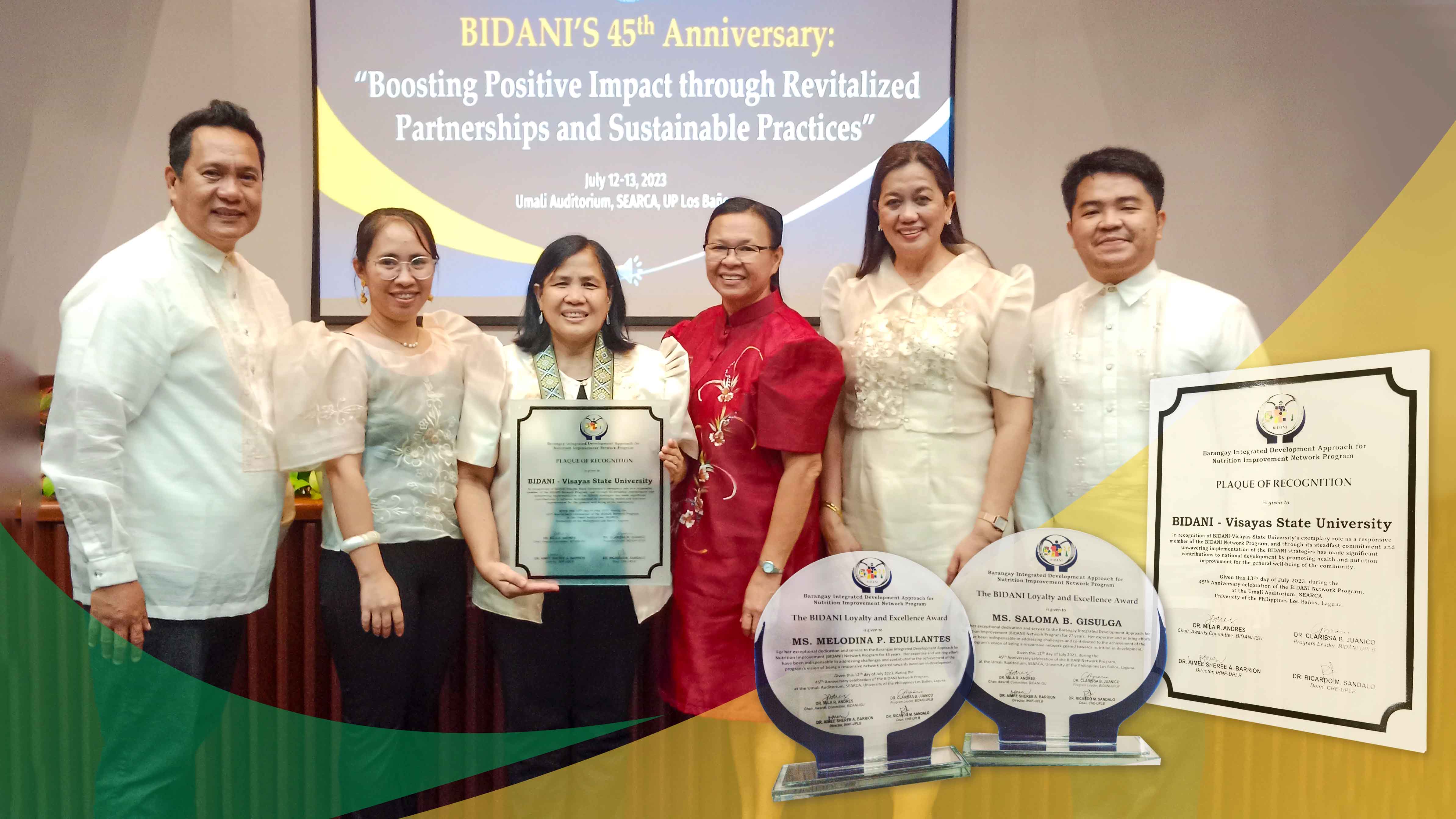 For 37 years, Visayas State University's extension project the Barangay Integrated Development Approach for Nutrition Improvement (BIDANI) from the Institute of Strategic Research and Development Studies (ISRDS) is awarded a plaque of recognition and some special awards for its exemplary role as a member of the BIDANI Network Program, a nutrition-in-development strategy to improve health and nutritional status and general well-being of Filipinos.
The award is received by VSU-BIDANI program leader Dr. Lilian Nuñez during the BIDANI National Convention in celebration of its 45th anniversary at the University of the Philippines Los Baños (UPLB) on July 13, 2023.
Other special awards were also accorded to former VSU-BIDANI program directors Dr. Antonia Cecilia Y. Sandoval and the late Dr. Samuel S. Go, former ViSCA President as recognized BIDANI Pillars. Their plaques were received by Dr. Nuñez on their behalf.
Meanwhile, VSU-BIDANI Science Research Specialists Ms. Melodina P. Edullantes, Ms. Saloma B. Gisulga, and retired Ms. Elena I. Monteroso were also bestowed with BIDANI Loyalty and Excellence Awards, respectively.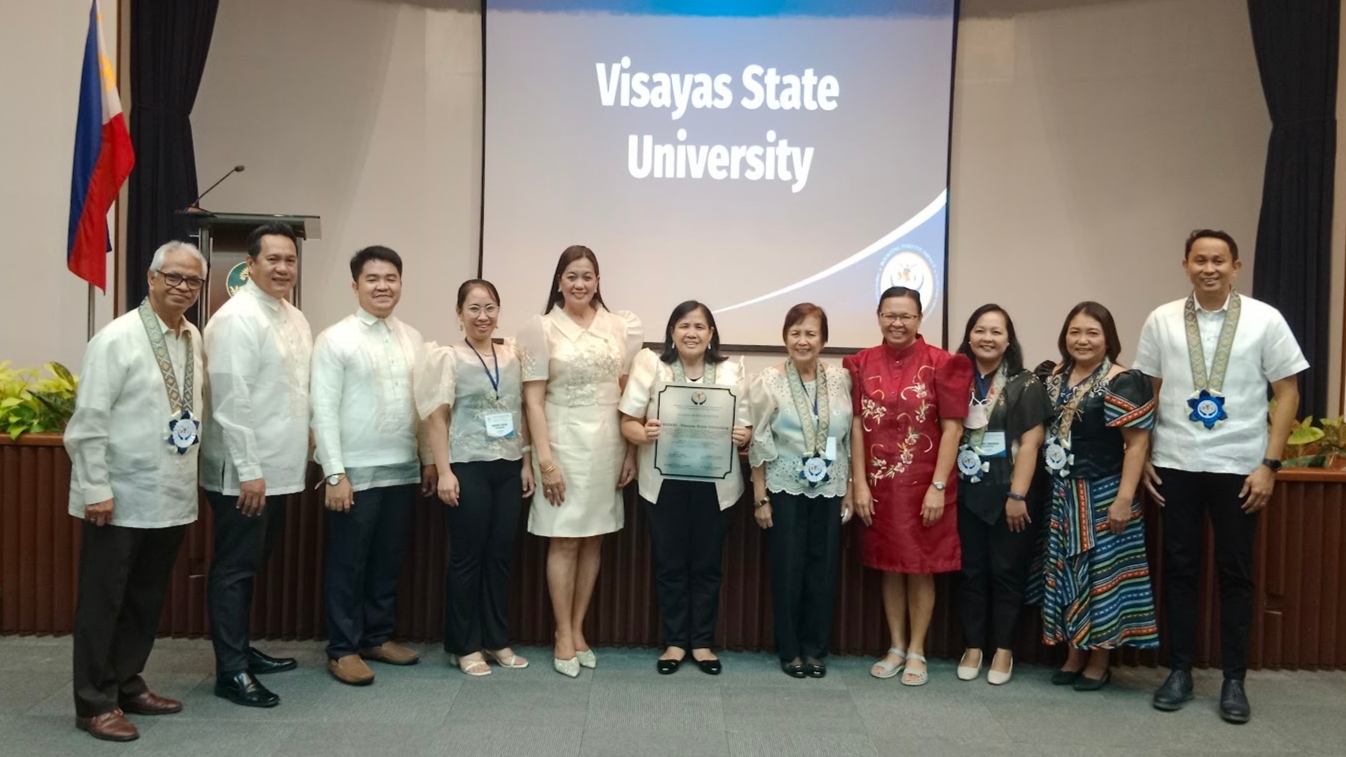 BIDANI was established by the College of Human Ecology of UPLB in 1978 as an action research program formerly named Nutrition Improvement Model (NIM). It was funded by several international and national organizations such as the United Nations Food and Agriculture Organization (FAO), the German World Hunger Assistance Program, National Nutrition Council (NNC), and the then National Science and Technology Authority (NSTA).
Because of its successful implementation in combatting malnutrition and hunger, NIM evolved into BIDANI in 1984, and following that it became a network program with members from different state universities and colleges (SUCs) in the Philippines.
VSU is one of the eight SUC members of the BIDANI Network Program with UPLB as the national program coordinator. The extension program was institutionalized at VSU in 1998.
BIDANI has three development strategies that are adopted by the member SUCs and integrated into their partner local government units (LGUs). These three strategies are Barangay Integrated Development Approach (BIDA), the Barangay Management Information System (BMIS), and the Participative Nutrition Enhancement Approach (PNEA).
VSU-BIDANI in partnership with LGUs in Leyte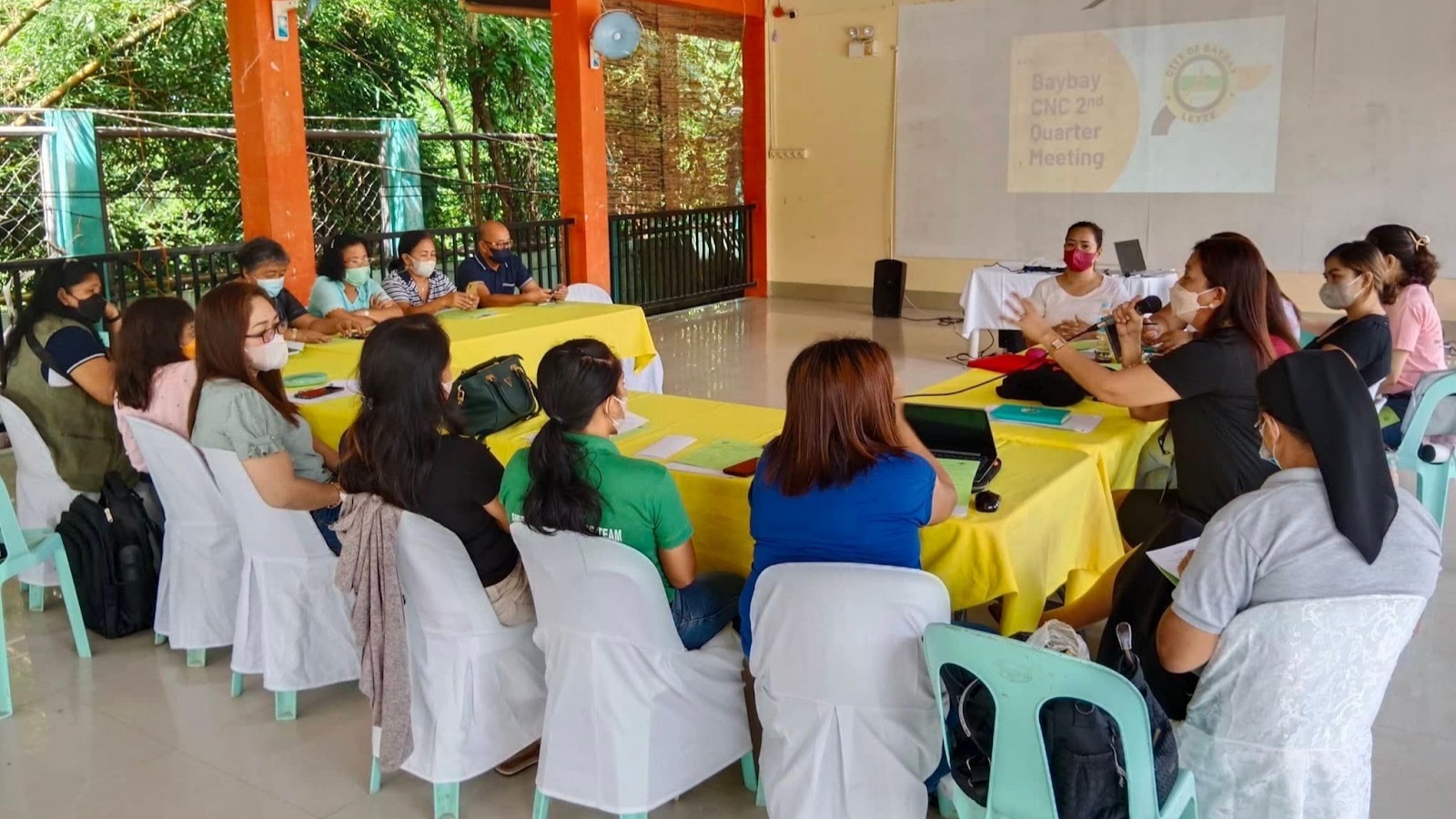 Review Planning and Meeting on the Baybay City Nutrition Plan held on June 29, 2022, at Baybay City.
To address food and nutrition security at the barangay and municipal levels, VSU-BIDANI rendered their extension service to their partner LGUs here in Leyte, such as the cities of Baybay and Ormoc, and the municipalities of Hindang and Macrohon, Southern Leyte.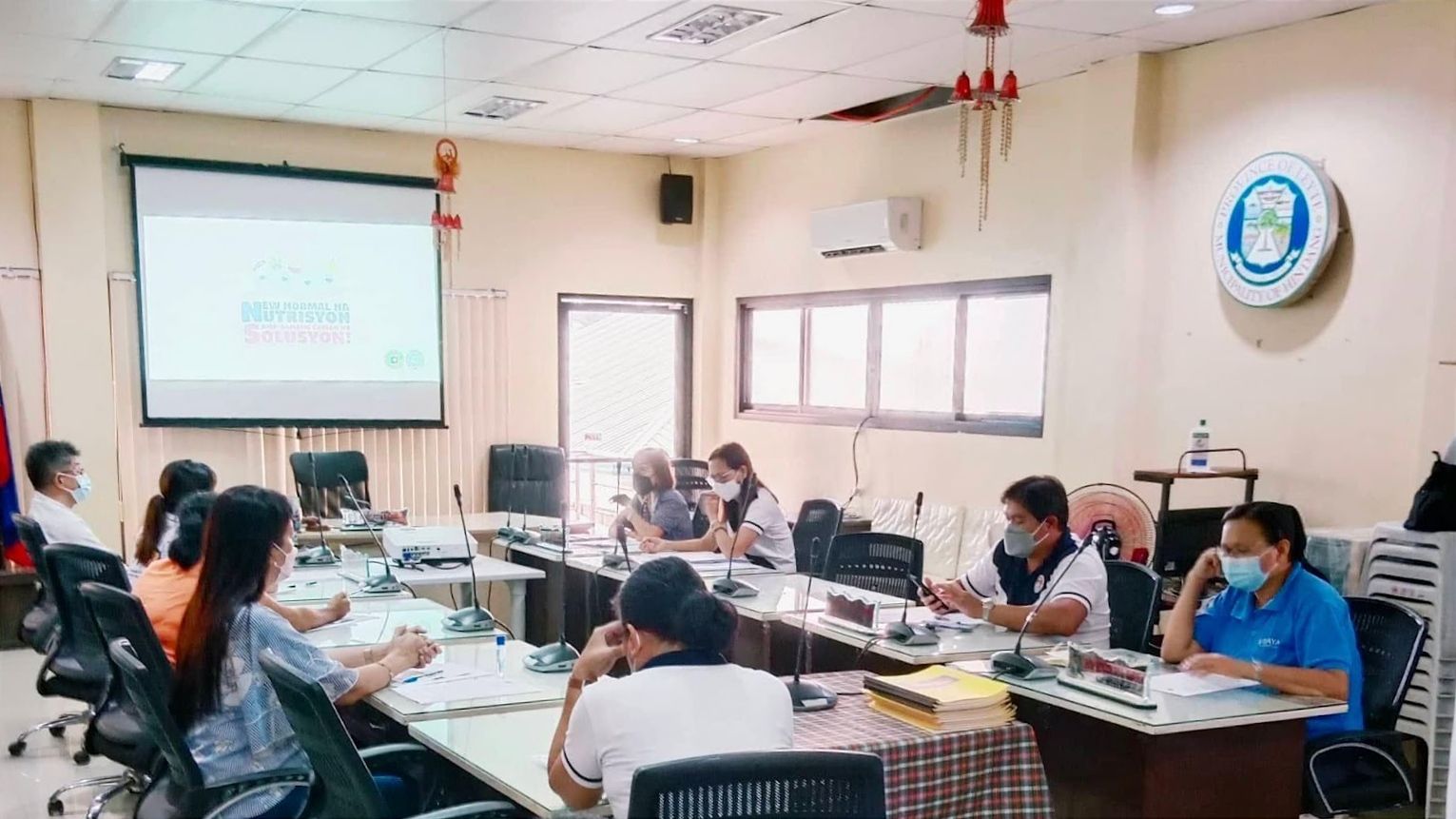 Review and Planning Meeting on Municipal Nutrition Action Plan (MNAP) held on June 30, 2022, at Hindang, Leyte.
VSU-BIDANI conducted capacity-building activities to operationalize the BIDANI strategy to empower its partners. The team organized training, workshops, and seminars. On top of that, they led the advocacies, social mobilization, orientation meetings, technical backstopping, and other technical support services that each partner LGU needs.
During the time of the COVID-19 pandemic, albeit the mobility restriction, VSU-BIDANI has continued its services throughout the barangays of Baybay City. With VSU-BIDANI's help, LGU Baybay City has successfully integrated the BIDANI strategy into its program plan.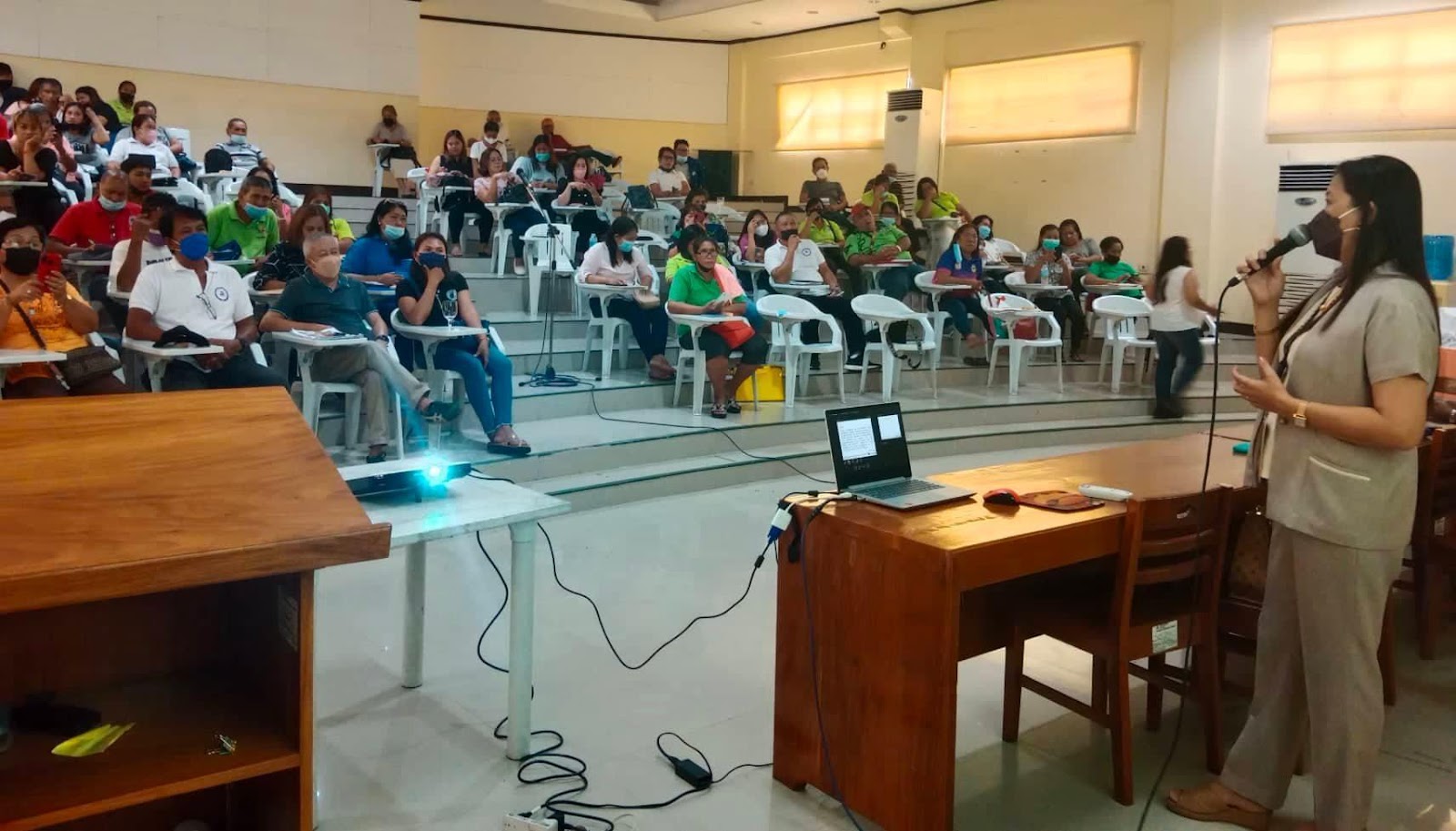 Photo op during the training workshop on PNEA on June 2-3, 2022 at the Legislative Building Auditorium, Baybay City.
VSU through the BIDANI extension program signed a memorandum of understanding (MOU) with Baybay City LGU on the use of BMIS Software on January 15, 2010.
BMIS is a computer database software that is used for gathering, organizing, encoding, storing, and updating data about the barangay for situational analysis or diagnosis for developing planning, monitoring, and evaluating the implemented programs, projects, and activities (PPAs).
During the onset of the pandemic, BMIS Data became the strategic tool used by Baybay City LGU for effective contract tracing. Aside from that, the City uses BMIS Data for its comprehensive development plan, contingency plan book, disaster risk reduction management plan, senior citizen plan, barangay integrated development plan, nutrition action plan, and national anti-poverty council targeting of beneficiaries, among others.
With Baybay City's dedication to integrating the BIDANI program, during the BIDANI National Convention, City Administrator Atty. Florante Cayunda, Jr. who represented Mayor Jose Carlos Cari presented the paper "How the City of Baybay, Leyte Strengthened Partnership with BIDANI through the Years" and received the most applause from the other presenters because of the successful implementation of the program.
Meanwhile, the integration of PNEA ensures that nutrition services would be delivered to achieve a healthy community, VSU-BIDANI also helped in the feeding program in Hindang and Ormoc City, through the Nutripak, processing of infant complementary food mixes for nutrition improvement, livelihoods, and income generation of the organization.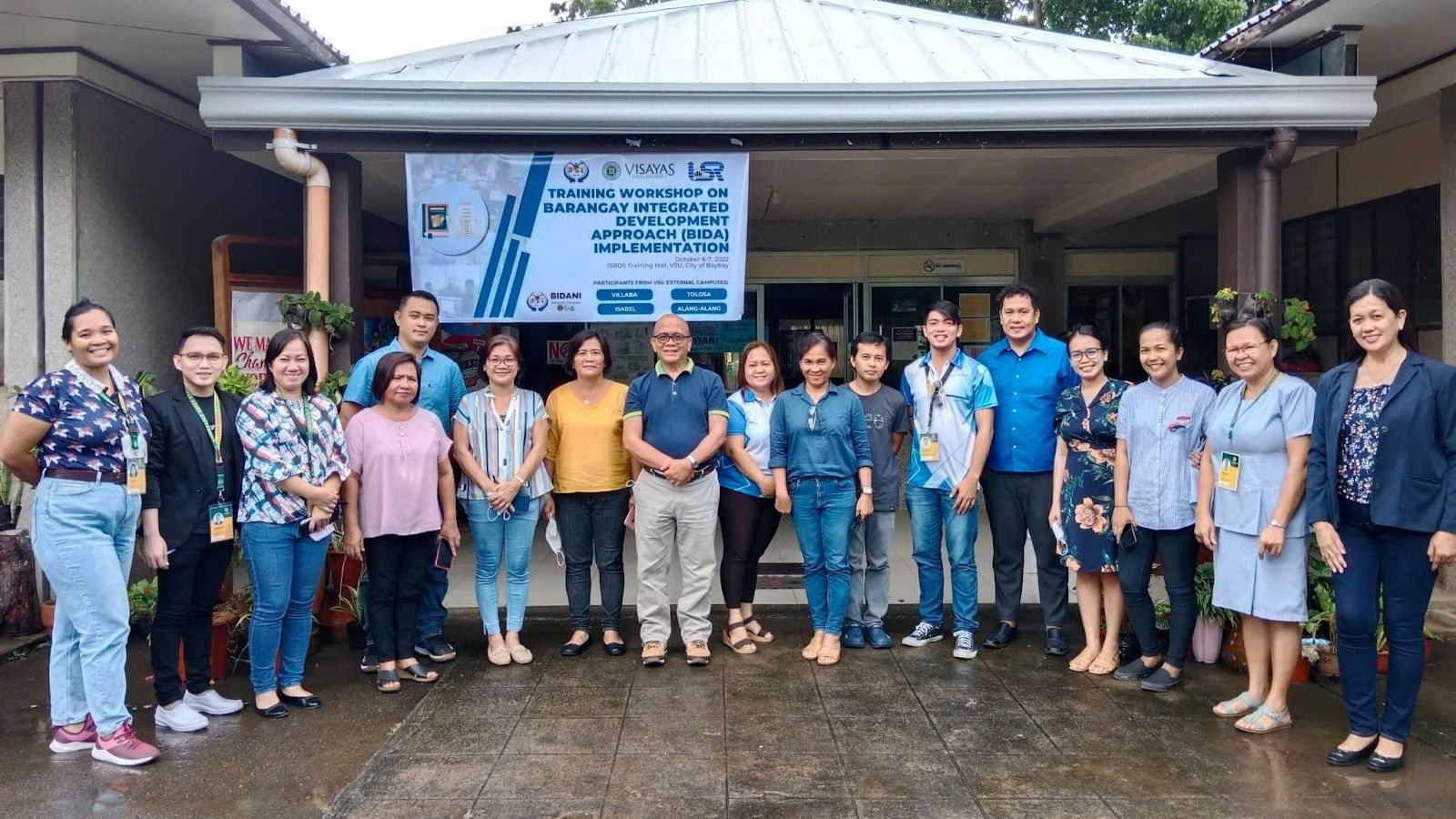 Photo op during the training workshop on BIDA Component on October 6-7, 2022, at ISRDS, VSU.
Last year, the BIDANI extension project won two awards, first place in the Ongoing Extension Project Category during the Level II Cluster Review Presentation and fifth place in Best RDE (Research, Development, and Extension) Poster during the 34th Joint ViCARP (Visayas Consortium for Agriculture, Aquatic, and Natural Resources) and RRDEN (Regional Research Development and Extension) Symposium at VSU.
Through its 37 years of service, VSU-BIDANI is hopeful to continue its legacy of promoting nutrition improvement through good governance, poverty alleviation, and food security in the next generations. These goals are aligned with the United Nations Sustainable Development Goals.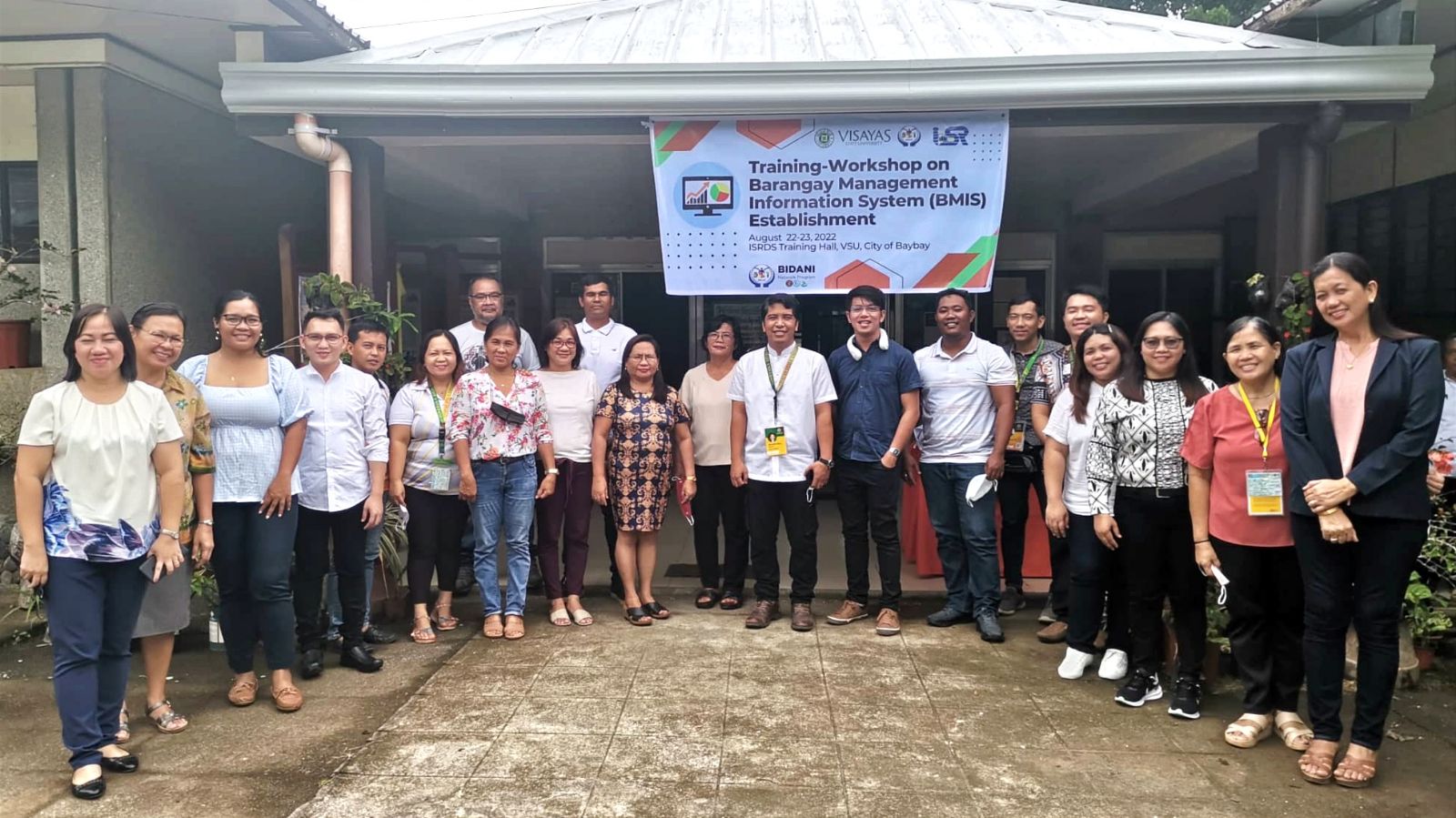 Photo op during the training workshop on BIDANI-BMIS Establishment on August 22-23, 2022, at ISRDS, VSU.
VSU-BIDANI has come a long way, Ms. Edullantes the PNEA Coordinator hoped to continue its legacy in the coming years. She revealed that she was close to tears after receiving the award because, after over 3 decades, they were able to sustain BIDANI amidst the many challenges it encountered over the years.
"Amidst numerous challenges, I firmly believe that God has been my unwavering source of strength, enabling me to persevere and continue on this path. Working with BIDANI over the years has granted me the extraordinary privilege to collaborate with government agencies and non-government organizations. Together, we continue to empower local leaders, health and nutrition advocates, and dedicated volunteers by sharing the transformative BIDANI strategy, tailored towards nurturing the development of communities through nutrition. For me, community development is not just a profession; it is a calling—a deeply fulfilling purpose that shapes my journey as a development worker. Witnessing vulnerable communities grow resilient and empowered and create positive change fills my heart with joy. This, to me, embodies the essence of BIDANI—a development strategy that embraces humanity," Edullantes shared.
She extended her gratitude to all the people who made her BIDANI journey at VSU meaningful.
"This award holds a profound significance, symbolizing the abundance of blessings I've received throughout my remarkable 33-year journey with BIDANI. Gratitude fills my heart for every individual who has been an integral part of my milestones—my family, friends, former and current colleagues, study leaders, program leaders, and partner stakeholders. Together, they have made this journey possible, and I am forever thankful to them," she added.
Despite the lack of manpower to expand the coverage of the BIDANI program, Ms. Gisulga, one of the remaining two staff members came up with a solution to enhance the program and make it effective even within the City of Baybay, the home of VSU.
"Since VSU-BIDANI lacks the manpower to expand to SUCs in Regions 7 and 8, I came up with the strategy of modeling Baybay City LGU. They plan to help me implement BIDANI in the 5th district of Leyte. While other SUCs and LGUs are encouraged to come and interview Baybay City staff and constituents or conduct benchmarking in Baybay City as Gender and Development Local Learning Hub in the entire country as certified by [the] Philippine Commission of Women from 2019 to [the] present. BIDANI implementation requires full dedication and passion," Gisulga concluded.
Aside from VSU and UPLB, other member SUCs of the BIDANI Network Program are Isabela State University, Central Luzon State Univerity, Batangas State University, Bicol University, University of the Phillippines Visayas, and Central Mindanao University.
The 45th BIDANI Anniversary is themed "Boosting Positive Impact through Revitalized Partnerships and Sustainable Practices."