VSU, SEARCA host 5th UC faculty forum; strengthen collab for agri sustainability
Details

Written by Marianne C. Bayron and Ryan Spencer Secadron

Published: 28 September 2023
To sustain agriculture despite the changing climate, Visayas State University (VSU) and the Southeast Asian Regional Center for Graduate Studies and Research in Agriculture (SEARCA) jointly spearheaded the annual gathering of faculty researchers who are members of the University Consortium (UC) to share meaningful dialogue through academic and research expertise.
VSU, through the International Affairs Office headed by Dr. Ana Marquiza Quilicot and her staff, welcomed officials, faculty members, and foreign guests from Malaysia, Thailand, Indonesia, and Taiwan for the two-day 5th Southeast Asian University Consortium for Graduate Education for Agriculture and Natural Resources Faculty Forum on September 20 to 21, 2023, at the RDE Hall, VSU, Baybay City, Leyte.
At the said event, the VSU President and the Chief Executive Officer of the UC for VSU, Dr. Edgardo E. Tulin, and the SEARCA Director and Head of the UC Secretariat, Dr. Glenn Gregorio conducted the signing of the Memorandum of Agreement (MOA) for strengthening the partnership of VSU and SEARCA in formulating the five-year roadmap in agricultural education.
The two-day forum held four parallel paper presentations on smart agriculture and precision farming for resilience and sustainable development, natural resources conservation and management, food and nutrition security, and risk communication and prediction.
Talking about this year's UC Faculty Forum theme, Dr. Gregorio shared that UC's core is all about inclusivity because it is the underlying premise of achieving sustainability. He emphasized in his message that UC members should foster trust and collaboration to make SEARCA the leading enabler and champion of agriculture and rural development in Southeast Asia.
"Thus, as faculty, scientists, and researchers, it is our duty to ensure that our work in sustainable agriculture is inclusive, always putting in mind our commitment to our stakeholders, the farmers and farming families, while forging strategic partnerships. We have to be trustworthy enough to make it happen and put the human heart there, love in action to make it sustainable."
"And where else is the best place to start aside from our home institutions and universities? But here, within the UC. Take this time and opportunity to build your network, share your ideas, debate, and learn from each other," Dr. Gregorio added.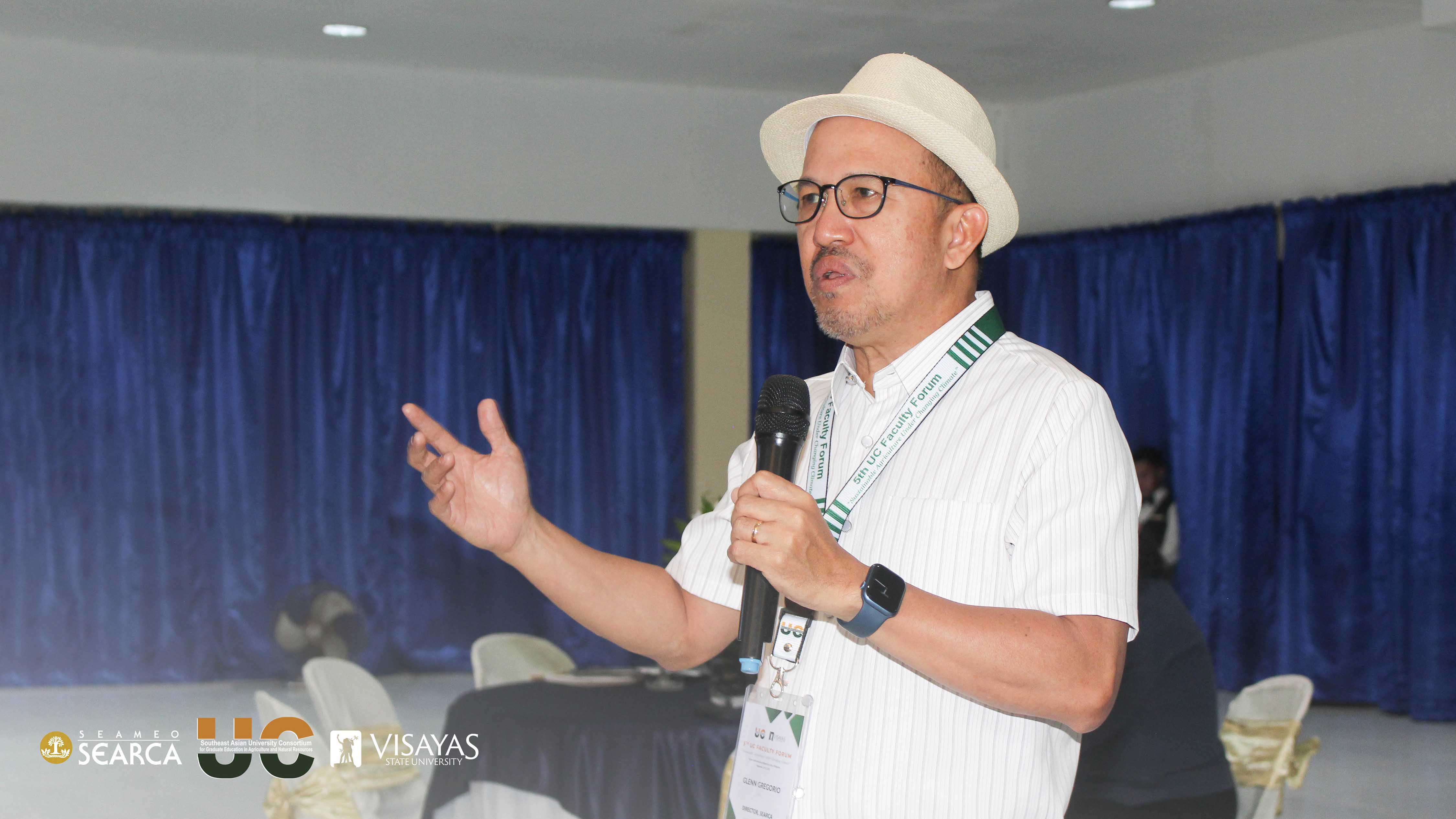 There were 33 participants from the 11 UC members who joined the conference. Local and foreign participants were able to present their papers and share insights on the field of their research interests and expertise.
Among the participants who presented their papers are from the Institut Pertanian Bogor, Universitas Gadjah Mada, Universitas Brawijaya, Kasetsart University, Maejo University, Universiti Putra Malaysia, and the National Taiwan University. In the Philippines, VSU, University of the Philippines Los Baños, Central Luzon State University, and Central Mindanao University are the only members of UC.
Dr. Rotacio S. Gravoso and Dr. Ulderico B. Alviola of the VSU Department of Development Communication presented their paper on the use of seasonal climate forecasts and how this is becoming a valuable mechanism for climate change adaptation among the vulnerable farmers in Region 8.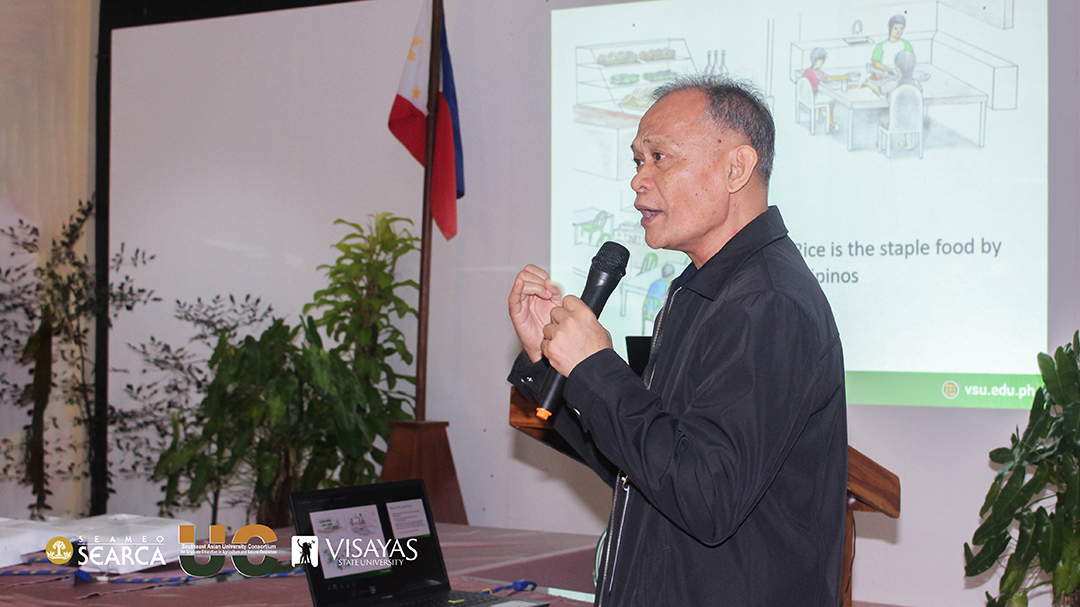 Meanwhile, Dr. Renezita S. Come of VSU College of Forestry and Environmental Science talked about her paper on scaling up restoration and management strategies towards sustainable forests in the Philippines and Inish Chris P. Mesias from the Department of Food Science and Technology shared her paper on risk assessment of cassava-based food products in the Philippines.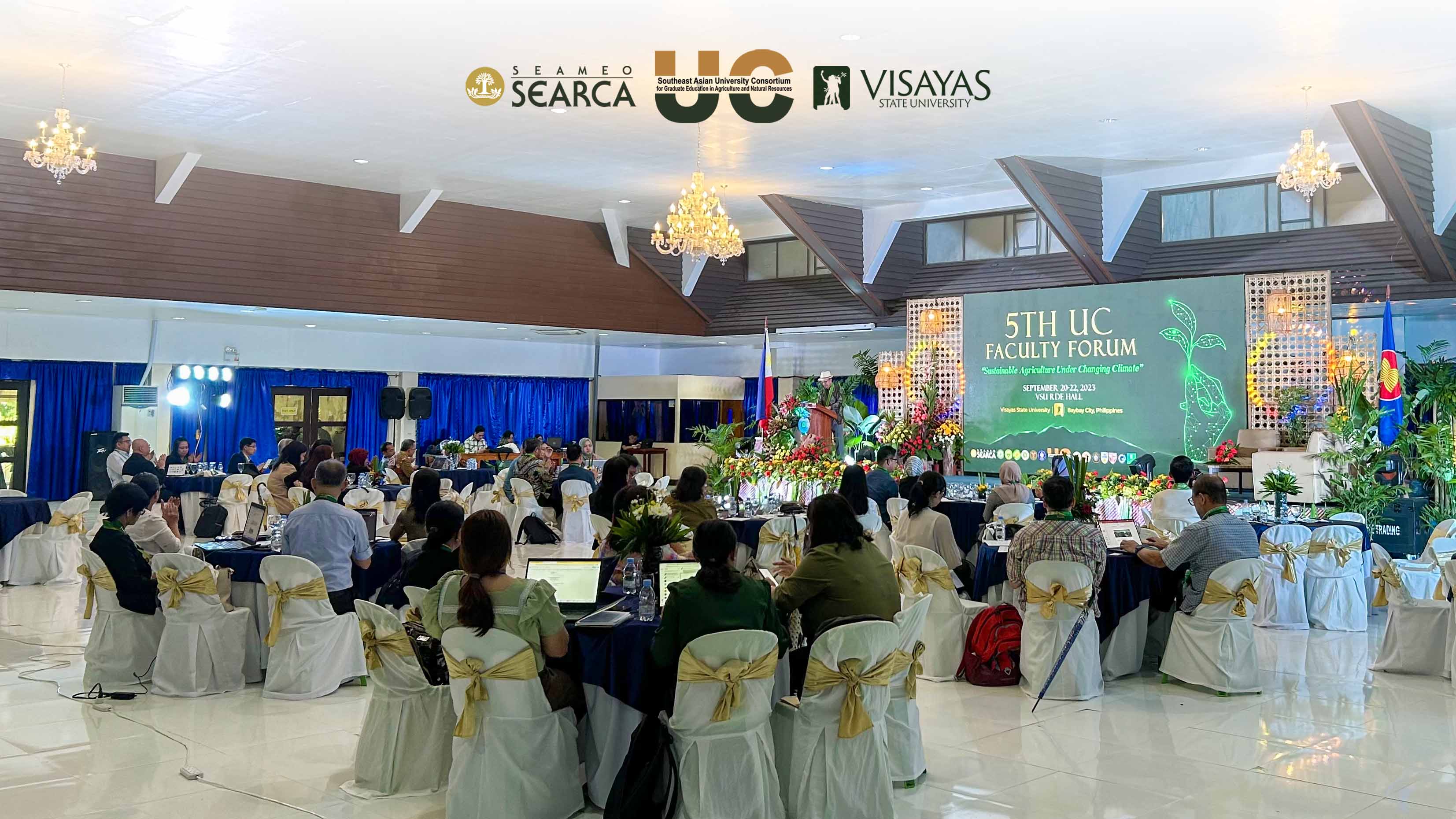 Since 2019, the UC Faculty Forum has provided a platform where faculty researchers from different higher education institutions can collaborate, build camaraderie, and promote agricultural research for sustainable development.
Top universities in Southeast Asia, Japan, Taiwan, Canada, and Germany were able to create a network through this consortium.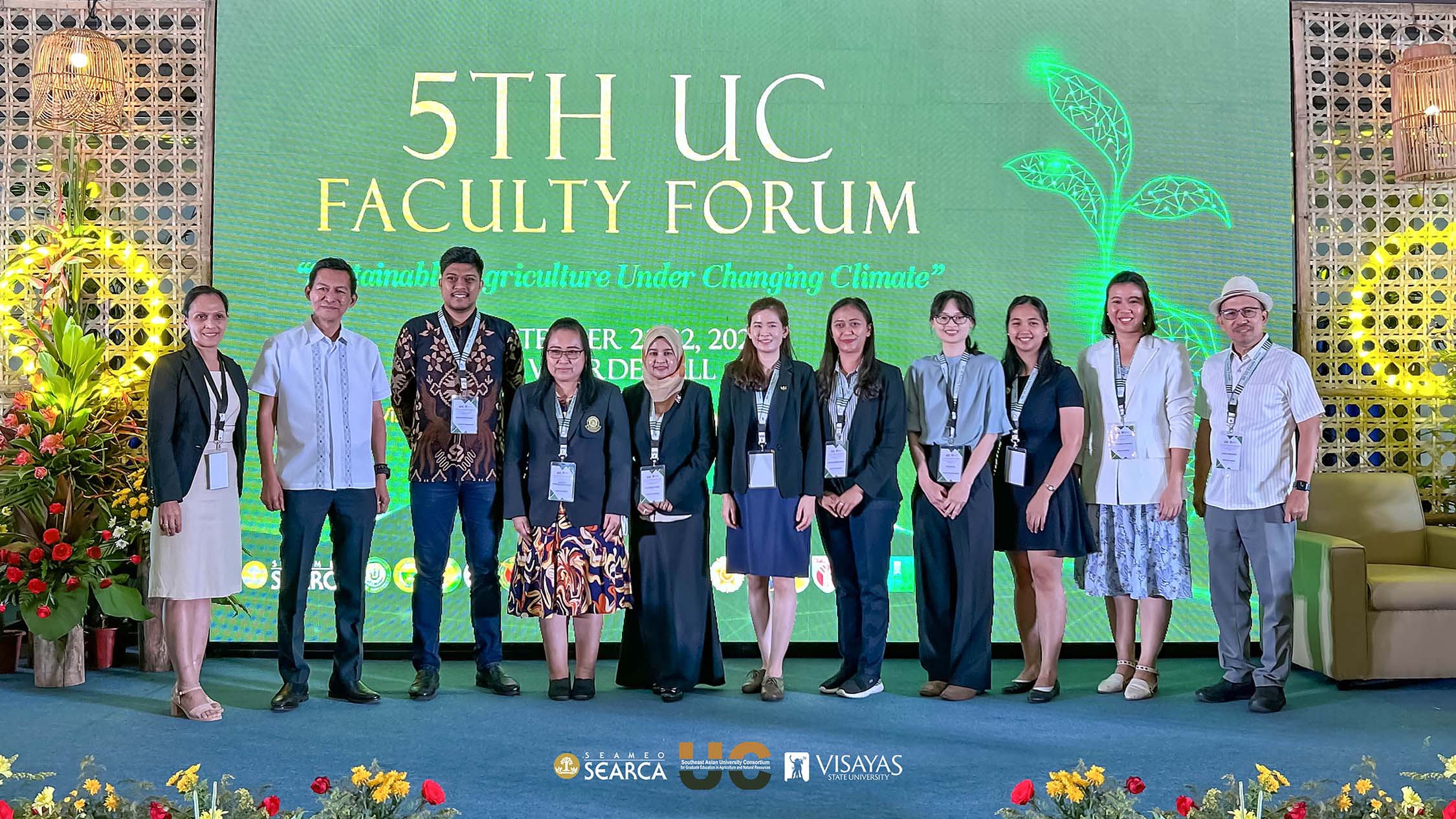 Further, the participants had campus and city tours and witnessed cultural presentations and events during the university-wide VSU intramural games, particularly the student pageant where they handpicked candidates to become the University Consortium's Choice Awardees.
The VSU President expressed his thanks to the UC Secretariat led by SEARCA for bringing the event to the university.
"I'm very proud that we've successfully brought the UC Faculty Forum here in VSU because of the persistence and hard work of our very own International Affairs Office led by Dr. Ana Marquiza M. Quilicot. This is an opportune time to promote our programs and hopefully bridge us with our ASEAN neighbors who may be our potential partners in our research and development undertakings," Dr. Tulin said.
He also shared his hope that VSU will soon become a permanent member of UC, being one of the best agricultural universities in the Philippines.

"I do wish that because we hosted the 5th UC Faculty Forum, will allow us to get our regular membership to this prestigious international organization. This will really be helpful in our massive internationalization efforts that will hopefully lead to regional cooperation and collaboration in terms of faculty and student mobility including important R&D works in areas of agriculture, climate change, sustainability, and environmental conservation," Dr. Tulin added.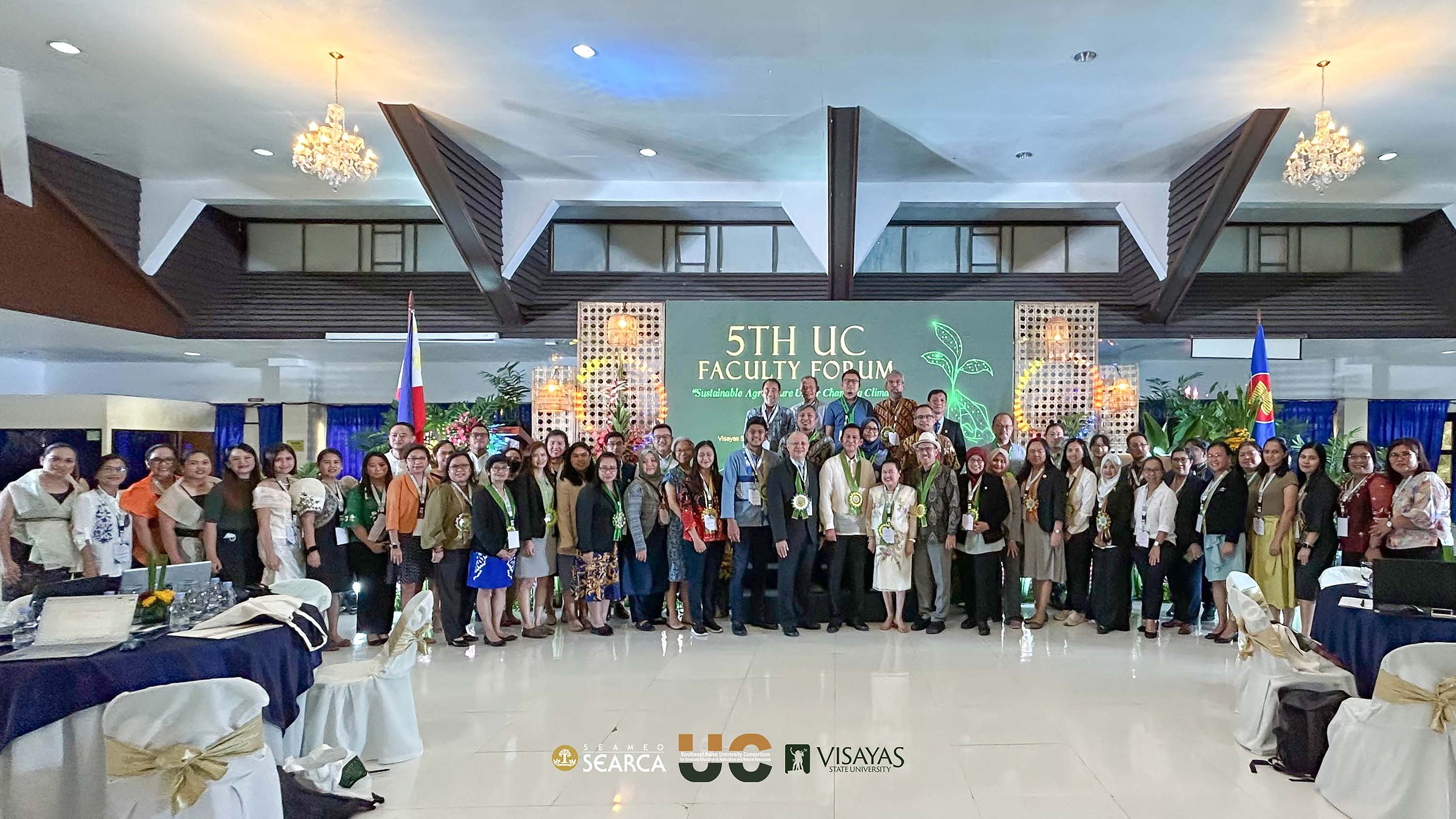 VSU, along with the Central Luzon State University (CLSU) is currently an affiliate member of UC. However, because of the university's active engagement in this organization, the current administration hopes that regular membership will soon be granted to VSU and allow SEARCA to fund graduate scholarships for VSU graduate students in the future.
[Photos by Marianne C. Bayron / Edited by Paul Vincent L. Fornis]