VSU launches TESDA skills training program, inaugurates Mechanical Engineering and VSU-TESDA offices
Details

Written by SMCLemos

Published: 30 August 2013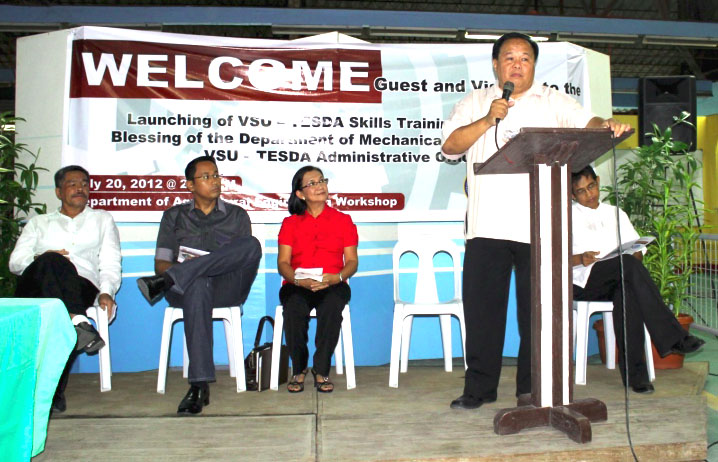 The Visayas State University (VSU), in partnership with the Technical Skills and Development Authority (TESDA) in the province of Leyte, launched on July 20, 2012 the Skills Training Program. It was followed by the inauguration and blessing of the newly built administrative offices of the Department of Mechanical Engineering and the VSU-TESDA. The activities were held simultaneously at the Workshop Building of the College of Engineering where the two offices are located. The occasion was graced by Director Esther B. Pulma of TESDA-Leyte and Atty. Florante A. Cayunda, Jr. who represented Hon. Jose Carlos L. Cari of the 5th District of Leyte.
Dr. Roberto C. Guarte, VP for Administration and Finance, in his opening remarks, mentioned that this has been a long awaited event. The facilities for this skills training was realized through a proposal submitted to CHED in 2006 for funding and the amount of 1.2 million pesos was granted and used to purchase the equipment. He also recognized the contributions of Engr. Nilo Leorna of VSU and Ms. Vilma Arteche of TESDA Leyte Province for their efforts in making this skills training program possible.
Dr. Guarte also announced that VSU has already four (4) TESDA registered regular training programs that include Small Metal Arc Welding, Electrical Installation and Maintenance, Finishing Course for Call Center Agent, and Medical Transcription. He also mentioned that VSU has now five (5) TESDA registered ladderized programs offered in the different departments of the University. These include Food Processing (Department of Food Science and Technology), Food and Beverage (Department of Consumer and Home Management), Health Care Services and Caregiving (College of Nursing), and Horticulture (Department of Horticulture).
Other ladderized programs that will be registered soon with TESDA are: Small Metal Arc Welding, Electrical Installation and Maintenance, Animal Production, Commercial Cooking, Driving and Plumbing.
VSU President, Dr. Jose L. Bacusmo, on the other hand, congratulated Dr. Guarte and company for launching the VSU-TESDA Skills Training Program, for completing the renovation of the Department of Mechanical Engineering and the VSU-TESDA Administrative Office.
Dr. Bacusmo said that there are queries regarding the offering of Mechanical Engineering and other engineering courses in VSU. He explained that all of us should understand that the University should be like a living thing and we need to adapt to the current situation. "That is why Mechanical Engineering and other engineering degree programs are now offered because the University feels that there is a lot of need for engineers in the country and abroad," he said.,/p>
As part of the University's adjustment, Dr. Bacusmo added that TESDA-based courses are also offered to help those who cannot finish college education and find a good job. He mentioned that in every one hundred children who will enter elementary course, only twenty will complete their college courses.
In closing, Dr. Othello B. Capuno, Vice President for Research and Extension, hopes that the Skills Training Program will be successful and will have more participants so that there would be more people who will be employed. He challenged the trainees to work hard and the trainers to impart their skills properly so that the trainees will be prepared for future work.