President Bacusmo presses for continued VSU excellence
Details

Written by Ma. Victoria Stephane Asio/DevCom student

Published: 30 August 2013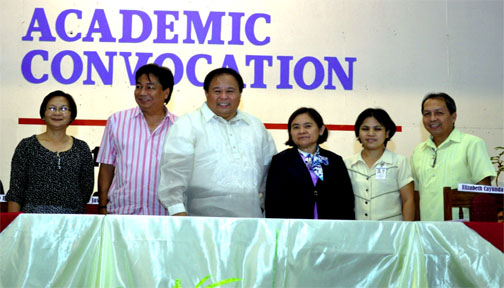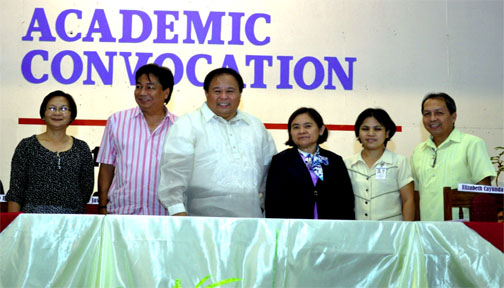 Dr. Jose L. Bacusmo, VSU President, delivered the State of the University Address or SUA to the faculty, staff, students, and guests during the Annual Academic Convocation on July 10, 2012 at the VSU Gymnatorium.
The Annual Academic Convocation is held to welcome the students and to present the key officials of the University. It is also the occasion when the president informs the VSU populace about the important programs and major accomplishments of the University.
The humble president thanked the VSU Board of for unanimously granting him another four-year term. "The members of this administration and I take your overwhelming endorsement as an expression of your satisfaction for the improvements and on-going transformation of this institution. We accomplish all of these because in the past four years, all of us worked together as a team. We look forward to another years of shared stewardship of this university."
"Following the university guiding principles of truth, integrity, relevance, and excellence, we will exert all efforts to continuously transform this institution to become the premier university for science and technology in the Visayas," Dr. Bacusmo pointed out.
Unlike his speech last year, this year's SUA focused not on how far VSU has gone but on what the University should do as an institution in order to survive and thrive in the changing landscape of Philippine public higher education.
According to Dr. Bacusmo, the Commission on Higher Education (CHED) is pushing for a major reform in public higher education. He revealed that "in May this year, all of the SUC presidents were called to CHED and asked to sign, in the presence of President Benigno Simeon C. Aquino, a Covenant on Public Higher Education Reform. Most contentious of the reform agenda is the Amalgamation of SUCs and Typologies of Higher Education Institutions or HEIs."
Amalgamation is the integration of SUCs including the Local Government Colleges into "Regional University Systems" and then selecting one lead university in every region.
Typologies of HEIs, the president said, "refers to reclassification of HEIs into three horizontal types and three vertical quality classifications arguably to improve quality assurance and halt conversion of HEIs into universities. The horizontal classification classifies HEIs into: Universities, Colleges (liberal arts college, professional college, community college) and graduate institutes. The vertical classifications are regulated, deregulated and autonomous."
The president pointed out that CHED's arguments for implementing this is that there is a need to control the number of HEIs that are working for their conversion into universities. "The classification of HEIs will encourage them to improve their performance and become prominent without necessarily working to attain university status."
So, the big question now is, "Which among the SUCs in Region VIII will become the lead university?" Dr. Bacusmo pointed out that although we are best in terms of budget, faculty, quality (education and graduates), and research and extension, there is no assurance that VSU will be identified as the lead university among all SUCs in Region VIII.
Hence, Dr. Bacusmo said that this amalgamation concern drove him to submit a concept proposal to the Chairman of the CHED which pointed out that SUCs in Region VIII should be first organized into an Academic Consortium before the amalgamation is done.
However, if amalgamation really has to push through, the president stressed that VSU will have a good chance of becoming both autonomous and the lead university in the Eastern Visayas University System if it will continue to strive for excellence in governance, in teaching and in research and development.
In governance, there are two important things that VSU should do. First, is putting in place the University Code since VSU has been relying on the ViSCA code since its conversion into a university. Although, the ViSCA Code still is applicable, it has to be updated and revised. The president assigned the University Secretary to take responsibility of coordinating all activities towards producing a VSU Code within a year. Second is adhering to the apolitical stand of the University which implies that VSU should be politically neutral and free from political interference. "I have started laying the guidelines on this by banning any political gatherings and display of campaign materials inside the VSU campuses," the President said.
In teaching, VSU should continue to press for quality assurance and accreditation. This means that VSU will still continue to subject its campuses and programs to accreditation by AACCUP. Dr Bacusmo stressed: "It is through accreditation that we realize what else should we have and should we do to assure the capability and delivery of our programs".
Aside from that, there should also be directed faculty development, merit-based recruitment and appointment. This implies that VSU needs to recruit more faculty members with postgraduate degrees and send more of the faculty members for graduate studies.
Another is facility improvement which includes repairing the facilities of VSULHS, construction of viewing pavilion in the VSU Oriental Garden, construction of covered walk and new VSU library, repairs of several department buildings, construction of Olympic size swimming pool, and renovation of food science pilot plant.
Also, Dr. Bacusmo said that "We have to continue delivering our courses excellently – holding on to high standards that VSU is known for." The president shared that there have been many complaints about the so-called "terror professors" in the University. He criticized and reminded the "terror professors" to teach their students well to be able to deliver excellent teaching.
Moreover, to improve access and increase enrollment, VSU will offer some of its courses online. To increase accessibility, it will continue to widen the opportunity for student scholarships and grants. The President proudly revealed the new donors for scholarships and grants. These include the LGU of Javier in Leyte, Elizabeth Cayunda & Family, LEADS Agri Products, and LEYECO IV. And, lastly, to become more prominent, VSU should maintain excellence in the PRC Board Examination Performance.
In research and development, VSU needs to increase the number of faculty members involved in research and extension and increase its research productivity. There should be at least 20% of the faculty members who are involved in research. They should also be able to publish their findings in peer-reviewed scientific journals like our very own Annals of Tropical Research. VSU should continue to garner awards in research and extension, and teaching. Also, the University should establish more network and partnerships with local and international institutions.
Furthermore, as a cross-cutting concern, the VSU President stressed that the University should adopt a dress code. Both students and professors should wear appropriate attires during classes. Also, he pointed out that, "Personally, I feel we should also ban cross-dressing. It is really time for us to have a dress code and I asked the USSC to prepare for me a draft of such a code."
In addition, the University should also maintain cleanliness and adopt proper waste disposal. Unlike before, it will try to attempt segregation in trash from homes and dormitories up to the disposal and degradation.
VSU has the attributes that are qualified to be an autonomous and the lead university in Eastern Visayas. However, as Dr. Bacusmo said, there are also political interventions that could affect decisions and outcomes. Thus, VSU should be vigilant and aggressive in keeping its position as the leader of the group.
Dr. Bacusmo wound up his speech by saying "Let us, therefore, roll up our sleeves and summon the fortitude to raise VSU to a level where its leadership will be beyond challenge. We all have a stake in the outcome." With this, the audience cheered and applauded as the Academic Convocation ended.