VSU prexy, 1 professor, and 5 alumni receive Reg'l Gawad Saka awards
Details

Written by JFMBaldos

Published: 16 July 2011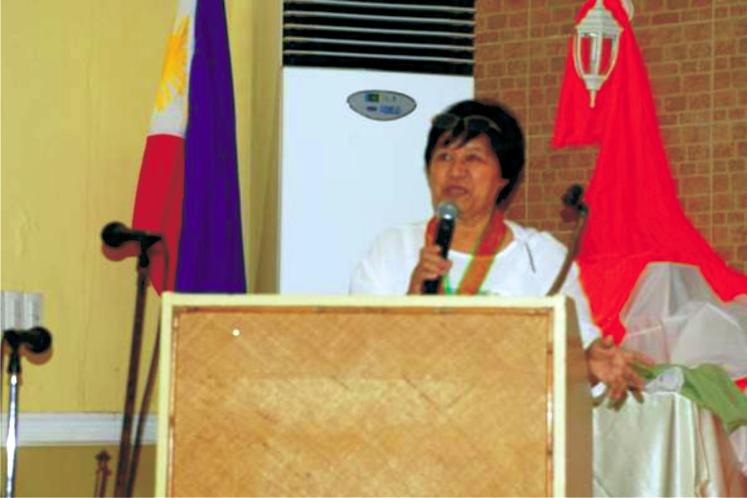 Dr. Jose L. Bacusmo, VSU President, was accorded a Plaque of Recognition from the Department of Agriculture of Region 8 (DA-8) on May 31, 2011 at the Leyte Park Hotel in Tacloban City during the 2010-2011 Gawad Saka Regional Recognition and Awarding Ceremony. The plaque was received by Dr. Wolfreda T. Alesna, Assistant to the President for Information and Communications, who represented the VSU president.
DA-8 bestowed the award to Dr. Bacusmo in recognition of his "invaluable presence, unstinted support and active participation in the conduct of the 2010-2011 Region 8 Gawad Saka Search for Outstanding Achievers in Agriculture and Fisheries."
In her acceptance message on behalf of Dr. Bacusmo, Dr. Alesna emphasized the deeper understanding between the Department of Agriculture and VSU as strong partners in promoting agricultural programs not only in the province of Leyte and in the Eastern Visayas region but the whole country in general. The strong partnership is evident by the numerous awards received by the researchers/scientists of the Visayas Consortium for Agriculture and Resources Program (ViCARP)-member agencies in which VSU and DA-8 are among the strongest pillars.
Dr. Alesna also acknowledged the awardees of the Gawad Saka of whom a number of them are VSU professor/scientist, alumni, and project clients/collaborators. She even proudly announced the achievements of some VSU alumni who excelled and succeeded in their respective careers like the new DA-8 Regional Executive Director Antonio G. Gerundio. She also emphasized that the partnership between VSU and DA-8 will continue to flourish and become stronger as the years go by.
Assoc. Professor Tessie C. Nuñez of VSU's National Coconut Research Center was given a Special Citation as Agricultural Scientist. ViCARP's TechnoGabay Magsasaka Siyentista, Mr. Benjamin D. Gerona Jr., received the Gawad Saka Award as Outstanding Rice Farmer Adopting Rice-Based Farming System.
Dr. Carlos S. de la Cruz, 1981 BS in Agriculture major in Crop Protection graduate of the then ViSCA and currently the Superintendent of the Eastern Visayas Integrated Agricultural Research Center (EVIARC) in Abuyog, Leyte, was the recipient of the Gawad Saka Award (Outstanding Agricultural Scientist) and Region 8's nominee to the National Gawad Saka Award.
Other VSU alumni who were awarded with a Plaque of Recognition include: Ms. Marina S. Gador, Provincial Agriculturist of Southern Leyte; Engr. Nilda Cornelio, Municipal Agriculturist of McArthur, Leyte; Engr. Julito V. Abihay, Municipal Agriculturist of Sogod, Southern Leyte; and Mr. Andres M. Valeriano, Municipal Agriculturist of Kawayan, Biliran.
The Gawad Saka Award is DA's vehicle to pay tribute for the exemplary performance of the farmers, fisherfolk and rural-based organizations; to showcase improved technologies for agriculture and fishery commodities that meet world's standards for competitiveness, increased productivity, improved food security, sanitation and safety; to promote and accelerate the dissemination of cost-efficient technologies and workable producer-user linkage mechanism; to provide incentive to stakeholders who enhanced their technologies, improved production and come up with more income generating activities; to document success stories and present role models that others can emulate; to highlight contributions of the rural-based organizations as functional partners; and to encourage others to actively participate in community development projects.