CIAT Asia director graces RCCRDC's seminar on climate change and disaster risk reduction
Details

Written by JFBaldos

Published: 12 December 2014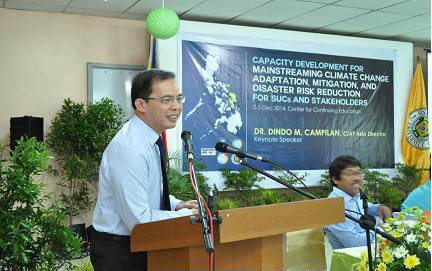 BAYBAY CITY, Leyte - Dr. Dindo M. Campilan, Director of the International Center for Tropical Agriculture for Asia (CIAT Asia) who is a DevCom alumnus of the then Visayas State College of Agriculture (ViSCA), now Visayas State University (VSU), shared his expertise to the 67 participants being the keynote speaker in the training on "Capacity Development for Mainstreaming Climate Change Adaptation, Mitigation and Disaster Risk Reduction for SUCs and Stakeholders" on December 2-5, 2015 at the VSU Center for Continuing Education.
Dr. Campilan's speech centered on "Managing Climate Change for Eco-Efficient Future in Agriculture" focusing on the basic science of climate change giving emphasis on the three main points: climate for change in climate change, climate smart for eco-efficient future, and science tools for managing climate change. He wittily responded to the questions raised by the participants after his presentation.
Dr. Campilan earned a Ph.D. degree in Agriculture and Environmental Science from Wageningen University of The Netherlands. Prior to his present position as CIAT Asia Director, he worked as Regional Program Leader and Senior Scientist for food security and livelihood in Asia at the International Potato Center (CIP).
The four-day activity was spearheaded by the newly-created Regional Climate Change Research and Development Center (RCCRDC) with support from the Climate Change Commission, Australian Aide Programme of the Australian Government (AusAid) and the United Nations Development Programme (UNDP) under the Project Climate Twin Phoenix.
The four-day activity sought to achieve significant enrichment of the information and knowledge base among development policymakers, researchers, extensionists, and local implementers. It gathered 67 participants from the different state universities and colleges of Region 8 composed of Eastern Samar State University in Borongan City, Eastern Samar; Eastern Visayas State University in Tacloban City; Leyte Normal University in Tacloban City; Northwest Samar State University in Calbayog City; Southern Leyte State University in Sogod, Southern Leyte; Samar State University in Catbalogan City, Samar; University of Eastern Philippines in Catarman, Northern Samar; and other line agencies such as the local government units of Baybay, Kananga, Palo, and Villaba; provinces of Northern Samar and Southern Leyte; German International Cooperation (GIZ); International Institute of Rural Reconstruction (IIRR); Climate Change Commission (CCC); Office of Civil Defense; University of the Philippines Diliman; and the Department of Agriculture.
In his welcome message, Dr. Jose L. Bacusmo, VSU President, emphasized that VSU and other SUCs in Region 8 decided to establish the Regional Climate Change R&D Center which was favorably acted upon by the Commission on Higher Education and the Regional Development Council of Region 8 in 2013 embracing climate change and disaster risk reduction.
Dr. Bacusmo expressed optimism that the training would capacitate the participants to face the challenges of climate change and disaster risk reduction. He further said that climate change is a serious concern for everybody since it affects our livelihood and even our lives.
On the other hand, Ms. Maria Lovella P. Segayo, Development Management Officer IV of CCC, who spoke on behalf of CCC Secretary Mary Ann Lucille Sering, pointed out that their agency wanted to level off with the participants in terms of identifying climate change adaptation and disaster risk reduction management measures in the area. She stressed that in addressing climate change, CCC wants to provide long-term solutions that are science-based and at the same time localized for them to effectively and efficiently implement such measures to resolve the problem.
Ms. Segayo also said that CCC, together with the Australian government through the UNDP, is actively involved in building back better, especially in the Yolanda-affected areas through the Resilience and Preparedness Towards Inclusive Development Program being implemented in the 12 local government units (11 municipalities and 1 city) in Leyte, Samar, and Eastern Samar.
Ms. Segayo, moreover, enumerated the reasons why CCC was established. She also expressed that CCC is hoping to come up with a pool of local experts in the region and is looking forward to a Regional Climate Change Network that will be established in this area to efficiently share the knowledge among each other.
Other topics presented by the competent speakers in various thematic sessions were: understanding climate change based on concepts, framework, and methods; the Philippine policy framework on climate change; sharing experiences towards climate smart development; mainstreaming climate change smart perspectives and methods in development initiatives; and networking for climate smart development. The different topics were supplemented with field trips and poster presentations focusing on climate change knowledge market.
RCCRDC is a new center at VSU headed by its director, Dr. Eduardo O. Mangaoang, a professor at the College of Forestry and Environmental Science (CFES).- vsu.edu.ph