International training on food safety protocols and processing principles takes off at VSU
Details

Written by JFBaldos

Published: 19 December 2014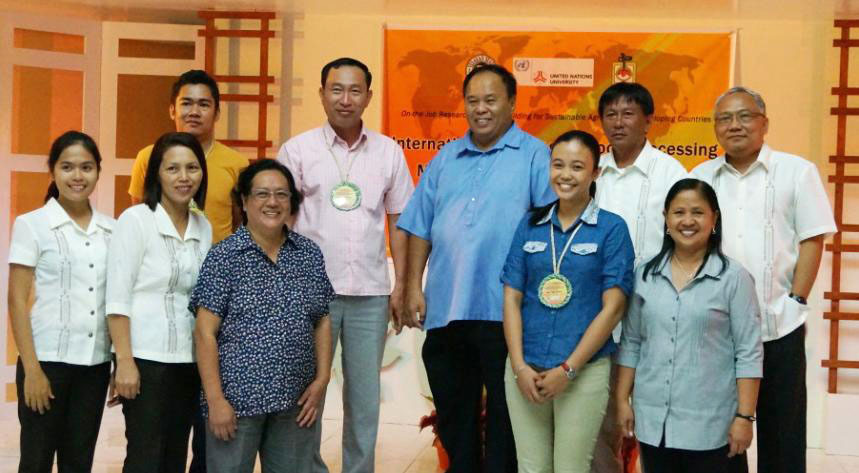 BAYBAY CITY, Leyte -An International Training on Food Safety Protocols and Food Processing Principles started on November 1, 2014 in the different venues at the VSU Philippine Root Crop Research and Training Center (PhilRootcrops).
The training was participated in by only three participants, namely: Dr. Thong Kong from the Royal University of Agriculture in Phnom Penh, Cambodia; Mr. Pet Anthony L. Pascual from the Leyte Normal University in Tacloban City; and Ms. Algin D. Valida from Tarlac Agricultural College in Tarlac.
The training aims to enable the participants to: 1) know and apply the guiding principles and approaches on Good Manufacturing Practices (GMP) and food processing; 2) design a processing plant layout following the basic GMP standard protocols; 3) process food products utilizing indigenous raw materials in their respective places; 4) make action plan on GMP application in their respective processing areas and processing methods applicable to their places utilizing indigenous raw materials; and 5) make a research proposal and conduct researches on product development and process optimization of selected food products and possibly make a research paper for publication after the implementation of proposed research project.
The 45-day training course consisted of visit and exposure of the participants to some GMP/HACCP-compliant food processing plants, lecture-demonstration on GMP protocols and food processing methods with practicum, assessment of selected processing plants in compliance to GMP, and development of action plan. The participants are also expected to apply their plan and write technical document in the next five months starting from December 2014 until April 2015.
According to Dr. Julie D. Tan, the training is part of the major activities of the project entitled "Introduction of Appropriate Processing and Food Safety Methods Utilizing Indigenous Raw Materials in Selected Developing Countries" in which she is the project leader.
Dr. Tan added that the project was approved by the United Nations University in Japan and has been implemented starting on October 1, 2014. The project will end on June 15, 2015. "The project recognizes the safety and nutritional quality of food which are now the global requirements in food processing," Dr. Tan said. She further said that the ASEAN Economic Community (AEC) Blueprint, developed by the member states of the Association of Southeast Asian Nations (ASEAN) in 2013, explicitly states the need to enhance intra- and extra-ASEAN trade and long-term competitiveness of ASEAN's food, agriculture and forestry products/commodities.
Tan averred that "Food quality and safety are the major issues that must be addressed by the developing countries to make food products locally and globally competitive. The capacity of the plant to comply with the Good Manufacturing Practices (GMP) and knowledge on principles and approaches in food processing are necessary for food diversification, being an important strategy for sustainability."
After the implementation period, Dr. Julie D. Tan, Host Scientist and Project Leader, shall visit the implementation sites in Cambodia, Tarlac, and Leyte to evaluate the project conducted by the participants and provide a report to the funding institution regarding the outcome of the training activities.-vsu.edu.ph