"Himig Handog 2015" concert for a cause features UV Chorale
Details

Written by Jesus Freddy M. Baldos

Published: 05 March 2015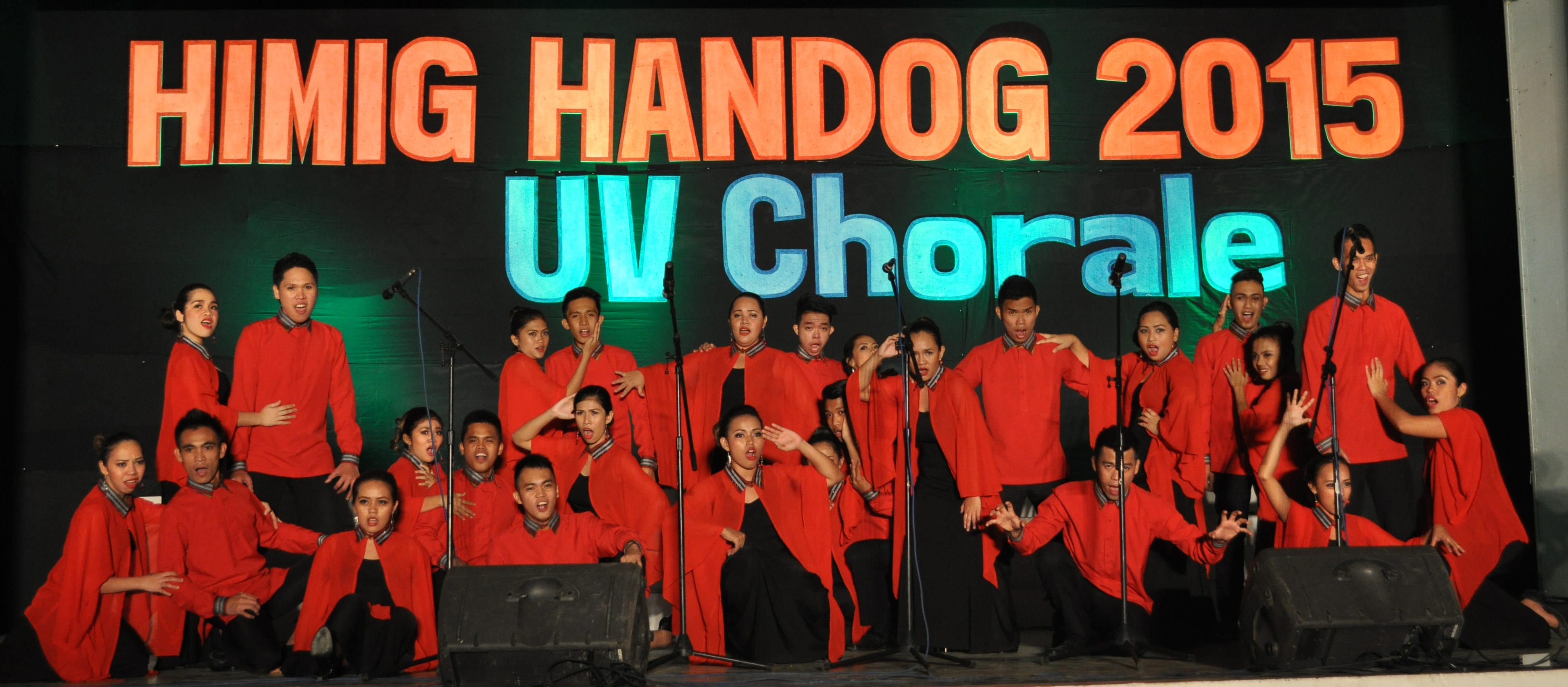 The "Himig Handog 2015" organized by the Senior Students' Event Planners – Charlie taking up BS in Hotel, Restaurant and Tourism Management (BSHRTM) spearheaded a post-valentine concert for a cause in the evening of February 22, 2015 at the VSU Gymnatorium. The concert featured the international award-winning University of the Visayas (UV) Chorale in Cebu City under the tutelage of Ms. Anna Tabita Abeleda-Piquero.
According to Mr. Ronan T. Peligro, Event Director, and Miss Catherine T. Paña, Sales and Marketing Manager, the proceeds of the concert will go to the Immaculate Conception Parish Pastoral Council of Baybay City for its Housing Project.
"We are very glad that the concert was successful and was able to generate certain amount of money to help a family in Baybay City to build their own house in a donated land area," said Mr. Peligro. "In fact, we will be turning over the money to the Baybay City Parish Pastoral Council sometime in the first week of March 2015," added Miss Paña.
"Aside from the fact that the activity is one of the requirements in our subject in HRTM 195 (Events Management) under Ms. Aireen Y. Clores, instructor of VSU's Department of Consumer and Hospitality Management, what excite us most is the fulfillment that we can help a certain family in Baybay City through the event that we organized and the learning experience in organizing such kind of event," Mr. Peligro and Ms. Paña both enthused.
The UV Chorale concert repertoire was divided into three parts. These included: Folk Songs from the Philippines (Iselag Mo sa Buwan and Leron-Leron Sinta), Germany (Die Harmonie), and Indonesia (Cantik); Cebuano Songs (Rosas Pandan, Pobreng Alindahaw, Usahay, and Pasayawa Ko Day), including Spanish Song (Besame Mucho); and Pop Songs (Let It Go/Vuelie Medley, Single Ladies, Balay ni Mayang, Dili Tanan, and Bad Romance).
The audience was nailed on their seats and in awe after the last performance that prompted the UV Chorale to sing the "La Bamba" as the encore of the concert.
The concert was spiced up with special participation of some talented VSU faculty, staff and students with their musical and dance interpretations during the opening salvo and in between segments of the concert.
The 27-member UV Chorale was led by Mr. Kenneth Lirazan, the General Manager of the group. JFMBaldos