VSU honors college and university scholars and special awardees
Details

Written by Jesus Freddy M. Baldos

Published: 16 March 2015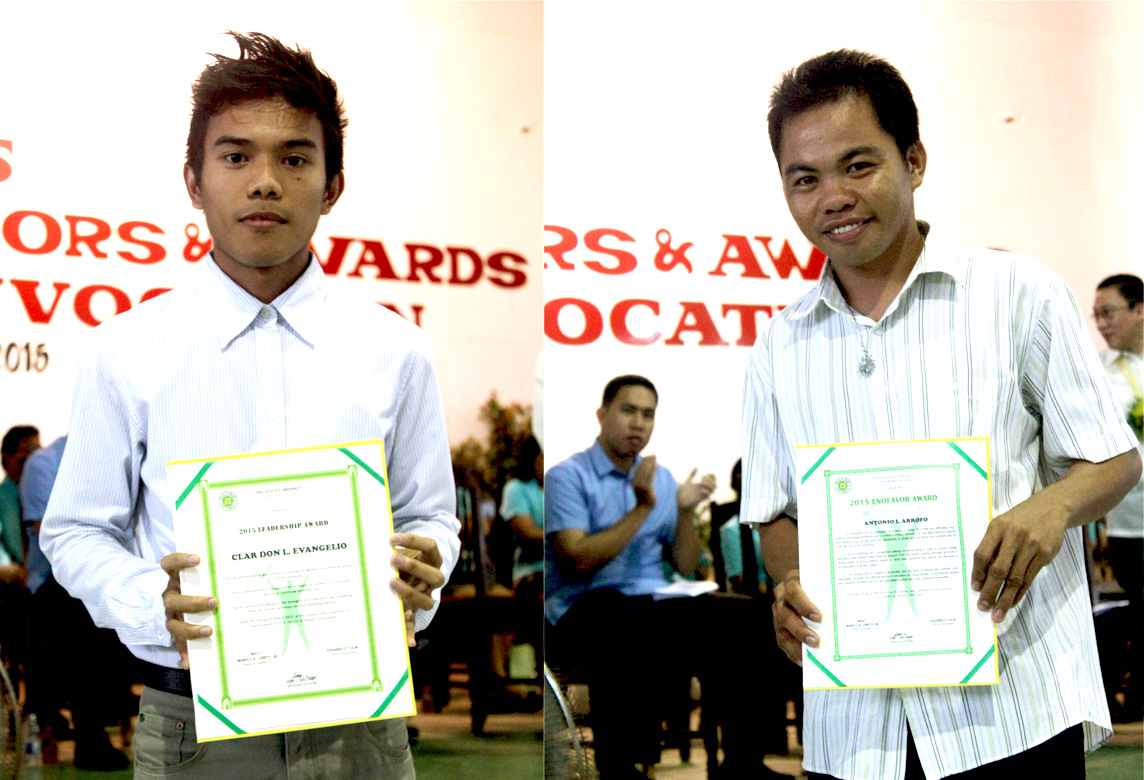 The Visayas State University (VSU) conducted the Annual Honors and Awards Convocation Program on March 3, 2015 at the VSU Gymnatorium. Spearheaded by the University Student Service Office (USSO) under the leadership of Engr. Manolo B. Loreto, Jr., Dean of Students, the occasion recognized the academic achievements of some undergraduate and graduate students of the University as well as in their co-curricular activities.
This year, in the baccalaureate degree programs, a total of 701 honor students received the academic honor certificates from Dr. Edgardo E. Tulin, VP for Instruction, with the assistance of the respective college deans distributed as follows: (College Honors) College of Agriculture and Food Science – 91, College of Arts and Sciences – 50, College of Education – 179, College of Engineering – 43, College of Forestry and Environmental Sciences – 13, College of Management and Economics – 92, and College of Veterinary Medicine – 26.
On the other hand, Dr. Jose L. Bacusmo, VSU President, together with Hon. Jonas C. Cortes, Mandaue City Mayor and Guest Speaker, with the assistance of Dr. E. E. Tulin, distributed the certificates to the University Honors – 88, and both University or College Honors in any of the two consecutive semesters – 14. They also distributed the certificates to the Consistent Honors (scholars in all terms): College Honors – 44, both University and College Honors in any of the two consecutive semesters – 34, and University Honors – 27.
The College Honors is given to those who garnered a General Point Average (GPA) of 1.750 – 1.451), while the University Honors is given to those who got a GPA of 1.450 – 1.000.
In the graduate degree programs, a total of 29 students were given certificates of academic honors by the VSU President and the Guest Speaker, with the assistance of Dr. Beatriz S. Belonias, Dean of Graduate School. Twenty-four of them received the Dean's List for garnering a GPA of 1.500 – 1.251 in any of the two semesters; while 5 were given the President's List for having a GPA of 1.250 – 1.000 in any of the two semesters.
Moreover, the University presented the 2015 Leadership Award to Clar Don L. Evangelio "for his determination and concern in serving the students in various activities of the University; for his commitment in the pursuit of excellence in students' co-curricular and extra-curricular activities; and for his concern in building on the strengths of its members and mobilizing them for utmost usefulness despite dissenting opinions."
The 2015 Endeavour Award was received by Antonio I. Arrofo "in recognition of his exemplary endurance in facing life's trials and difficulties, frustrations and disappointments just to pursue a college education so that after earning a degree and finding a job, he will have the opportunity to share with his family the comforts that he may gain out of his sacrifices; for his boldness and courageous attempt to leave home in order to pursue college education even without clear financial support from the family…braving through all kinds of decent works to survive without regard to what other students may look at him because to him education is all that matters; and for striving hard to balance his studies and his work, a person who exhibits commendable character and attitude worthy of emulation by young people, a God-fearing student who clings to his faith and for strongly believing that with God nothing is impossible."
The recipients of the Organization Awards were: Course-Related Organization of the Year – VSU Statistical Society, Service Organization of the Year – Zeta Beta Rho Honor Fraternity & Mussaenda Honor Sorority, and Hall of Fame Award – Venerable Knights/Lady Veterinarians.
Special awards were also given to some students who won in various competitions outside the University.
Likewise, special recognition was accorded to some faculty members for their length of service as advisers of various student organizations. They were Asst. Prof. Ernesto F. Bulayog (10 years), Dr. Ruth O. Escasinas (10 years), Dr. Anabella B. Tulin (15 years), and Dr. Ernesto C. Bumatay (20 years). JFMBaldos