Mandaue City Mayor is VSU honors and awards speaker
Details

Written by Jesus Freddy M. Baldos

Published: 11 March 2015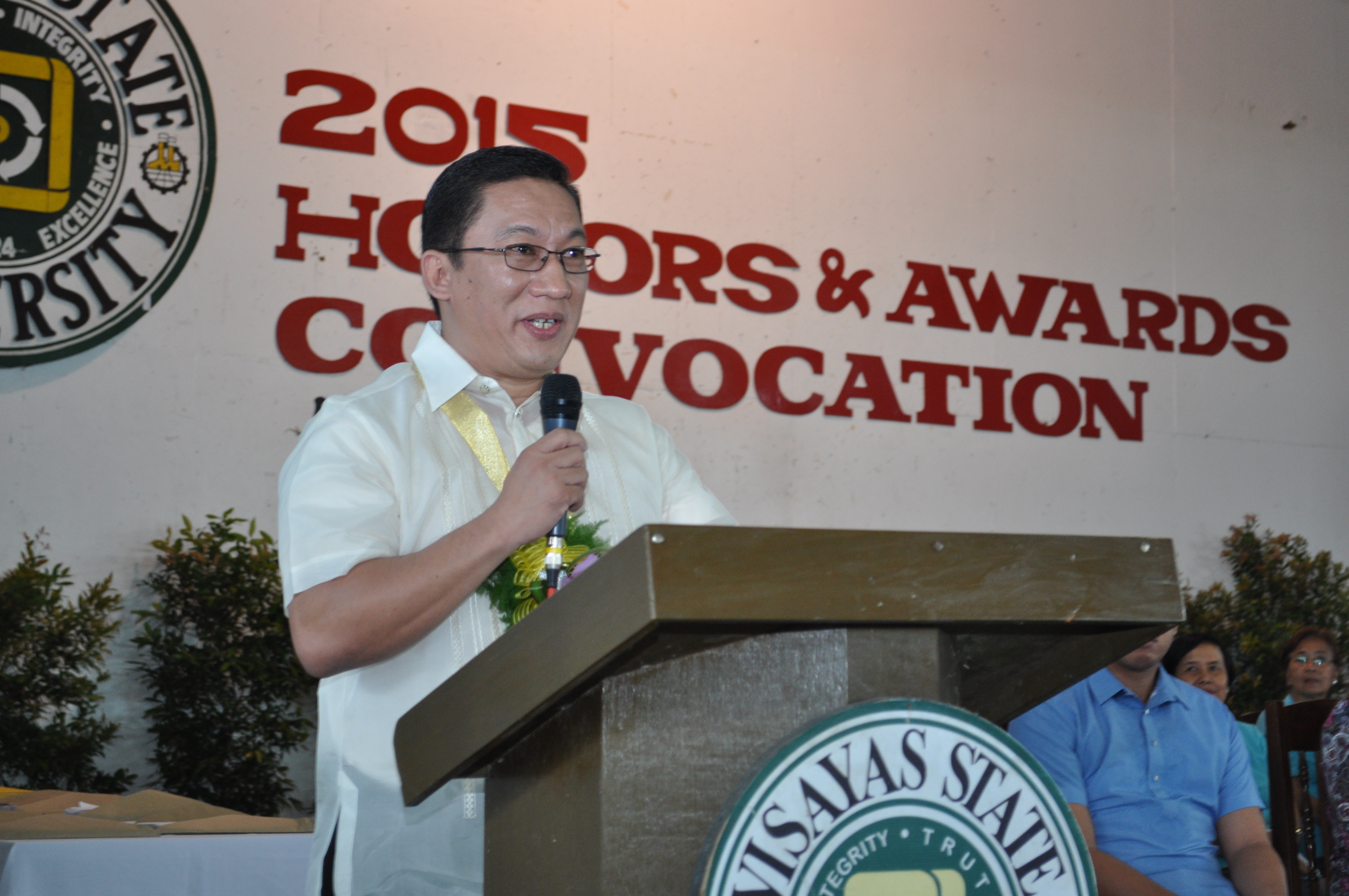 The Visayas State University, being proud of the achievements of its graduates who would inspire the honorees and awardees, had invited the Chief Executive of Mandaue City, Honorable Jonas C. Cortes, as the guest of honor and speaker during the Honors and Awards Convocation Program in the afternoon of March 3, 2015 at the VSU Gymnatorium. Mayor Cortes earned his Bachelor of Animal Science (BAS) degree in 1987 from the then Visayas State College of Agriculture (ViSCA), now VSU.
Speaking before some 1,000 honorees and awardees of the University, the faculty, staff, students, parents, and guardians, the young local Chief Executive relayed his experiences when he was then a student of VSU and how he was able to survive and cope up with the rigors of work in complying with all the academic requirements while being away from his parents and the life in the city.
Mayor Cortes expressed his delightfulness to VSU, through VSU President Jose L. Bacusmo, for extending to him the invitation. He considered the occasion as a rare opportunity to be asked by his alma mater to come back and speak to the future generation of leaders.
The young Mayor pointed out that aside from the academic aspects, he also learned many things from VSU. "Here, I learned the value of friendship; I learned to adjust to circumstances and move forward; and I learned how to be independent, confident, and diligent," Cortes mused.
"Unknown to me, it was in this University that I laid the foundation of the type of leader I wanted to become. Perhaps it is also unknown to you that you are also setting the foundation of your leadership philosophy," Mayor Cortes enthused. Cortes contextualized his learning at VSU the way he handles the affair of the highly urbanized city that he is presently serving as Chief Executive.
The speaker shared his own perception of what leadership is. He emphasized that leadership means "allowing those whom you lead to become leaders as well by empowering them to have a voice in the process of decision-making; marrying ideas to come up with the most concise, effective and efficient solution agreeable to all; and it takes a lot of creativity." He added that leadership does not only focus in producing more followers but to produce more leaders.
The guest speaker also encouraged the VSU honorees and awardees, whom he considered as the 'cream of the crop', to hone and develop in them their potentials to become great leaders in their respective communities. He believes the VSU students' ability to influence others and find solutions to complex problems. He quoted Jack Welch who said: "Before you become a leader, success is always about growing yourself. When you became a leader, success is all about growing others. So, go out there and succeed. But you must remember that you too must lead."
Mayor Cortes stressed that if ever some of the honorees or awardees choose to lead, they are propelled and challenged to exceed their boundaries and go beyond their limitations. "If you answer the call to serve, you have to leave your comforts and embrace selflessness," he quipped. JFMBaldos