VSU prexy welcomes more than 2,000 new students of the University
Details

Written by Jesus Freddy M. Baldos

Published: 23 June 2015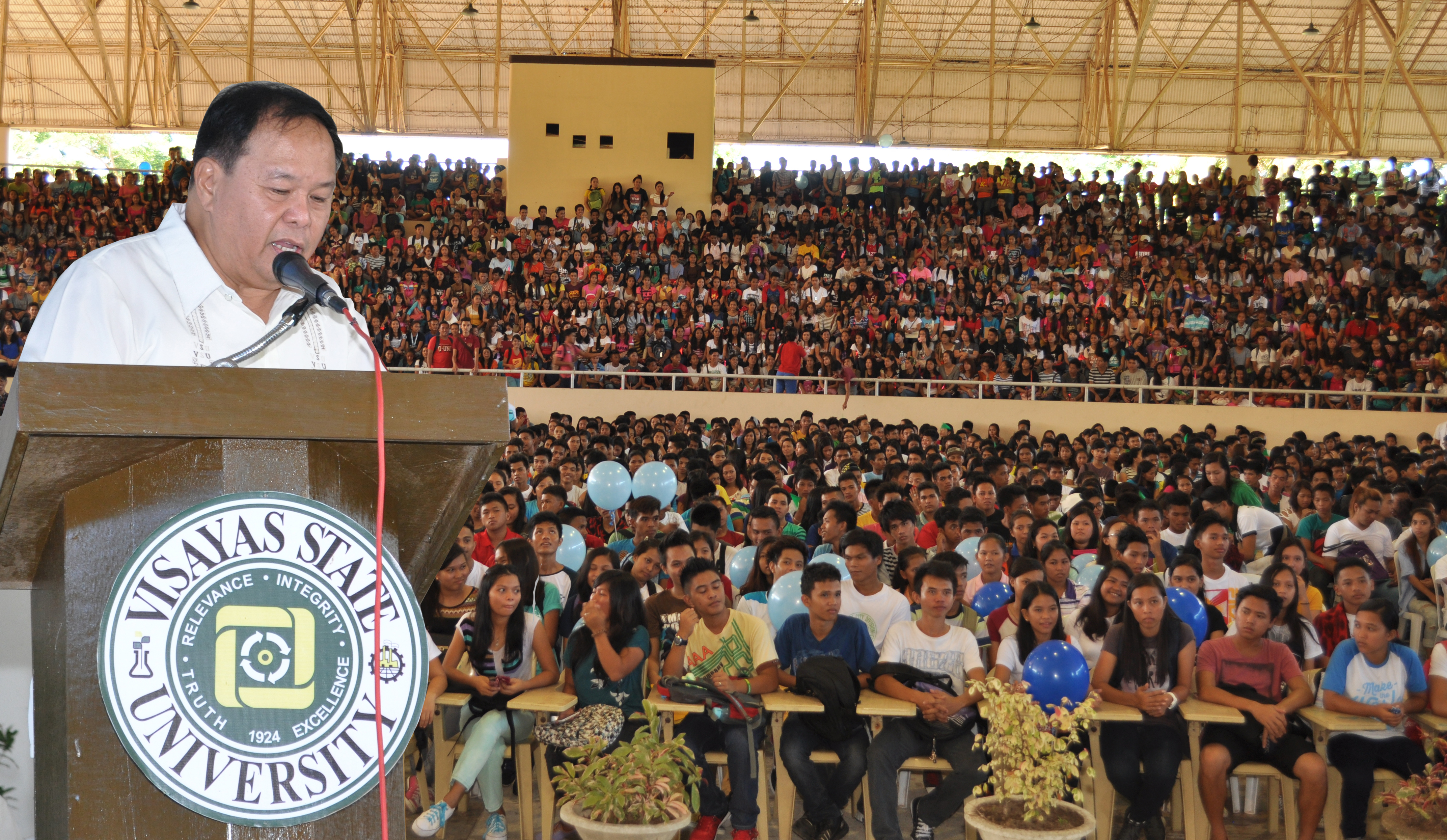 As the School Year 2015-2016 commences, Dr. Jose L. Bacusmo, VSU President, warmly welcomed the more than 2,000 new college students and more than a hundred high school freshmen (Grade VII) of the Visayas State University during the New Students' Welcome and Orientation Program on June 8, 2015 at the overflowing VSU Gymnatorium.
The University President gladly informed the students that the business of VSU is to change their lives. "We will prepare you to be conscientious and productive citizens of the country," Dr. Bacusmo said. He also emphasized that VSU will do its best to imbue the students with knowledge and skills they will need in their future workplaces and develop their critical thinking ability to learn by themselves and find solutions to problems that they may encounter.
"At VSU, you are assured of quality education. Our institution offers programs that are accredited and with highly qualified professors. In fact our agriculture program is given the highest level of accreditation (Level IV) and we have the highest number of LeveI III accredited programs," Dr. Bacusmo quipped.
Moreover, Dr. Bacusmo said that, in terms of facilities, VSU is still wanting but better off than most universities and colleges in the country. As a matter of fact, he emphasized that the third floor of the new VSU Library will be prepared for occupancy and ready for utilization by the students by the end of July this year.
The workaholic VSU President also informed the students regarding the establishments of two basketball courts, two volleyball courts, and two tennis courts at the Upper Campus for the convenience of those who are residing in that area, so that they will no longer walk down the other side of the campus just to play.
The President, furthermore, said that the construction of the Olympic-size swimming pool is smoothly well under way. Dr. Bacusmo is also hoping that all these facilities will be completed before the month of October as VSU will be hosting the 2015 SCUAA Meet scheduled during that month which will be participated in by 11 state colleges and universities in Region 8.
The University president also lamented that the students must consider themselves very lucky as more laboratories for food science and an animal hospital for the Veterinary Medicine are in the pipeline. It is also expected that more classrooms shall be added to the existing ones once the partition of the old VSU Library at the Upper Campus and the conversion of the greenhouses will be completed.
He also averred that even if the available VSU dormitories are not that classy, "But where can you find a dormitory whose monthly fee is averaging at PhP300 a month as compared with those in Cebu wherein the bed space alone will cost a student at least a thousand pesos.
The humble VSU President also gave pieces of advice to the new students. These are:
Be committed to learn by attending your classes and studying hard. VSU is not for the lazy ones. It is for smart students and even for the slow who are willing to put extra time and effort to study. He even quoted Louis Pasteur who once said "Chance favors only the prepared mind."
Respect your fellow students, your professors, school officials and the community, in general. We are a community here and even a family. Love and respect are important for the community to function well.
Part of respecting others and loving nature, dispose your garbage properly. Many of you will be delighted to learn that we are the only accredited "Dark Green Campus" in the whole of Visayas and Mindanao and we are doing a great length in keeping this campus orderly, safe, clean and beautiful.
Dr. Bacusmo, moreover, pointed out that going around half naked is strictly prohibited. Smoking cigarettes and drinking alcoholic beverages are also prohibited. "You might find these too restrictive, but believe me, when we pass policy we always have the students' welfare in our mind," he said.
He ended his message by giving assurance to the students that under his administration, VSU will always be committed to support their endeavor to be a better person.
"College life is often wonderful despite the challenges. So, while you are here, learn but also have some fun," Dr. Bacusmo mused. JFMBaldos