IHK mentor in Vigan nat'l folk dance workshop; elected veep for PFDS-Leyte
Details

Written by Jesus Freddy M. Baldos

Published: 23 June 2015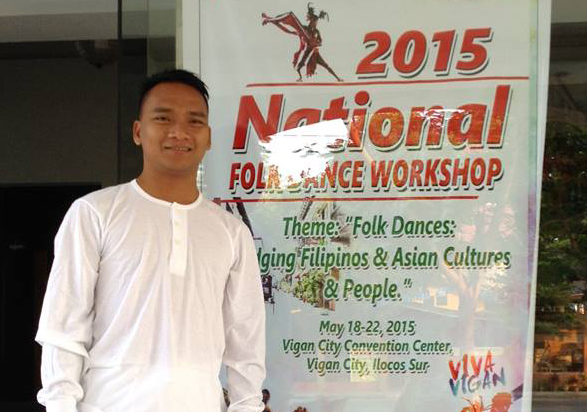 Mr. Lomel Q. Abarquez, instructor of VSU's Institute of Human Kinetics (IHK) and at the same time dance master and choreographer of the VSU Folkloric Dance Troupe, participated in the National Folk Dance Workshop on May 18-22, 2015 at the Vigan City Convention Center, City of Vigan, Ilocos Sur.
Organized by the Philippine Folk Dance Society (PFDS) and the Cultural Center of the Philippines (CCP), in partnership with the City Government of Vigan, the 5-day workshop was participated in by some 900 dancers, teachers in all levels, dance trainers, teachers in-charge of dance groups, directors, choreographers, members of dance groups, culture and arts personnel, and cultural events coordinators throughout the country.
Hinged on the theme "Folk Dances: Bridging Filipino and Asian Cultures and People", the workshop enabled the participants to develop knowledge, skills, understanding and appreciation for folk and traditional dances as bridges of cultures and people of the Philippines and Asia; upgrade competencies in teaching traditional Philippine and Asian dances among teachers, dance trainers, choreographers, directors, dancers and dance enthusiasts; provide teachers with resource materials on dance such as dance books, music, CDs, videos, hand-outs, etc.; and provide a forum to discuss significant issues and concerns of folk dancers, dance teachers, trainers, and choreographers.
The workshop included dance sessions, panel discussion, lecture-demonstrations, forum, street dance, cultural shows, folk dance competition, regional presentations, city tour, and a culminating showcase by all the participants.
Mr. Abarquez, together with Ms. Debbie Anne Marie Galinea, a high school PE teacher of LIDE in Isabel, Leyte, was asked to interpret the folk dance entitled "Pastorsillos" researched by Prof. Mila Janson of Cebu Normal University.
Moreover, Mr. Abarquez was elected as Vice President of the PFDS-Leyte Chapter, with Mr. Michael Diaz, a VSU alumnus who is now connected as MAPEH instructor of the Southern Leyte State University, as President. JFMBaldos