Kalayaan ATIN ITO Movement holds info drive in VSU
Details

Written by SMCLemos

Published: 28 September 2015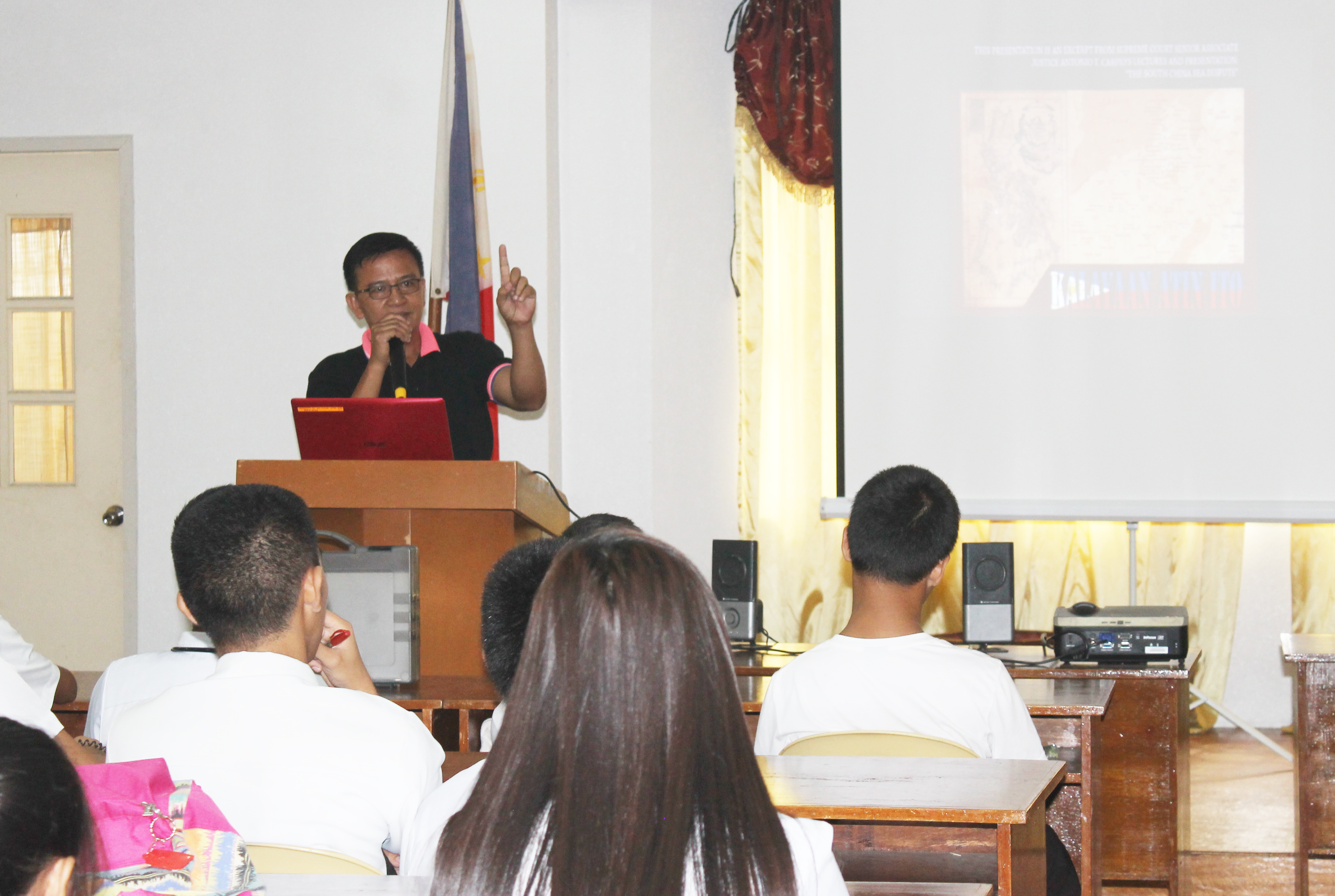 The volunteers from the Kalayaan ATIN ITO Movement visited on September 11, 2015 the Visayas State University and conducted an information drive on the issue of China's illegal occupation of the Kalayaan Group (KIG) Municipality of Palawan at the 2nd Floor of the Center for Continuing Education. It was attended by the VSU Laboratory High School students and some faculty and staff of the University.
The movement is primarily designed to improve the participation of the Filipino citizens in supporting the position of the country in addressing the territorial disputes. Its principle is to encourage the participation of the young citizens whose future will be seriously affected by the developments at the Kalayaan Island Group.
According to Mr. Nicanor E. Faeldon, a volunteer of the Kalayaan ATIN ITO Movement, the coalition was organized to:
Understand the issues pertaining to the West Philippine Sea;
Gather support to speak with one voice to the international community that we intend to stand up and oppose the encroachment and de facto occupation of our rightful territory; and
Conduct an activity that sends a clear and strong message to China to stop intruding on Philippine territory and its Exclusive Economic Zone.
The groups' information drive called "FREEDOM CARAVAN", which was launched in Batanes last May 15, 2015, is the first phase of the activity wherein the volunteers have been going to the different provinces to inform the public of the need to protect the Municipality of Kalayaan from Chinese aggression that has severely restricted the country's navigation, fishing, and resource exploitation of the area.
The Movement's final activity is a flotilla of boats manned by their volunteers who will represent each province, which will sail from Ulugan Bay, Puerto Princesa, and Palawan to the Kalayaan Island Group Municipality and conduct symbolic, peaceful activities there. SMCLemos