Uni-wide Intramurals, an opportunity to shine—VSU Pres
Details

Written by ELTBestil

Published: 20 September 2016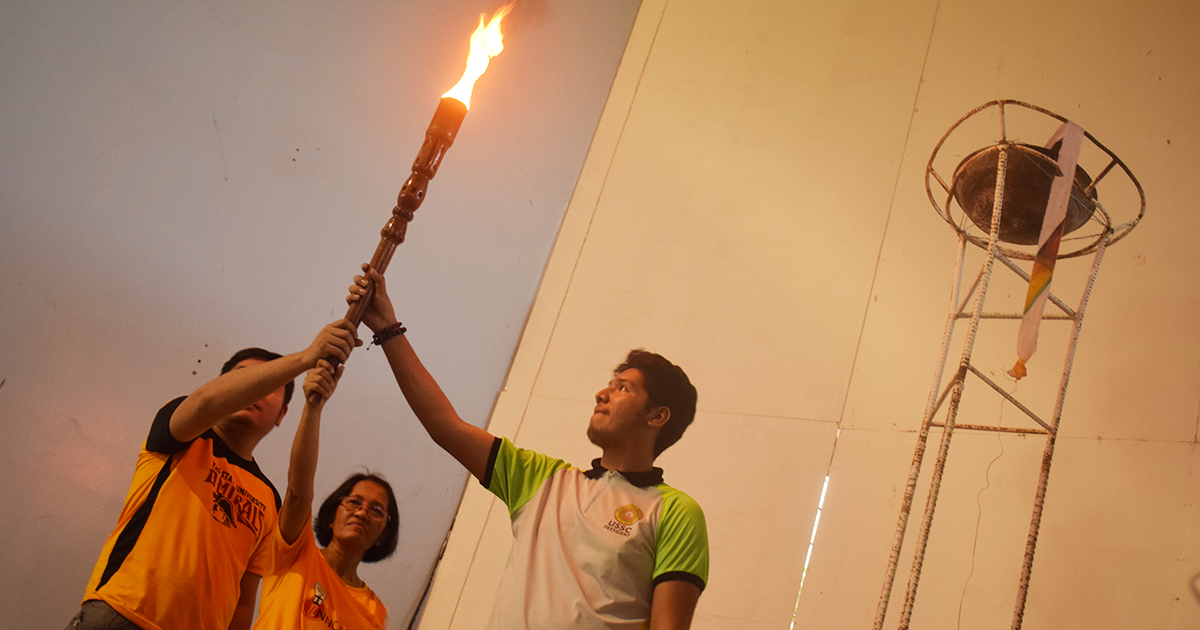 Classes in junior high school and college are suspended at VSU for almost a week because the 2016 VSU-wide Intramural Games has officially begun!
VSU President Dr. Edgardo E. Tulin inspired the 12 competing teams during the Intramural Games Formal Opening at the VSU Gymnasium, September 20.
In his speech, Dr. Tulin said not only does the Intramurals give a break from academic activities; it also gives faculty, staff, and students an opportunity to shine and develop multiple potentials.
Winning and losing in sports, Dr. Tulin said, is akin to winning and losing in life.
"Losing teaches [us] to bounce back stronger. Winning teaches [us] to never rest in our laurels but to keep practicing and keep the fighting spirit," said Dr. Tulin.
Dean of Students Engr. Manolo Loreto declared the VSU Intramurals 2016 officially open. The Friendship Urn, which symbolizes camaraderie and sportsmanship, was lit by the Supreme Student Council President Mark Unlucay, Faculty Association President Dr. Luz Moreno, and Atty. Rysan Guinocor, president of the Administrative Personnel Association.
Elgy C. Dasian, Tennis Silver Medalist during the National Sports Competition of the State Colleges and Universities Athletic Association, led the Oath of Amateurism and the Sportsmen's Creed.
"We, the players of the different competing teams, do hereby declare that we are amateurs and do pledge ourselves to compete in these games in the spirit of true sportsmanship," pledged the faculty, staff, and student athletes.
The university-wide intramurals is an annual event at VSU. This year, faculty, staff, and students from the VSU satellite campuses—Isabel, Tolosa, Villaba, and Alang-alang—will compete with the other teams.