Lecturers from National University of Singapore visit VSU for possible collaboration
Details

Written by JFMBaldos

Published: 30 August 2013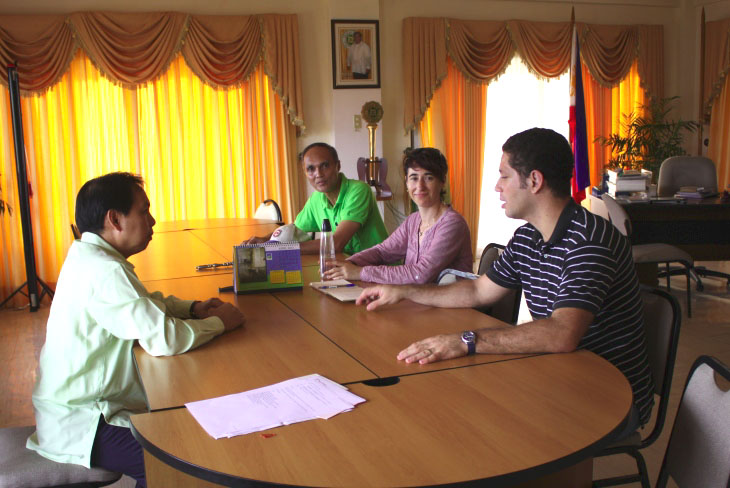 Two faculty members from the National University of Singapore (NUS), Dr. Joanna Coleman of the Department of Biological Sciences and Dr. Jesse Hastings of the Geography Department (both lecturers in the Bachelor of Environmental Studies [BES] Programme of NUS), had a site visit to the Visayas State University (VSU) Main Campus on April 24-27, 2013 for a possible linkage and collaboration with the University.
Both expressed willingness to collaborate with VSU after they learned about the University from Dr. David Neidel, professor from Yale University based in Singapore who is a strong rainforestation supporter of VSU's Institute of Tropical Ecology and Environmental Management (ITEEM) through its Environmental Leadership Training Initiative (ELTI).
Dr. Coleman and Dr. Hastings were warmly welcomed by Dr. Humberto R. Montes, Jr., ITEEM Director. They were toured around the campus after their courtesy call at the VSU's Office of the President. The team had the chance to see the rainforestation nursery and demonstration farms established by the ITEEM. They also had a discussion with the faculty, staff, and students of the College of Forestry and Environmental Science. During that discussion, both of them took turn in presenting the BES program of NUS. They also visited the VSU-assisted mangrove and marine sanctuary in Mahaba Island in Inopacan, Leyte.
According to Dr. Coleman, they are in the process of developing and teaching two courses (modules), the ENV3101 (Environmental Challenges: Asian Case Studies I) and ENV3102 (Environmental Challenges: Asian Case Studies II), which are mandatory program requirements of the BES students in their third year of studies. She also revealed that they are currently in the planning stages for ENV3102, i.e., the overseas module, and are discussing possible locations for the field module, in which the Philippines has been shortlisted, because they want to include both a terrestrial and a marine component to the module.
Dr. Coleman added that Philippines certainly suits their needs when it comes to terrestrial and marine biodiversity and to conservation challenges in both realms. She said that "David Neidel suggested that VSU would be an ideal partner. In our meeting two weeks ago, he showed me photos of the campus and described to me the very fruitful partnership that ELTI has had with VSU and ITEEM. I had to agree with David – VSU does indeed seem like a great partner."