PH climate change chief: pursue RDE to build community resilience
Details

Written by Elia Maury Cunanan

Published: 29 December 2017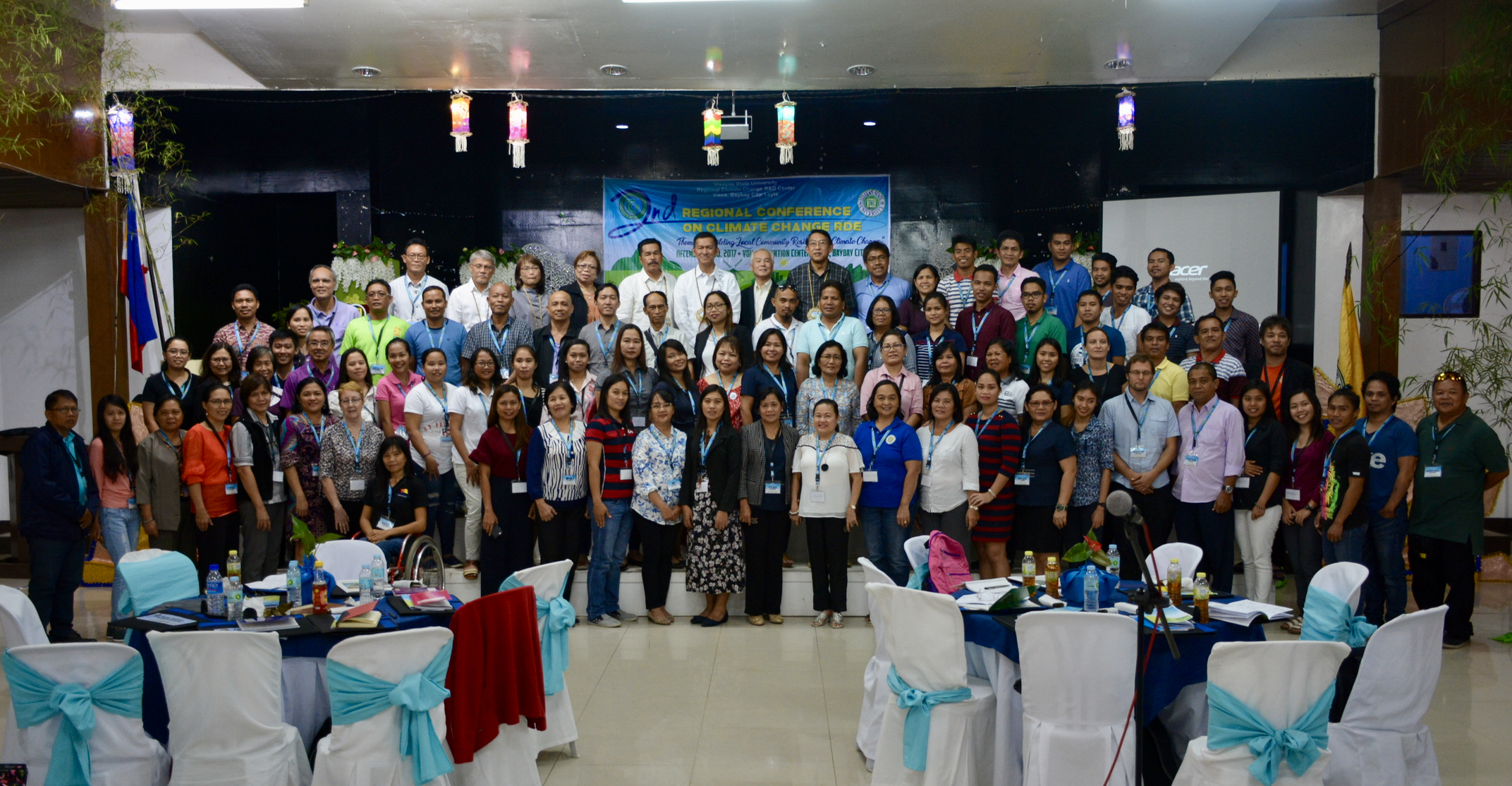 Secretary Emmanuel M. De Guzman, the Vice Chairperson and the Executive Director of the Climate Change Commission, challenged scientists and researchers in Eastern Visayas to anchor their research, development and extension (RDE) initiatives in building and enhancing community resilience as a strategy for climate change adaptation and mitigation.
This was his keynote message in the 2nd Regional RDE Conference on Climate Change which was delivered by Dr. Glenn Roy V. Paraso, member of the Climate Change Commission Panel of Experts. The said conference was held at the VSU Convention Center from December 18-20, 2017.
Sec. De Guzman urged the RDE communities to focus on activities particularly on the following areas of priorities: Development of Flow Carbon and Resilient Infrastructure offsets for power generation, energy efficiency, urban transport systems, and solid waste management; Pursuit of Climate-smart Agriculture Approaches to ensure Food Security; Strengthening of Climate Information Services and Multi-hazard early warning systems to reach the remotest periphery; Capacity Building for Local Government Units (LGUs); and Sustainable Management of Ecosystems.
"RDE endeavors, be it on local sectors, help generate adaptation and mitigation strategies that would impart knowledge to the people," the Commissioner said.
Sec. De Guzman also mentioned the Paris Climate Agreement among International Communities, a common ground for global climate action forged in 2016 and is being adopted by 197 countries. This agreement aims to limit global temperature rise to below 1.5 degrees Celsius above pre-industrial temperature levels.
"Through financing, technology transfer, and capacity building, it [Paris Treaty] also intends to ensure developing countries, like the Philippines, to become more resilient to climate change," told De Guzman.
However, the achievement of this goal relies on the successful implementation of the country's Nationally Determined Contribution (NDCs), or the mitigation actions and adaptation priorities a country commits to undertake. NDCs in turn, is contingent to RDE initiatives.
At present, the Climate Change Commission is finalizing the country's NDCs for submission to the United Nations Framework Convention on Climate Change (UNFCCC) early 2018.
The conference provided an avenue for the sharing of information and experiences on initiatives and best practices of local communities on climate change mitigation and adaptation. The forum included plenary presentations from various organizations across Region 8 interested and engaged in climate change RDE activities. The event was anchored on the theme, "Building Local Community Resilience to Climate Change."
More than 100 participants took part in the three-day conference facilitated by the Regional Climate Change Research and Development Center (RCCRC) stationed at VSU.