VSU registers 100% passing in Feb 2019 Mech Eng'g Board
Details

Written by Kim Roca

Published: 01 March 2019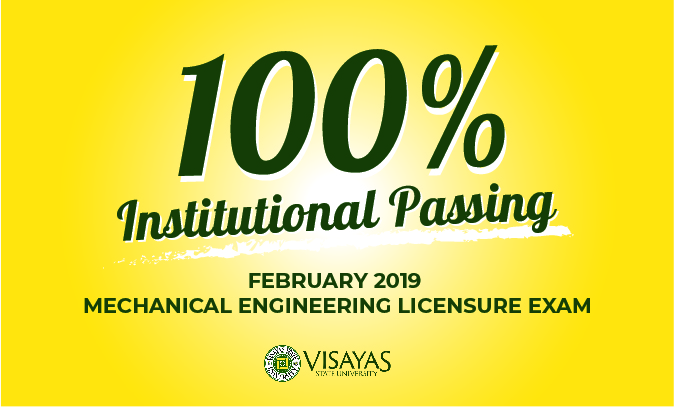 Visayas State University (VSU) registered a passing average of 100% in the recently concluded February 2019 Mechanical Engineering Licensure Exam, as released by the Professional Regulation Commission (PRC), February 28, Thursday.
All 15 takers from VSU successfully passed the ME board.

According to PRC, 1,538 out of 3,046 passed the Mechanical Engineer Licensure Examination with a national passing average of 50.49%.

Engr. Jayson de Torres Perez of the University of Batangas tops this year's exam with an average of 92.40%. Batangas State University was shortlisted as the top performing school.

Here is the full list of VSU passers for the 2019 Mechanical Engineering Licensure Exam:

1. Engr. Acenas, Arnold
2. Engr. Boregon, Edgar Jr.
3. Engr. Cabarse, Danrel
4. Engr. Carza, Efefamay
5. Engr. Castorico, Jason
6. Engr. Danao, Princess Jane
7. Engr. Galvez, Lawrence
8. Engr. Gomez, Paolo
9. Engr. Leyson, Dave Joseph
10. Engr. Porio, Jhonuel
11. Engr. Sicsic, Justyn Wayne
12. Engr. Sicsic, Martin Guiller III
13. Engr. Tabudlong, Mary Cris
14. Engr. Talavera, Kim Brylle
15. Engr. Ymas, Kinede

VSU through the Department of Mechanical Engineering (DME) has been consistently registering a passing percentage above the national average. In 2017, DME also got a 100% average and 87.50% average in 2018.