New 8RCDG commander pays a courtesy call to VSU prexy
Details

Written by Jesus Freddy M. Baldos

Published: 30 January 2020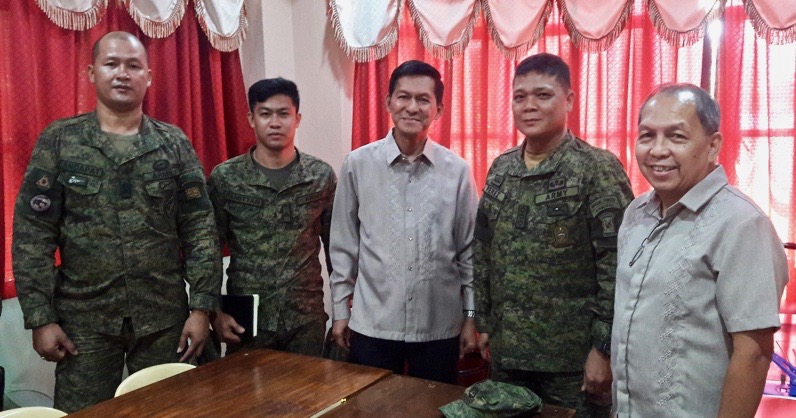 Colonel Dennis C. Perez, INF (GSC) PA, newly designated Group Commander of the 8th Regional Community Defense Group (8RCDG) based at Camp Downes, Ormoc City, paid VSU President Edgardo E. Tulin a courtesy call on January 30, 2020.
Dr. Tulin welcomed Col. Perez at the Center for Continuing Education, where a top-level university workshop was going on.
Prof. Manolo B. Loreto, Jr., Dean of Students and NSTP Head, introduced the group to Dr. Tulin, formally informing him about the new leadership at 8RCDG.
Col. Perez assumed office on December 17, 2019, replacing Col. Norman S. Zuniega, INF (GSC) PA, who is now assigned at the General Headquarters of the Army Reserve Command (ARESCOM).
With them were 2Lt. Mark Bryan D. Pamitan (INF) PA, VSU ROTC Commandant; TSG Noel S. Regal (INF) PA, TSG Raul J. Doliendo (INF) PA, and TSG Lyndell B. Andapat (INF) PA.
During the courtesy call, Col. Perez said that his administration shall strictly implement the no hazing/bullying, no collection, and no corruption policies during the conduct of ROTC programs in all public and private higher education institutions (HEIs) under his command.
He also assured the president that ROTC shall adhere to a high quality of training among advance and basic ROTC cadets and cadettes without too much cost. He also expressed alarm to the gradual decline of cadet officers in some SUCs, thus he informed the president about the scholarship programs offered by the Philippine Army to the cadet/cadette officers.
In response, Dr. Tulin assured the 8RCDG Commander of VSU's full support to their programs. He also said that they are welcome anytime to help in carrying out the programs of the VSU ROTC Unit.