For the next summit, abaca coalition asks: How do we woo farmers back to abaca?
Details

Written by Jamie Faith De Veyra

Published: 12 March 2020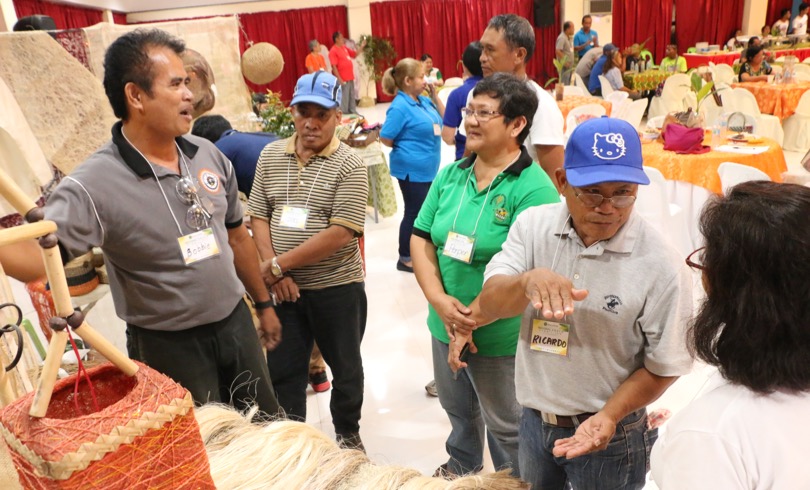 The Abaca Coalition of Eastern Visayas wishes to encourage farmers to return to growing abaca, and this will be the focus of the upcoming 2021 summit.
"Our abaca production has decreased. It's a wasted potential because the demand for abaca is very high, considering we have two pulping plants in Baybay and Albuera. Their fiber requirement per day could go as much as 70 tons," said Dr. Feliciano Sinon, VSU Professor and Director of the National Abaca Research Center (NARC).
"That is equal to 70,000 kilograms per day but it's sad to note that they can only produce around 10 to 15, so more than half is lost. This is why there are times that they do stock operations and import fibers from other countries like Ecuador," he added.
Eastern Visayas is currently facing an outbreak of the bunchy top virus, a pathogenic viral disease that has destroyed large stands of abaca in Leyte and Southern Leyte, causing major yield loss in both provinces.
"It's important that the farmers attend the summit to inform them of the interventions done by the coalition because shortage of abaca fibers is affecting Region 8."
"We have to encourage back the farmers (to return to abaca farming). There are plenty of farmers who want to return but we're also facing shortage of planting materials," he explained and added that a number of strategies are being carried out by the coalition to counter this looming problem.
"The strategy we're thinking of carrying out in the abaca coalition is setting up an abaca nursery where true variety abaca crops could grow."
Other alternatives include seed-derived planting materials but Dr. Sinon pointed that with this method, you are not able to get the true-to-type variety yield. Produce from true-to-type abaca plant have been proven to be stronger and more durable.
"Nurseries have compact spaces. So through that we get to minimize the spread of the disease because they get to source their planting materials within their own community. This lowers the chances of spreading or catching the disease since they'd get their plantations within their community."
With the nursery, the farmers could then expand their plantation year after year.
"After two years, that one hectare of nursery can be expanded to 10 hectares of abaca production area, and then after a few years, they can again expand."
The Philippines is one of the largest abaca producing countries, including Costa Rica and Ecuador.
The Regional Abaca Summit is held every three years. The most recent one was held in June 2018 at the RDE Hall in VSU.
In the same year, the Department of Agriculture tapped NARC and VSU for the Sogod Opportunities for Abaca Rehabilitation or SOAR project in Sogod, Southern Leyte. Former Secretary Manny Piñol, turned over P50 million to LGU-Sogod (with an initial commitment of P100 million) for the rehabilitation of the local abaca industry
As of writing, the Memorandum of Agreement for the regional summit is still being processed to accommodate the changes among officials and signatories.
This year, the coalition hopes to hold it in Ormoc City, if their local government approves.
The regional summit aims to address issues and concerns affecting abaca production in the region and identify solutions to alleviate these problems.