MS in Soil Science grad is class 2020 top graduate honoree
Details

Written by Rhea Jenny Ogalesco

Published: 04 October 2020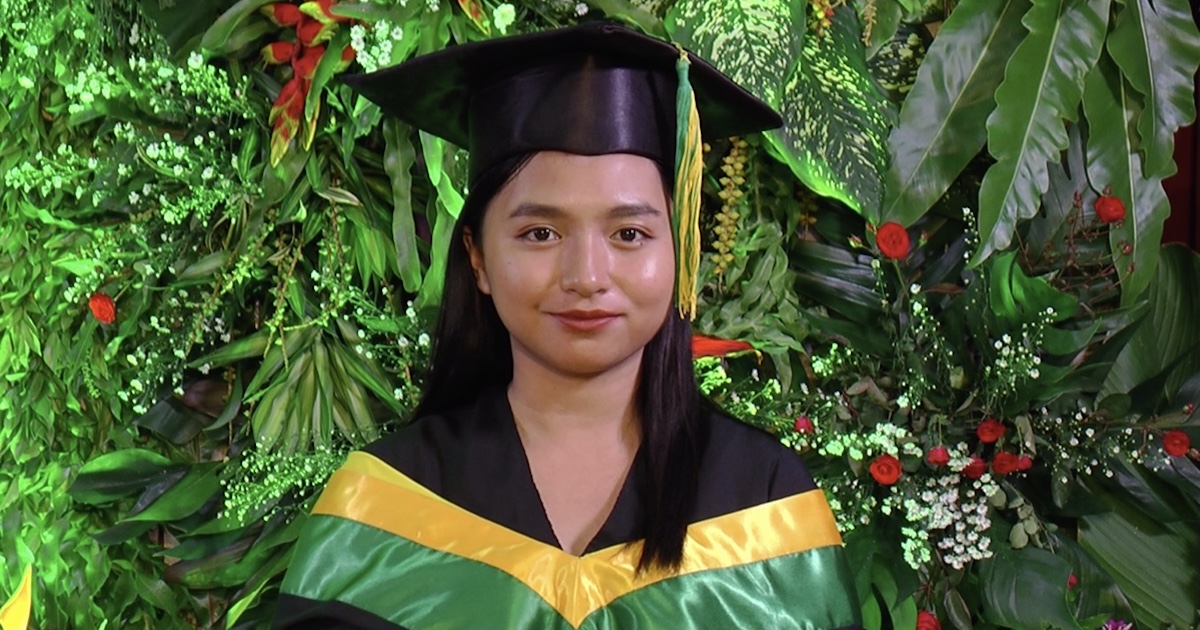 Ms. Jessa M. Modina graduated with the highest honors among the 82 graduate students of VSU Class of 2020. She is a Master of Science in Soil Science graduate obtaining a Grade Point Average (GPA) of 1.30. She was awarded in a virtual graduation ceremony that livestreamed on September 30 aired on VSU's official Youtube page.
She shares her insights in her graduate study journey here in VSU.
"Seeing myself as an educator has always been my dream although I know it wouldn't be that easy. When I finished my master's degree, I was very happy for I am now steps closer to reaching my goal," Ms. Modina explained.
Ms. Modina was a Bachelor of Science in Agribusiness (BSAB) graduate at VSU. She was a full-time grantee of the Accelerated Science and Technology Human Resource Development Program (ASTHRDP) scholarship from the Department of Science and Technology - Science Education Institute (DOST-SEI).
For Jessa, studying at VSU for graduate education was indeed a fulfillment for her and has never been a disappointment.
"As a daughter of a farmer, VSU taught and encouraged me to be of help to individuals, especially farmers, to increase their food production by maximizing the potential of the existing soil resources. With VSU's scenic environment and very welcoming faculty and staff, I felt and will always feel that this is my second home."
But Jessa's life as a graduate student was never that easy as she had to balance academics with her important role of being a young mother.
"I did a lot of hard work and sacrifices, and hurdled many difficulties. My two-year-old daughter has always been my inspiration in coping and fighting for this intellectual battle. Managing my time for school and family was very difficult at first so I devoted my weekdays for school activities, attended bible study on Saturdays, and spent quality family time on Sundays."
Jessa also revealed that completing her thesis in a time of community lockdowns due to COVID-19 was very difficult.
"I struggled to work with limited time in the laboratory, did the thesis defense online, and wrote my manuscript. Fortunately, I [had] my family, friends, and professors who extended their valuable assistance along the way. They were my motivating factors to continue with my journey despite all the odds."
When asked about her key takeaway in her graduate school journey, she had this to say:
"I have learned to become a humble, honest, and hardworking person in every step of this two-year experience. I have strengthened my faith and trust in God, especially in difficult times. Certainly, such experience is one of the greatest achievements in my life", says the top graduate honoree.
Ms. Modina joins other honor students including 4 Magna Cum Laude and 43 Cum Laude graduates from the bachelor's degree and 2 with honors in the certificate courses.