Farmers' son is 2021 VSU class valedictorian; animal science lass is top graduate student
Details

Written by Ulderico B. Alviola

Published: 30 September 2021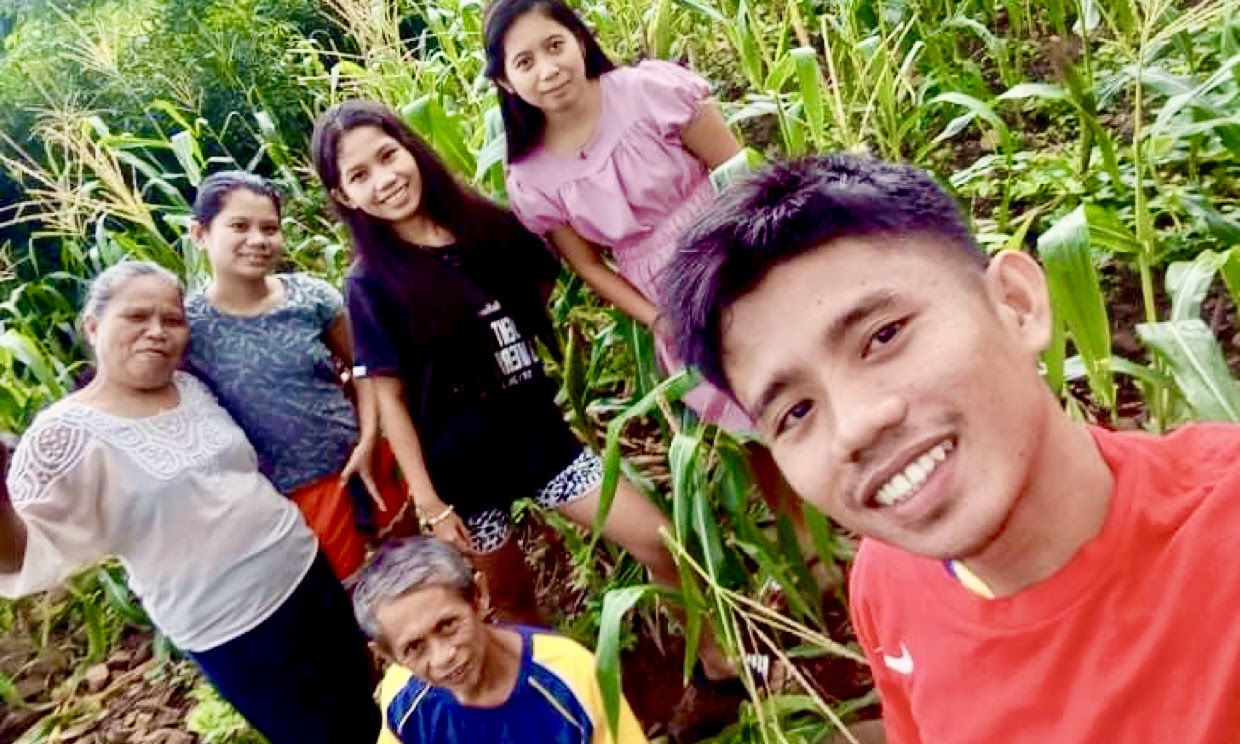 The class valedictorian (wearing red t-shirt) takes a 'groufie' with his proud family members in their corn farm located in Barangay Plaridel, Baybay City, Leyte.
Mr. Jestoni P. Singson, a Bachelor of Science in Agribusiness (BSAB) student, will lead the 30 strong graduating students with honors across the 5 campuses of the VSU system.
He will graduate as Magna Cum Laude with a grade point average (GPA) of 1.407, the highest grade among the 1,191 college graduates of VSU Class 2021.
Meanwhile, Mr. Singson is followed by another Magna Cum Laude graduating student under the Bachelor of Secondary Education (BSED) program from VSU Isabel. Her name is Ms. Aileen L. Aying who obtained a GPA of 1.415.
Of the 31 graduating students with honors, 14 are from the Main Campus in Baybay City while 17 came from the component campuses composed of 9 honor graduates from VSU Tolosa, 5 from VSU Isabel, 3 from VSU Alangalang and 1 from VSU Villaba.
As for the graduate students, Ms. Ruby Ana B. Arevalo, a Master of Science in Animal Science, takes the helm as the top graduate student besting 55 other graduate students in the Main Campus. She obtained an impressive GPA of 1.16.
Farmboy turned class valedictorian
Mr. Singson is relatively older as compared to the other graduates of VSU Class 2021 as he is now 27 years old. He only went to college four years ago because he had to give way to his sister who was pursuing an education degree at St. Michael's College in Hindang, Leyte.
When her sister was in college, he worked for 4 straight years in Manila–half of it was spent as a factory worker in a soap manufacturing plant while the other half as a baker in a local pizza store. During this time, Mr. Singson budgeted his earnings for the school needs of her sister while also supporting the needs of his parents.
Only after his sister was employed in Plaridel National High School that Mr. Singson was able to pursue a college degree here in VSU. This time, they changed roles with his sister returning back the favor by sustaining the class valedictorian's school needs.
Mr. Singson's original plan was to pursue an engineering course but this door was never opened for him because he never made it to the cutoff of his preferred program. He then decided to pursue the BSAB program and later on realized how this career direction was more meant for him because of his vast experience in both farming and entrepreneurship before going to college.
During the pandemic, he admitted to having difficulty in adjusting to the new normal education setup. During the day, he had to work on their family farm while in the evening, he would burn his midnight candle to perform his academic responsibilities.
"I did not expect to get good grades in my subjects during the pandemic as I was juggling farm work and school. I had no choice but to do both because we need money to sustain my school needs and the needs of my family," the class valedictorian revealed.
Mr. Singson said in an interview that he offers his academic success to his parents, his sister and their entire family. He also offered advice to his co-graduating students.
"I see this achievement as a way of honoring the hard work of my parents, Papa Jesusimo and Mama Melinda, to my sister Jennifer who despite the many limitations we faced, were still able to do all means just to make me pursue my dreams. I also offer this to my classmates and batchmates who are equally struggling financially. Just continue doing your best and never give up. Soon, all your sacrifices will make sense," he added.
The class valedictorian was a Tulong Dunong scholar in his freshman year and was also a recipient of the Student Financial Assistance Program (STuFAP) grant of the Commission on Higher Education (CHED).
Despite the financial challenges of Mr. Singson's family as members of the 4Ps sector, 5 of the 6 siblings went to college with 4 children pursuing their college degree in VSU.
The humble beginnings of the 2021 top graduate student
Just like the story of Mr. Singson, this year's top graduate student also comes from humble background as a Pagkaon Scholar of the provincial government of Negros Occidental.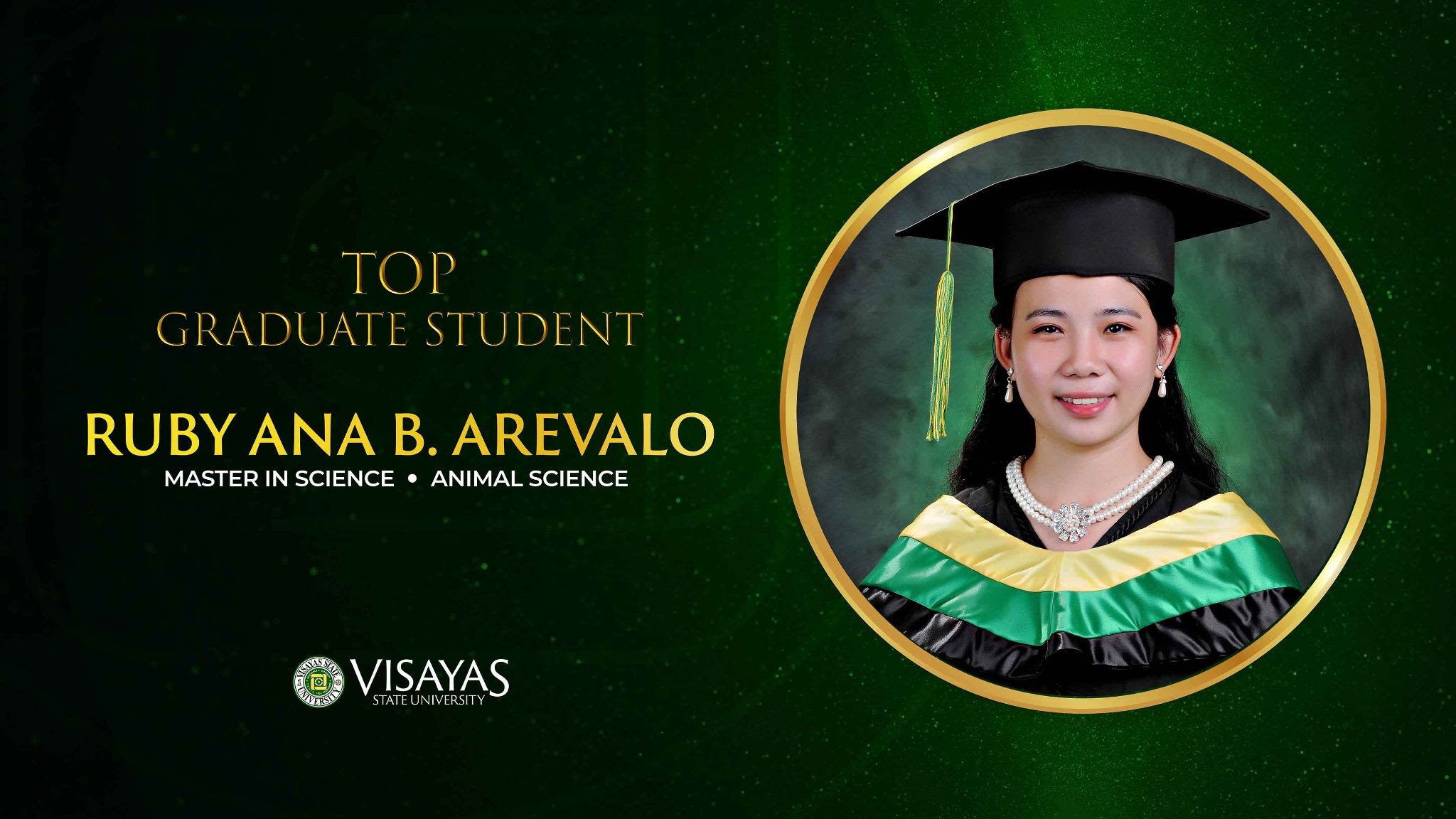 Ms. Ruby Ana B. Arevalo, a newly recruited faculty member of the VSU Department of Animal Science (DAS), pursued her graduate studies under the Science Education Institute scholarship (SEI) of the Department of Science and Technology (DOST).
In 2015, she completed her Bachelor of Animal Science (BAS) degree here in VSU as Magna Cum Laude. After college, she worked for 2 years as livestock inspector of the Department of Agriculture (DA) as a way of giving back to her home province in Talisay City, Negros Occidental.
Before taking her master's degree, she also qualified as agricultural technical intern focusing on crops in Fukuoka, Japan. From her overseas experience, she then realized her passion for both research and teaching which led her to return to VSU and pursue graduate studies.
Ms. Arevalo hopes to serve VSU for a few years before moving to the next ladder to pursue her doctoral degree. She's excited to handle animal science courses wherein she can share both her industry experience and extensive academic background to encourage her students to perform well in their chosen career path.
Full list of honor graduates
Below is the complete roster of honor students for VSU Class of 2021 across the 5 campuses of the university system:
VSU Main Campus (Undergraduate)
Singson, Jestoni P. (BSAB) - Magna Cum Laude
Omila, Jessie May C. (BSAB) - Cum Laude
Bebangco, Mary Grace Z. (BSEd-Biological Sciences) - Cum Laude
Barbosa, Rachelle Ann A. (BSA-Plant Protection) - Cum Laude
Sebios, Sarl James D. (BSCS) - Cum Laude
Reyes, Arriza Mika S. (BSAB) - Cum Laude
Ablanque, Armina T. (BSAB) - Cum Laude
Tabat, Nelita M. (BSEd-Biological Sciences) - Cum Laude
Ilo, Jenevive S. (BSAB) - Cum Laude
Escasinas, May-Anne B. (BSEd-Filipino) - Cum Laude
Cortez, Tisha Marie L. (DVM) - Cum Laude
Cagnan, Jane Chinee G. (BSA-Plant Protection) - Cum Laude
Masapol, Pamela P. (BSEd-Filipino) - Cum Laude
Supe, Edward A. (BSA-Plant Protection) - Cum Laude
VSU Main Campus (Graduate)
Arevalo, Ruby Ana B. (MS in Animal Science) - Top Graduate Student
VSU Alangalang (Undergraduate)
Quintana, Jean Rose L. (BSEd-Mathematics) - Cum Laude
Oriol, Rossel L. (BEEd) - Cum Laude
Rile, Elymar B. (BSEd-Mathematics) - Cum Laude
VSU Isabel (Undergraduate)
Aying, Aileen L. (BSEd-Mathematics) - Magna Cum Laude
German, Jeyhanie R (BSEd-Mathematics) - Cum Laude
Garay, Ernecris A. (BEEd) - Cum Laude
Wite, Jhonavel E. (BEEd) - Cum Laude
VSU Tolosa (Undergraduate)
Advincula, Rinalyn B. (BSFi) - Cum Laude
Salentes, Yolanda S. (BSEd-MAPEH) - Cum Laude
Berones, Darwin G. (BSEd-MAPEH) - Cum Laude
Alcuetas, Remuel M. (BSEd-Biological Sciences) - Cum Laude
Tobilla, Anwar Mari R. (BSCrim) - Cum Laude
Cahayag, Donna Mae M. (BSFi) - Cum Laude
Vencio, Mailyn C. (BSEd-Biological Sciences) - Cum Laude
Mangilan, Fecille R. (BSEd-Physical Sciences) - Cum Laude
Malate, Judiza A. (BEEd) - Cum Laude
VSU Villaba (Undergraduate)
Muñes, Nena Mae T. (BSEd-Biological Sciences) - Cum Laude