PhilRootcrops celebrates 45 years of gains from roots and tubers
Details

Written by Neil Bryan B. Fulache

Published: 31 March 2022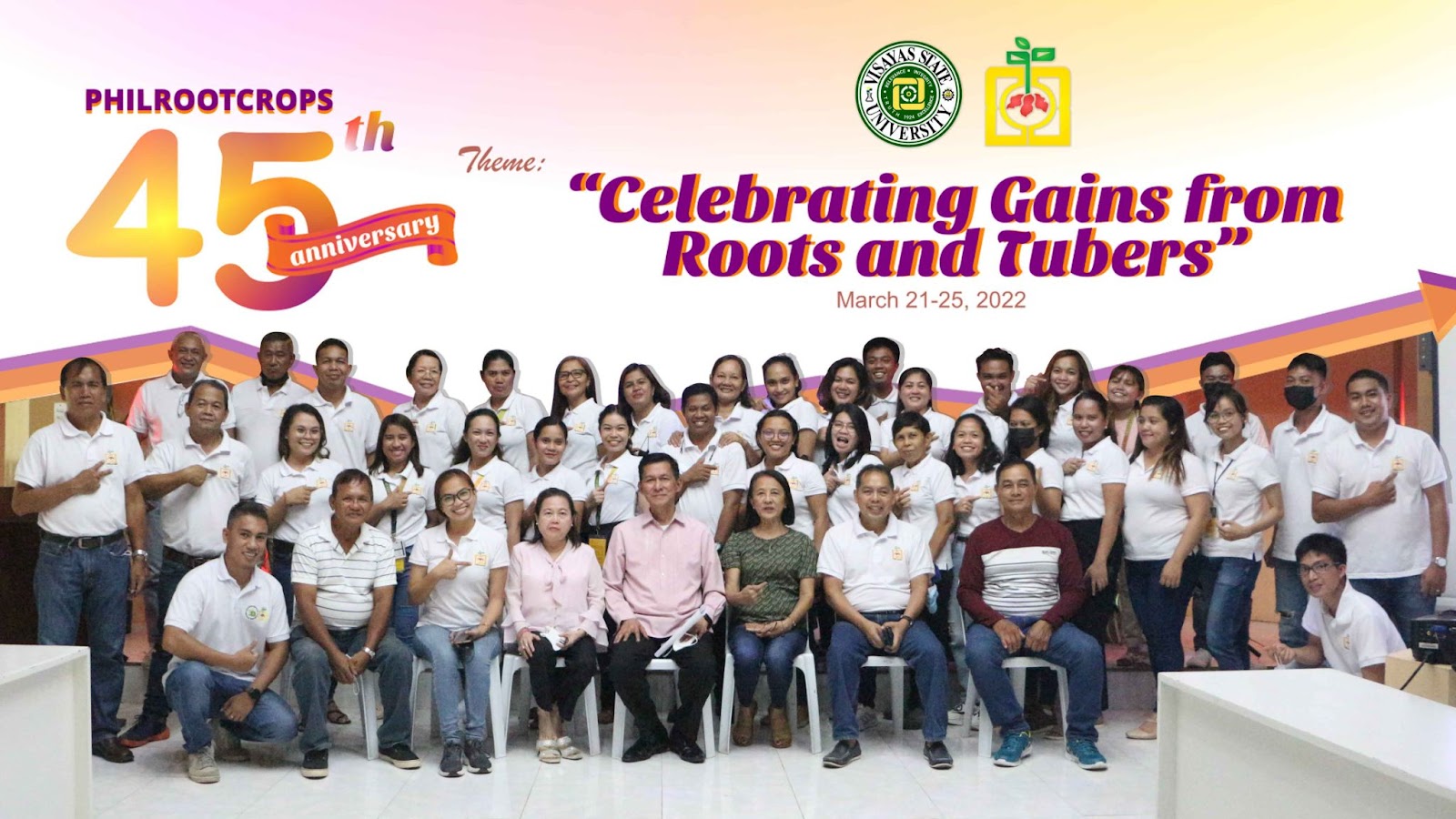 The Philippine Root Crops Research and Training Center (PhilRootcrops) is now 45 years old.
PhilRootcrops, the country's central agency for root crops research and development commemorated its 45th anniversary through a week-long celebration from March 21 to 25, 2022.
With the theme "Celebrating Gains from Roots and Tubers," the agency celebrated another milestone of excellent service in advancing the food value chain of our region's root and tuber products.
PhilRootcrops, the pioneer producer of climate-resilient and high-yielding crop varieties, is the leader in commercializing our common root crop staples such as sweetpotato, cassava, purple yam, and other root crop commodities.
Commencing the celebration was an opening program that featured the root crop center's successful partner and beneficiary as event speakers.
General Manager Ms. Ma. Teresa Geniston of Fatima Multi-Purpose Cooperative (FMPC), one of PhilRootcrops' staunch partners, revealed that because of the cassava production and post production technologies they adapted from the center, FMPC is now considered as a top cooperative in the region.
Meanwhile Ms. Emelita Laluna, a farmer beneficiary, shared her gratitude to PhilRootcrops for the training and technical assistance she received. She said that it was all instrumental in doubling her produce and income as a sweetpotato farmer despite the pandemic.
The afternoon session also unveiled a showcase of local artistry through an art exhibit anchored on the theme "Bahandi sa Kinaiyahan" or wealth from nature. Considered as regional treasures, nutrient-rich root crops are nature's abundant gift in fostering a healthy lifestyle.
Selected artists were also invited for plen-air painting with root crops as their subject. Plen-air is a technique where an artist captures the spirit and essence of the subject while incorporating natural light, color, and movement.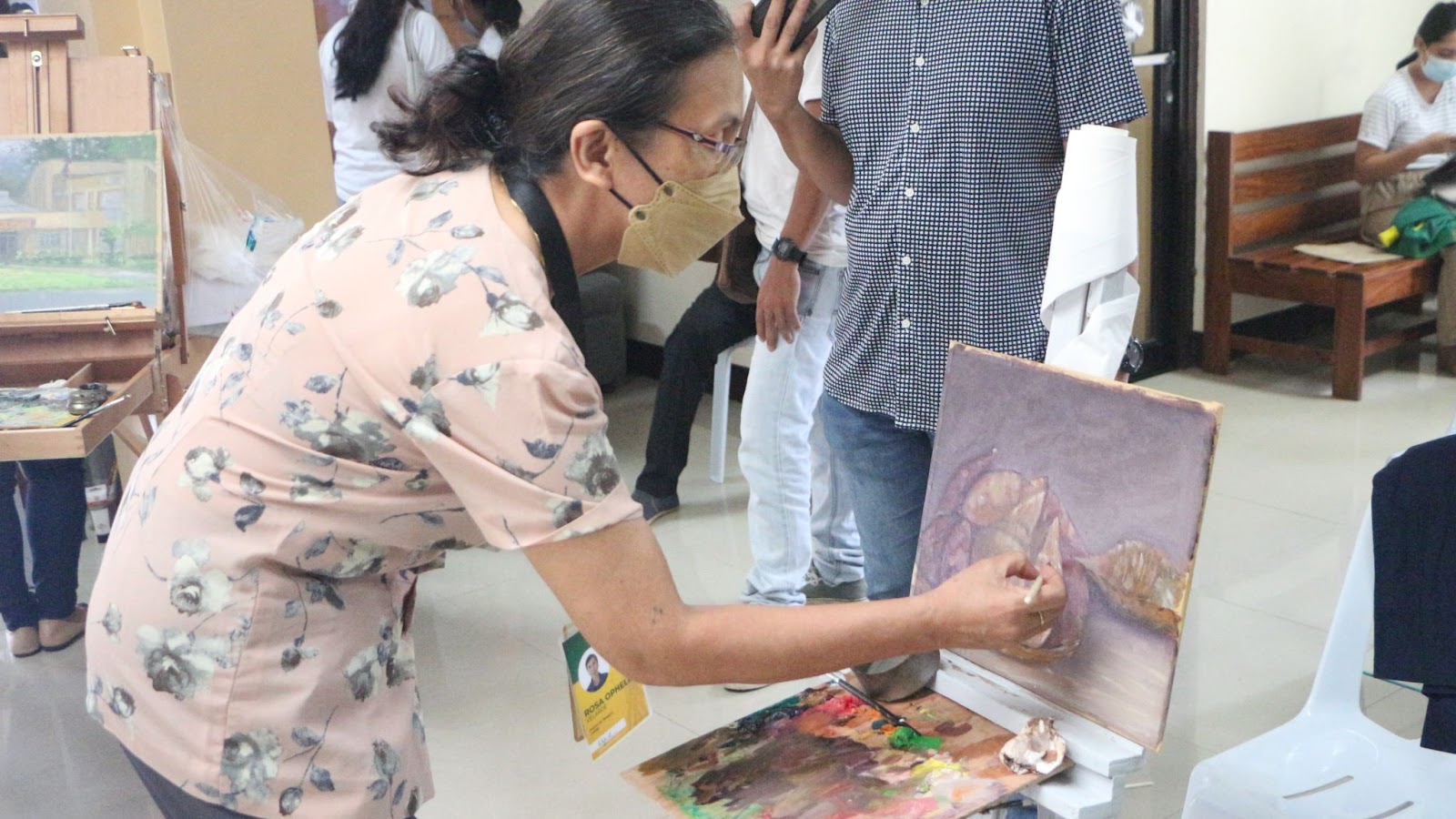 Dr. Rosa Ophelia Velarde, Director for Research and Development participated in the plen-air painting activity.
Aside from root crops, the exhibit also featured paintings about nature and farming from the works of renowned local artists.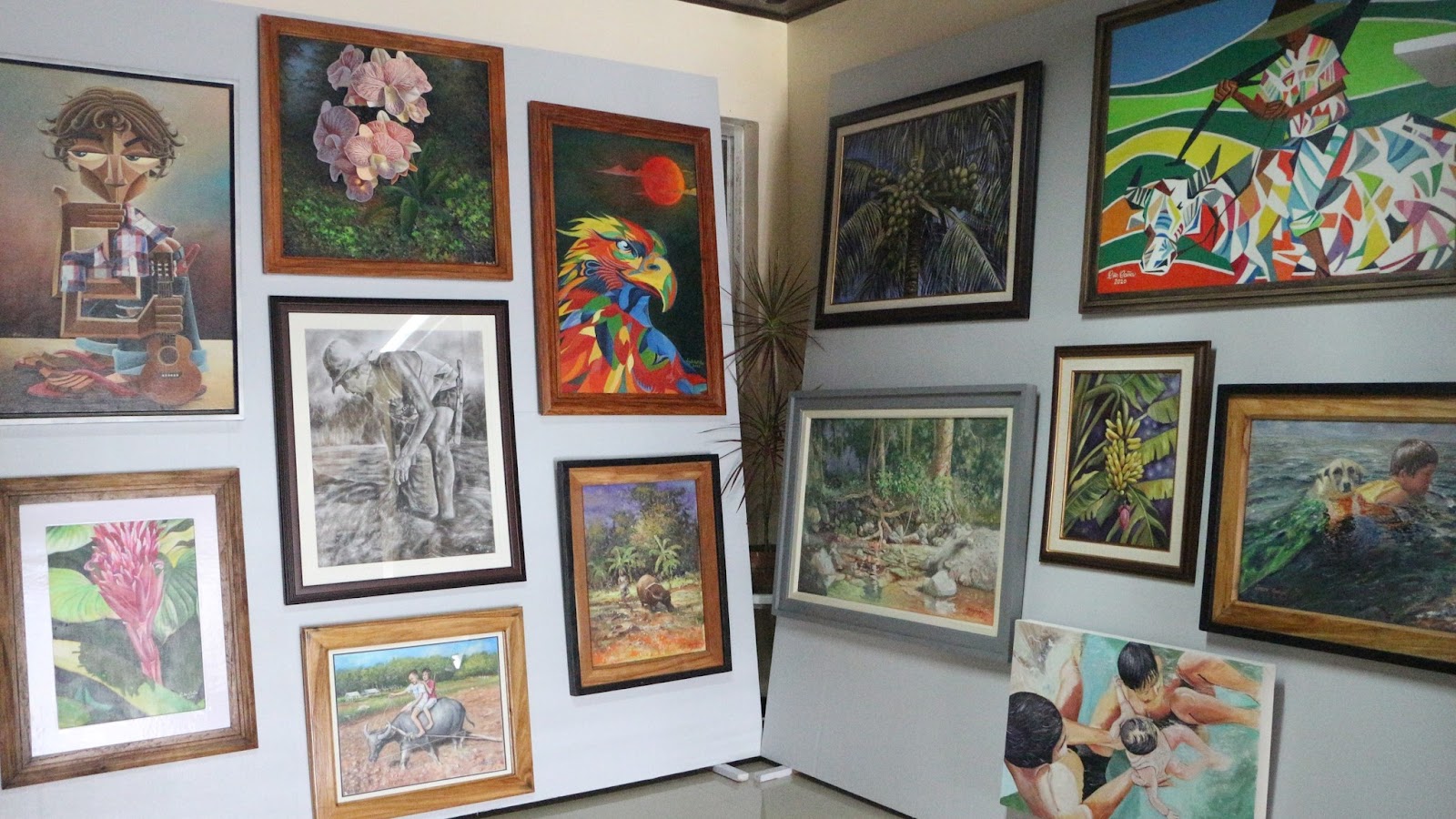 Paintings by various artists displayed at the lobby of the PhilRootcrops Training Hall.
Continuing on the 2nd day of the celebrations, Director for Innovation Prof. Alan B. Loreto conducted a training session on Prior Art Search and Patent Information Interpretation that was complemented with a lecture from Ms. Ma. Louella C. Tambis on technology protection.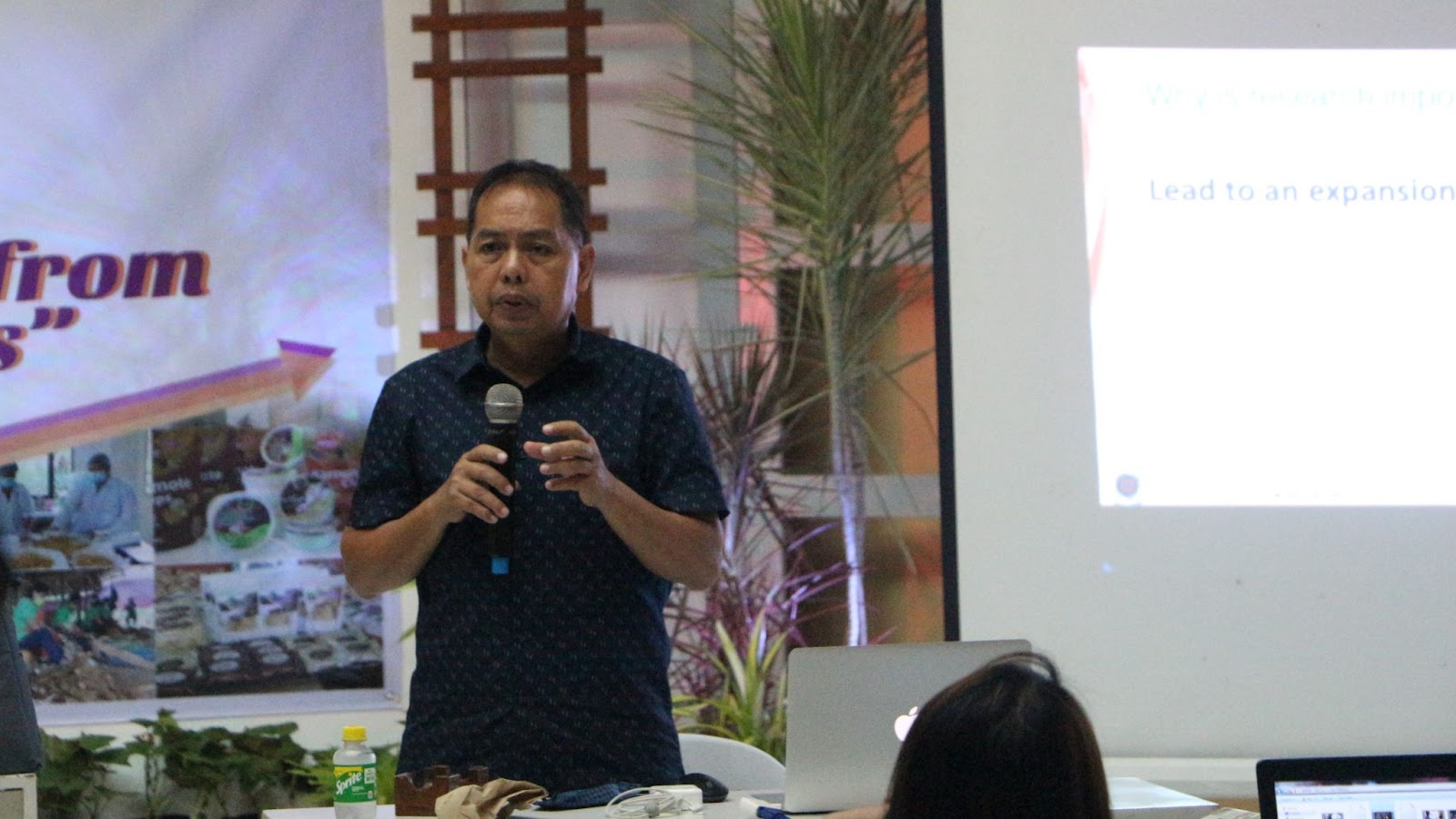 Prof. Loreto delivered a discussion on patent information and interpretation on March 22, 2022.
On the third day of the anniversary, a learning visit was held with the officers of the Federation on Root Crops and Vegetable growers who came all the way from Marabut, Eastern Samar.
They are also beneficiaries of a project spearheaded by the Food for the Hungry organization, one of the many international partners of PhilRootcrops.
Part of the learning visit is an orientation on post-harvest technologies and processed products.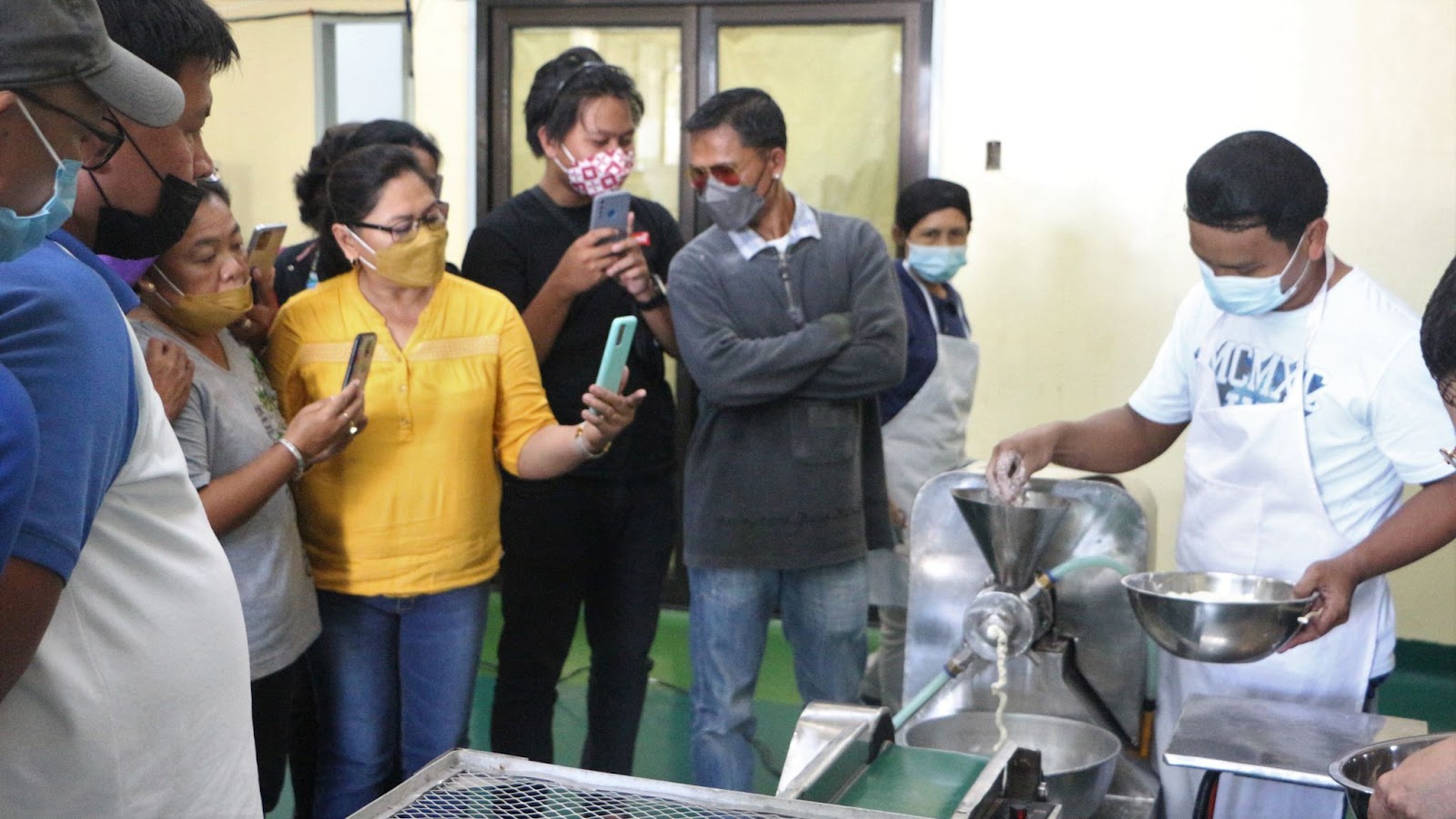 PhilRootcrops personnel conducted a demo on how to operate some food processing machines developed at the Center.
Coinciding with the fourth day of the week-long celebration held on March 24 was the short visit of executive committee members of the Department of Science and Technology (DOST) including Secretary Fortunato T. Dela Peña.
Commercialized food products from PhilRootcrops such as the vacuum fried sweetpotato, sweetpotato chips, takudo chips and sweetpotato noodles were put on display at the RDE Hall lobby to welcome the officials of the DOST.
The Portable Vacuum Fryer was also showcased in the said exhibit. This invention was accorded the Regional Unlad Award by DOST's Technology Application and Promotion Institute (TAPI) and was developed by a team of researchers from PhilRootcrops headed by Dr. Daniel Leslie S. Tan.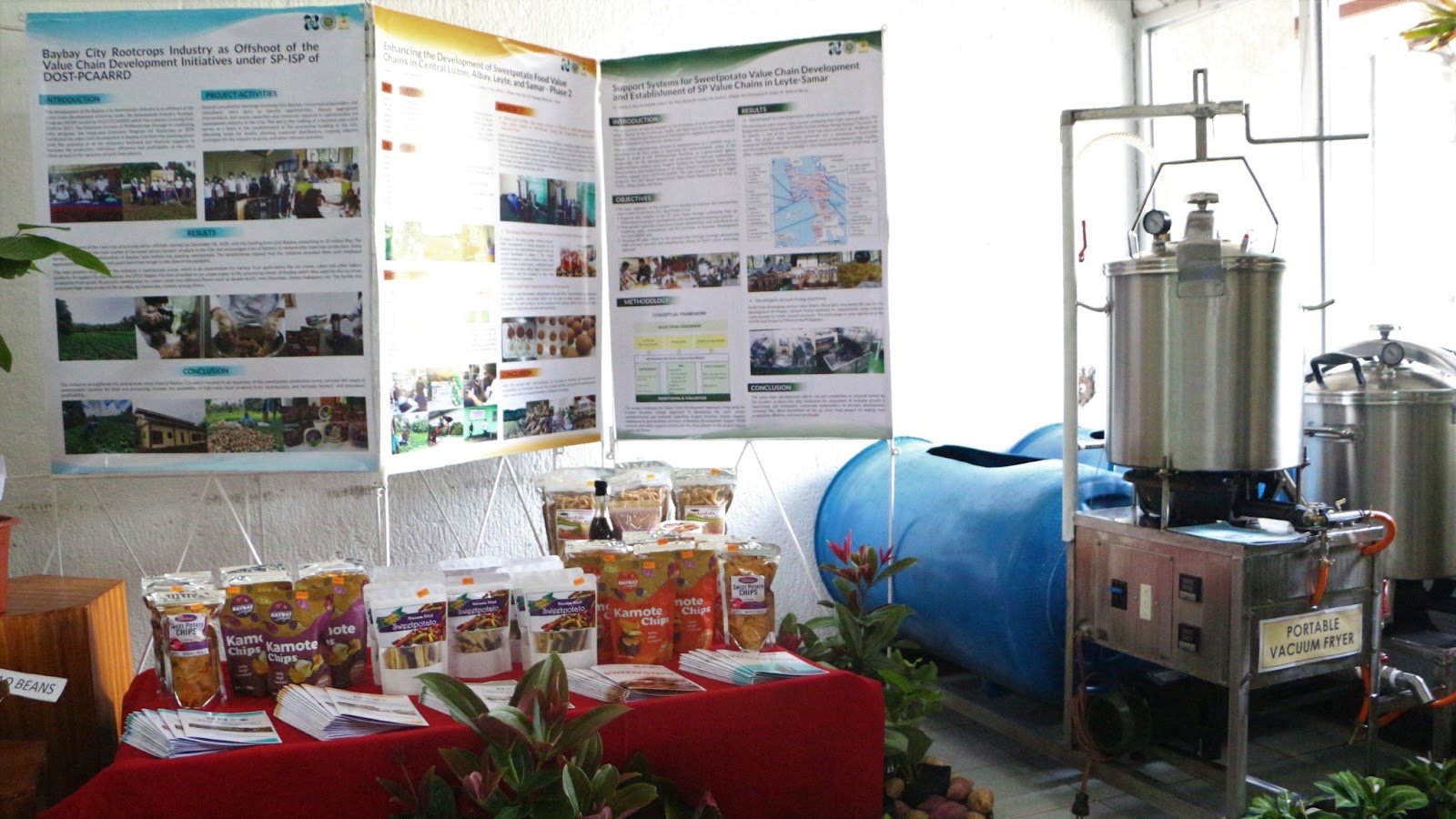 Flagship food items from PhilRootcrops and the Portable Vacuum Fryer showcased in a small exhibit for the short visit of DOST top officials.
This same invention by Dr. Tan and his team was now being promoted by the Department of Agriculture (DA) and was sent to Central Luzon to pilot test its capacity in processing mushrooms and rice-based products.
The 45th anniversary celebration was concluded with an Amazing Race challenge to test the health and endurance of some key personnel of the center.
In closing, PhilRootcrops Assistant Director Dr. Lisa Arce expressed her thanks to the workforce of PhilRootcrops who continue to innovate and come up with research projects that would mainstream root crops production and consumption in the country.