IN PHOTOS: DOST's top officials visit their agency funded projects in VSU
Details

Written by Ulderico B. Alviola and Neil Bryan B. Fulache

Published: 30 March 2022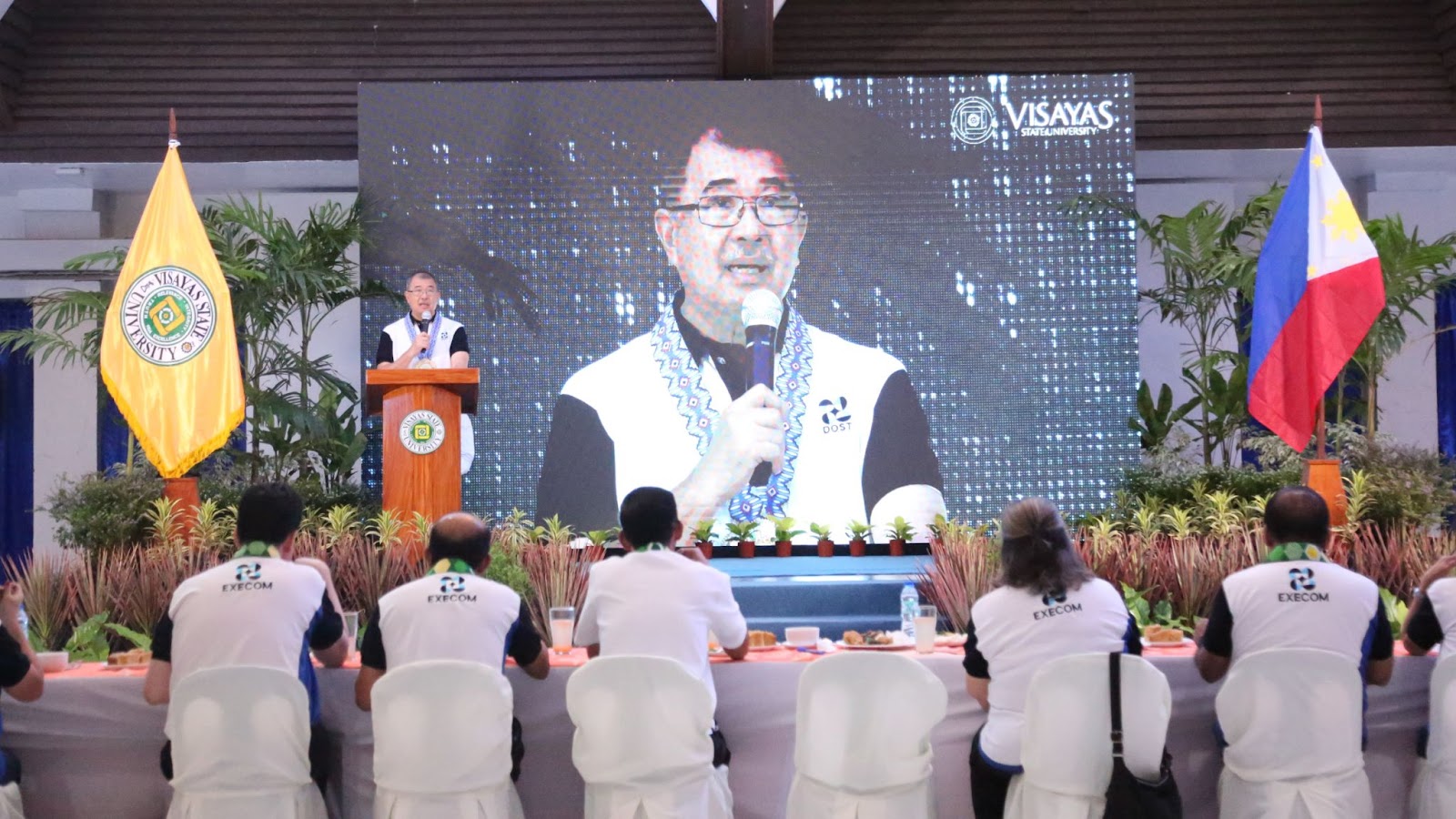 It was a powerhouse cast of officials of the Department of Science and Technology (DOST) who dropped by for a short visit at the VSU Main Campus last week, March 24, 2022.
Led by DOST Secretary Fortunato D. Dela Peña, the delegation included undersecretaries, assistant secretaries, sectoral chiefs of the different councils of the agency including regional directors from various parts of the country were welcomed to VSU to check and monitor the progress of some DOST-funded projects within the university.
This official visit was part of the Secretary's sendoff tour to the different beneficiary communities, academic and research institutions, companies including Local Government Units (LGUs) that benefited from the many projects of the DOST.
Secretary Dela Peña's six-year as DOST chief will end in June 30, 2022 coterminous with President Rodrigo R. Duterte. Aside from Eastern Visayas, the DOST officials are also visiting different parts of the country as their way of understanding the impacts of the many projects they initiated under the Duterte administration.
In their VSU visit, they began their tour in the university's project on improving the local food value chain for vegetable and tilapia production. This unique project enables a diverse cultivation of different vegetables along with growing of tilapia. This is located at the lower campus of the university and is currently implemented by Prof. Alan B. Loreto, VSU Director for Innovation.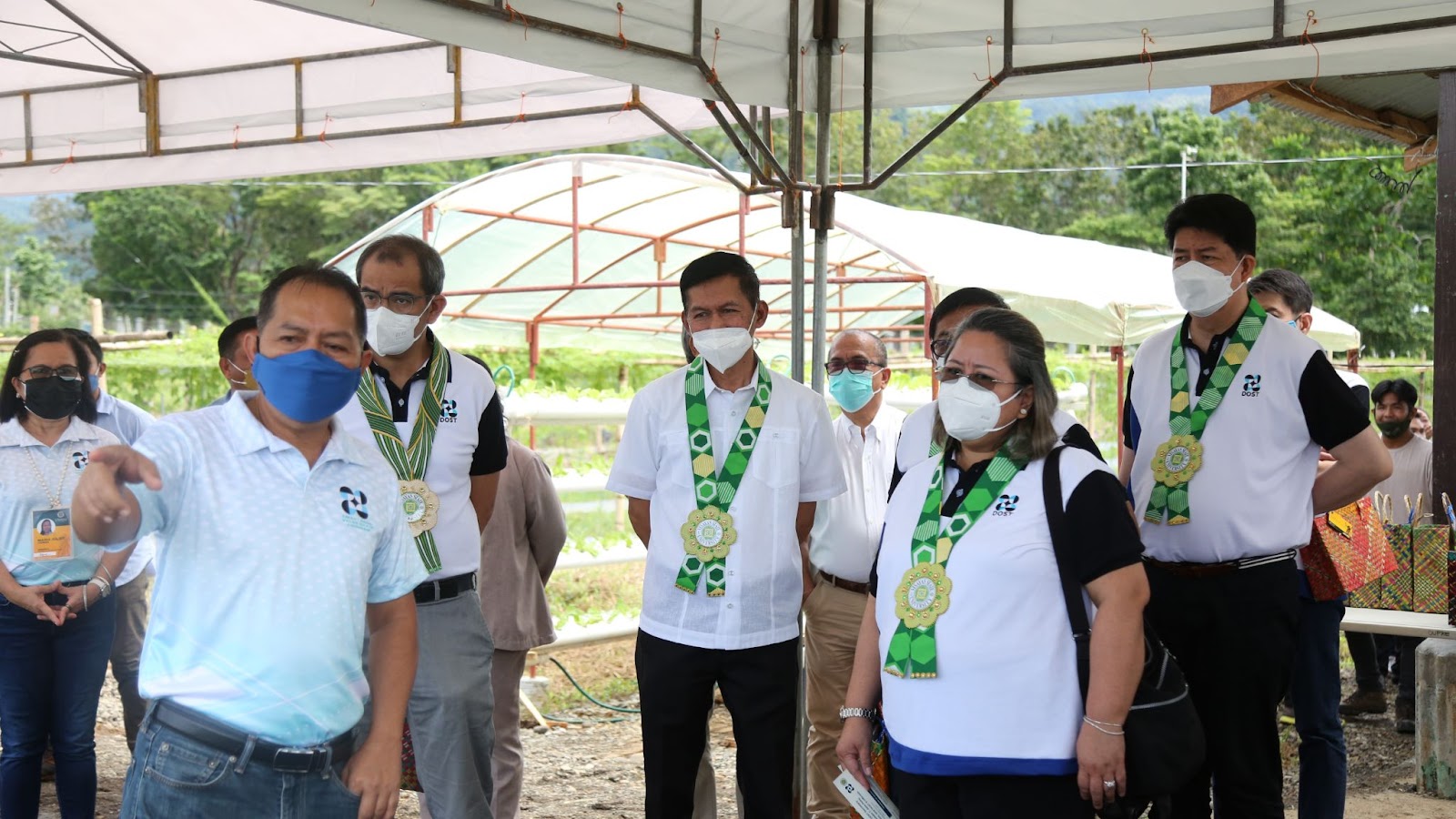 Prof. Loreto with President Tulin showcasing the vegetable and tilapia production farm to the DOST officials.
Following this was a running tour to the Renewable Energy Research Center (RERC), Technology Business Incubator (TBI) project, Bamboo Tissue Culture Laboratory, and the Good Agricultural Practices (GAP) project.
RERC is the regional research center that studies alternative sources of energy while the TBI is VSU's attempt to help local startups in building small ventures that will commercialize the technologies generated in the university.
Meanwhile, the Bamboo Tissue Culture lab is a facility where little bamboo plants are grown in a climate chamber for research, breeding or multiplication of this emerging commodity while the GAP project is a demonstration farm co-funded by the Australian Centre for International Agricultural Research (ACIAR) implemented by the VSU Department of Horticulture.
Next stop was at the newly constructed building of Advanced Research and Innovation Center (ARIC) where the Tuklas Lunas Development Center is currently situated.
ARIC is VSU's newest research hub that will work on advanced sciences like biotechnology, material science and other related fields. TLDC, on the other hand, is a project funded by the Philippine Council for Health Research and Development (PCHRD) for research on natural products chemistry and drug discovery.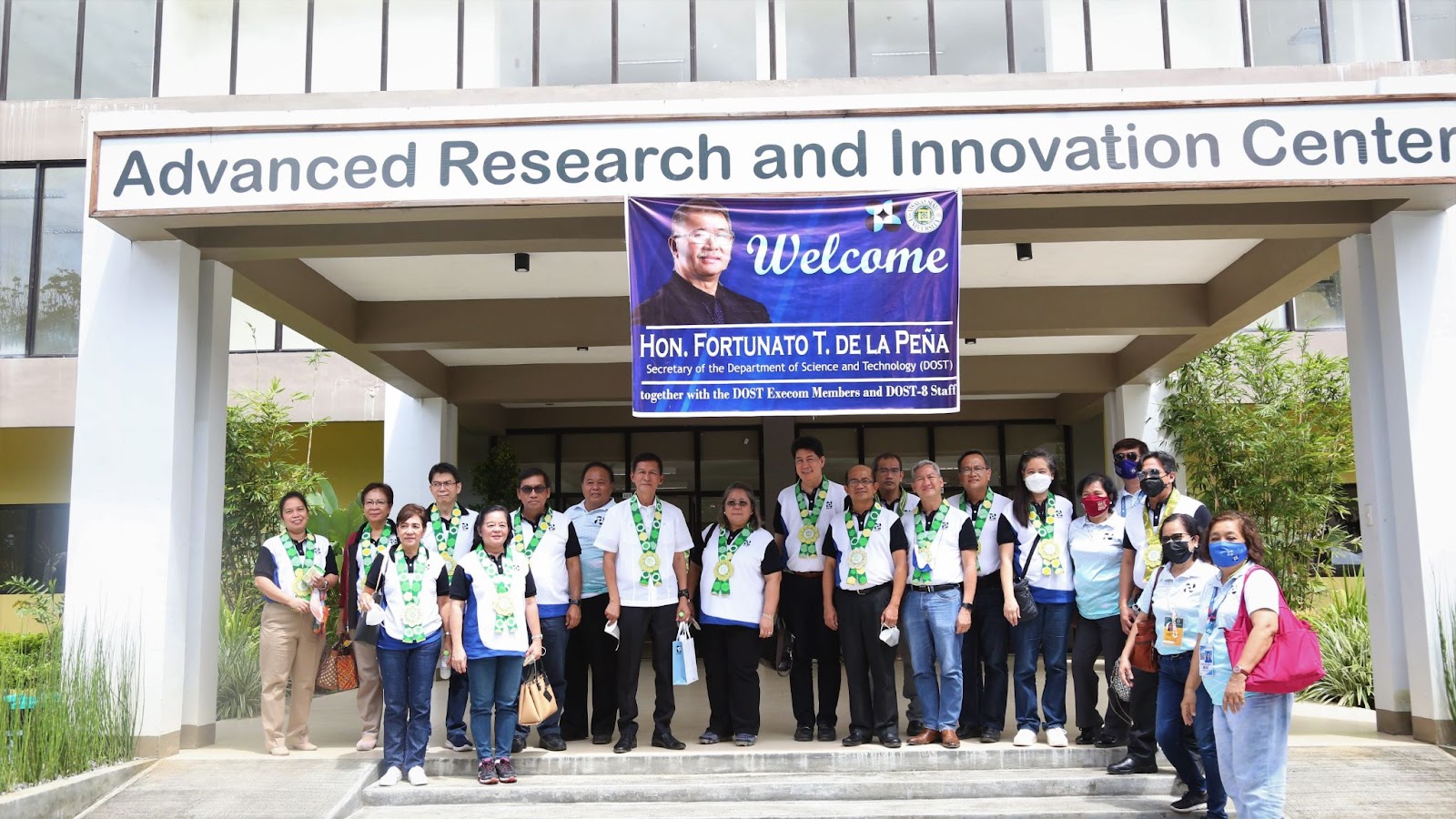 VSU President Tulin with former VSU President Dr. Jose L. Bacusmo took a photo op with the DOST regional officials and execom members at the facade of the new ARIC building.
The project tour concluded with a short thanksgiving program held at the VSU-RDE Hall where locally generated food products and other technologies were exhibited to inform the DOST officials about the many R&D based products produced by the university.
In this event, the beneficiaries of the Science Education Institute (SEI) scholarship programs for both undergraduate and graduate levels were there to welcome the DOST officials.
VSU President Edgardo E. Tulin opened the program with his message of thanks to DOST for their overwhelming support to the university for many years.
"VSU will always be thankful to DOST for pouring out hundreds of millions of pesos to VSU for our research and development projects including scholarship opportunities for our students in both undergraduate and graduate degree programs. I hope that other sectoral councils of the agency will also invest here in VSU because of our great track record in terms of implementing various R&D projects." Dr. Tulin said.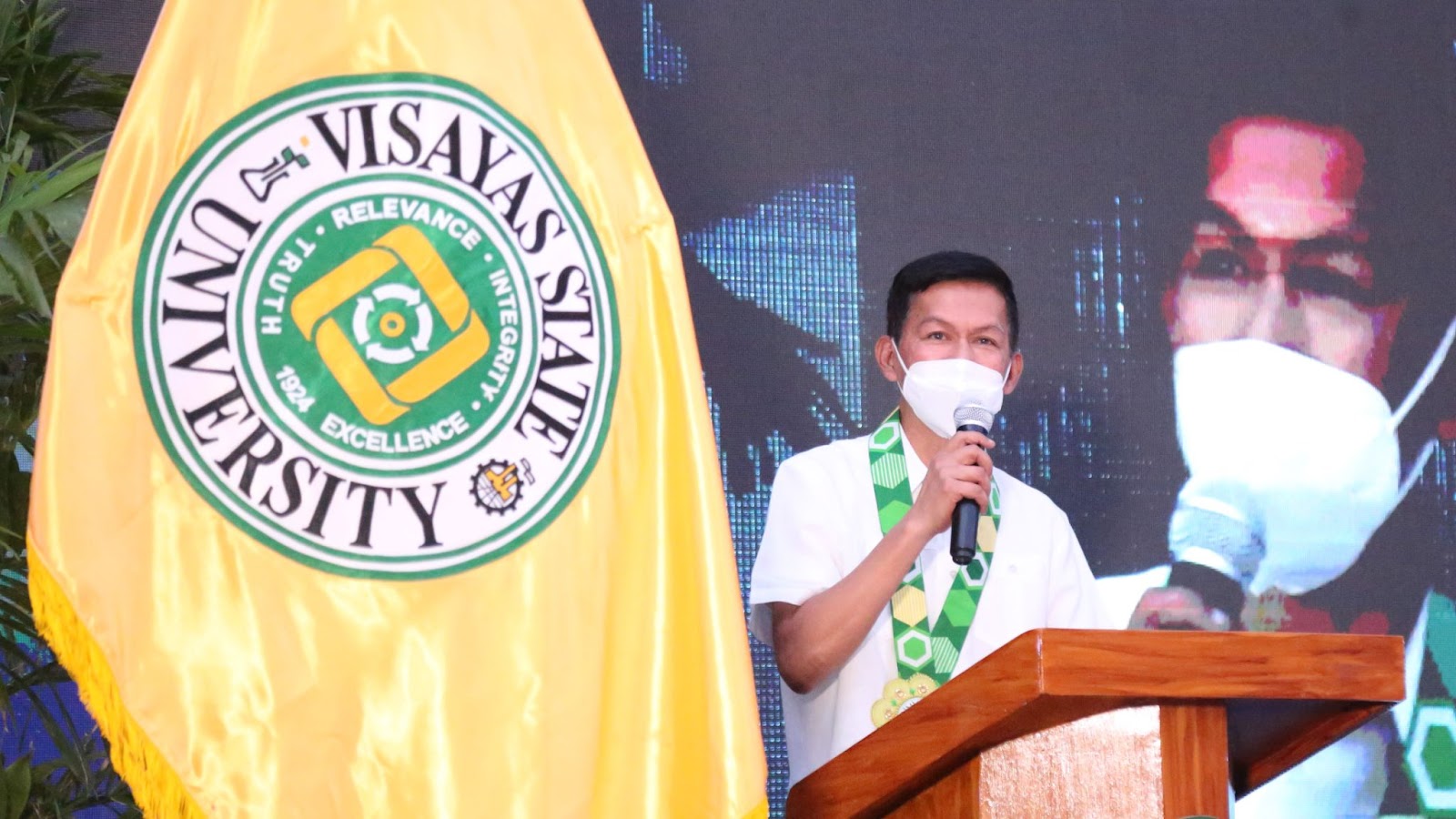 Dr. Tulin gave his warm reception to the delegation from the science and technology agency through his talk.
The VSU President also acknowledged how aligned the university is with the mandate of DOST being one of the few universities in the Philippines specializing in science and technology research. He also added that VSU is committed to serve as DOST's staunchest partner in the Visayas in mainstreaming science and technology education to the public.
In response, DOST Secretary Dela Peña recalled the challenges they encountered in managing a meager budget for science and technology in the Philippines. He revealed that partner institutions like VSU were instrumental in making them succeed in pursuing the many projects that they wanted to introduce to the Filipino people.
"Although our agency has given financial and other forms of support, our partner agencies never fail to contribute developments in return, increasing our resources in science and technology that would complement the tight budget allocated to DOST. That's why despite a lot of constraints, we are really proud to see our progress in our global innovation index rankings," Secretary Dela Peña explained.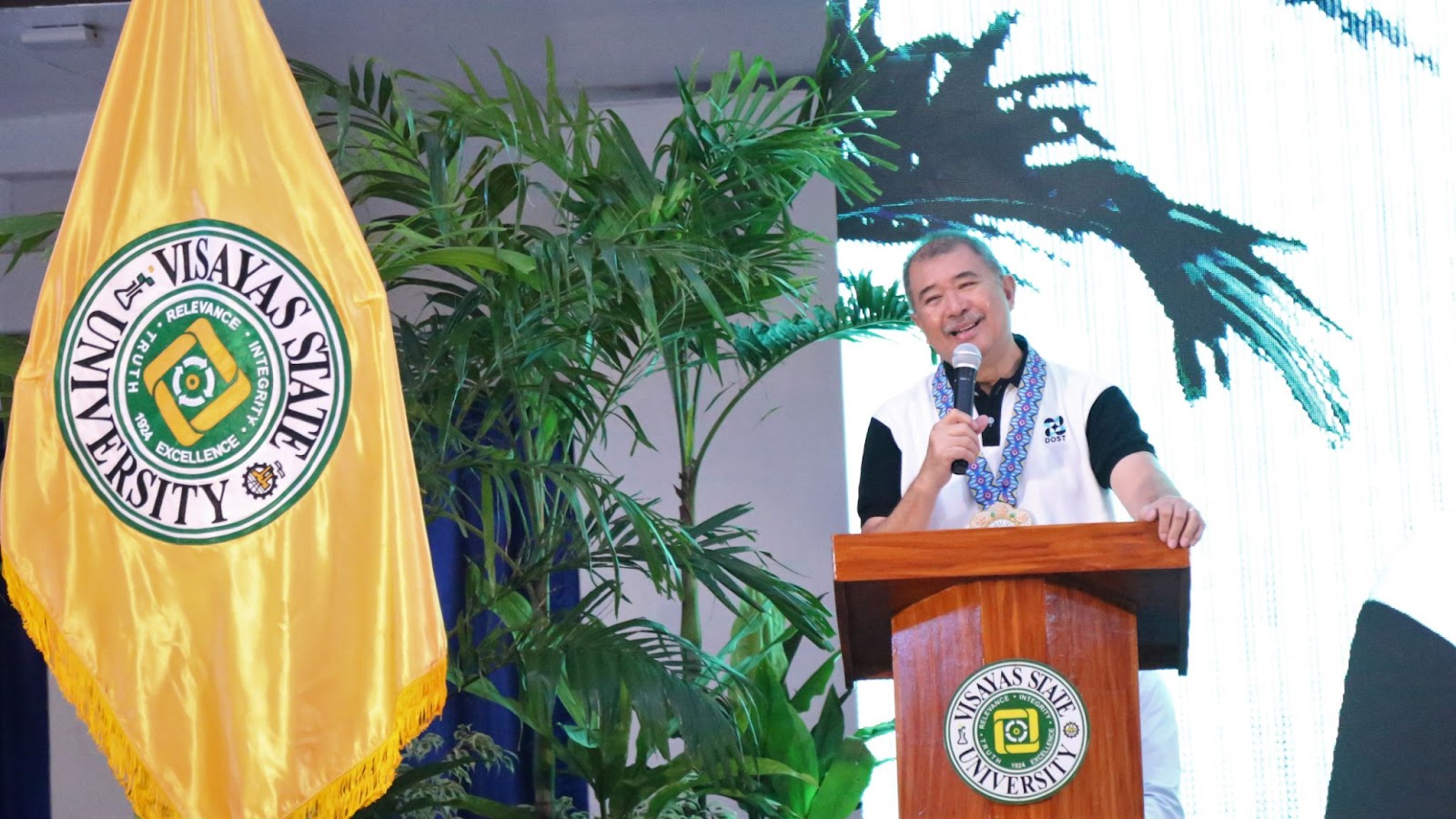 DOST Secretary Dela Peña shared a light moment with the attendees of the short thanksgiving program held in honor of the visiting DOST officials.
The science and technology chief then urged partner institutions to make these achievements known to the public, to publish information on what they have been doing and accomplishing, as according to him, these are great motivation and encouragement on the part of stakeholders and other target clienteles.
Right after his speech, a special awarding ceremony was held to recognize Engr. Mark Anthony S. Arcayan, the recent board topnotcher in the February 2022 mechanical engineering licensure examination. This #ProudViscan broke records in the mechanical engineering board by obtaining the all-time highest rating in history.
Secretary Dela Peña was very thrilled to personally meet Engr. Arcayan as he is a mechanical engineer himself. On top of a plaque of recognition, the DOST chief awarded Php 20,000.00 cash to Engr. Arcayan as a reward to his outstanding achievement as a DOST-SEI scholar.
During the instant awarding ceremony, VSU President Tulin also announced that the university will also be giving Engr. Arcayan Php 50,000.00 cash incentive that will be awarded to him during this year's Commencement Exercises.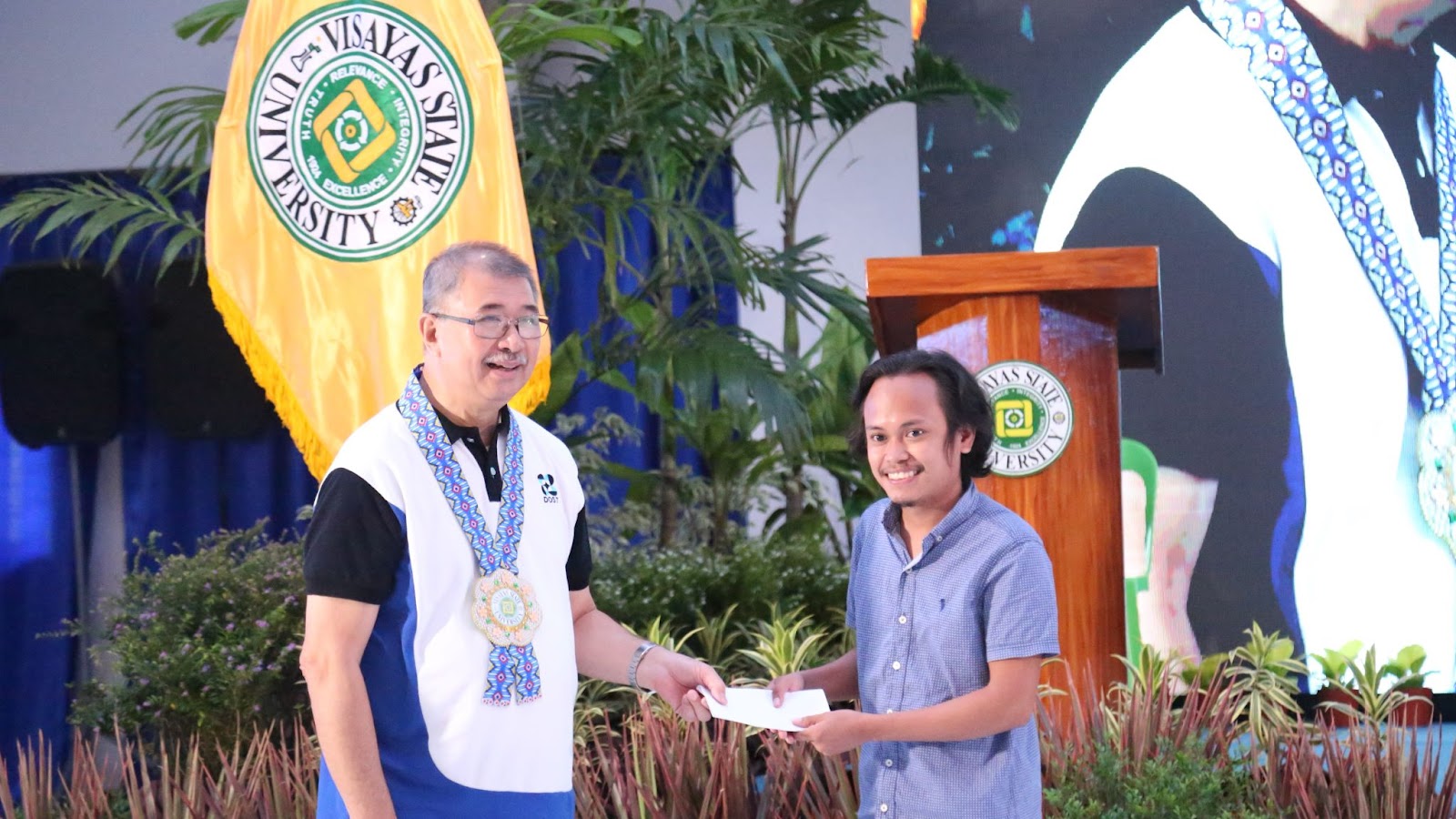 Secretary dela Peña personally hands the cash reward to Engr. Arcayan
Joining Secretary Dela Peña in his visit to VSU were DOST executive committee members namely USec. Rowena Christina L. Guevarra, Usec. Renato U. Solidum, Jr., Usec. Sancho A. Mabborang, ASec. Maridon O. Sahagun, and ASec. Leah J. Buendia.
Part of the delegation are sectoral chiefs of the different councils of DOST including Dr. Reynaldo V. Ebora, Dr. Jaime C. Montoya, Dr. Enrico C. Paringit, Dr. Marieta Bañez Sumagaysay, Dr. Carlo A. Arcilla, Dr. Robert O. Dizon, Dr. Josette T. Biyo, Dr. Anthony C. Sales, and Dr. Julius Caesar V. Sicat.
There were also officials of the DOST Regional Office here in Eastern Visayas who were present in the tour that included Regional Director Ernesto M. Granada, Director for Planning and Evaluation Cesar Pedraza, and Director for Financial and Management Racquel P. Alvendia.