#ProudViscan's family champions sustainable agriculture in Europe
Details

Written by Ulderico B. Alviola and Christine Joy L. Guston

Published: 28 March 2022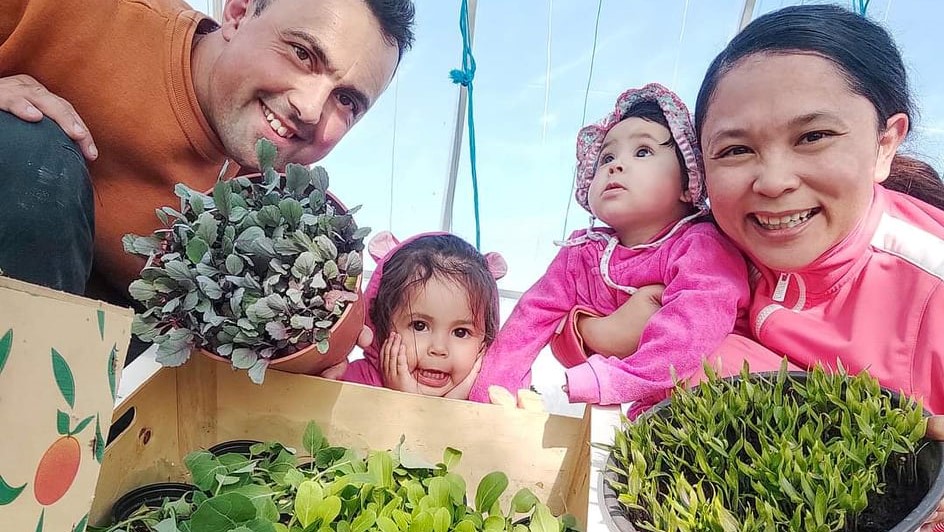 Ivy, Slaven and their two beautiful daughters Sofija and Natalija enjoy the fresh harvest of organic goods at their home farm.
This is not your typical OFW story.
While most Filipinos go abroad to look for greener pastures in life, #ProudViscan Ivy Moñiza Sibincic had something different in mind.
Greener pasture takes another new meaning for Ivy and her family as this does not mean earning more money through employment but turning their home into a sustainable and eco-friendly farm.
Ivy and her Bosnian-Serb husband Slaven are making a rural community in Southern Europe greener and more sustainable as they can be. And they're telling this to the whole world by documenting their simple but productive day-to-day activities in social media.
Popularly known online as "The Sibincic Family," Ivy and her family are setting an example for an eco-friendly living in the countryside of Prnjavor located in Bosnia and Herzegovina (BiH). This is a small but progressive country at the crossroads of south and southeast Europe.
This means that this Serbian-Filipino family grows, raises, and produces food products at the very comfort of their own home.
Since the Sibincic family is blessed with abundant hectares of land, this enabled them to do livestock raising, backyard gardening, beekeeping, seed conservation, and food preservation all at the same time.
There are many things they do to make their land productive and they plan to do more so that they can produce home-made products without relying on what is commercially available.
Because of their unique lifestyle, the Sibincic family has appeared in many television shows in southeastern Europe, has been featured in several lifestyle magazines, and has been celebrated by the Filipino community in Europe as a model family in terms of championing sustainable organic agriculture.
Now that they're getting known because of their inspiring family practice, Ivy is determined to also promote all these in social media with hopes that she can also make an impact on other families living in the countryside.
Hard work and excellence paid off
In 2014, Ivy finished her undergraduate degree in development communication here in VSU.
As a #ProudViscan, she credits VSU in the molding of her passion for agriculture, her persevering character to succeed against all odds, and her unwavering pursuit for excellence even in the small things that she does.
"VSU is a huge part of my journey. The impact of VSU in my life today is really big because I always strive for excellence in everything I do. And I always had this bigger dream of making an impact on the world," Ivy said.
Though her uncle financially supported her studies, her college life was never easy as this native Boholana had to work on the side while finishing college. Despite that, she excelled in both her academic and extracurricular activities.
In fact, the student organization to which she served as President was chosen as VSU's Top Organization for 2013.
Ivy was then named VSU Endeavor Awardee in 2014, a recognition given to outstanding self-supporting students who proved that they too can still excel and finish their degree despite their lack of financial resources. And in the same year, she was also accorded with a Leadership Award by her own department for her accomplishments as President of the Development Communicators' Society (DeCSo).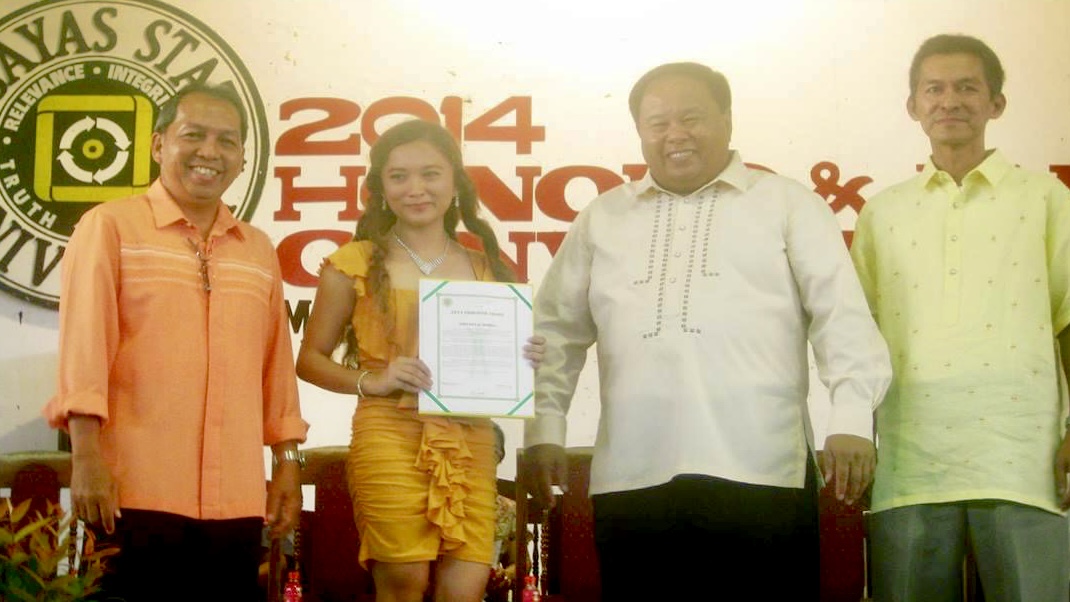 Ivy received the award as Endeavor Awardee in 2014 for her dedication and perseverance to obtain a college degree despite her financial limitations.
Building a real-life Farmville
Ivy met Slaven in a cruise ship where both of them worked previously. After 3 months of being together, they both decided to tie the knot via a civil wedding that took place in the Philippines followed by a church wedding in Bosnia and Herzegovina.
With this marriage, Ivy migrated to her husband's country and lived there for four years now. When they were starting their life together, Ivy did not know that Slaven was an agricultural engineering graduate. Ivy's education in development communication, having strong backgrounds in agriculture. added greater connection between the couple.
With shared interest, they started plotting their dream together of turning into a reality what a sustainable family farm is all about. And to the Sibincic family, realizing this dream is like building a real-life Farmville—a social network game that involves various aspects of farmland management, such as plowing, planting, growing, harvesting crops, and raising livestock.
As a Filipina living in an entirely different environment and culture, she then figured out what she was meant to do in life.
"Living here made me realize my calling, the very thing I wanted to do in life. And that is to grow abundant and healthy food for great health, enjoy the company of my family by living in an eco-friendly farm, and let the whole world know about the many fun things about agriculture and sustainable living."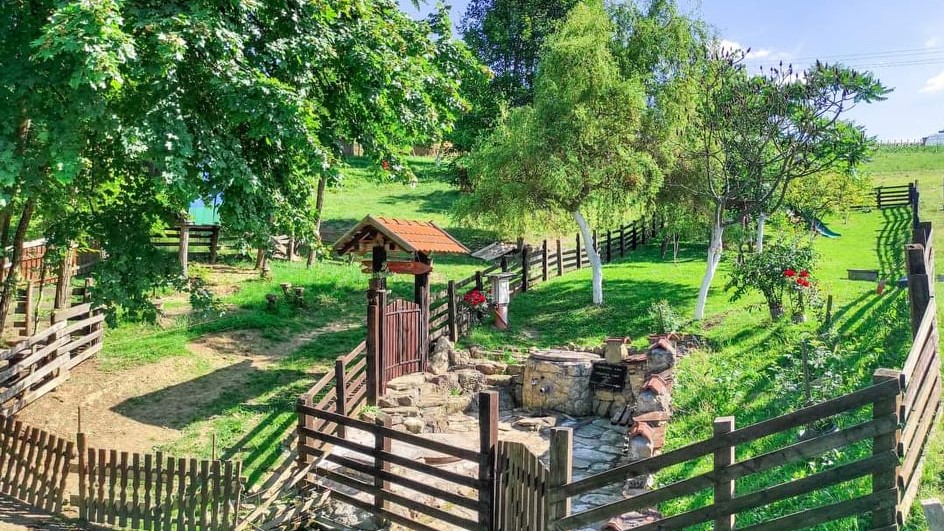 A picturesque view of the Sibincic family farm that effectively integrates livestock with other agricultural activities.
The Sibincic family farm can be described as a homestead occupying 4 to 6 hectares of land. They have their natural spring source, a deep well for water consumption, and an eco-forest with ponds, streams, and mini-waterfalls within the property.
Also, they have a family seed bank with 350 varieties of vegetables. They grow these seeds themselves and they distribute it for free to those who need them. Everything in their farm including fertilizers are completely organic and they only feed their animals from pastures grown in their own backyard.
Because of this, the Sibincic family farm won the Best Organized Home in their municipality for two years in a row. This is an annual competition held in their area to recognize outstanding families that exemplifies productive rural life.
Ivy revealed that their family is beyond grateful that people are now beginning to appreciate their advocacy and lifework. For her, what makes their farm practice unique is the effective integration of culture in their day-to-day agricultural work.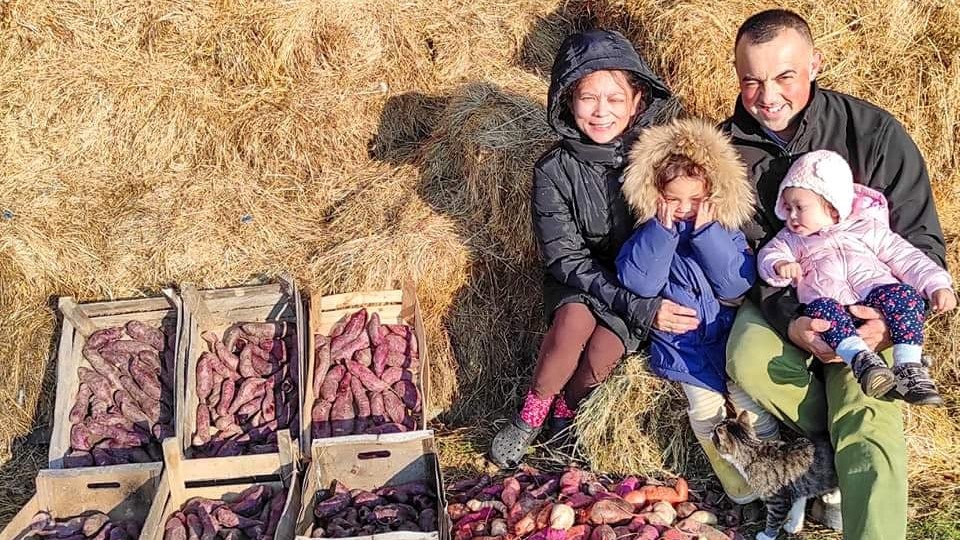 Ivy also brought in their farm some commonly grown crops in the Philippines including sweetpotato or 'Kamote' in the Filipino dialect.
The #ProudViscan expounded that their farm practices have long embedded orthodox Serbian customs and traditions that were tried and tested by Slaven's family members for many generations.
She felt sad that some of these practices were no longer employed by the younger generation. She hopes to document all these in social media and improve it further by also adding a little flavor of what Filipino farming is all about.
"It matters because when we document our life here, it can educate, preserve culture and traditions while at the same time entertain people. For me as a development communicator, I want to bridge this gap with hopes that I can also tweak it to include my unique Filipino identity by also cultivating some crops that we commonly grow in our country."
The Sibincic family is now growing some crops that can only be found in the Philippines including sweetpotato or what we refer to as 'Kamote' and other famous Filipino vegetables like bitter gourd or 'Ampalaya'.
Replicating their farming success in the Philippines
Ivy believes that it is very possible to copy the success of their sustainable farming practices in Bosnia and Herzegovina in her home country the Philippines.
"It is very possible to do sustainable agriculture in the Philippines, and it is much easier there because of the climate. Back here, it is a four-season country and we only have a small time frame to do all these things. There you can do it all year round."
Before the pandemic, Ivy's parents were fortunate enough to travel to Europe and witness for themselves her unique way of life. As part of their visit, Ivy allowed her parents to learn Serbian farming first hand from Slaven and his other family members in an attempt to educate and inspire them to bring these practices to Bohol.
"My parents were also here, and they got to experience our life. They were able to try gardening here. Upon their return to the Philippines, they also started gardening in our very own hometown."
She hoped that her parents' farming experiences in BiH have invigorated their passion for agriculture so that they too can start and build a sustainable organic farm in Bohol in the near future.
Ivy and Slaven are expecting a new baby boy in the coming months to add to their ever growing family. They are also now busy registering their venture into an agricultural home. Ivy disclosed that they will soon implement more community projects and continue with their local tradition of sharing seeds with others.
As part of their long-term plans, they aspire to convert their farm into a 100% solar-powered entity with a small manufacturing facility for homemade soaps and detergents that are more eco-friendly and suited to their unique way of life.
You can see for yourself the day-to-day experiences of the Sibincic family by liking their Facebook page and subscribing to the official YouTube channel.