VSU Villaba sets its eyes to putting regional research centers for goats and spices
Details

Written by Ulderico B. Alviola

Published: 26 March 2022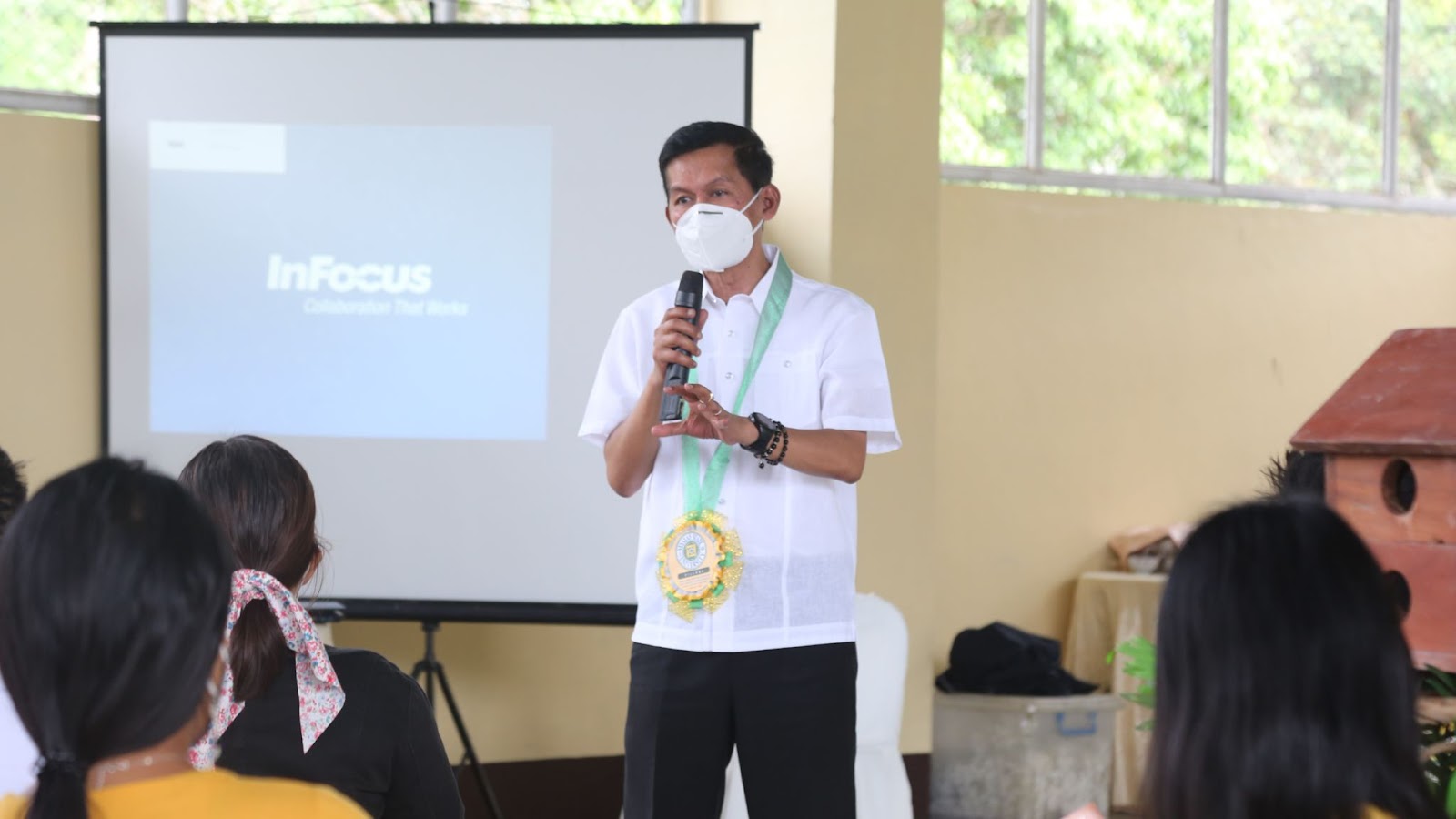 VSU President Tulin addressed the faculty members of VSU Villaba and challenged them to set their direction towards conducting locally suitable research activities.
Right after the inaugural blessing of infrastructures and new facilities in VSU Villaba held last month, VSU President Edgardo E. Tulin met with the faculty members of this component campus to present to them a comprehensive plan of establishing two regional research centers that will soon pursue research directions suited for the needs of Villaba and its neighboring municipalities.
These two regional research centers will particularly focus on conducting research on small ruminants like goats and rabbits, and will also pursue localized studies on suitability of growing herbs and spices in Northwestern Leyte.
Dr. Tulin brought with him Prof. Rosa Ophelia D. Velarde, VSU Director for Research, who presented to the faculty the university research and development (R&D) agenda, to which the establishment of the two new regional research centers will be anchored.
With its vast grazing area of pastureland and a cooler ambient temperature due to its relatively upland terrain, Villaba and its neighboring towns have already been supplying meat by-products of cattle and goat for the rest of Eastern Visayas.
In fact, this area has already been identified by government agencies like the Department of Agriculture (DA), and the the Department of Science and Technology (DOST) as very suitable for small ruminant industry because of its unique climate and topography.
VSU Research Director Velarde expounded the VSU R&D agenda to VSU Villaba faculty members so that their research proposals will be realigned with the needs of their locality.
Considered as a local and national delicacy, the rise in popularity of 'chevon' or goat meat and 'mutton' for sheep, can be attributed to the growing demand for alternative meat products which is currently on the rise in both domestic and local markets.
Prof. Velarde encouraged VSU Villaba faculty members and researchers to complement this growing demand for goats by conducting market and feasibility studies including research on goat nutrition and management.
In line with this, VSU President assured VSU Villaba faculty that he will provide them with technical support coming from the experts of the VSU Main Campus so that this plan gets to be realized very soon.
"With your faculty in animal science here in VSU Villaba plus the expertise of our faculty members in animal science and veterinary medicine in the Main Campus, I'm sure we can come up with relevant proposals that will enhance the goat industry in your area. That way, we can align our research directions to what is specifically needed in Northwestern Leyte," Dr. Tulin explained.
Meanwhile, aside from small ruminant research, VSU Villaba is also being tasked to continue pursuing research activities on herbs and spices which is something that has already been set in motion for the past years.
In fact, the research that are currently being implemented by Dr. Nicole N. Florentino has been showing promising results indicating the suitability of growing onions, bell peppers and other herbs and spices to climatic, topographical and soil conditions of Villaba and its surrounding towns.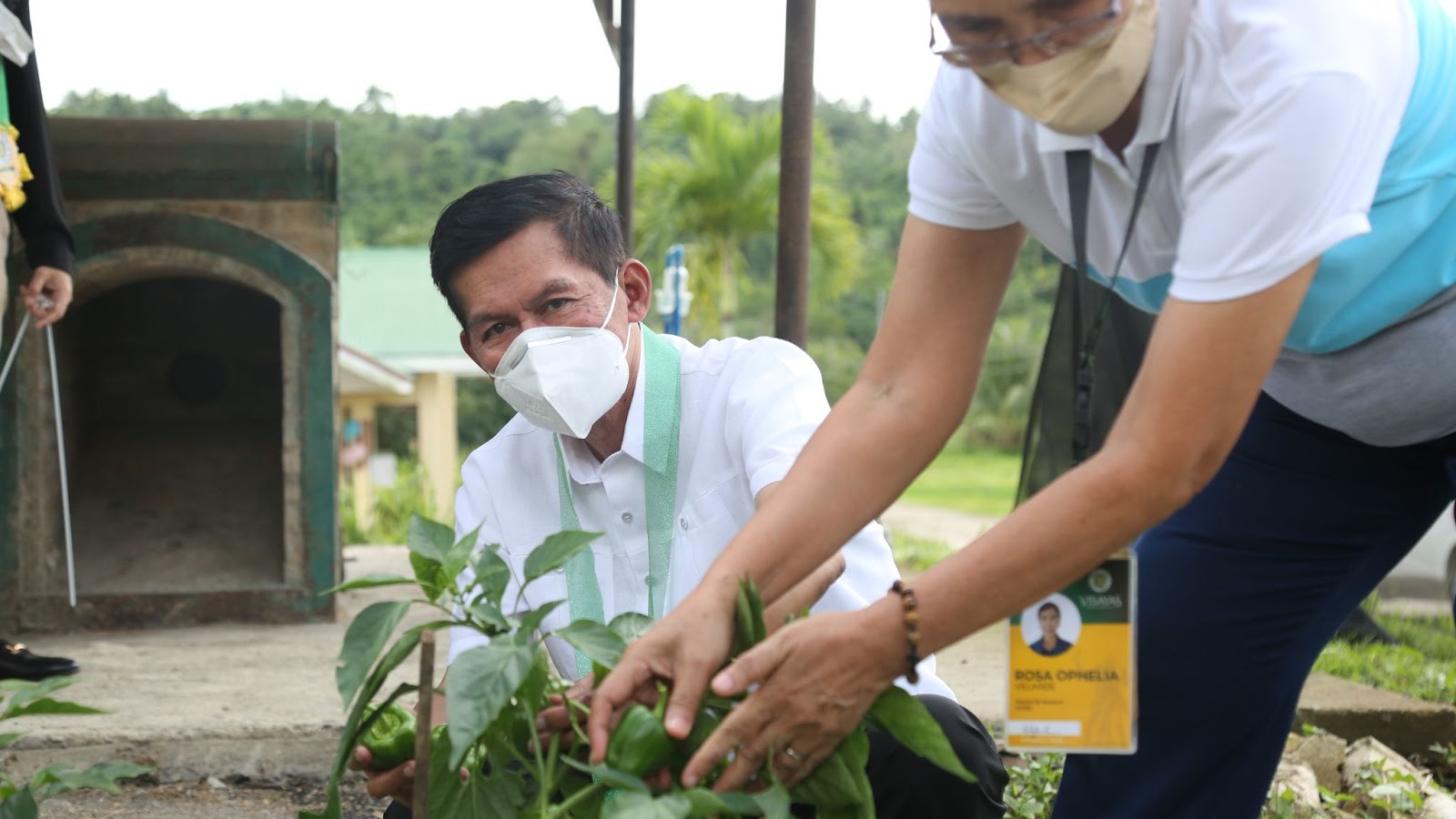 VSU President Tulin and Research Director Velarde inspect some of the crops being grown in VSU Villaba as part of their monitoring visit for the said component campus.
While more studies will have to be conducted on this area, the VSU President believes that VSU Villaba has some remarkable potential in cultivating herbs and spices on a larger scale making it an appropriate venue for a regional research center for such high-value agricultural commodities.
"Our research directions should always be anchored on what is needed in our respective areas. VSU Villaba's location has always been very suited with livestock and crop production and I think it's time that we harness this untapped strength so that we can also develop this component campus into a regional powerhouse in agricultural research just like in VSU Main Campus in Baybay City," Dr. Tulin added.
Blessing of new infrastructures and student forum
Aside from the research visit, the VSU President's trip to VSU Villaba also included ceremonial blessing of new infrastructures and brand new amenities of this component campus.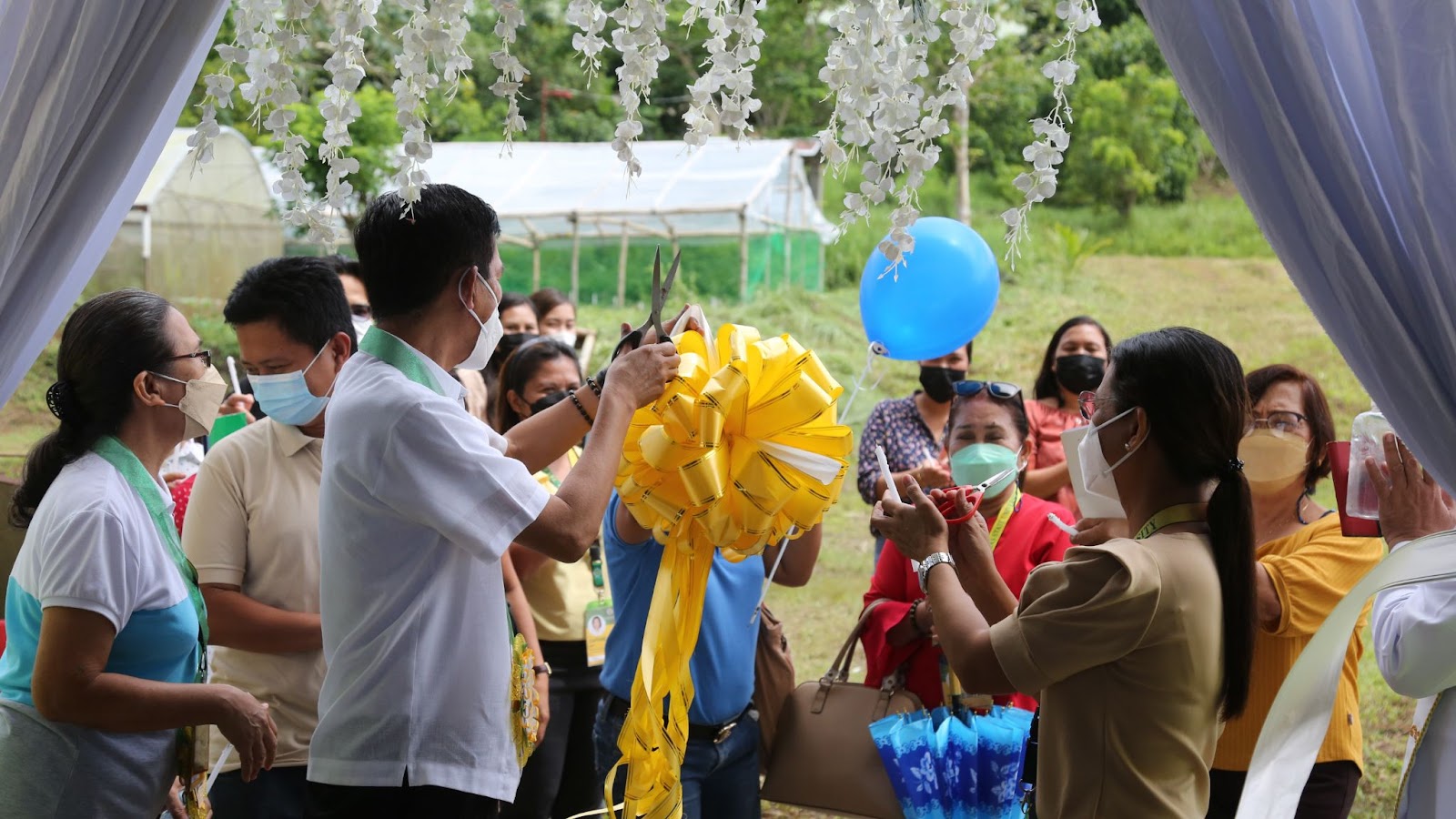 Ceremonial inauguration of the new VSU Villaba Gymnasium and Multipurpose Hall was opened with a ribbon cutting witnessed by university and campus officials.
The new VSU Villaba Gymnasium and Multipurpose Hall was officially opened for public use on February 25, 2022 and was utilized as the venue for student and faculty consultations for the conduct of the limited face-to-face classes.
The local Interagency Task Force (IATF) of Villaba, Leyte has already given a go signal for the conduct of limited face-to-face classes in their area with the declining cases of COVID-19. A certification from regional office of the Commission on Higher Education (CHED) is also being pursued to realize this plan.
More than a hundred students were accommodated in the said gym following strict guidelines in social distancing to converse with the VSU President regarding their concerns related to academic policies and other issues pertaining to the conduct of limited face-to-face classes.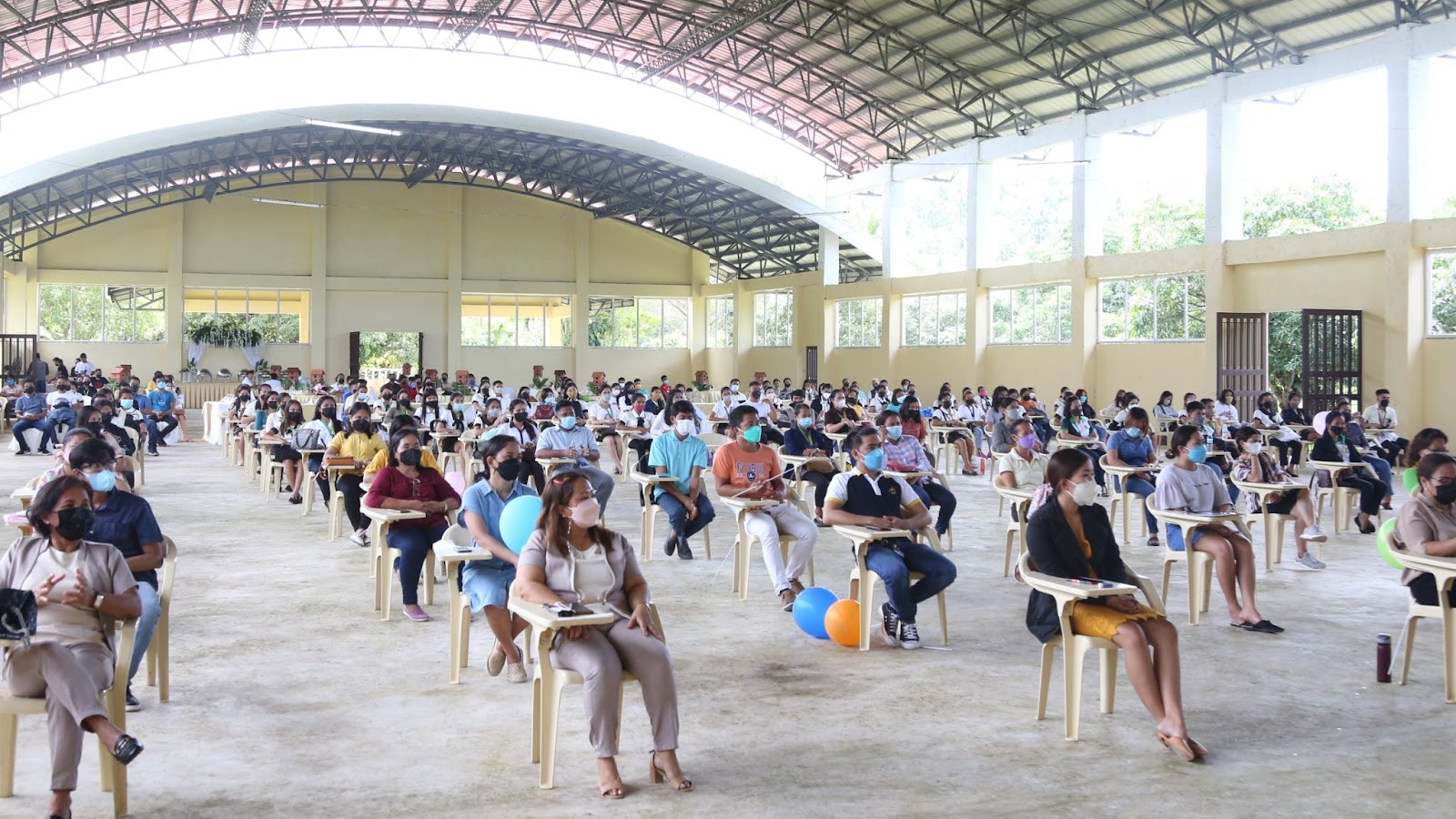 Graduating students intently listened to VSU President Tulin in a dialogue forum held in preparation for the conduct of limited face-to-face classes in VSU Villaba.
Other infrastructures were also ceremonially inaugurated including new laboratories in crop science and animal science located near the new VSU Gymnasium and Multipurpose Hall.
The annex of the VSU Villaba administration building was also blessed to include the new spaces meant for cash, accounting, budget and supply offices of the component campus.
Lastly, a new 15-seater van was also inaugurated that will serve as the official vehicle of VSU Villaba. This new transport will replace the old van that has been in service for more than a decade now.
This new vehicle was sourced out from the income generating projects of VSU Villaba, specifically the coconut nursery that generated millions of pesos in terms of income.
The said coconut nursery was established as part of the Results-Based Monitoring and Evaluation (RBME) project funded by CHED. This same project aimed to revitalize the coconut industry in Northwestern Leyte that has been severely affected by recent typhoons and other calamities.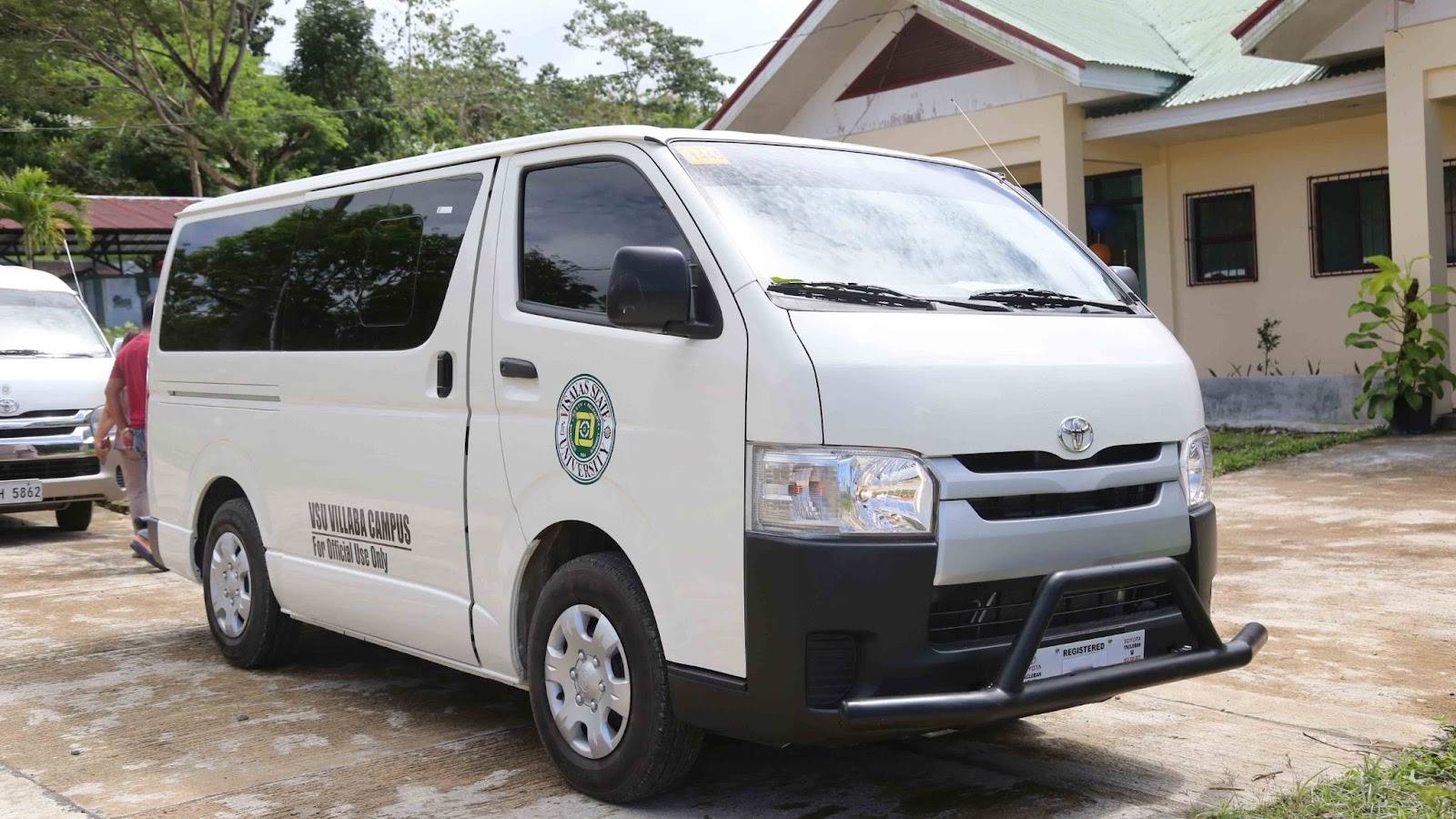 This newly purchased Toyota Hiace van worth 1.6 million pesos was part of the new amenities inaugurated recently in VSU Villaba.
In response to the many new developments in their campus, Chancellor Maria Jehan P. Libre expressed her heartfelt thanks to the VSU administration for their overwhelming support to VSU Villaba.
"On behalf of our faculty, staff and students, I thank the administration of current VSU President Tulin including the contributions of the past administrations for the continued investment poured in for our campus. We commit to improving ourselves in the future by responding to the research directions being set for us that will hopefully bring greater relevance to our community here in Villaba and our neighboring towns," Dr. Libre responded.