LOOK: Klaus Center, Devcom declare winners of advocacy painting tilt
Details

Written by Clent Yanola

Published: 02 August 2022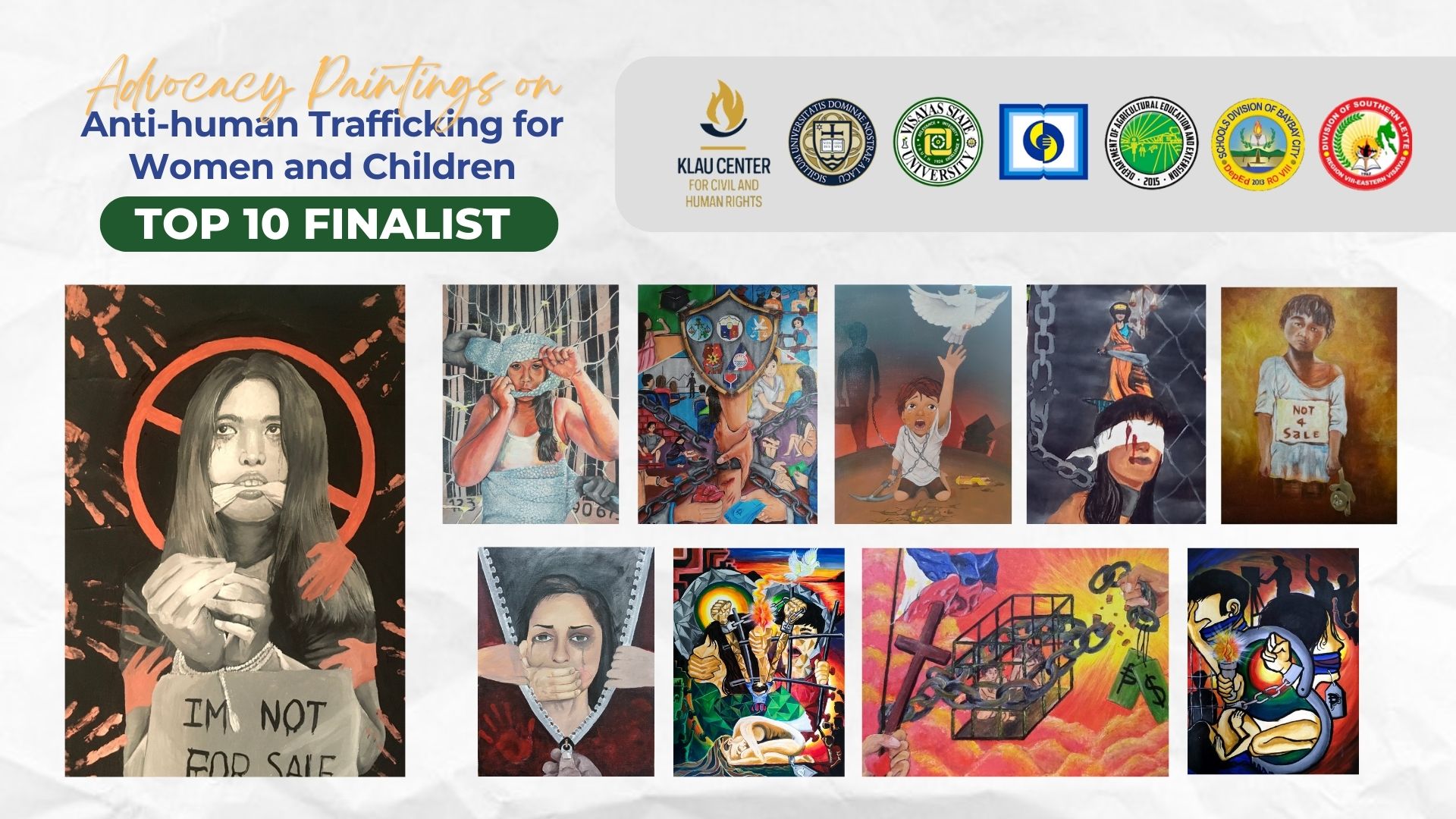 The Klau Center for Civil and Human Rights of the University of Notre Dame, USA in partnership with the VSU Department of Development Communication (DDC) formally concluded the month-long advocacy program on "Anti-Human Trafficking and Other Forms of Gender-Based Violence Against Women and Children" last July 22, 2022, via Zoom.
The program culminated with the awarding ceremony and announcement of the top 10 finalists for the advocacy painting contest handpicked from 69 acrylic artwork entries.
The painting competition was participated by the School-On-The-Air (SOA) Visual Arts graduates of Baybay City and Southern Leyte schools divisions.
The project is a community education initiative that anchors on the accomplishments of the previous SOA on mental health and environmental conservation funded by the East-West Center in Hawaii, USA.
The "Advocacy Paintings on Anti-Trafficking of Women and Children" incorporates a painting competition to measure the participants' understanding of the issue after their exposure to online lecture sessions with a legal expert.
Atty. Vivian E. Vidallon, Secretary to the Sangguniang Panlungsod of Baybay City was tapped as the resource lecturer for the four master classes, where she provided legal information about the issue of human trafficking and gender-based violence.
"As your resource person on this very timely discussion on the anti-trafficking of women and children, I am very honored and proud of all the works of art submitted. I am very pleased to know that I have imparted important knowledge to the minds of our young creative audiences," the resource speaker explained.
"Lest we forget that we should not stop here. We should instead continue to become advocates in our own little way to eradicate trafficking in women and children. May we become tools, as well as our imaginative works of art, to end this issue and inspire others to do the same," Atty. Vidallon added.
Ms. Jeremi B. Panganiban, the main project collaborator from the Klau Center, also expressed her gratitude for working with VSU on this timely and relevant initiative.
"I do hope that through this initiative, we are all inspired to work more for human rights and to eliminate gender-based violence in our communities," Ms. Panganiban said in a recorded message.
Dr. Genis S. Murallos, Schools Division Superintendent of Southern Leyte said: "I hope that all the experiences in the webinar series and on the actual painting of the advocacy have contributed much to the development of wholesome learners who can contribute meaningfully in building our nation for the Filipino people and to the next generations to come."
Meanwhile, Dr. Aleli A Villocino, the VSU Vice President for Student Affairs and Services, a serious art collector and a true believer in art as therapy, told: "The University through the Department of Development Communication together with the Klau Center for Civil and Human Rights, the Department of Education will continue its strong partnership, making art as one of the most powerful advocacy tools to raise awareness and move people to take action."
Each of the winners received a cash prize (P8,000 for first place, P5,000 for second place, and P3,000 for third place), a medal, and imported art materials. Consolation cash prizes of P1,000 and certificates were also awarded to the other seven contestants.
Listed below are the winners:
Top 1- Stephanie C. De Paz, Hinunangan National High School, SDO Southern Leyte.
Top 2- Melena Gwen M. Abuda, San Juan National High School, SDO Southern Leyte
Top 3- Honelyn C. Macapagong, San Juan National High School, SDO Southern Leyte
Top 4- Jaime O. Berondo, Tambis National High School, SDO Southern Leyte
Top 5- Jake T. Celedonio, Baybay Senior High School, SDO Baybay City
Top 6- Jiza Mamites, Bontoc National High School. SDO Southern Leyte
Top 7- Danielle Kim Alico, San Juan National High School, SDO Southern Leyte
Top 8- Divine Hrace Ticod, Tambis National High School, SDO Southern Leyte
Top 9- Donalyn Taotao, Baybay Senior High School, SDO Baybay City
Top 10- Jesus Aruta, Ichon National Highschool, SDO Southern Leyte
Stephanie C. De Paz, the grand winner, urged other artists to continue making art in her acceptance message.
"I thank this program for giving us the knowledge and awareness about the Anti-Human trafficking against women and children. [To all artists] Please don't stop making art, for art is the most powerful thing that one can use to unite people," she declared.
In this event, there are 7 participating schools with 46 officially-registered participants from Baybay City Schools Division, while there are 17 participating schools with 36 officially-registered participants from Southern Leyte Schools Division.