End of an era: The enduring legacies of Dr. Edgardo Escuadra Tulin
Details

Written by Ulderico B. Alviola

Published: 29 October 2023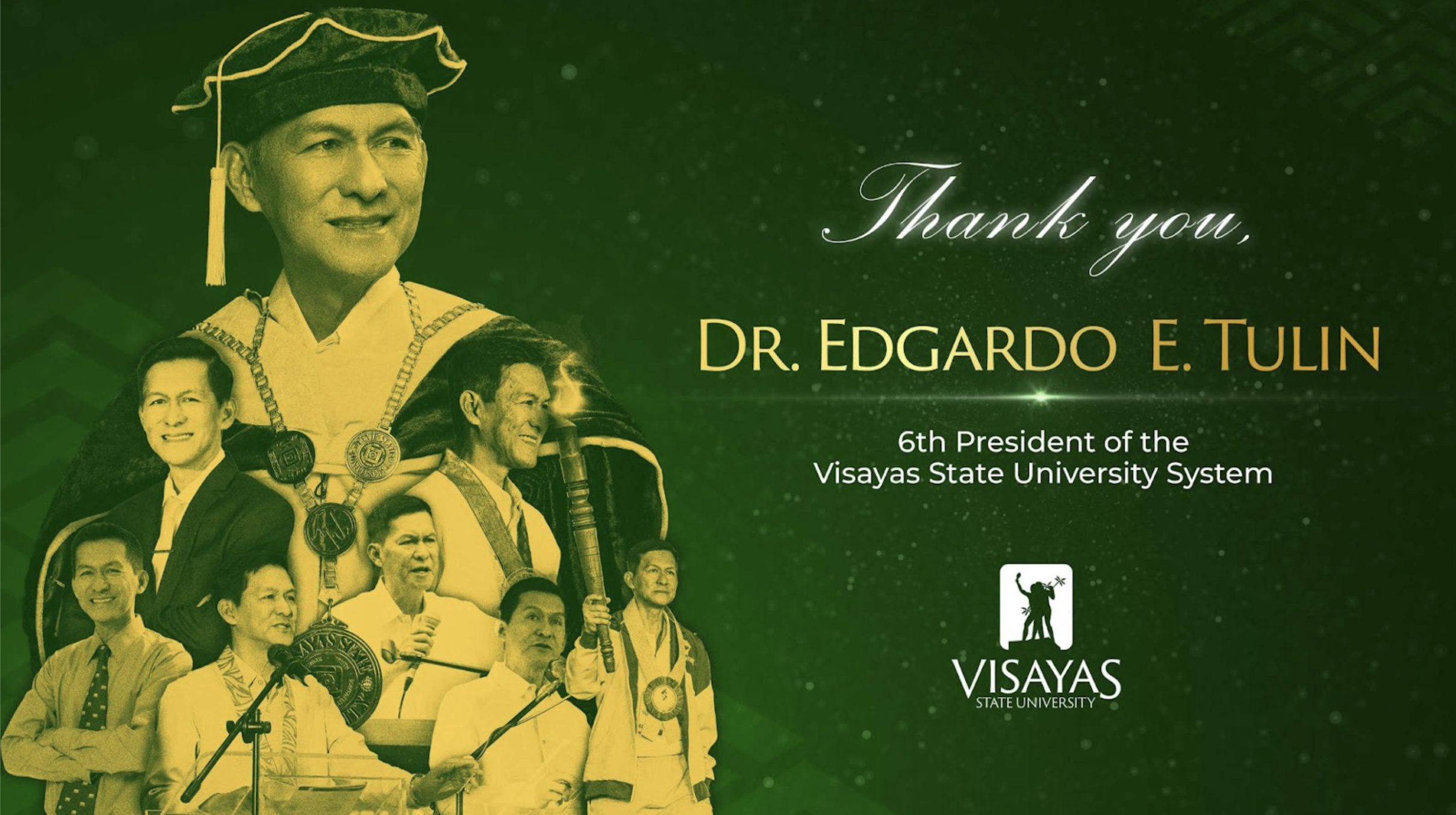 Dr. Edgardo Escuadra Tulin is a university professor, a multi-awarded scientist, one of the most accomplished research administrators in the Philippines, and a leader in science and technology management. He is more popularly known as the 6th President of the Visayas State University system who ushered in so many developments that catapulted the university as one of the best higher education institutions in the country today.
As VSU's chief steward, he worked for 8 years to expand the infrastructure base of the university while also immensely investing on human resource development, improved significantly VSU's global competitiveness through the creation of new knowledge hubs that increased publication performance of faculty members and researchers, subjecting the university and almost all of its curricular programs for quality assurance accreditation, and bringing in international recognition to VSU by ranking well in both national and international evaluations by different independent assessment systems.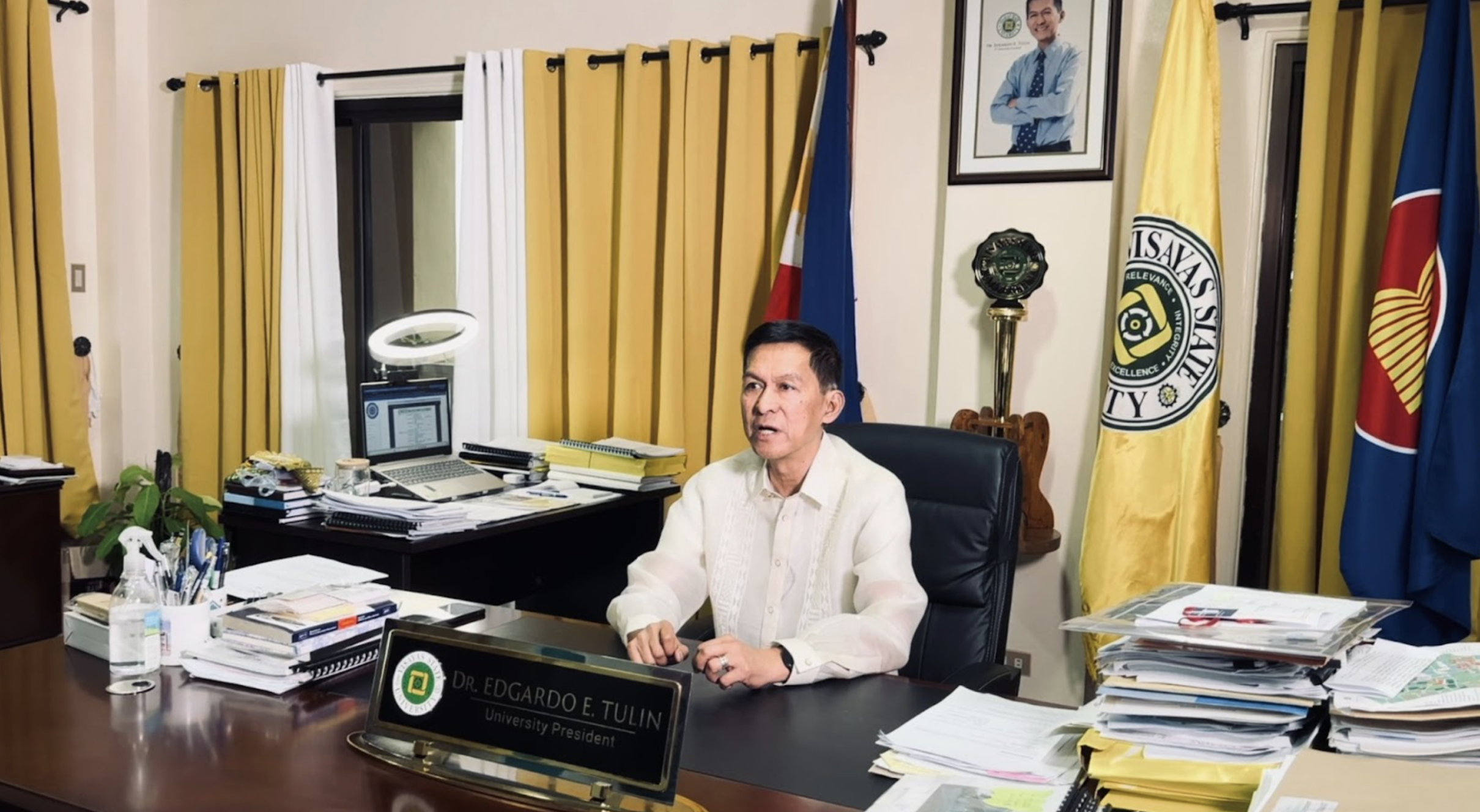 To prepare VSU for greater global prominence, Dr. Tulin established new research centers that will jumpstart innovative and groundbreaking research in biotechnology, material science, and nanotechnology. With this, the Advanced Research and Innovation Center was completed in early 2020 to enable interaction between faculty, scholars, students, and the industry to enhance research opportunities, academic excellence, real-world problem solving, and knowledge creation and dissemination. This was complemented with the establishment of an Agri and Aqua Technology Business Incubator that seeks to help budding entrepreneurs to fully commercialize mature technologies generated by the university.
On addressing the climate crisis and other environmental challenges, the Regional Climate Change Research Center has been fully operational since 2017 to work on climate adaptable crop varieties including conducting environmental assessment programs, and influencing local policymaking to improve the overall resilience of the Eastern Visayas region, especially that this area is disaster prone and has been frequented by super typhoons and other natural calamities. The Regional Biodiversity Center has also been inaugurated just this year as an added component for public education on nature conservation and restoration of denuded forests to ensure local sustainability that will increase the future resilience of our planet. On top of this, an ecotourism hub is also underway to capitalize on the reputation of VSU as a Dark Green School and a model of environmental conservation, agri-tourism ventures and sustainable practices.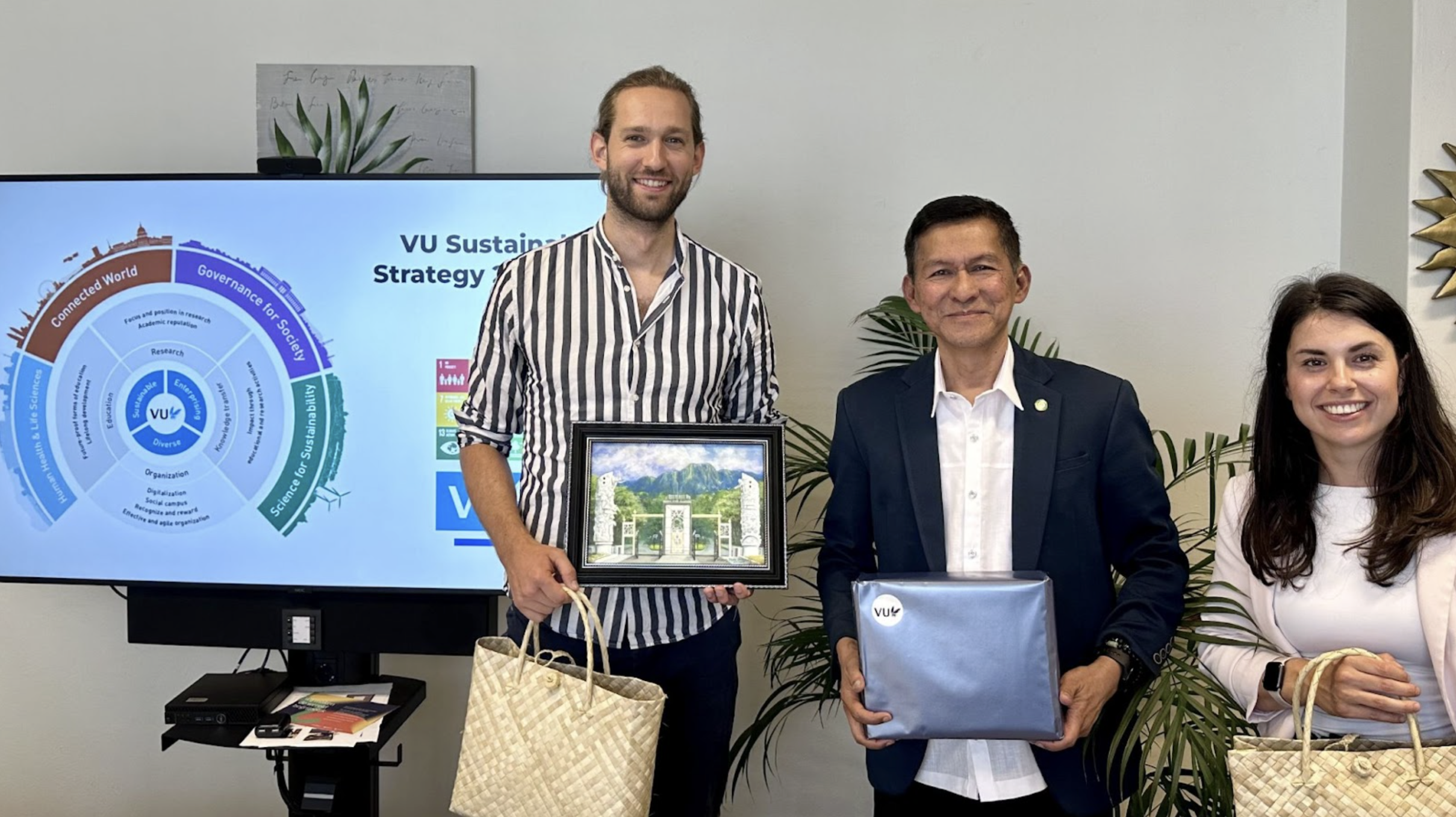 In terms of human resource development, permanent status was granted to 580 faculty members and 314 administrative staff. For the past years since he took office as President, the university has undergone a massive faculty development program by sending 201 faculty and researchers for graduate studies in reputable institutions here and abroad. Dr. Tulin has displayed strong commitment and support to young researchers by sending them to advance training and attendance to conferences and seminars to improve their knowledge and skills.
Under quality assurance, the VSU President worked hard to push for a quality management system that was duly certified by TUV Rheinland as ISO 9001:2015 compliant from 2020 up until today. In 2022, the university was accorded with the highest Level IV institutional accreditation status by AACCUP, which made VSU the first institution to receive such recognition in both Visayas and Mindanao. Related to this, AACCUP has also recognized VSU for two consecutive years in 2022 and 2023 for being the Top 1 performing state university in the Philippines because of achieving the most number of Level IV accredited programs in both graduate and undergraduate levels.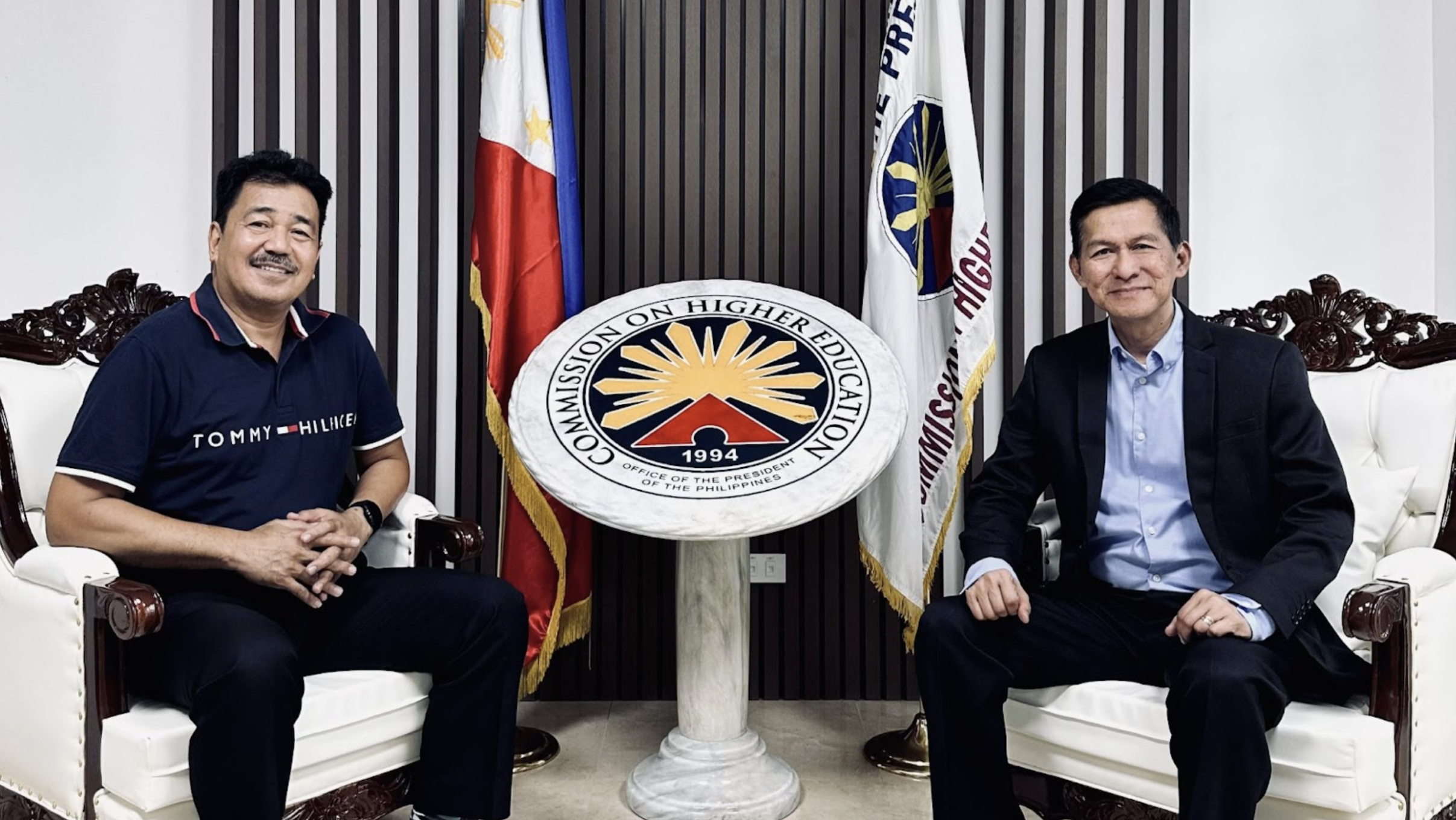 Since 2016, VSU also maintained its CHED Level IV institutional status while also reacquiring its position as CHED Center of Excellence in Agriculture and Agricultural Engineering including its recognition as a CHED Center of Development for Development Communication.
Under Dr. Tulin's leadership, VSU started to reap international accreditations including a 3-star status in a British-based company called QS, 4-star research university status from a Vietnam-based and ASEAN accreditation system called the University Performance Metrics, top 8 university in the Philippines according to Webometrics Ranking of World Universities, top 9 Philippine university according to UniRank, top 14 Philippine higher education in 2023 based on an independent evaluation of EduRank, top 15 most prolific research institution in the country according to AD Scientific Index, one of the top universities in the country in terms of fulfilling the targets of the Sustainable Development Goals according to the THE Impact Rankings, and a Reporter Status in the most recent Asia Rankings of Universities based on an analysis by the Times Higher Education.
In research and extension, Dr. Tulin conducted and supervised a number of priority undertakings in support of the priority regional R&D programs that contributed to the overall countryside development of Eastern Visayas. Under his term, root crops, jackfruit, abaca, coconut and bamboo including other priority commodity crops were mainstreamed and implemented that resulted in providing additional income to local farmers in both Visayas and Mindanao. One successful case of effectively utilizing research products and transferring it to the community is that of Fatima Multipurpose Cooperative that has increased their current root crop production area to more than 500 hectares benefitting around 2,000 farmers in the Eastern Visayas region. The Villaconzoilo Farm School in Jaro, Leyte is also one of the biggest beneficiaries of VSU generated technologies that employed around 200 farmers who are former rebels but are now active members of society contributing to local development.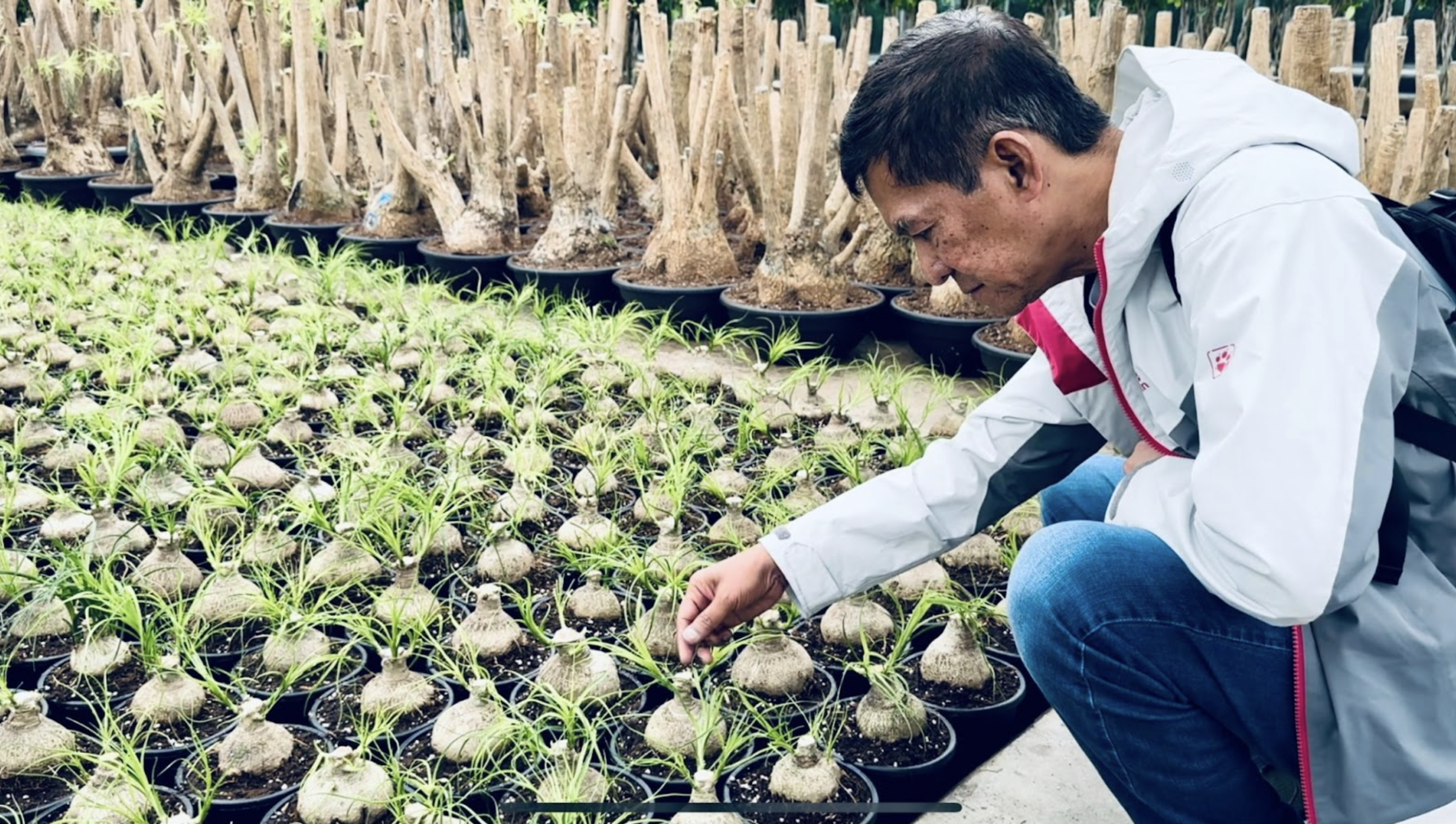 Dr. Tulin's strong dedication to research can be seen through his numerous outstanding contributions and pioneering works in basic and applied research with applications extending from varietal improvement to groundbreaking applications for health research and human nutrition.
As research manager, Dr. Tulin led in the mass propagation of root crops not only in Region VIII but also in far flung communities of Maguindanao and Basilan where this commodity can be harnessed for native delicacy development and other viable food products. These projects include looking at the root crop value chain by establishing processing centers that will lead to more innovative food product development. VSU, through Dr. Tulin's leadership, was also active in the coconut rehabilitation program after major super typhoons that allowed farmers to access resilient coconut varieties that are high-yielding and suitable to local conditions. The queen pineapple, dubbed as the sweetest pineapple in the world, has also been assisted by VSU through technical support that also provided prominence for Ormoc City not only in terms of agricultural productivity but also in areas of agri-tourism. The university also responded to the African Swine Fever infestation by doing research on boar semen cryopreservation that will soon provide quality boar semen supply that are ASF free. And lastly, VSU is presently implementing a PCARRD-funded project called the RAISE program that hopes to mainstream knowledge management to increase the regional research workforce in terms of knowledge sharing and information dissemination that will also protect the rich intellectual capital of Eastern Visayas. While being a research manager, Dr. Tulin is also directly engaged in a project of developing a mango diagnostic toolkit that can be used in disease prevention and analysis that will hopefully strengthen the overall quality of the local mango produce in Region VIII.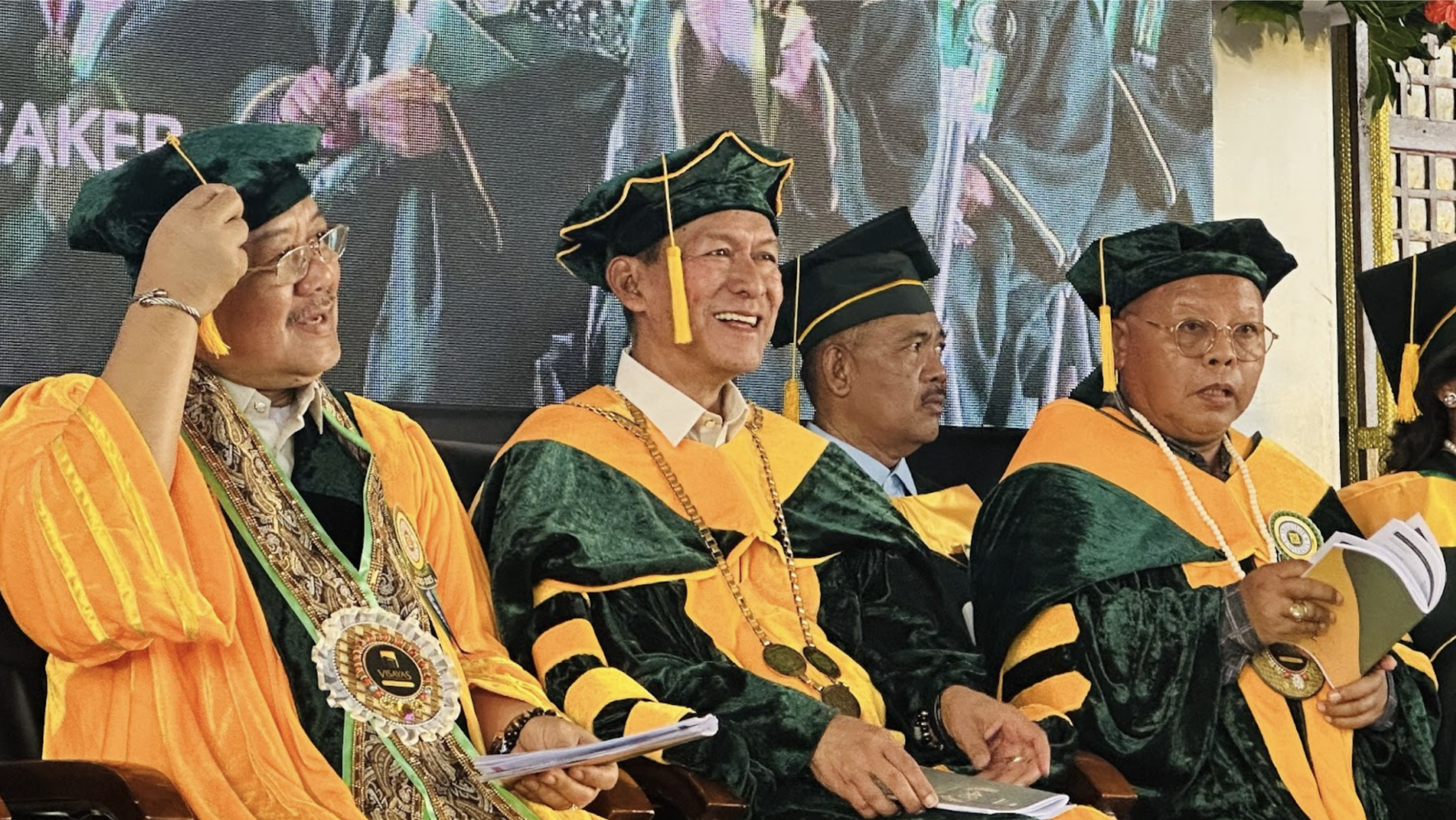 Because of these numerous accomplishments, the current VSU President is the most decorated chief steward of the university for winning national prestigious recognitions including being a National Finalist of the Department of Agriculture's Gawad Saka Outstanding Agricultural Scientist Award in 2006, first placer for three times in 2006, 2008 and 2011 National Search for PCARRD Outstanding Basic Research, the Eduardo Quisumbing Medal for Outstanding R&D Award for Basic Research in 2007, the Norman Borlaug Fellow for Agricultural Biotechnology of the United States Department of Agriculture in 2008, the first national awardee of the PNHRS National Mentor Award for Health Research in 2009, National Semifinalist of the Dangal ng Bayan Award and the Philippine Federation of Chemical Societies Award for Chemical Research in 2011, the Presidential Lingkod Bayan Award of the Civil Service Commission in 2014, the Dioscoro L. Umali Award as Outstanding Research Administrator given by the National Academy of Science and Technology (NAST) in 2018, the Southeast Asian Regional Centre for Graduate Studies in Agriculture Professorial Chair in 2018, and the Ten Outstanding Movers of the Philippines in 2019.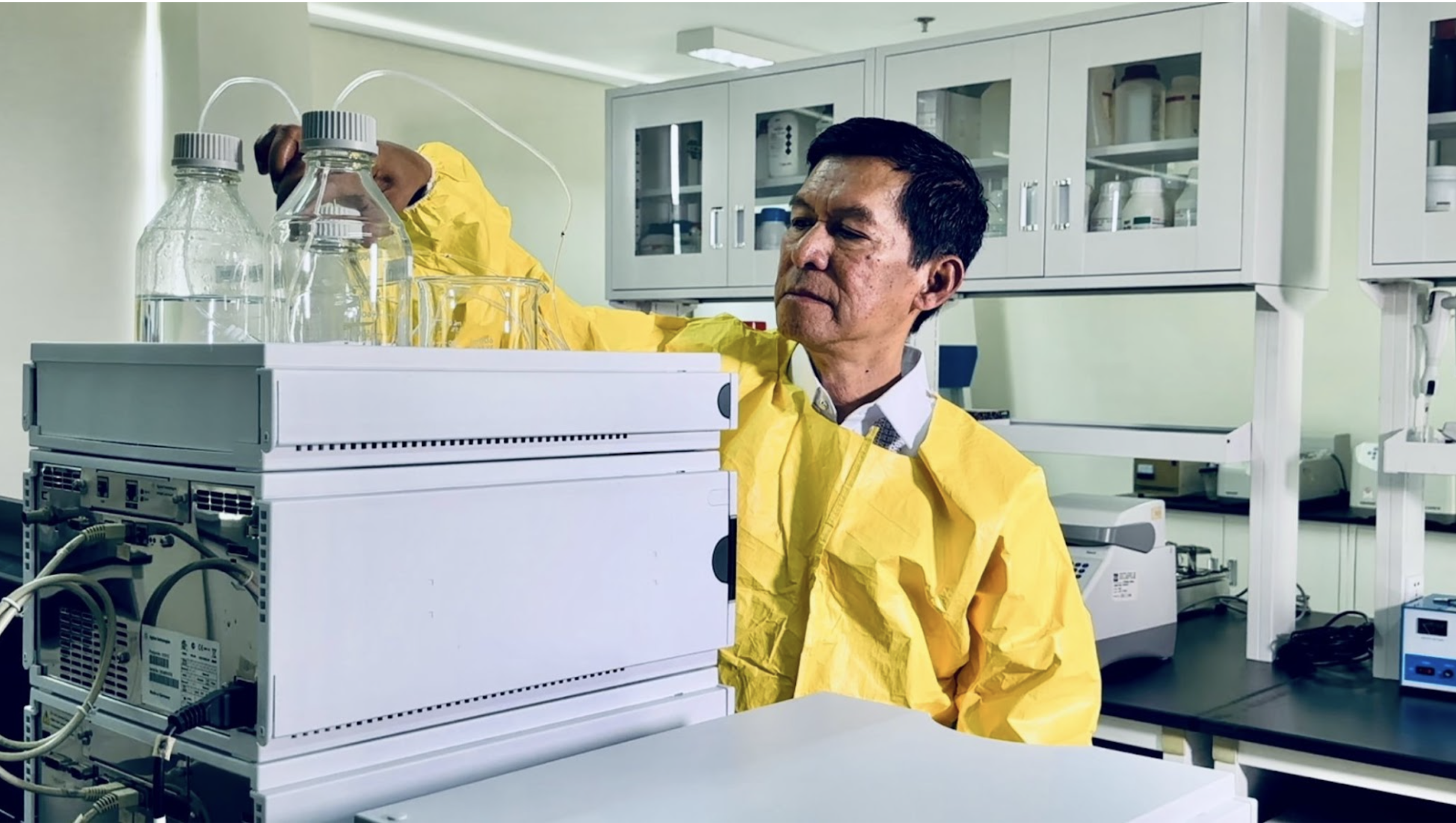 In terms of digital transformation, the outgoing VSU President invested in massive infrastructure in information and communication technologies (ICTs) that provided reliable internet to support education through enhanced online services and the provision of digital learning tools.
The smart campus plan started under his administration wherein improved information technology (IT) infrastructure have already been put in place with the completion of the first data center to be established in a state university in the Visayas region. These projects are important in preparing the university for 21st century education that will hopefully result to future-proofing the skills and knowledge of #ProudViscans in the many years to come.
As a fitting conclusion to his term as President of the Visayas State University, the Commission on Higher Education (CHED) conferred to him the prestigious Internationalization Leadership Award that he received on October 6, 2023 at the Philippine International Convention Center (PICC).
Dr. Tulin is the second recipient of this most coveted award in history to honor the exemplary performance of institutional builders who are pushing the boundaries of Philippine higher education through greater global collaboration. He will be leaving office with the most number of international linkages and partnerships that were started and nurtured under his administration.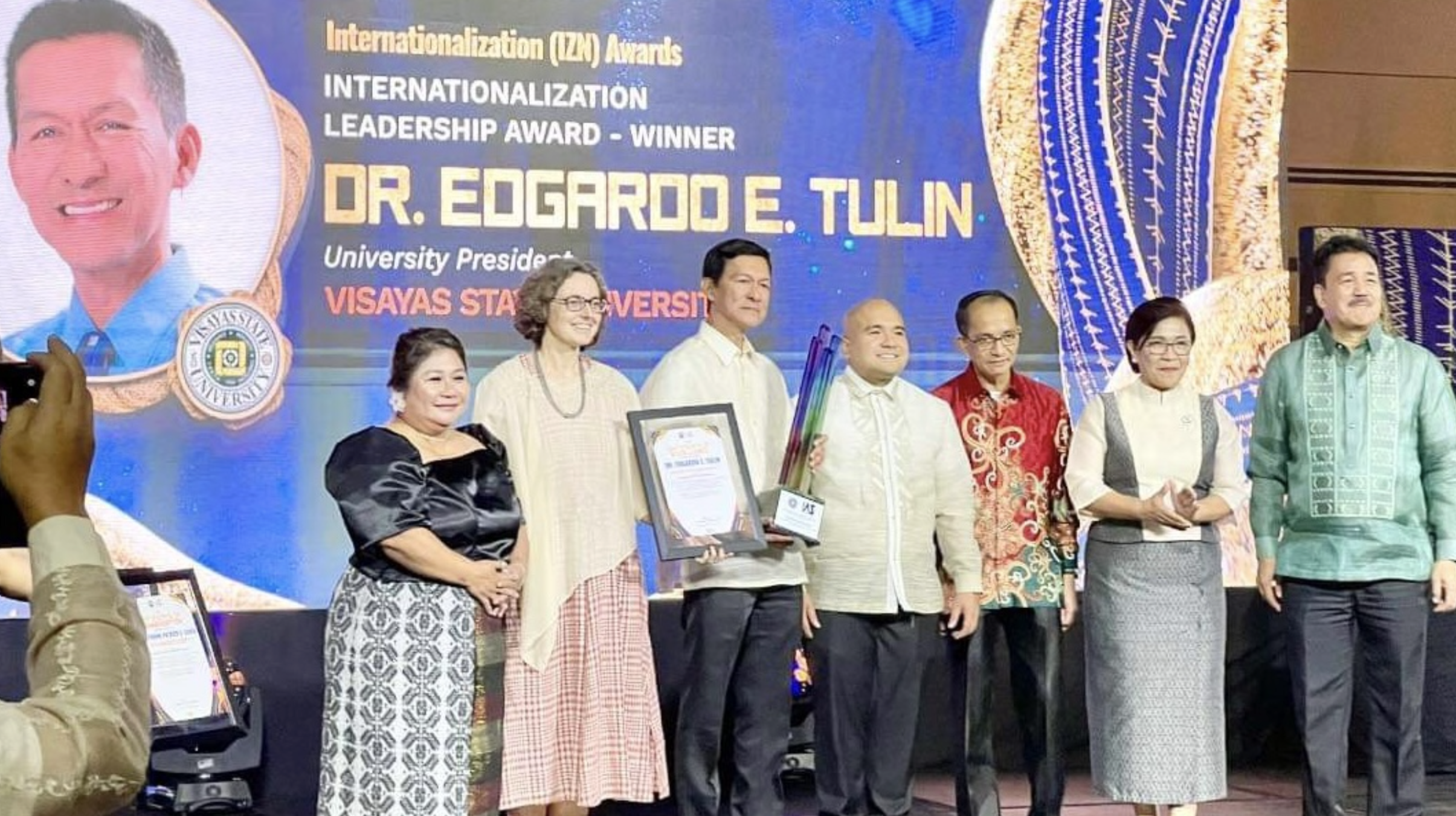 All these and more are the many humble accomplishments of Dr. Edgardo E. Tulin in his more than 3 decades of dedicated public service and outstanding governance that not only propelled VSU into greater heights, but have also contributed in the improvement of the lives of many farmers in Eastern Visayas and beyond.
From all of us #ProudViscans, thank you very much Dr. Edgardo Escuadra Tulin for your eight years of dedicated service that made the Visayas State University one of the best universities in the country today.
Mabuhay po kayo at nawa'y maipagpatuloy ng susunod pang mga administrasyon ang napakaraming pagbabago na inyong sinimulan tungo sa patuloy na pag-unlad ng ating pamantasan!