VSU College of Engineering: stronger at eight
Details

Written by Jucel Guatlo

Published: 21 March 2018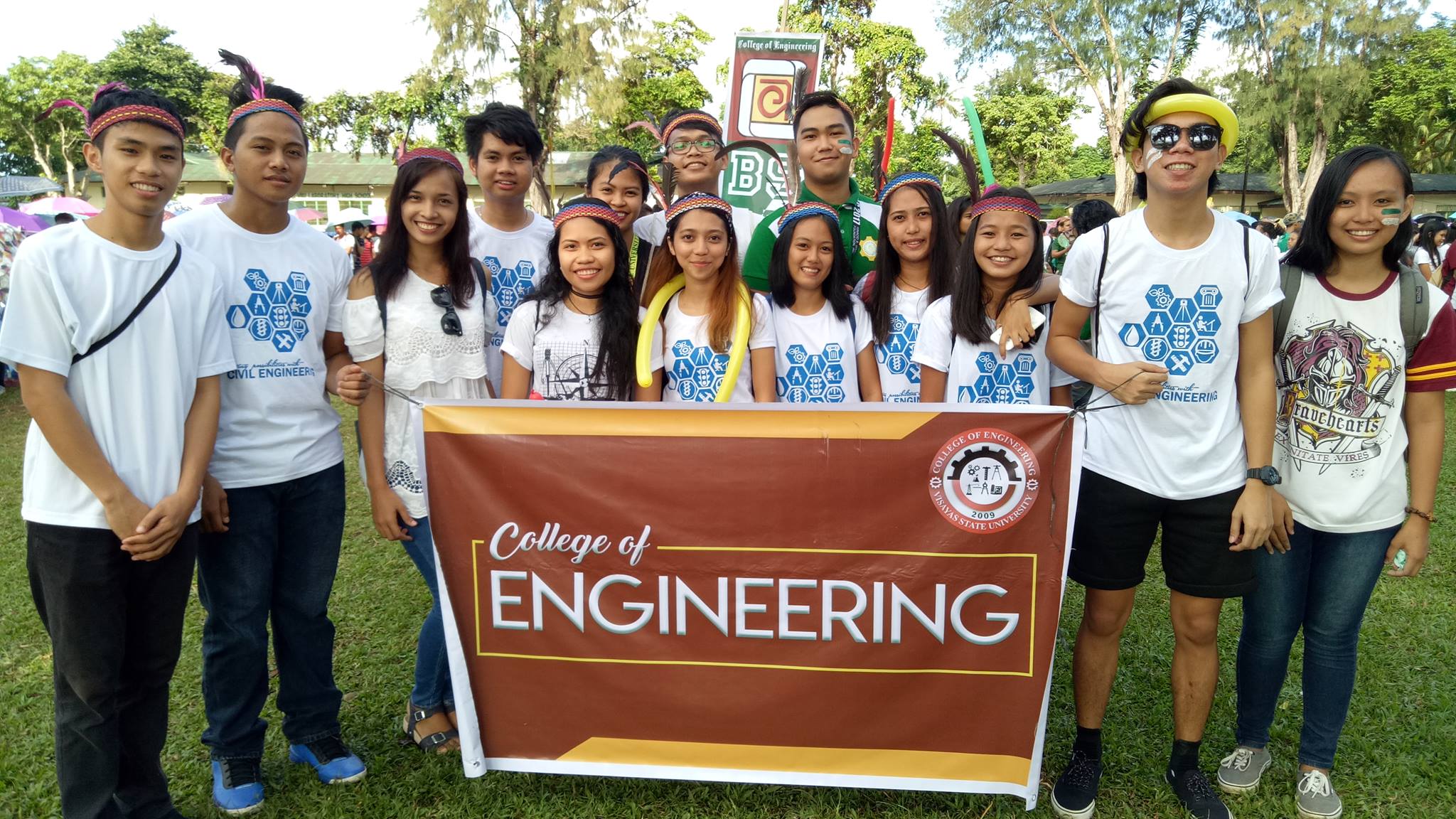 The College of Engineering (COE) celebrated its 8th year with a week-long series of exhibits, seminars, and student competitions held on February 19 to 24, 2018.
This year's anniversary theme is anchored on 'Unite, Engage, Empower: Building the Foundations towards Technological Advancement, Economic Progress, and Sustainable Development'. The three core ideas of unity, engagement and empowerment were the basis in conceptualizing the different activities lined up for this event.
Uniting COE students
Led by the College of Engineering – Supreme Student Council (COE-SSC) through the support of Dean Roberto C. Guarte, various activities were organized to showcase the different talents and abilities of the engineering students. Student competitions were held such as extemporaneous speaking and balak, video production, AutoCAD, programming, poster-making, scrap art, and basketball tournament.
A college expo was also organized which enabled students to showcase their engineering projects and outputs. Among the featured works were dam and bridge construction plans from civil engineering students and some outputs on robotics from the mechanical engineering students.
For the third time, the 'Craziest Quiz Show Ever' was also held. This is not your typical type of quiz show because this quiz bowl features mind-boggling and out-of-this-world questions that will surely test the analyzing skills, logical reasoning and verbal attentiveness of student participants. Because of its uniqueness, the 'Craziest Quiz Show Ever' has become one of the most highly anticipated events by students within the COE.
Engaging aspiring engineering students
A career talk seminar for senior high school students was also held on February 23. Schools that participated in this event include Pomponan National High School, Bato School of Fisheries, Ormoc City Senior High School, Baybay City Senior High School, Hilongos National Vocational School, and Visayas State University Senior High School.
The talk provided an overview to aspiring engineering students on what the engineering profession and the industry are all about. Speakers of this event guided the participating students on future career directions and the path towards achieving their goal of becoming future engineers.
A laboratory tour followed allowing the senior high school students to operate and experience first-hand the different engineering equipment that are available in COE.
An Inter-Senior High School Quiz Show was also conducted to cap off the career talk and laboratory tour. VSU Senior High School won the first place while second and third places were snatched by students from the Hilongos National Vocational School.
Empowering the engineers of tomorrow
Highlighting the COE week celebration is a seminar graced by accomplished industry engineers-turned-professors who talked about their rich professional experiences and their reasons for shifting from the industry to the academe.
Dr. Daniel Leslie Tan, an affiliate faculty of the Department of Agricultural Engineering and a Senior Science Researcher of the Philippine Rootcrops Research and Training Center (PhilRootcrops), shared his experiences as a researcher and how his research activities became basis for what he will teach in the classroom.
Meanwhile, the second speaker in the person of Engr. Dindo L. Sacay, was a practicing engineer for more than 10 years before he decided to jump to the academe. In his talk, he shared how difficult it was for him to shift to the teaching profession because the industry offers better pay than the academe. But for him, after getting enough savings in his professional practice in the industry, he shared that there is a different kind of satisfaction and fulfillment you get from teaching. This convinced him to take another career path in life.
The last speaker of this event is Engr. Julious B. Cerna, a young faculty member of the Department of Food Science and Technology (DFST). He was known for landing the top spot in the 2010 licensure examination for agricultural engineers. In his talk, he provided tips on how to axe exams and why career decisions are important in self-growth and development.
Following the seminar, outstanding engineering students were recognized through an Academics and Competitions Awarding Ceremony to honor achievements of students in various competitions and and their outstanding projects and outputs.
Concluding the COE week was a live jam and an amazing race. The live jam which was held on the evening of February 23 featured performances from selected engineering students and some local band artists here in Baybay City. The amazing race, on the other hand, was held on February 24 to test the ability of COE students in solving puzzles and their endurance in accomplishing different strenuous physical activities.
COE started as the then Department of Agricultural Engineering and Applied Mathematics (DAEAM) in May 1974. It later grew into the College of Engineering and Agro-Industries (CEAI) in 2001 when ViSCA was converted into a state university. In 2009, it was renamed the College of Engineering (COE) following a major restructuring of academic units in VSU.