VSU registers 100% passing in 2019 nursing board anew
Details

Written by Kim Roca

Published: 06 December 2019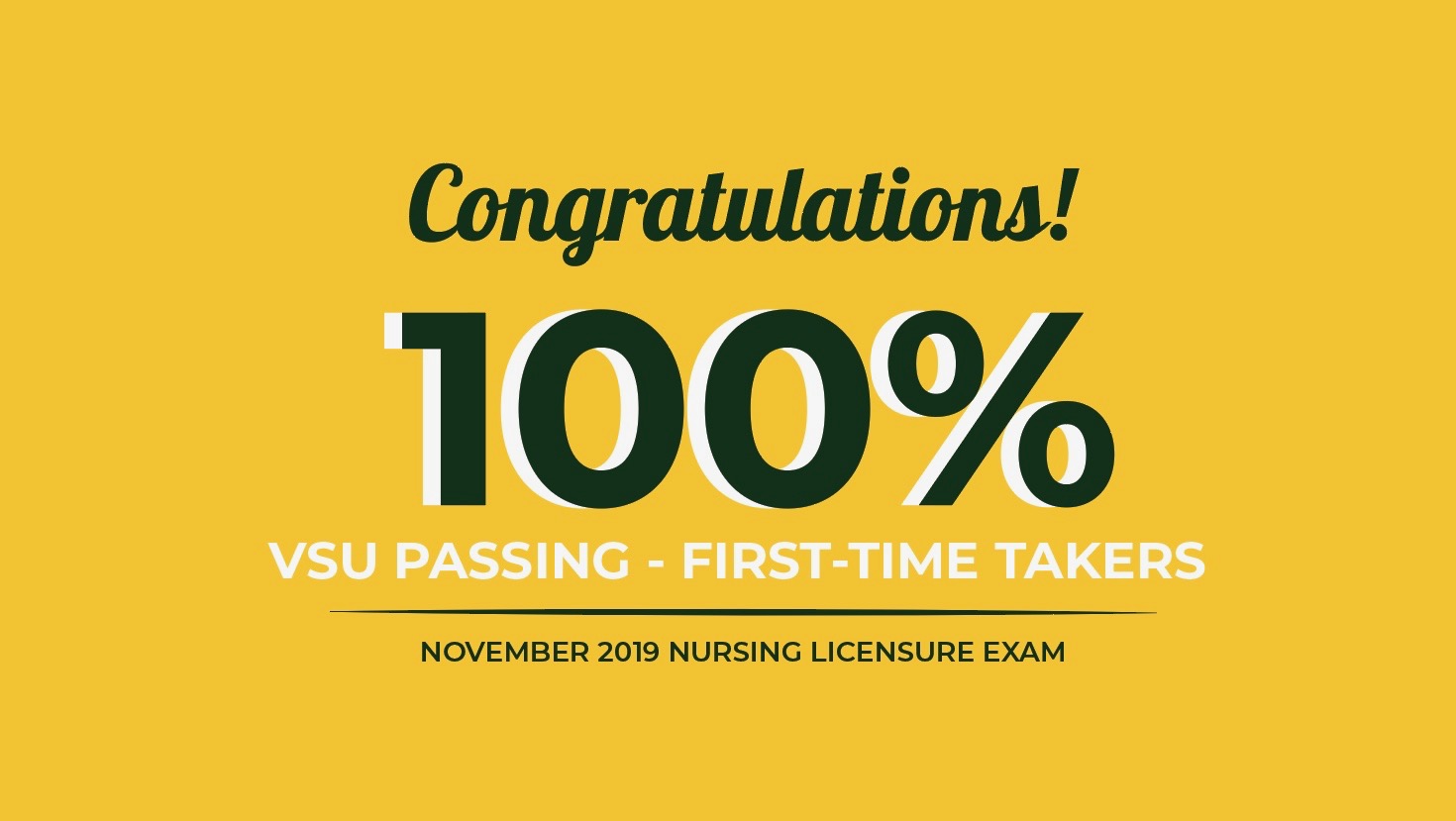 For four years in a row, VSU has registered a 100% passing rate for first-time takers in the Nursing Licensure Exam (NLE). This year, eleven takers successfully passed the nursing board with an institutional passing of 91.67%.
As released by the Professional Regulation Commission (PRC), only 7,627 out of the 13,816 examinees passed the exam, garnering a 55.20% national average.
The Davao Doctors College, Inc. produced the topnotcher for this year's nursing board, Shaina Kei Watanabi, with a passing average of 89.60%. While, the University of Santo Tomas (338), Saint Louis University (191), and De La Salle Medical & Health Sciences Institution (67) ranked first in the top-performing schools' list, garnering a 100% passing rate.
According to PRC, top-performing schools are based on the institutions having 45 examinees passing the exam with at least 85% overall passing percentage.
Results were released on December 6.
Here is the complete list of passers in the November 2019 Nursing Licensure Exam:
Jennifer Avelino, RN

Jay Anne V. Braga, RN
Kathleen Jewel Bulawan, RN
Hazel N. Dumanhog, RN

April Joy Escano, RN

Joana Princess Felisilda, RN

Shanelle Gogo, RN

Alexandra Dominique Guillen, RN

Sharah Ruth Lozada, RN

Marieally Grace Olojan, RN

Janice Valmera, RN
Congratulations, new Viscan nurses!