VSU 4.0: Building a Global University Brand
Details

Written by Edgardo E. Tulin

Published: 16 January 2020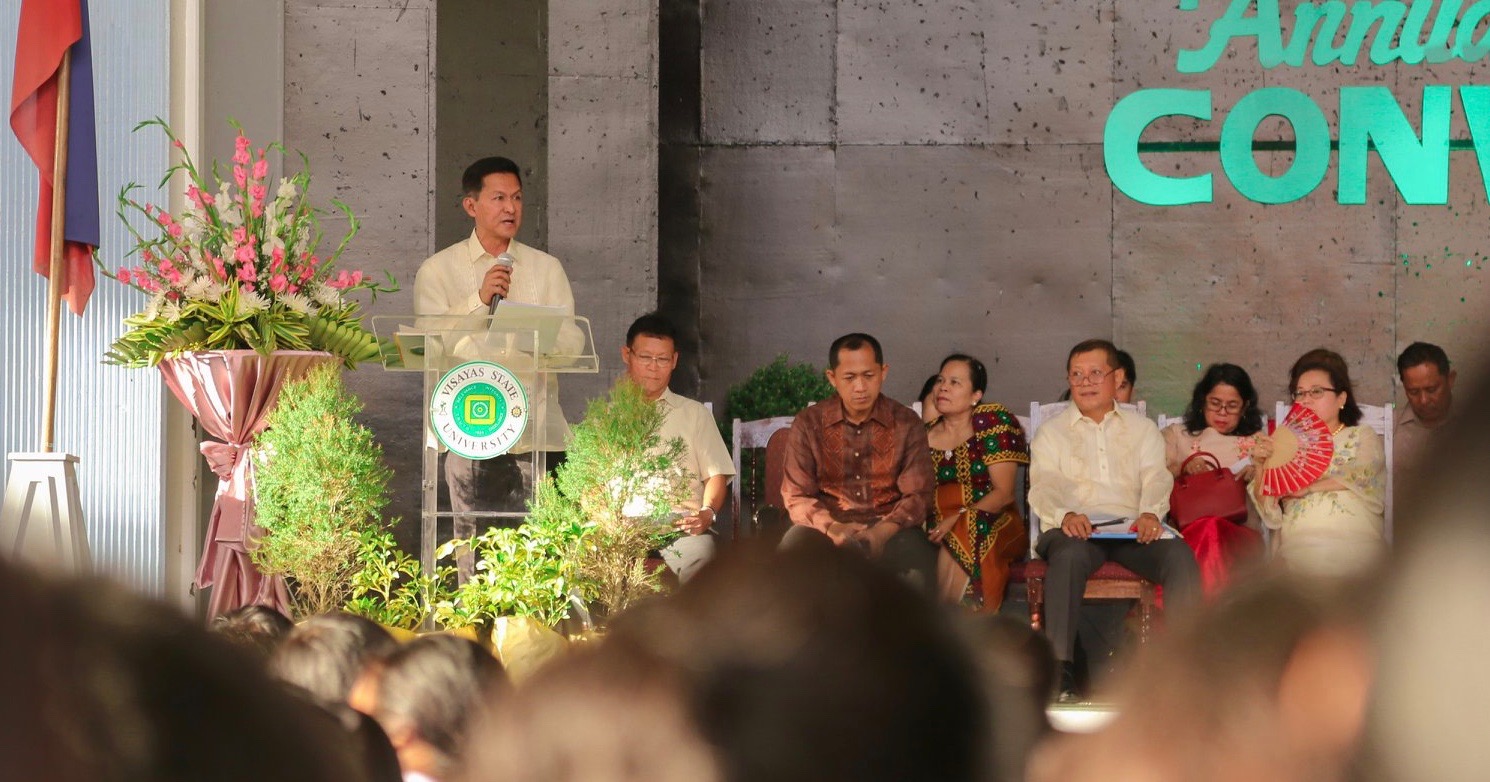 Editor's Note: This is the full transcript of VSU President Edgardo Tulin's State of the University Address for SY 2019-2020, delivered during the VSU Academic Convocation on January 16, 2020, at the VSU Gymnatorium.
Let me begin by greeting Pastor Joshua Jireh Salomon of the Christ Baptist Church; the members of the University Administrative Council, Dr. Beatriz S. Belonias, Vice President for Instruction; Dr. Remberto A. Patindol, Vice President for Administration and Finance; Dr. Othello B. Capuno, Vice President for Research and Extension; Dr. Dilberto O. Ferraren, Vice President for Planning, Resource Generation, and External Affairs; immediate past President, Dr. Jose L. Bacusmo, Student Regent Hon. Chad Wales, Faculty Regent Hon. Denny Catindoy, Deans of the main campus and component colleges; Prof. Manolo B. Loreto, Dean of Students; Dr. Anabella B. Tulin, Dean of Graduate School; other members of the Admin Council, department heads, members of the University Academic Council, faculty and staff, alumni, our adjunct professors, retirees, students and student council leaders, foreign students—
A pleasant afternoon to all.
Every year, as part of the university academic calendar, it is customary that the President gives what is known now as the "State of the University Address". This is done to communicate and inform the whole university constituents of the status of this institution, its accomplishments, ongoing initiatives, and our plans. This year's address is titled "VSU 4.0: Building a Global University Brand," which I believe is timely and appropriate given the multitude of activities that we are actively pursuing at the moment. This is a bold move but I believe that this is the right moment.
Why VSU 4.0? What were VSU 1.0, 2.0, and 3.0?
Allow me to go back to where this institution started.
From that perspective—
VSU 1.0: Started with the birth of Baybay Agricultural School (BAS) in 1924 until it became the Visayas Agricultural College (VAC).
VSU 2.0: VAC or the Visayas Agriculture College converted into the Visayas State College of Agriculture (ViSCA), a period where the school gained prominence as a leading school for research in agriculture particularly in root crops and on rural development.
VSU 3.0: ViSCA was converted into the Leyte State University and the beginning of Visayas State University, integrating our four branch campuses of Alang-alang, Isabel, Villaba, and Tolosa. VSU became the premier university of agriculture and allied field in the Visayas.
Now we are in the period of VSU 4.0: as we are formally building an institution with a global university brand that would officially characterize VSU as positioning itself as a major player among state universities in the country, with its flagship program for internationalization and global presence.
VSU through its ten-year strategic plan envisions to become a globally competitive university aligned with the government programs on ASEAN integration and internationalization. This is also the period where the government support on infrastructure through its "Build, Build Build" program is at its highest, where faculty and staff support on human development is strong, and where free higher education program to students is implemented by the government through RA 10931.
Banking on the status of the Visayas State University as a leading university in the country, its strong reputation as a research university in agriculture, forestry, and allied sciences, and a strong engagement with international partners, VSU positions itself in the next years as a National University of the Visayas. As a national university of the Visayas, the school's leverage for internationalization to become a globally competitive university will become stronger.
But, perhaps the one question that comes to your mind is: Are you ready for this ambitious and bold move?
This is not really new to us because, over the past years, we have engaged ourselves with foreign partners and implement programs of mutual interests. Hence, we have already made significant strides in laying the foundation in realizing our vision.
I was told that, although there was no official pronouncement, that in last year's result of the SUC leveling, VSU emerged as the number one among 111 state universities and colleges in the country as a Level IV institution. On top of this are the following achievements:
We are the first university to be granted a Level III institutional accreditation by ACCUP.
We are the Center of Excellence in Agriculture, Center of Excellence in Agricultural Engineering, and Center of Development in Development Communication.
VSU successfully passed the Washington Accord Accreditation for its Agricultural and Civil Engineering programs.
Ninety-two percent of our curricular programs are accredited by ACCUP.
Ninety-one percent of our curricular programs passed the RQAT accreditation by CHED.
We have a total of 391 strong faculty workforce as of 25% or 98 since last year, but since I saw that there 6 or 7 Ph.D. (returnees) now, then we have about more than a hundred Ph.D. holder Ph.D. holders... 98 (25%), MSc Holders 187 or 48%, BS Holders 106 or 27%, (but) who are already on their graduate studies.
We were awarded the Bronze Award for Maturity Level II on the CSC's program on institutionalize PRIME-HRM on four (4) HR systems: (1) recruitment, selection, and placement; (2) learning and development; (3) performance management; and (4) rewards and recognition by the Civil Service Commission;
We are 1 of the 2 members of the DOST National Science Consortium which enabled us to send students or faculty members for their advanced studies.
We are a sole member of the Philippines for the Exchange for Promoting Quality Education, Research, and Training in South and Southeast Asia or EXPERTS, and international academic collaboration funded by the European Union - Erasmus Program.
We are a host of several research centers. We are the first, and only institution in Eastern Visayas to host the food testing laboratory—a shared service facility with DTI to support our potential entrepreneurs in product testing and certification.
The first and only institution in Eastern Visayas to host the Food Testing Laboratory - a shared service facility with the Department of Trade and Industry that will assist our potential entrepreneurs in product testing and certification.
Our faculty and staff have been recipients in local, national, and international awards like the presidential Lingkod Bayan Awards, Pag-asa Awards of CSC, PCAARRD and DA-BAR Outstanding Research Awards, SEARCA Regional Professional Chair Awards, John Dillon Fellowship Awards of Australia, John Humbholdt Fellowship of Germany among others.
During the last 4 years, the university has invested a total of P962,401,539.17 and during the last 4 years in infrastructure program alone, the university has obtained a total of 709 million for our academic buildings in the main campus and satellite campuses.
With regard to the performance of our students, we have produced top notchers in licensure examinations. In 2018, for example, Mr. Jerwin Capuyan landed on the top 1 of the Special Licensure Examination for Secondary Teacher Level for Overseas. In Agriculture, we have two Top 8 graduates who landed on the 8th place in the Licensure for Agriculture this year. There are also other students who have topped the licensure examinations in Agriculture and Biosystems Engineering, Geodetic Engineering, and in the other fields. And, in the Chemical Technician Licensure Examination, this year we had a 100% passing rate and we landed on the 3rd and 7th place. But most of all, not to be missed, this year for the first time we had our summa cum laude who landed on the 6th place for the Teachers Licensure Examination
In research, for 2019 the university has published numerous publications in peer-reviewed journals and patents and utility models, and which is an indication that our researchers are fulfilling their mandates to publish their outputs. I would like to especially recognize the VSU Coco-Movers, led by Dr. Ma. Juliet Ceniza of the National Coconut Research Center (NCRC), for getting the 2019 CSC Pagasa Award Group Category (National).
Just recently, the university passed the Stage 1 Audit of ISO 9001:2015, and it was reported to be the shortest audit and the shortest observations with only four areas to comply with the Stage 2 and Final Certification Audit of VSU. There are many more unwritten accomplishments and honors that I must say I have not found space in this writeup: you know who you are and I offer my congratulations to all of you.
All these are the products of the collective efforts of the university's faculty, staff, students, alumni, and administrators.
Despite the gains and accomplishments highlighted above, there are still many challenges at hand as we embark on our ambition and bold vision of becoming a globally competitive university.
Anchoring on the approved 10-yr Strategic Plan of the university (VSU 4.0), the next five years will be devoted to the realization of the plan to focus on the seven strategic goals of the university. Many parts of the plan have already been achieved, some are being implemented while others are yet to be started. A major addition of this plan is the recently approved Revised Organizational Structure of the University and the VSU Internationalization Plan.
These two recently approved documents will serve as major drivers in our road to becoming a global player among universities.
Now, let us begin with our priorities this year.
Priority 1:
First and foremost, we will implement the recently approved Revised Organizational Structure of the University.
The revised structure has the following new features:
In the Office of the President, we have added the Office of Grants Development which takes charge of developing institutional grants for institution building, new research collaboration and exploration of new funding windows for new programs; the institutionalization of the University Integrated Information Center which includes not only our Web Team, Information Office but also on Data Privacy and Release of Information. We have also formalized the creation of the University Industry Council which will be responsible for forming alliances and collaboration with industry as part of our program to fully engage the industry as active partners in our delivery of services to our stakeholders.
The Office of the Vice President for Instruction is now reverted back to its old name, the Office of the Vice President for Academic Affairs with two major offices: the Office of the Director for Instruction and Evaluation which is an additional office to provide focus on the development and evaluation of instructional materials and the evaluation of performance of our teaching faculty.
The Office of the Vice President for Administration and Finance has expanded its component offices to address the statutory and regulatory requirements such as the creation of the Disaster Risk Reduction and Management Office, the University Health, Emergency & Rescue Services, the separation of the Administrative Services and Human Resource Management (PRIME-HRM) and the Physical Plant Office.
In the Office of the Vice President for Planning, Resource Generation and External Services, we have added the creation of the Director for Planning and Infrastructure Project Development and Monitoring to address the problem of infrastructure project development, which has caused delay because nobody was really focused on doing this job.
Perhaps the biggest change in our structure and which (we) trailblazed implementation among state universities is the creation of a new Vice President. So we will have five Vice Presidents in our organization: the new VP is the VP for Student Affairs and Services. This will put emphasis or focus on the students as the major stakeholder of the university. The implementation of free tuition, or the RA 10931 necessitates a VP who could focus on the affairs and services of the students starting with admission and enrolment, scholarships, grants and awards, student development services, welfare services including guidance and counseling, student internships and volunteer services, career and job placement services among other student services. This is really a big job considering the increasing number of our students and the recognized diversity of the students admitted to this institution.
With regards to our external campuses, we will call them now "component colleges", no longer external campus, and their Deans have been renamed as Chancellors. As in UP, the component colleges will function as a small college but all their programs are aligned and coordinated with the major functions and services of the university. The Chancellors report directly to the University President but their four-line functions are closely coordinated with the main campus vice presidents.
Priority 2.
We will complete all the remaining non-completed infrastructure projects on our campuses. There are only a few of them, including this gymnatorium—which I hope, this year, will be completed, the fixtures of the new innovation building, the procurement and installation of fixtures of the new graduate school dormitory, opposite the Institute of Human Kinetics, and the completion of the remaining projects in the component colleges. Also, the government has provided us with a little more than 209M pesos for capital outlay and I hope we will deliver all these for the year 2020.
Priority 3:
Installation of street lighting around the campus and the component colleges. I have always noticed and I feel so disappointed or frustrated that we have not really made our campus well-lit at night. So this year, I have set aside funds, which was already approved by the Board for the installation of the new street lights around the campus. So the university mall will be lighted with decorative lights, and also other strategic places on the campus will be lighted.
Also, priority is our waste disposal system. I have a plan. The university this year will implement a no single-use plastic policy. We will install water refilling stations in some strategic locations on the campus. We will provide, but you will buy VSU-logo-embedded aluminum or stainless steel canisters so that every time you go out of your dorm or from your places, you will bring them with you. Put water and you can bring it anywhere without buying any bottled water. I will prohibit in our eating facilities the use of single-use-plastics, including bottled water. When we have visitors, for example, or seminars on campus, we will give as a token these canisters. They can use it to drink their water, and we don't need to provide them with bottled water.
Priority 4:
We have formally launched the implementation of the VSU Internationalization Plan. Over the past years, VSU is in the fortunate position to have made a history of strong collaboration with international organizations and institutions. In both academic and research fields, we recognize the essential role of fostering linkages for the university's growth and attainment of its bold vision. So, as we set our course towards globalization, we take the leap on developing this Internationalization Plan to outline concrete directions of VSU for the next 5 years.
There are 4 pillars of VSU's internationalization plan, namely: Agriculture, Agricultural and Biosystems Engineering, Environmental Conservation and Technology Business Incubation and Support Services, with the following key areas:
Global comparability of curriculum and instructional facilities
Well-trained and highly qualified faculty and staff working in identified areas
Established and implemented research programs in identified areas
Promoting research directed in developing cutting-edge technology
Strengthening infrastructure to forge enduring and nurturing sustainable partnership among foreign partners
Internationally-recognized Technology Business Incubation Model with Internationally-accredited support services
And what are our strategic outcomes? We want this university to:
Increase its (Webometrics) ranking among Philippine universities for the next 5 years from the present 26th that by 2023 the university on the 20th place.
(Attain) greater drive for research and innovation by increasing the proportion of our faculty involved in research, from 50% at the moment to 70% by 2023. Not a big deal but I guess this is achievable.
(Attain) high level of human development
For faculty: an increase in the proportion of doctorate degree holders from 25% by 2023, there will be around 50 to 60% (of) our faculty (that) should have a Master's degree. This is not very difficult. I examined just today all my approvals for reinstatement. Although there were 6 or 7 PhDs, there are more than 20 who reinstated without completing their degrees yet. So you have 1 year to finish. In fact, you have one semester to finish, and my programming for the next five years will not be very difficult so, 60% of our faculty members should have doctorate degrees.
For administrative staff: all if not, 90-100% should have undergone short-term and long-term training, but they have enriched their capacity for their respective responsibilities.
The more important thing is not only the key reform areas or the strategic outcomes, but the more important thing is actually what's the impact? Societal impacts. So, these are the societal impact of our internationalization plan.
Contented and successful faculty and staff in their respective responsibilities
Students are assured of employment after graduation and have achieved their full potential as individuals
Empowered neighboring communities and partners to use the knowledge and technologies that we have generated to improve their lives
Every stakeholder (faculty, staff, student, alumnus, farmer-beneficiary, industry, LGU, and the community-at-large) will enjoy the benefit of international collaborations by way of expanded economic opportunities in Agriculture, Agricultural Engineering, Environmental Conservation and so-on, and so-forth., So, these are the impacts that we wish to achieve after five years following our strategic goals, the 10 Year Strategic Plan of the University.
Late last year, I was one of the SUC Presidents invited by CHED to attend the QS Conference in Fokoa, Japan in preparation for VSU's application in the QS World Ranking of the universities. So, we are lucky. We have been recognized as a top-tier university. Except for UP, MAPUA, Ateneo, UST and La Salle, none of the 111 SUCs has applied or awarded as star rating for the QS World Ranking. So, CHED has provided us money to process this application. In fact, we are preparing our documents for submission to QS, which will hopefully be done this year and we will be ranked by March. We will be given a star rating by March if we can submit by January or February, and we can include in our logo or stationeries, star rating as additional bragging right of the university. So, if we also have ISO, you have your VSU seal or logo, you have your department logo, you have your ISO logo, and hopefully, we also have our QS logo or star.
So, a lot of best practices indeed we are having here at this university. During that seminar, for example, the theme was The Role of Universities of Asia-Pacific in the Future Generation amidst the Industrial Revolution and Ageing Society. Two challenging questions. The industrial revolution, aging society for advanced countries but not for the Philippines. Since we're not really an aging society, it is an opportunity for us.
The questions that will pose as a challenge to address, are actually, there are two which I hope the deans and the department heads will think seriously. 1) What do employers want from tomorrow's university graduates? And 2) What do universities think tomorrows' employees need?
A critical analysis may provide us predictive answers to these questions but the truth is, in reality, we may never know. The challenges of today's education such as robots, artificial intelligence, globalization, aging society, the digital economy may put us into a situation that strategic partnership locally and abroad is far more very important for us to address these needs. And our road to internationalization as outlined in our plan may just be the one strategy to make us more relevant.
Finally, I trust that with all the support the government is providing to the university, we shall be able to do our share of fulfilling our duties and what is expected of us.
My parting message is: Let us all be warriors for positive development and let us channel our energy for a more progressive VSU.
VSU 4.0 has already started and let us build a global university brand for this beloved institution.
Mabuhay tayong lahat.