VSU showcases its vacuum-fried jackfruit, other food products in national expo
Details

Written by Jeanie Rose Deluza

Published: 10 March 2020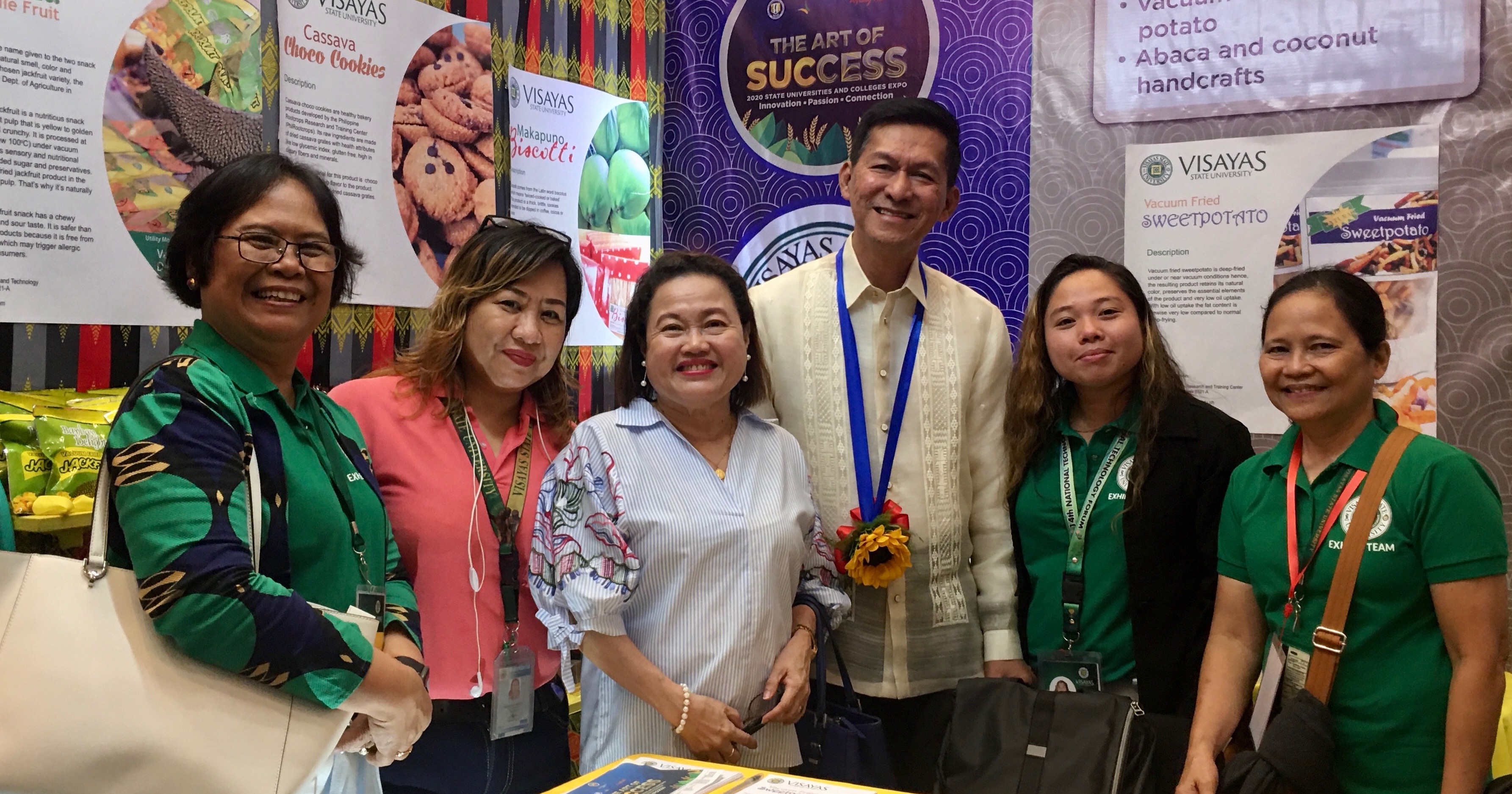 More than fifty state universities and colleges from all over the Philippines participated in the biggest expo yet organized by the Commission on Higher Education (CHED) in partnership with Rizal Technological University (RTU) on March 9-11, 2020, held at Trinoma Activity Center in Quezon City.
Entitled "Art of SUCcess: 2020 State Universities and College Expo'', the event featured local scientists and inventors, research products, innovations, and inventions made open for commercial and public viewing.
The exposition aims to provide an avenue of opportunity for potential investors, industry partners, as well as assess the inventions for commercial viability while bridging the gap between industry and academe collaboration.
The Department of Trade and Industry Secretary Ramon Lopez also attended the launching with CHED Chairman J. Prospero E. De Vera III, Canadian Ambassador Peter McArthur, DZMM Anchor Jing Castañeda, and presidents from the different participating SUCs.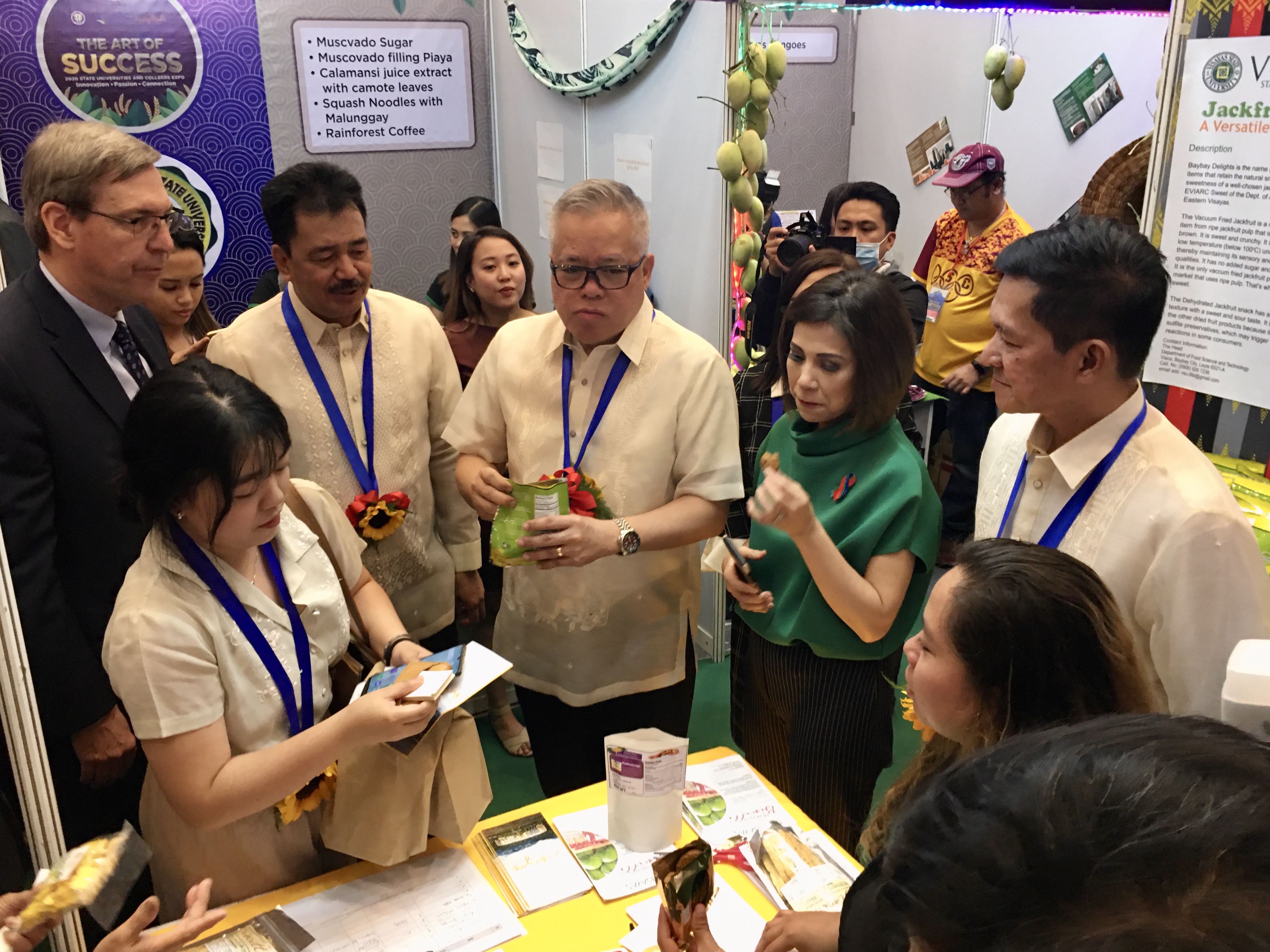 In his welcome message, Secretary Lopez mentioned the importance of innovation. He said that it's not just about the products, it is also about the processes. He also emphasized the need for SUCs to cultivate an innovative mindset to its students as early as now.
"It's so easy to start a business but how to grow it is also a challenge. So we need basic entrepreneurial skills in which the DTI and partner schools, mentors, and entrepreneurs will guide and help level up many businesses," he added.
Being known as a research academe and a home to national research centers, Visayas State University continues to produce and innovate healthy and delicious food products while providing livelihood to its community partners.
Among the top sellers are the vacuum fried jackfruit and sweet potato, macapuno biscotti, coco kisses, and cassava choco cookies. In fact, VSU has assisted organizations across the region in producing their own products.
Through VSU's Extension Office, headed by Dr. Moises Neil V. Seriño, the Exhibit Committee joined and competed in the three-day expo, with Ms. Adelina Carreno leading the team composed of representatives from the Philippine Root Crop and Training Center, National Coconut Research Center, and University Integrated Information Center.
While the activity will entice public participation and collaboration, VSU hopes that this will also provide long-term results to make research products become locally and globally competitive.
"This is a great opportunity to introduce our products to potential investors and interested business partners. This will also put our university in the limelight as a generator of technologies as one of our commitments to nation-building", Ms. Carreno said.
Educational and inspirational talks, mentoring from industry thought leaders like from Go Negosyo, socio-cultural performances, and networking within different industries were also part of the three-day event.
Trinoma Mall, owned by Ayala Land Inc. is the major sponsor of this year's product exhibit.