#PaskoSaVSU 2020: As students miss VSU, Tulin urges Viscans to balance holiday cheers with pandemic woes
Details

Written by Ulderico B. Alviola

Published: 03 December 2020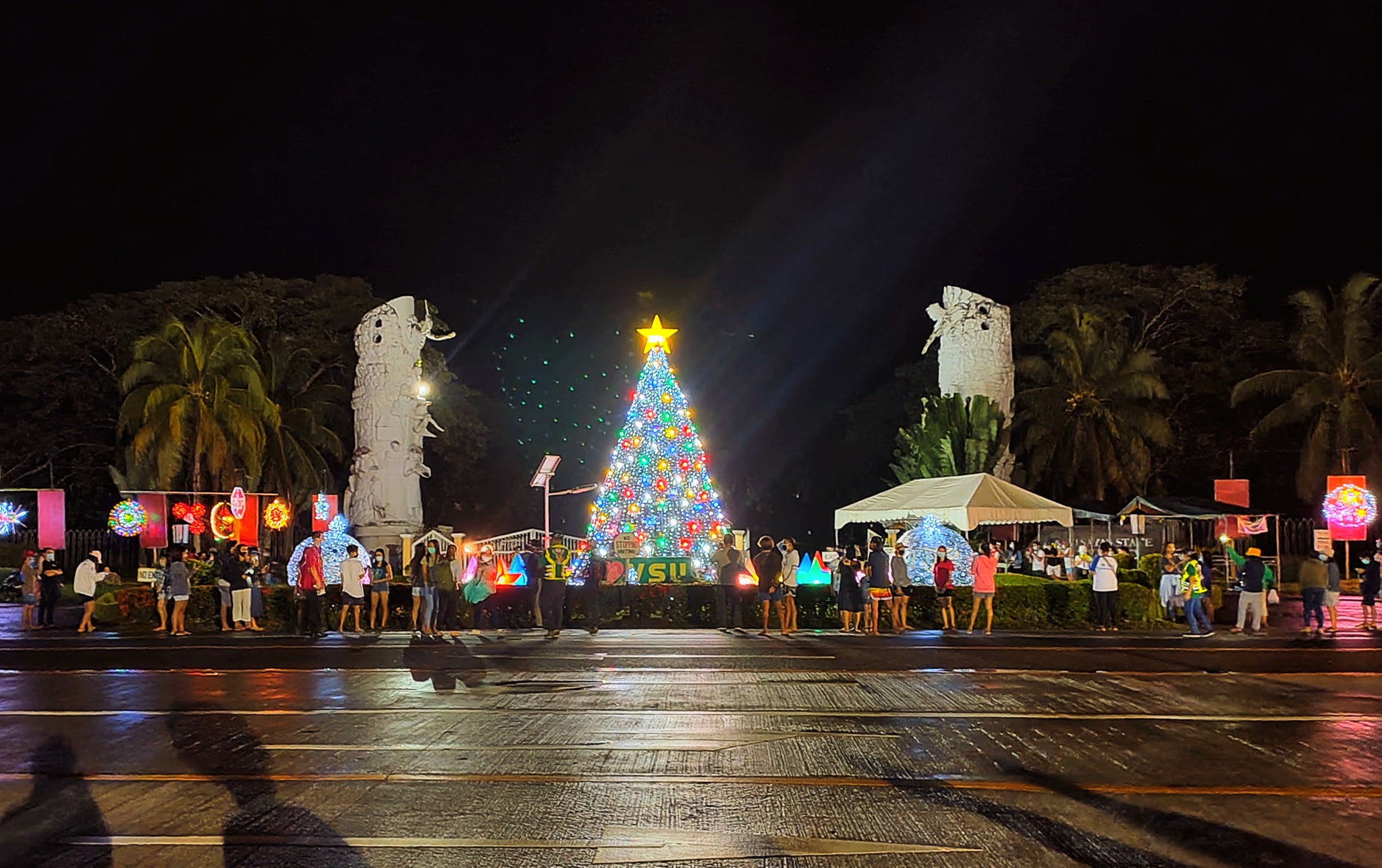 As the Christmas season starts at Visayas State University, President Edgardo E. Tulin reminded everyone to be sensitive by toning down the usual Christmas holiday celebrations and balance it with our current pandemic crisis, including recent natural disasters that affected a huge part of Luzon.
The university's Chief Steward delivered a message in front of a handful of Viscans physically present in a simple lighting ceremony of the VSU Christmas Village held on December 1, 2020. The event was live-streamed on VSU's Facebook page, which brought in almost 11,000 views so far.
"Maybe for this Christmas, we can first think of creative ways to convert our usual holiday traditions into giving back, especially to those who have been directly affected by COVID-19 and other natural calamities that hit our country," Dr. Tulin said.
Aside from being sensitive, austere, and charitable, the VSU President also emphasized the importance of caring for the welfare of everyone especially in the time of COVID-19.
"Family bonding and holiday festivities will need to be virtual this year. By distancing ourselves from people outside our current social circle, we keep the people around us safe, especially our elders and children."
To set an example on this, there was no official invitation circulated for the ceremonial lighting of the VSU Christmas Village even among the key officials of the university.
Only the five Vice Presidents were invited to physically attend the switching-on ceremony while others were encouraged to watch the event's live broadcast, to comply with the regulations set by the local Inter-Agency Task Force against COVID-19 (IATF).
Despite having no official invitation to the event, a number of community people still went to the venue as spectators. The VSU security personnel responded by serving as traffic controllers and enforcers of social distancing protocols including the strict wearing of masks to ensure the safety and security of the attendees.
Being one of the university's much anticipated annual events, the lighting of the Christmas Village usually gathers thousands of people because of the talent presentations, fireworks display, raffle draw giveaways, and the distribution of free snacks to everyone.
This year, however, only a short program was held. It included a solemn Christmas song number from alumnus Bethel John Sinon, a prayer from Rev. Garry Nelson L. Esguerra, the keynote message from President Tulin, and the countdown and lighting of the Christmas Village. Other traditionally accustomed parts of the annual Christmas lighting were not held this year.
President Tulin ended his keynote message by encouraging Viscans to pray for one another in these trying times.
"Praying helps reduce stress and anxiety and it promotes a more positive outlook, that strengthens our will to live. Praying, therefore, has an inner positive effect for us and praying for the betterment of our society also gives us hope that our current situation will soon improve."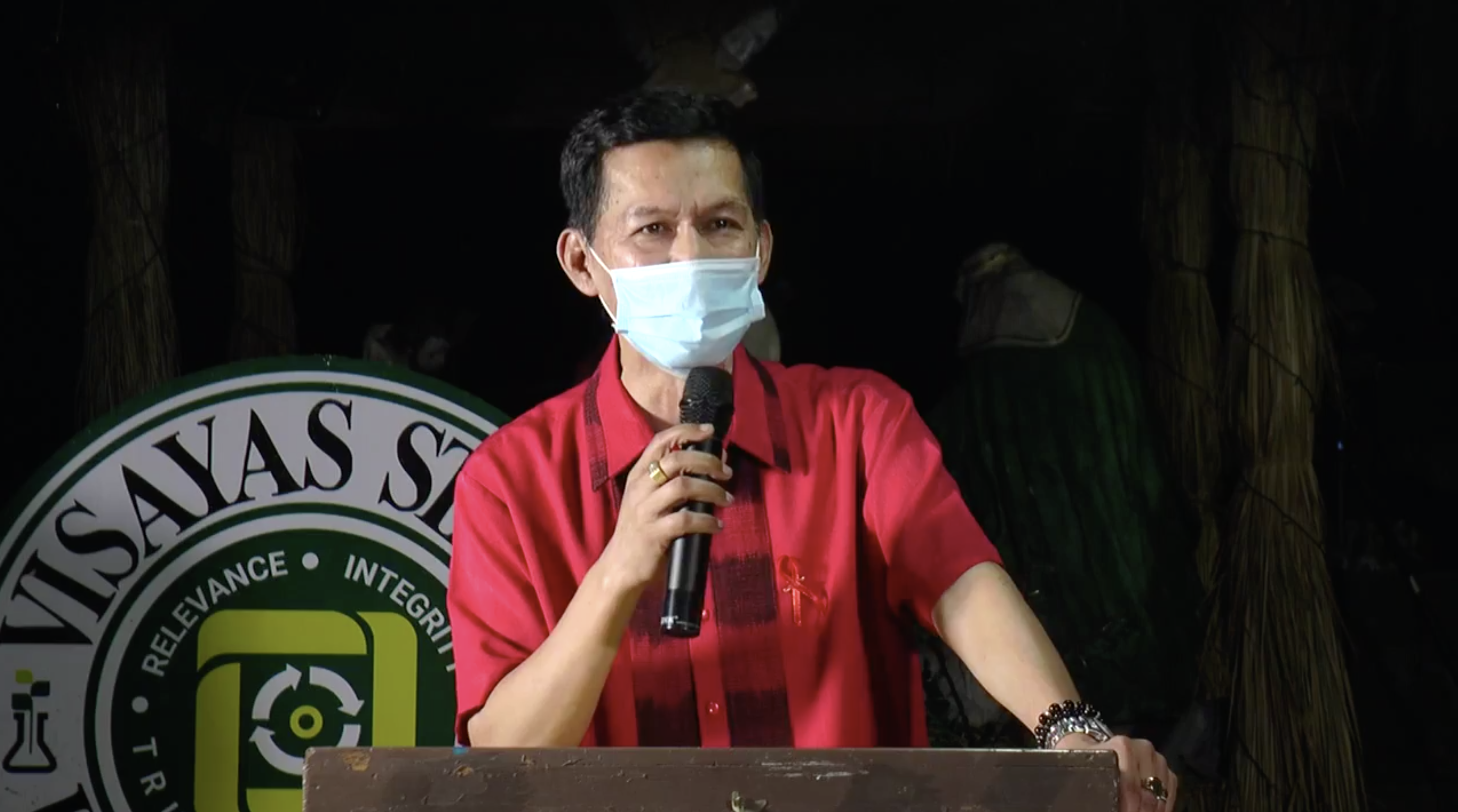 Students express longing for VSU
During the live broadcast of the ceremony, students couldn't help but express their longing for their beloved VSU.
The VSU official Facebook page was flooded with social media comments wherein students imagined themselves being physically present during the lighting ceremony. Many students particularly mentioned the distribution of free snacks, the attendance check, and even imagined physically meeting their classmates in the venue.
Hervie Gumaling said, "Dugaya ba sa ice candy, kita nako'g cellophane" (Why is the ice candy taking so long? I already have a bag for it.) clearly referring to last year's snacks which included a sandwich and 'ice candy' or what is known as Filipino version of the popsicle.
Rex Doñoz made a shoutout to his classmates by commenting "Naa sa guardhouse ang second attendance guys" (Attendance check will be done in the Guardpost.) which is a humorous attempt to recall the usual attendance monitoring by various student organizations.
Remuelito Remulta reminded people watching the Livestream to keep their raffle tickets to refer to last year's draw of special prize winners.
Other students tagged their classmates acting as if they were in the venue waiting to meet them to watch the event. Jonelle Dean Mate commented, "Naa ra kos kilid dapit sa snack-an" (I'm just here waiting beside the snacks counter).
As of writing, the live broadcast generated more than 1,500 comments, 409 shares, 11,488 engagements, and a combined reach of 24,408.
This year's Christmas Village was the brainchild of Mr. Roden D. Troyo, a faculty member of the Department of Horticulture (DoH), and the new Head of the Office for Grounds and Landscape Maintenance.