Another #ProudViscan lands in the Top 10 of agricultural and biosystems engineering board
Details

Written by Neil Bryan B. Fulache

Published: 07 October 2021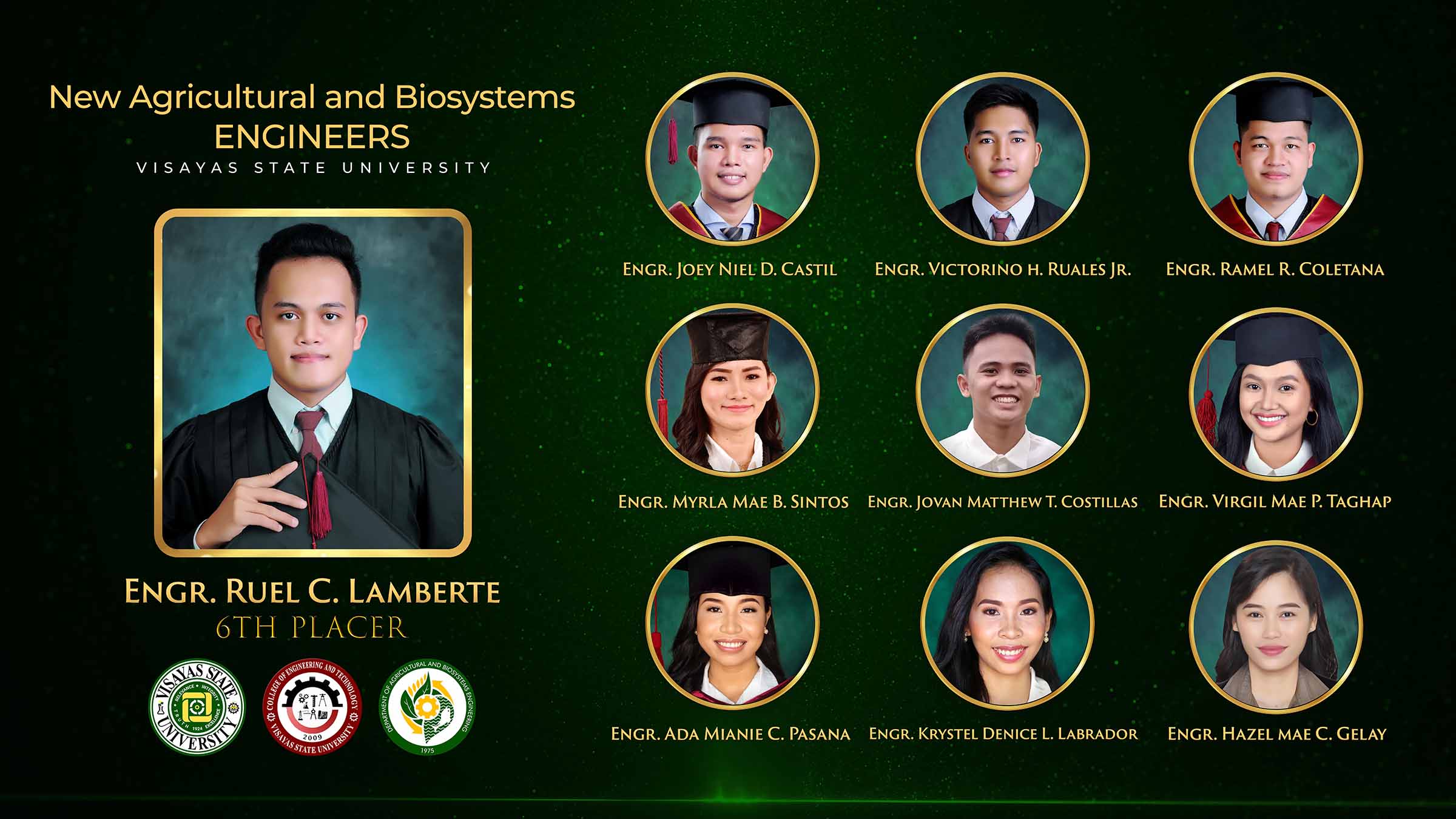 Engr. Ruel C. Lamberte, currently a part time instructor of the Department of Agricultural and Biosystems Engineering (DABE), grabs the 6th place in the September 2021 licensure examination for agricultural and biosystems engineers.
The lone topnotcher from VSU graduated in 2020 and has been affiliated to VSU-DABE since February 2021.
In this same board exam, there were 9 other new #ProudViscan agricultural engineers who were added in the roster of successful examinees from VSU-DABE with the university obtaining an institutional passing percentage of 41.67%.
Aside from Engr. Lamberte, here is the complete list of passers coming from VSU-DABE:
Engr. Joey Niel D. Castil
Engr. Ramel R. Coletana
Engr. Jovan Matthew T. Costillas
Engr. Hazel Mae C. Gelay
Engr. Krystel Denice L. Labrador
Engr. Ada Mianie C. Pasana
Engr. Victorino H. Ruales Jr.
Engr. Myrla Mae B. Sintos
Engr. Virgil Mae P. Taghap
In an interview with Engr. Lamberte, he shared how his unceasing faith guided his performance in the board exam.
"In all honesty, no matter how long you have prepared for the board exam, the examination itself is not under your control. Agricultural and biosystems engineering encompasses a broad scope of areas and subjects, so there were definitely times I contemplated if I had studied enough. But then again, once you are spiritually settled and calm, all you have to do is trust in Him. He knows what our hearts desire the most," the topnotcher recalled.
He also lamented how the pandemic affected them and how they hurdled the challenges involved in acquiring their professional license.
"All of the examinees braced themselves and took on the hardships brought by the pandemic–whether physically, mentally, financially and spiritually. This new setup is straining and draining for all of us. But we all took the risks and uncertainties with high hopes of making it this year. With that, I'm very proud of what we have accomplished considering the major adjustments that we had to make," Engr. Lamberte added.
In response, Engr. Eldon P. De Padua, the new Head of VSU-DABE extended his congratulations to the 10 new agricultural engineers from VSU.
"We proudly congratulate our new set of agricultural engineers coming from VSU. The department is always proud of its graduates, not only because of the pride that they bring to us, but more importantly because we know exactly how they strived hard just to come this far. There were so many things that they had to overcome to get their license. We share the euphoria felt by our graduates when they achieve their goals and fulfill their lifelong dreams," Engr. De Padua expressed.
The VSU-DABE Head continued by saying that the current result is a manifestation of the institutional strength of their department that has been nurtured for many years.
"We always work hand-in-hand to provide our students the best quality of education despite the challenges and pressures that we currently face. Without the corroborative efforts of everyone, we can never accomplish the things that we have now. That's why my congratulations also goes to the strong teaching force of VSU-DABE," he said.
Meanwhile, VSU President Edgardo E. Tulin expressed his delight for this new achievement of VSU-DABE.
"My sincere congratulations to Engr. Lamberte and the 9 other agricultural and biosystems engineers that we produced this year. Our agricultural engineering program here in VSU has always been one of our strongest programs especially in terms of board exam performance. I hope that we can continue with this winning streak in the years to come and improve more on our overall institutional performance in the future," the VSU President shared.
The board of agricultural and biosystems engineering conducted the examination in 9 testing areas located in Manila, Baguio, Cagayan De Oro, Cebu, Davao, Koronadal, Legazpi, Tacloban and Tuguegarao.
This is the first time that a dedicated examination center was put up in Tacloban City where most of VSU graduates took their exam.