#ProudViscan: VSU AnSci Head elected as PSAS nat'l council member, bags best presenter award in nutrition
Details

Written by Neil Bryan B. Fulache

Published: 27 October 2021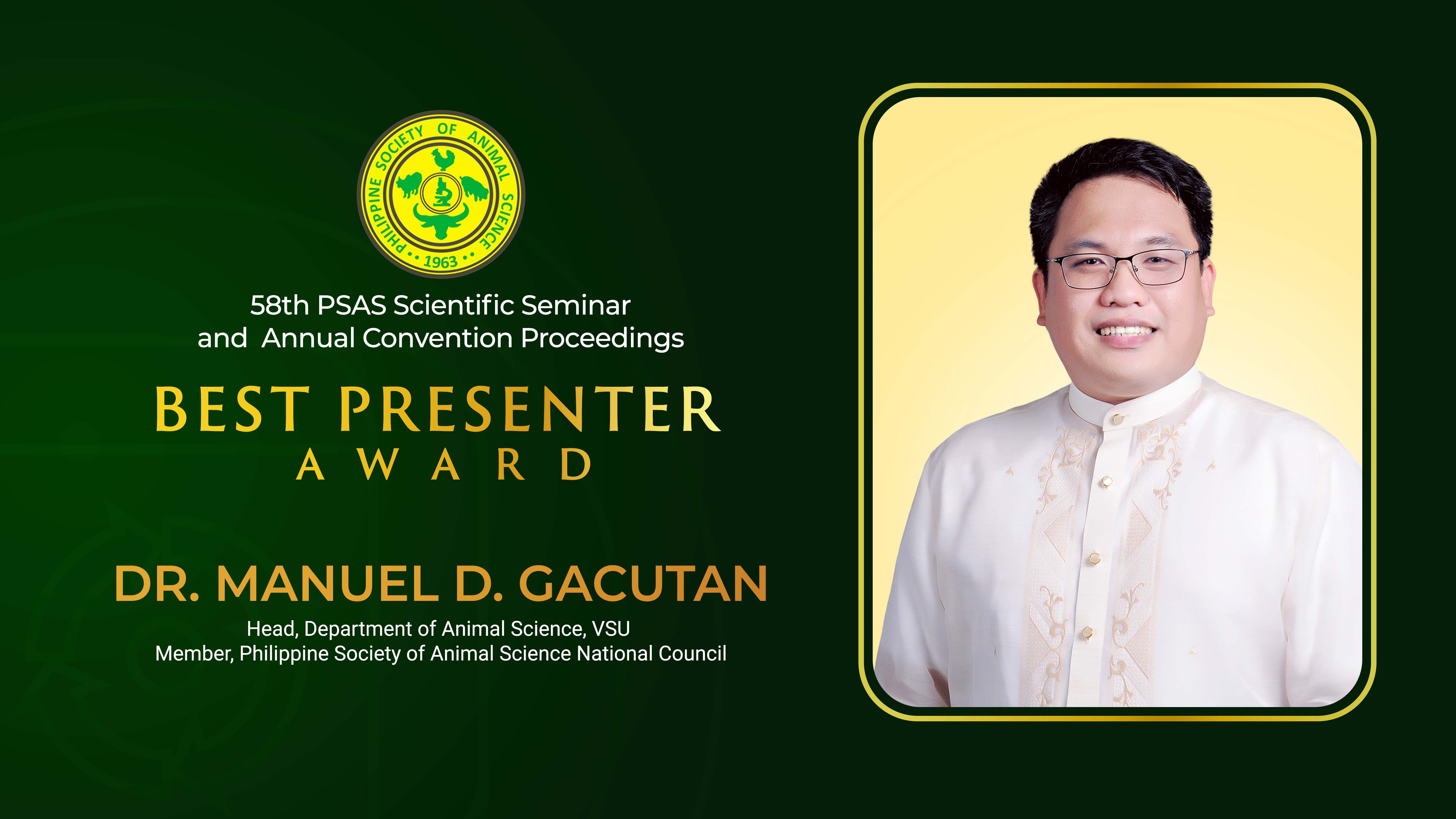 No less than the Head of the Department of Animal Science (DAS), Dr. Manuel D. Gacutan, Jr., has been granted a seat in the national governing council of the Philippine Society of Animal Science (PSAS).
PSAS is the premier and the lone national organization of animal science professionals in the country with its members composed of educators, researchers, practitioners and other enthusiasts.
On top of that, he also took home the Best Presenter Award in the annual scientific convention of the said organization.
The 58th PSAS Scientific Seminar and Annual Convention was held virtually via Zoom from October 20-21, 2021 with the theme "Innovating Animal Science and Technology Services to Respond to Post-pandemic and Animal Disease Outbreak Scenarios."
During this event, Dr. Gacutan presented the second segment of his four-part doctoral dissertation at the University of the Philippines Los Baños (UPLB) entitled, "In Situ Ruminal Degradability, pH Determination, and Volatile Fatty Acid Production in Dairy Buffaloes Supplemented with Corn Sprouts."
This research utilizes corn sprouts as a viable feed supplement for dairy buffaloes in their transition period as it progresses to early lactation—a stage wherein ruminant animals require high energy needs and a dense diet.
Corn sprouts are found to be an ideal feed supplement as these can be digested easily with high nutritional value.
Numerous entries from across the country participated in this scientific convention that featured groundbreaking research outputs from the many sub-areas of the field of animal science.
Dr. Gacutan was named Best Presenter in the nutrition category taking home Php 10,000.00 cash prize.
In an exclusive interview, the DAS Head expressed his delight to present his research output to the strong community of animal science professionals in the country.
Dr. Gacutan also revealed that the conduct of his research was partly affected by the COVID-19 pandemic.
"I'm humbled to receive this award because my research was partly affected by the pandemic with the eventual closure of laboratory facilities of both UPLB and PCC even for graduate students. I'm hoping that my personal experience of doing research in the time of COVID-19 may serve as inspiration to other researchers and graduate students who are still completing their respective research and advanced degrees," he shared.
Because of his inclusion in the national governing board of PSAS, Dr. Gacutan now becomes one of the very select few to represent the Visayas region in this national organization.
"With my inclusion in this prestigious organization, I hope that my peers, especially those from the Visayas, will become more active in all the initiatives of the PSAS so we can further strengthen the professional practice of animal science here in our region," the DAS Head said.
Dr. Gacutan officially graduated in UPLB on August 7 this year after finally completing all his academic requirements in the first semester of school year 2020 to 2021. He was designated as DAS Head in January 2021.