746 Viscans receive 15 million worth of TES grants from CHED
Details

Written by Ulderico B. Alviola

Published: 26 October 2021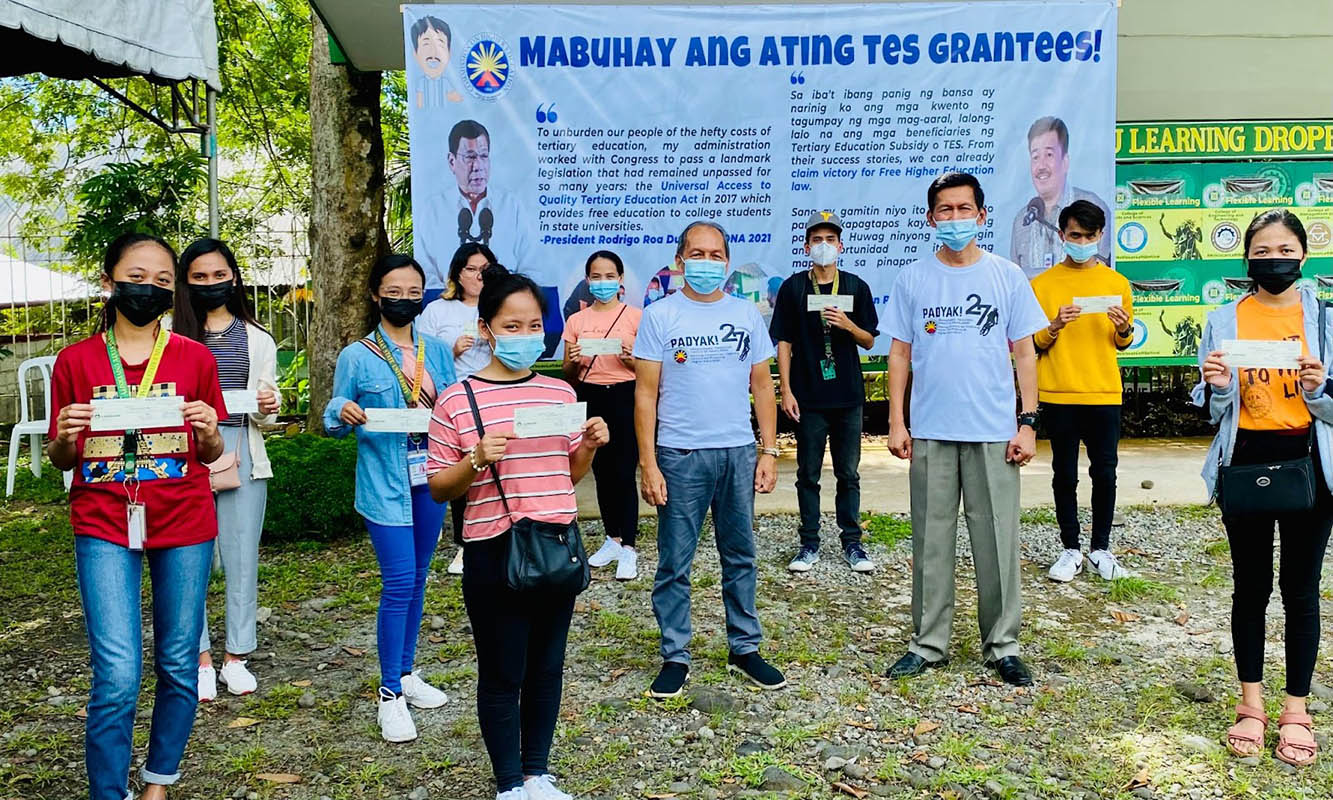 VSU President Dr. Edgardo E. Tulin along with Dean of Students Prof. Manolo B. Loreto, Jr. took a short photo op with some recipients of TES after receiving their scholarship grant from CHED.
The Visayas State University is currently holding a weeklong distribution of the Tertiary Education Subsidy (TES) for the first semester of academic year 2020 to 2021 at the university entrance.
A total of 746 Viscans will each receive a check worth Php20,000.00 amounting to roughly 15 million pesos.
TES is a grant-in-aid program of the Commission on Higher Education (CHED) under Republic Act (RA) 10931 or the Universal Access to Quality Tertiary Education Law (UniFAST) signed by President Rodrigo R. Duterte in 2017.
TES mainly aims to help qualified disadvantaged students pursuing their degrees in state universities and colleges (SUCs) including those residing in cities and municipalities without public universities to support their education.
This is the fourth tranche of TES funds released to VSU students since the program was implemented in 2018.
According to Prof. Manolo B. Loreto, Jr., VSU Dean of Students, they only have until the end of the month to complete the distribution of TES so that this can be liquidated in time for the next scheduled release in December this year.
"Yes, we want to fast track the distribution of the TES so that we can catch up with the target release for the second semester of 2020 to 2021. By December, we expect to distribute TES to about 729 students, which is a little less than what we distributed today because 17 of them have already completed their studies by that time," Prof. Loreto shared.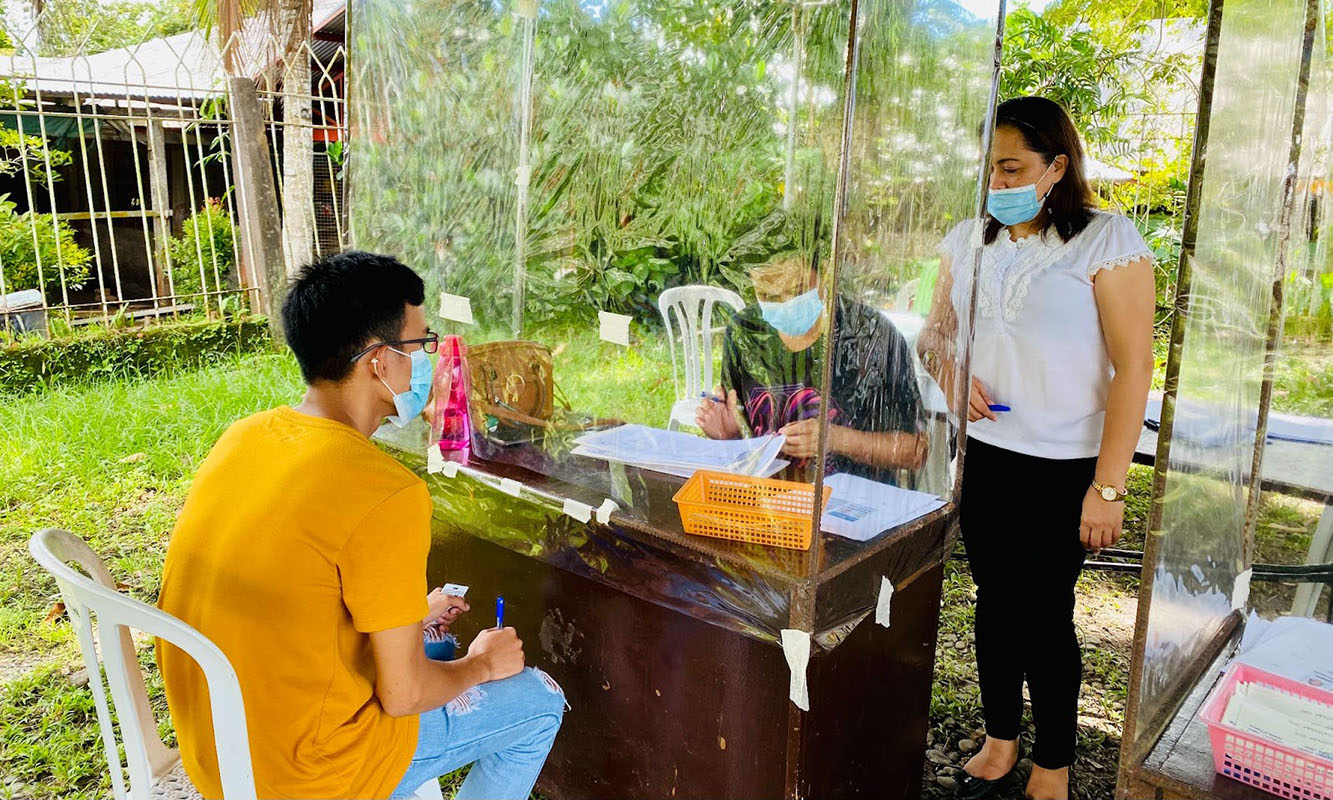 The Dean of Students also revealed that students were given priority schedules to avoid crowding them in one spot. Aside from enforcing social distancing, all submitted documents were sanitized before being turned over to university staff who are in charge of releasing the checks.
VSU President Edgardo E. Tulin visited the TES distribution site to personally monitor the efficient release of the TES grants. In a message, he thanked CHED and the national government for allotting slots to poor but deserving Viscans who wish to obtain a college degree at VSU.
"We thank President Rodrigo R. Duterte and our ever active CHED Chairperson, Dr. J. Prospero E. De Vera III, for making TES a reality. I have heard so many success stories related to the TES grantees since it was implemented in 2018. We hope that more Viscans will qualify for this program so that we can give equitable access to everyone who wishes to fulfill their dreams in life," the VSU President said.
TES very useful during the pandemic
Viscans who currently enjoy the TES grant all agreed on how relevant this program was in the time of the COVID-19 pandemic.
Mr. Jan Jacob S. Reyes, a junior secondary education student from Hilongos, Leyte explained how the TES grant has been helping him and his family for the past months.
"Dako gyud kaayo ni'g tabang dili lang sa ako pag-eskwela kundi pati na sa ako pamilya nga naglisod gyud intawon mi sa bukid karong pandemya. Tinood lang nagamit gyud ni namo sa mga essential nga panginahanglan sa among balay unya ang sobra ako sad gi-save aron magtuloy-tuloy lang gyud ako pag-eskwela unya dili maglisod ang amo pamilya."
[TES has been a huge help not just for my studies but also for the needs of my family because we experienced financial difficulty in our remote community during the pandemic. We've used this for our essential needs in our home and then I also saved some of it so that I can have something to use for my studies without bothering my family members.]
Meanwhile, a graduating agriculture student Ms. Analyn J. Palermo shared how her TES grant was utilized for her online class needs.
"Pagkadawat gyud nako sa ako TES, ako gyud siya gipalit og cellphone and laptop kay kinahanglan man gyud siya namo karon gud. Kung wala pa ni, maglisod gyud mi nga maka-afford anang mga butanga. Unya, nagamit sad nako ang kwarta gikan sa TES para sa load para sa online class."
[After receiving my TES grant, I immediately used it to buy my own mobile phone and laptop because we need these devices right now. Without TES, it would have been difficult for us to afford such expensive devices. Also, I've been using my TES grant for mobile load so that I can attend my online classes.]
Lastly, another graduating student from the Bachelor of Science in Forestry (BSF) program, Mr. Reynaldo B. Panamanian, Jr., disclosed how his TES grant was useful for his medical needs.
"Nasakit ko niaging mga buwan unya na-ospital pa gyud ko katulo. Maayo na lang kay naa ko'y tinigom gikan sa TES kay mao to ako nagamit para sa gastos nako sa tambal ug sa hospital. Kung wala pa lage ng TES kay tingale naka-undang na gyud ko sa ako pag-eskwela kay naglisod baya gyud ang amo pamilya sa pagkakaron."
[I was sick for the past months and I was hospitalized three times. I was saved by TES because the savings I had out of this program was the one I used for my medicines and for the hospital bills. Without TES, I may have easily stopped in school because of the current situation of my family.]
A new distribution system to be followed soon
Prof. Loreto said that they are already in the process of securing the bank accounts of the TES grantees so that the university can easily download the funds directly to the personal bank accounts of the recipients.
"We are planning to do distribution through Landbank so that our students would not have to come here and claim their scholarship funds. We have already coordinated with Landbank on this and we are hoping to push for this very soon. It's just that Landbank is also accommodating too many transactions these days. That's why our TES grantees are still processing their bank accounts from them," the Dean of Students revealed.
The Office of the Dean of Students (ODS) is the local implementing agency of both TES and the UniFAST here in VSU. The VSU Cash Office, on the other hand, is the disbursing office of TES. Students can immediately have their checks replaced with cash within the distribution site.
The weeklong TES distribution will run until October 29, 2021 from 8:00AM to 5:00PM.